These roasted potatoes only require three ingredients and a quick bake in the oven. No fancy tricks or high maintenance steps required! This might just be the perfect roasted potato recipe.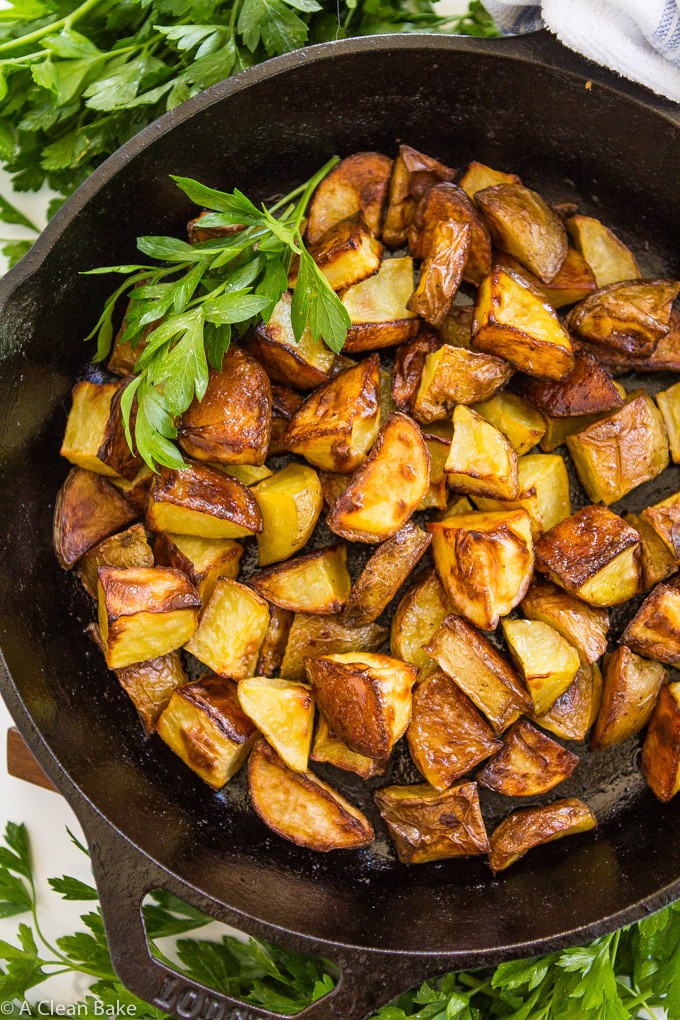 These oven roasted potatoes only require three ingredients and a quick bake in the oven. No fancy tricks or high maintenance steps required! This might just be the perfect roasted potato recipe.
It only took me a few decades, but I've finally woken up to the seductive nature of potatoes. Sure, when you can choose any food on the planet, you might not reach for a starchy subterranean misshapen lump, but sometimes the stars align, the clouds open up, and suddenly you can see it: the one food worth eating. The potato.
Never mind that the stars and clouds in question here were actually a vicious storm of prenatal and postpartum hormones, in my case. I'm sure that has nothing to do with it. (You know that's totally the reason, though right? But the point is: the potato obsession is REAL.)
Oven Roasted Potatoes Are My New BFF
One completely unexpected consequence of pregnancy was (for me, anyway), the lasting toll it took on my senses. I already told you how I had a tumultuous relationship with food for nearly the entire duration of my pregnancy. And while most of it improved postpartum, there are still a few smells that catapult me back to the worst nausea I've ever known.
The worst part? I don't know what triggers it until I smell it. Case and point: one lavender-scented cleaning product. Not all cleaning products. Not all lavender scents. Just this one. Go figure.
"Keep Your Fries, I'll Take the Cupcake."
But the opposite is also true: Whereas I had always been somewhat indifferent to potatoes — "Keep your fries, I'll take the cupcake," kind of indifferent — something inside me became unhinged once I was gripped by a new cocktail of hormones. Suddenly I found myself overcome by a deep love, no, yearning, for potatoes. Fried potatoes, baked potatoes, mashed potatoes, you name it (though mostly fried). Potatoes were the only thing I could manage to eat some day, and I'll never know why.
I'm back to appreciating a good French fry but generally being somewhat indifferent to spuds with one notable exception: roasted crispy potatoes. No, I misspoke; perfect roasted potatoes.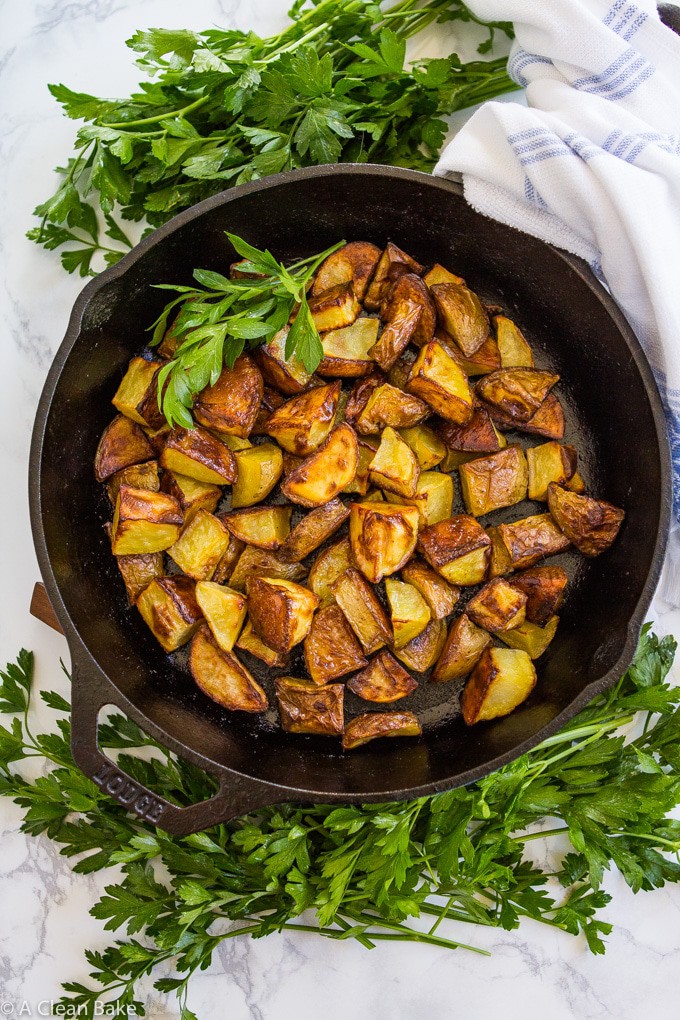 The Road to the Perfect Crispy Potato Recipe
I'm not even sure how this started — it probably had something to do with the lack of commercial deep fryer in my house — but I made this potatoes recipe over and over to achieve the perfect degree of crispiness and fattiness that would rival the most gourmet of pomme frites.
How to Make Easy Oven Roasted Potatoes
Many homemade perfect roasted potatoes require crazy steps, including insanely long roasting times, boiling them before baking, or other processes promising to chemically alter the structure of the surface starches or…something.
Look, I'll concede that maybe these high maintenance methods would make these 0.5% crispier, but once you've achieved 99.5%, why spend sooo much more time (and dishes) to get to 100%? You won't even know the difference.
Oven Roasted Potatoes, Simplified
For these oven roasted potatoes, I cut out any unnecessary steps. For kitchen tools, you'll need a cast iron pan, sheet pan, and a large bowl filled with ice water. As for ingredients, there's just three you need: potatoes, olive oil, and kosher salt.
To start, preheat your oven to 450 degrees F. Cut your potatoes into square, bite-sized pieces, roughly one inch in diameter. Next, you'll soak your potatoes in an ice bath for 20–30 minutes, before draining and patting them dry with a kitchen towel.
Toss your dried potatoes with olive oil and a half teaspoon salt, then spread in a single layer across your cast iron pan. Be careful here — you'll want to leave at least half an inch of space between each potato (otherwise, you'll your potatoes will stick together). If you run out of space, you may need to cook the potatoes in multiple batches.
Bake your potatoes for 30 minutes, then flip each individual piece with a spatula. Return to the oven, and bake for an additional 10–15 minutes until crispy. That's it!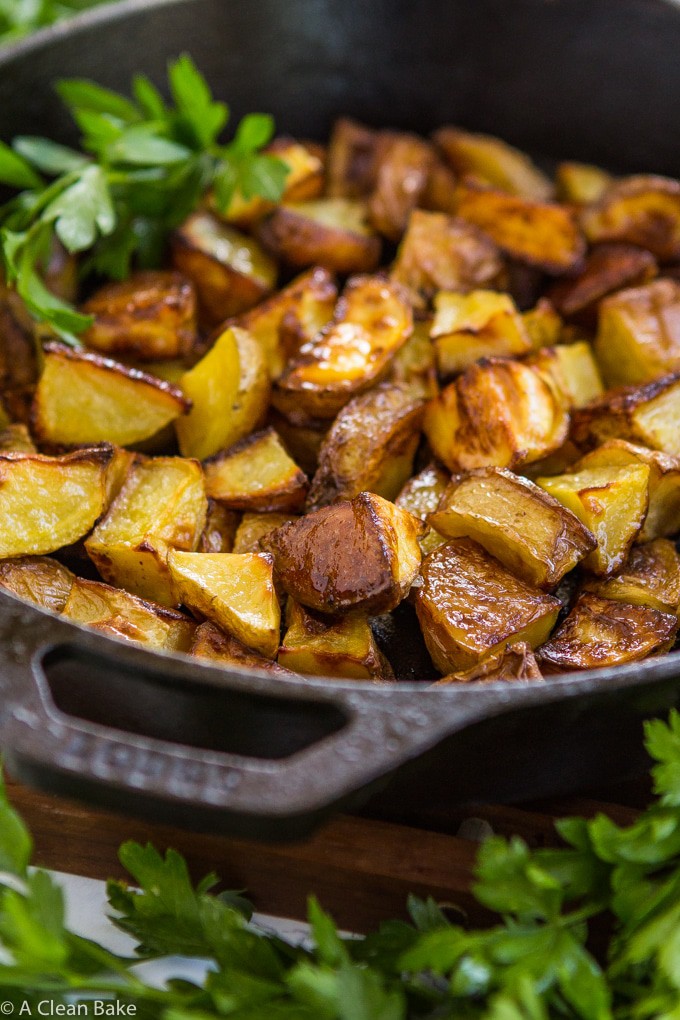 FAQs and Tips for Perfect Roasted Potatoes Success
Let me tell you something you already know: New moms don't have a lot of time on their hands. Therefore, I tried to make these potatoes as easy and foolproof as I could manage. However, if it's your first time trying this method, you may have a few questions. Here are a few tips and tricks to ensure your potatoes come out perfectly crispy:
What if I don't have a cast iron pan?

If you don't own cast iron, you can line a

baking sheet

with tinfoil to get the same,

crispy

texture. Note: The potatoes laying face down on the pan will brown more quickly, so check on them 15–20 minutes in.

What potatoes should I use:

I used

Yukon gold potatoes

, but katahdin, Idaho

russet potatoes

, or other starchy potato will do, as these are best for frying into

potato wedges

. Try to avoid

red potatoes

,

baby potatoes

, fingerling potatoes, carola, and other waxy potatoes, which are best used in soups and salads since they hold their shape so well during cooking.

Can I make these potatoes in advance?

Honestly…no. These potatoes are at their crispiest when straight out of the oven, so I recommend serving them immediately (otherwise, what's the point!?). You can, however, prep them in advance, leaving your chopped potatoes in an ice bath for several hours in the fridge.

What's the best way to reheat these potatoes?

While your potatoes will keep in the fridge for up to one week, they lose their crispiness over time. Reheat your potatoes in cast iron over the stovetop to revive some of the texture.

What happens when you soak potatoes in water?

Soaking your potatoes removes some of the starch, preventing them from sticking together during the frying process, helping you get that

crispy

texture.

How should I season these potatoes?

I prefer these potatoes simply sprinkled in sea salt, but you can add

fresh herbs

or spices to suit your tastes. Try tossing them in

parmesan

cheese,

parmesan

,

black pepper

, and

fresh parsley

(pro tip: sprinkle in truffle oil for

parmesan

truffle fries), or sprinkle them with

paprika

,

oregano

, and

garlic powder

.
Cravings, Conquered: Perfectly Roasted Potatoes
If you're wondering if my crispy potato craving vanished postpartum, the answer is absolutely not. Potato latkes, potato salad, sweet potato fries, you name it — I guess it's true what they say, motherhood changes you (I'm sure they were talking about potatoes, right?).
These potatoes work well as a side dish or appetizer for brunch or dinner. Or, if you're like me during my pregnancy — as a standalone entree, straight from the bowl.
No matter how you choose to prepare them, know this: these are real-people-on-a-rushed-weeknight-trying-to-get-dinner-on-the-table grade roasted potatoes. And they're fantastic.
You've got to try these.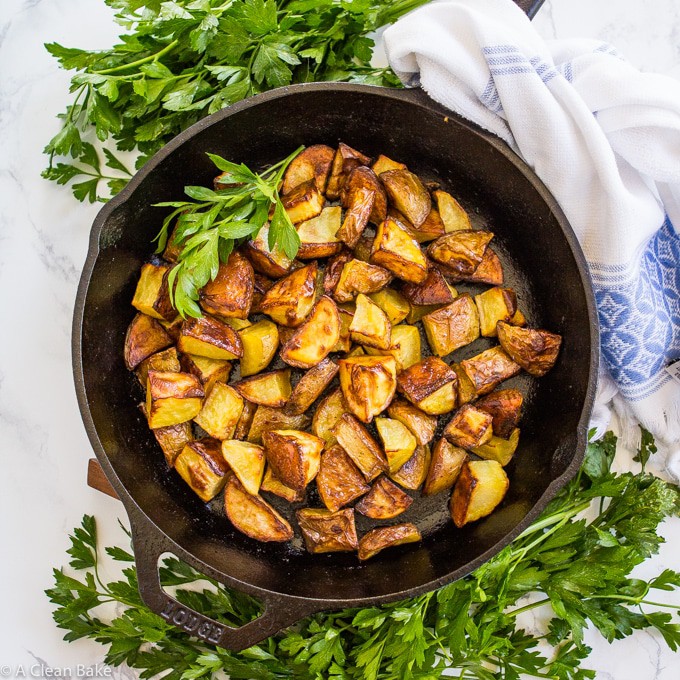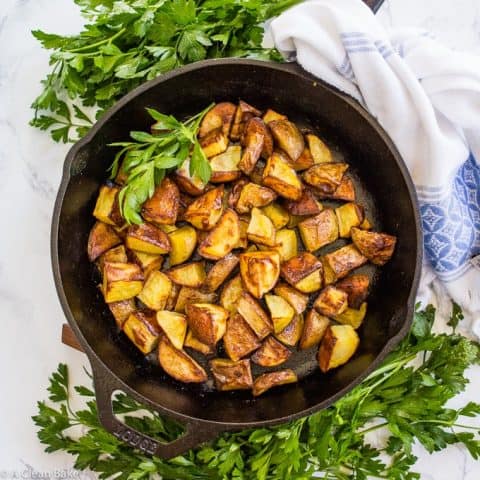 Perfect Roasted Potatoes
These perfect roasted potatoes only require three ingredients and a quick bake in the oven. No fancy tricks or high maintenance steps required!
Ingredients
1.5 pounds yellow potatoes,, washed
2 Tablespoons olive oil
1/2 teaspoon fine sea salt
Instructions
Preheat the oven to 450°F.
Cut potatoes into into large bite sized pieces (1" or so square).
Soak potatoes in a large bowl of ice water for 20-30 minutes.
Drain the potatoes and lay them out on a clean kitchen towel. Pat dry.
Toss with olive oil and salt.
Spread potatoes in a single layer, making sure to leave ample space (about 1/2-1" between each piece), in one or two cast iron pans.
If you don't have more than one pan, you may need to cook the potatoes in multiple batches. (It's worth the extra time!)
Bake for 30 minutes, then flip the pieces and cook for 10-15 minutes more until crispy.
Serve immediately.
Notes
If you do not have a cast iron pan(s), use baking sheets lined with tinfoil instead. The side of the potatoes that is face down will brown more quickly, so you may need to check on and turn the potatoes more than once during the cooking process.
Make sure you leave as much space between each piece of potato as possible. Use 2 baking sheets if necessary. Having enough room between the potatoes is the key to making them crispy. If they are too close, the moisture each piece releases as it cooks will steam the pieces around it, and it will be harder to get the crispness that we want.
They will be at their most crispy right out of the oven, but soften up fast. When possible, serve immediately after cooking.
Store leftover in an airtight container in the fridge for up to a week. They'll never be quite as perfectly crisp as when you first pull them out of the oven, but you can reheat leftovers in the oven or a heavy-bottomed pan (such as cast iron) to get a little bit of the crispness back before serving.
Nutrition Information:
Yield:

4
Amount Per Serving:
Calories:

160
Saturated Fat:

1g
Sodium:

307mg
Carbohydrates:

21g
Fiber:

4g
Protein:

4g