Strawberry Cobb Salad is the summer salad to end all summer salads! This hearty mix of veggies, fruit, and protein is flavorful and satisfying!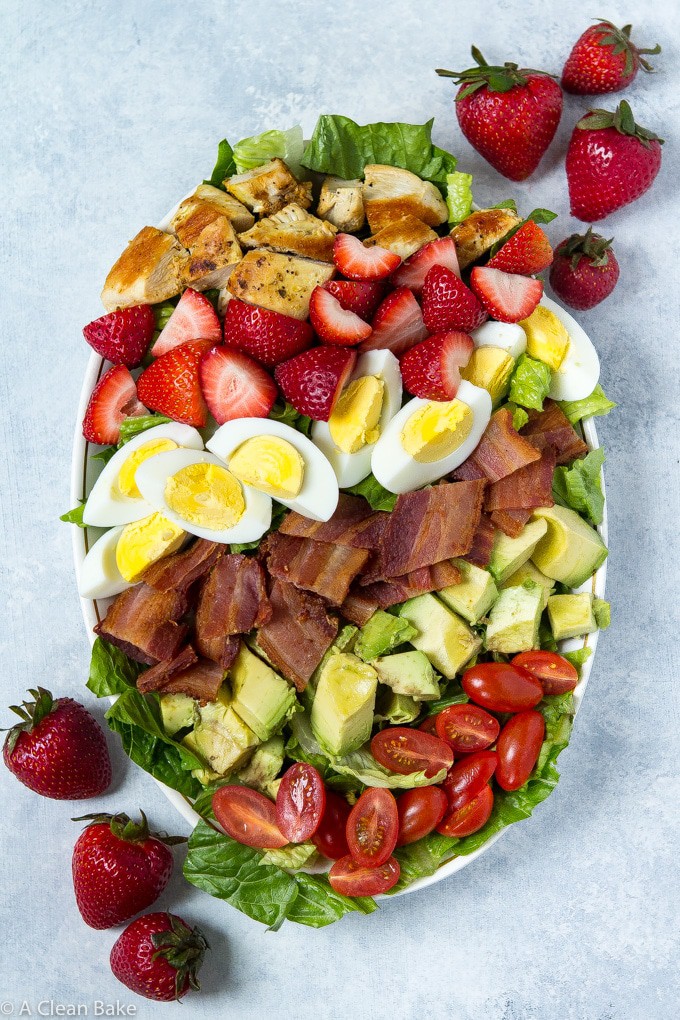 TLDR; Butcher Box is offering A Clean Bake readers a bonus of free bacon with your first box, plus $10 off and free shipping! Sign up here.
If you knew me 10 years ago, you wouldn't recognize me. I lived on bagels and cream cheese, pasta and hummus, with the occasional chicken breast forced in. Before that, I was a vegetarian for, what, maybe 10 years? Before that, a pescatarian. Later, briefly, a vegan. Suffice it to say I've had a complicated relationship with meat for my whole life.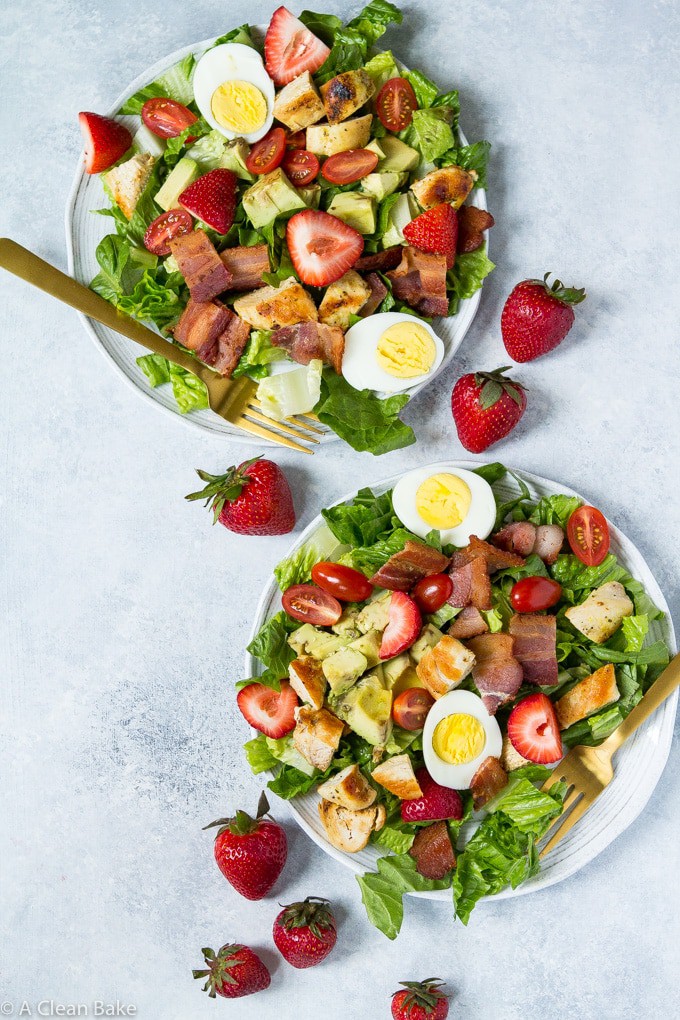 Now that meat is a bigger part of my diet out of necessity, it's important to me to do it right: as much as access and budget permit, my family eats high quality, humanely and sustainably raised meat (and fish!) and do our best not to eat more than our fair share, by filling up on veggies and other protein sources as much as possible.
But that doesn't mean we are hungry. Or iron deficient, either. Life is too short not to eat bacon, which is something 10-years-ago me would have sneered at, but current-me has realized the error of her ways. The difference is that I've discovered really, really good quality bacon.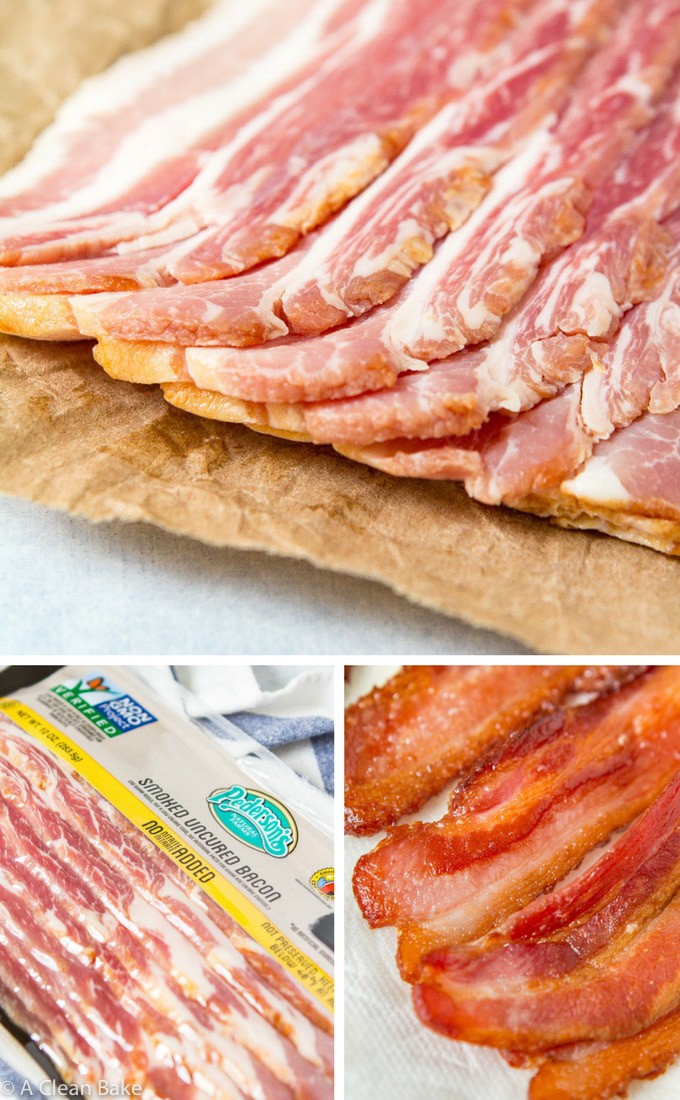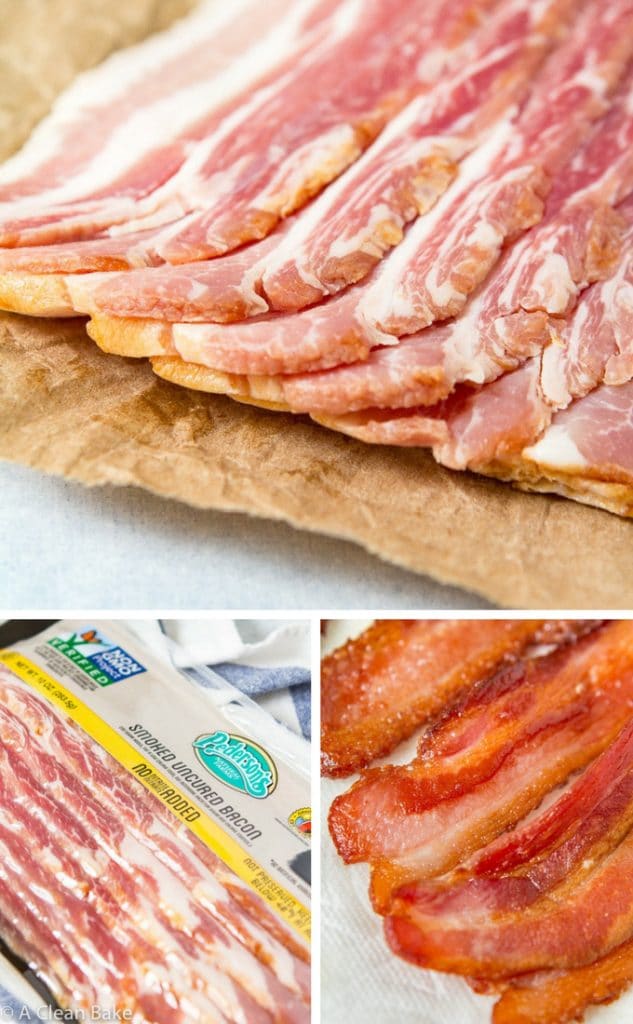 It's the bacon I used in this strawberry Cobb salad, and it's from a meat delivery subscription service called ButcherBox. I've teamed up with them to bring you a bunch of recipes over the next several months featuring their bacon (duh), and chicken, and beef – all of which comes from happy, humanely raised animals. You can get more info on the website, but highlights are:
ButcherBox is an easy way to access premium 100% grass-fed beef, free range organic chicken, and heritage breed pork (always free of antibiotics and hormones) which, in my neck of the woods, is difficult and expensive to find on a regular basis!
You can customize your box type and no two boxes are the same. Each monthly box offers a different combination, which allows you to try new cuts and recipes (and each box includes a few recipe cards for inspiration). You can see what a sample box looks like here.
8-11 pounds of the tastiest cuts of super premium meat will arrive each month, flash frozen (to preserve freshness), packed in a cooler dry ice, and express delivered directly to your door. This is a subscription service, but you can change the frequency if you'd like to receive your box every other month, third month, etc. You can also cancel at any time with no penalty.
Each $129 monthly box (which works out to less than $6 per portion) contains enough meat for 18-25 individual meals.
You'll get $10 off of your first box (bringing the per-portion cost to less than $5!) and free shipping if you order using this link.
This is where the game show host would say, "but wait! There's more!" I told them about you and how I thought you'd really appreciate this kind of quality, so they agreed to include an extra package of their super high quality, uncured bacon (this is the free bacon I mentioned!) with your first box if you sign up right here! As if this salad wasn't already irresistible!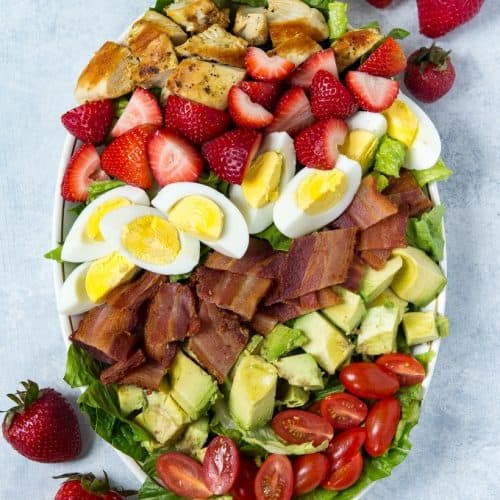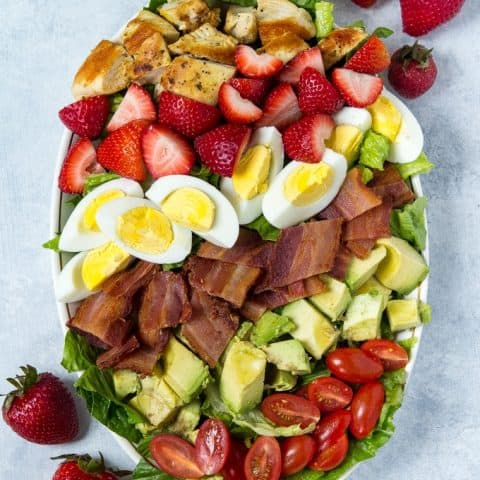 Strawberry Cobb Salad
Strawberry Cobb Salad is the summer salad to end all summer salads! This hearty mix of veggies, fruit, and protein is flavorful and satisfying!
Ingredients
1 head romaine lettuce, (about 8 cups chopped)
1 pound grilled or baked chicken,, seasoned with salt and pepper, or your favorite spice mix
2 large avocados (peels and pits removed)
10 ounces bacon,, cooked and cooled
4-6 large hard boiled eggs,, cooled and peeled
1/2 pint strawberries,, washed and hulled
1/2 pint grape tomatoes,, rinsed and dried
Instructions
Wash and dry the lettuce. Roughly chop it into bite sized pieces and spread on a platter, or divide between four dinner plates.
Chop the chicken, avocados, bacon and eggs into bite sized pieces. Add on top of the lettuce.
Slice the strawberries and tomatoes in half or quarters, then add to the salad on top of the lettuce.
Serve immediately, with apple cider vinaigrette, or your favorite dressing.
Notes
Cobb salads usually include blue cheese, which I did not add to keep this dairy free. If you can tolerate dairy, and enjoy blue cheese, please feel free to add it!
Yield: 4 servings
Nutrition Information:
Yield:

4
Serving Size:

g
Amount Per Serving:
Calories:

673
Saturated Fat:

16g
Cholesterol:

318mg
Sodium:

626mg
Carbohydrates:

13g
Fiber:

5g
Sugar:

6g
Protein:

39g
[wprm-nutrition-label align="center"]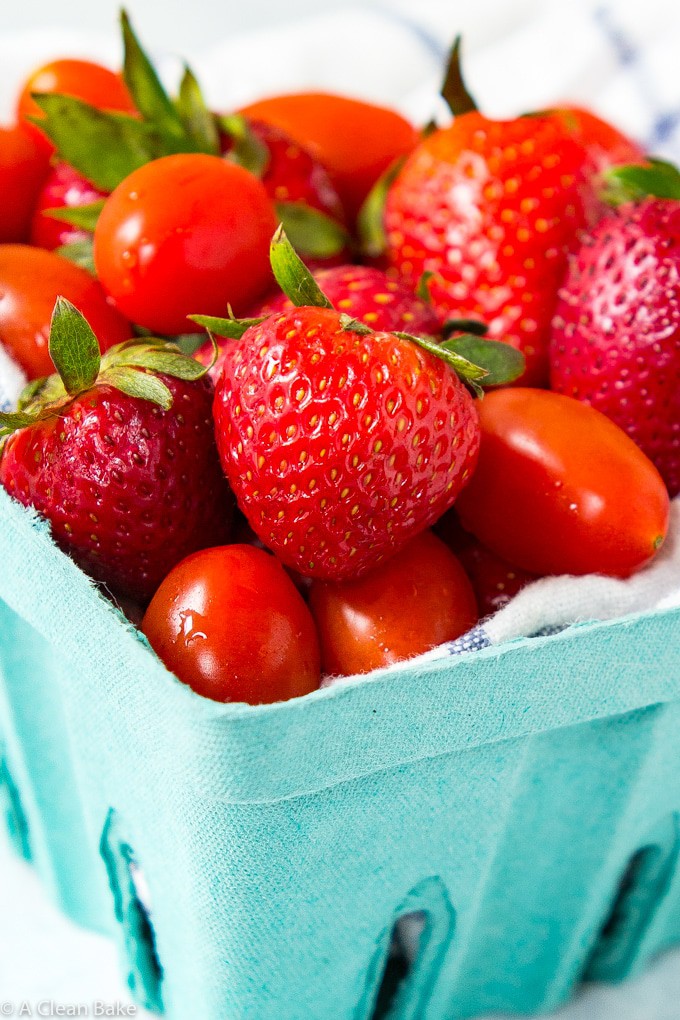 Thank you to ButcherBox for providing the bacon that inspired this post. This post contains affiliate links, which means that if you click through and purchase a product, A Clean Bake receives a small commission. All proceeds go toward continuing to bring you delicious, healthy recipes every week, and this does not affect the price you pay. Thanks for supporting A Clean Bake!