Making rice in the slow cooker means you'll have half of dinner ready without any effort! Save yourself the time slaving over the stove by making perfect rice in the slow cooker or crockpot.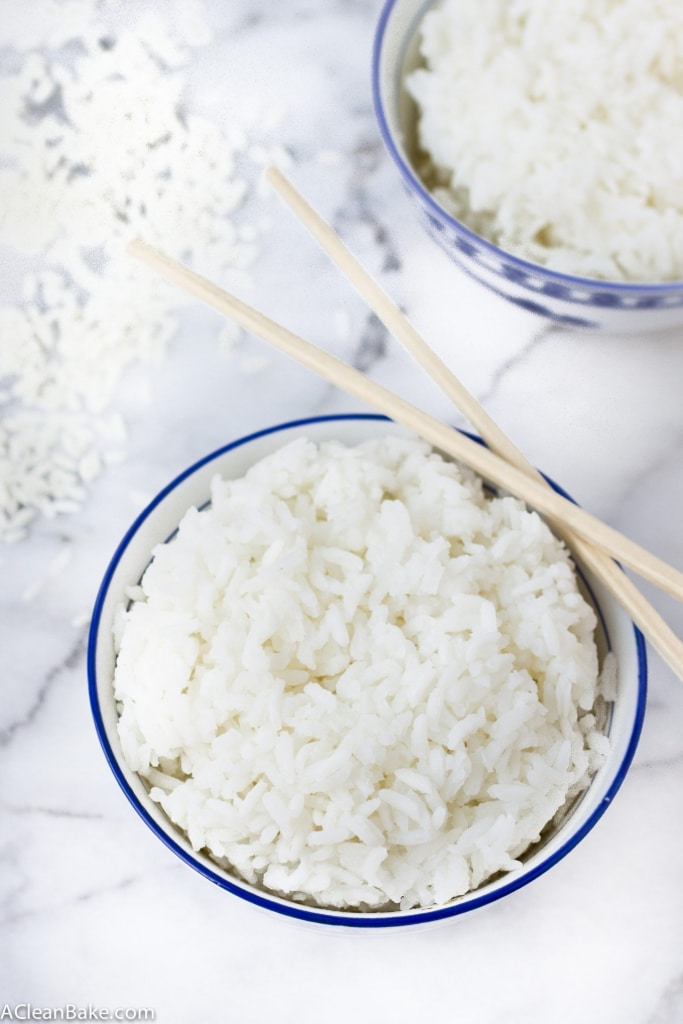 Where do you stand on the whole rice thing?
Are you a white rice fan, or a brown rice fan?
Or, are you of the belief that all grains are the devil, and should be avoided?
Me, I'm proud to have recently relocated to Camp Most Grains Are The Devil (from Camp All Grains Are The Devil) and my bunkmate in Camp MGATD has been white rice.
For most of my life, I didn't appreciate white rice. I believe in eating whole grains over their "white" counterparts for the nutritional benefits, but only to a point.
White rice may be higher glycemic (which means it makes your blood sugar rise and fall more rapidly), but it is also much easier to digest – as grains go – than brown rice (which, for me, is still pretty tough to stomach), and I love (LOVE) sushi. So, though I still eat a very low carb, paleo-friendly* diet, when I need a major carb infusion, I love white rice.
*Actually, many Paleo Powers That Be have embraced white rice in the last year or two, so I'm not alone here.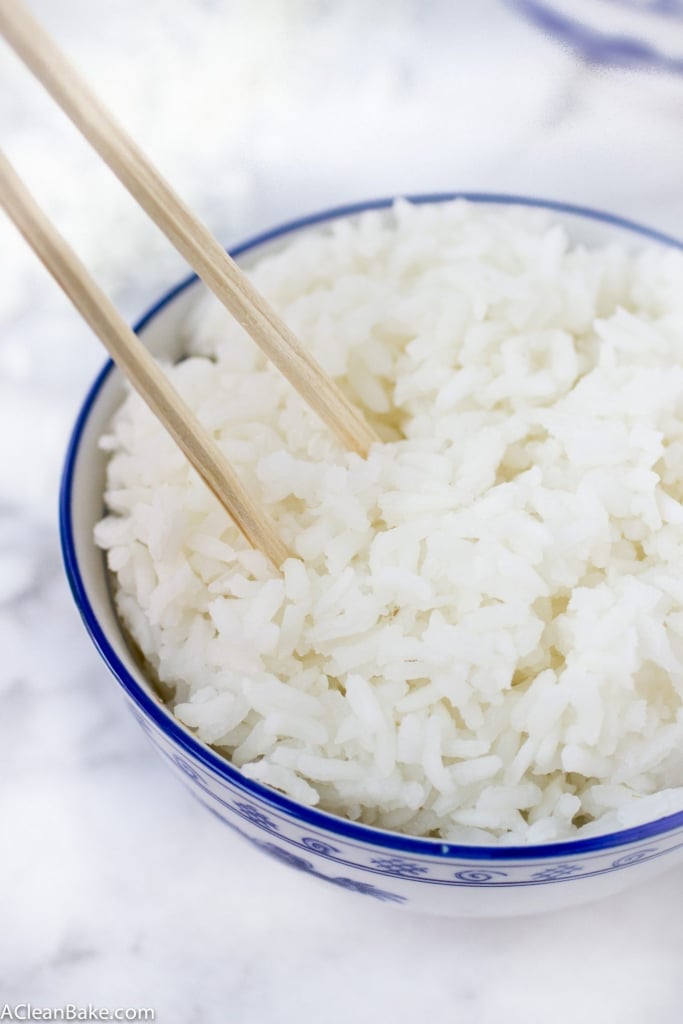 The only problem – with any rice (besides rumblings of arsenic in it, which are much lower in white rice than brown, and lower still if you buy Asian-grown rice vs. US-grown. Not that you should be worried about arsenic in your rice, but I understand that some of you may be.) – is the time it takes to cook.
I have this strange memory from childhood of my parents cooking rice slowly, over low heat, very carefully, stirring almost constantly. When I make rice on the stove top, I tend not to have that kind of patience and end up with an unevenly cooked, possible-slightly-burned-but-I'm-not-admitting-to-anything batch.
Which brings me to yet another love letter to my slow cooker. Rice does need to cook "low and slow" as they say, but if you cook your rice in the slow cooker, it doesn't burn or cook unevenly the way it does on the stove. I'm sure there's some very rational explanation about the heat distribution or something, but all I care about is that I can make a big batch of rice with almost no effort.
The only thing you really have to do is rinse the rice. Rinsing removes excess starch, which allows the rice to cook up into tender, fluffy individual grains, rather than being weighed down by all of that excess starch and ending up resembling rice pudding more than rice itself. So take those few extra minutes to rinse the rice before you throw it in the slow cooker with the water, walk away and return to batch of perfect rice.
Updated to add: A few readers have asked what size and model slow cooker that I used for this, because it has some bearing on cooking time. This 4-quart model is the one I use. 
Updated again to add: I've also cooked wild rice in the slow cooker. Add scant 3 cups water and a pinch of salt for every 1 cup (rinsed) wild rice. Cook on low 2.5 – 3 hours until water is absorbed, and the grains have burst and are tender. Fluff with a fork, then serve.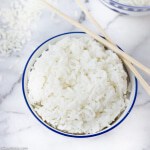 Perfect Rice in the Slow Cooker
Ingredients
1

cup

medium or short grain white rice

1

pinch sea salt

optional

2

cups

water
Instructions
Thoroughly rinse rice in a fine mesh sieve until the runoff turns from cloudy to clear.

Place the rinsed rice in the bowl of your slow cooker and sprinkle salt over the top.

Pour water over the rice.

Cover and cook on low 2-2 1/2 hours until rice is tender.

Uncover, fluff rice with a fork, and then serve.
Recipe Notes
Store leftovers in an airtight container in the fridge for up to a week.
You can use this method for wild rice as well: Add scant 3 cups water and a pinch of salt for every 1 cup (rinsed) wild rice. Cook on low 2.5 - 3 hours until water is absorbed, and the grains have burst and are tender. Fluff with a fork, then serve.
For more flavor, replace some or all of the water with chicken stock (which, incidentally, you can also make in your slow cooker!) 
Products from Amazon.com
‹
›