This satisfying and nutritious summer salad combined tender wild rice, flavorful harissa shrimp and refreshing mint. It's naturally gluten free, too.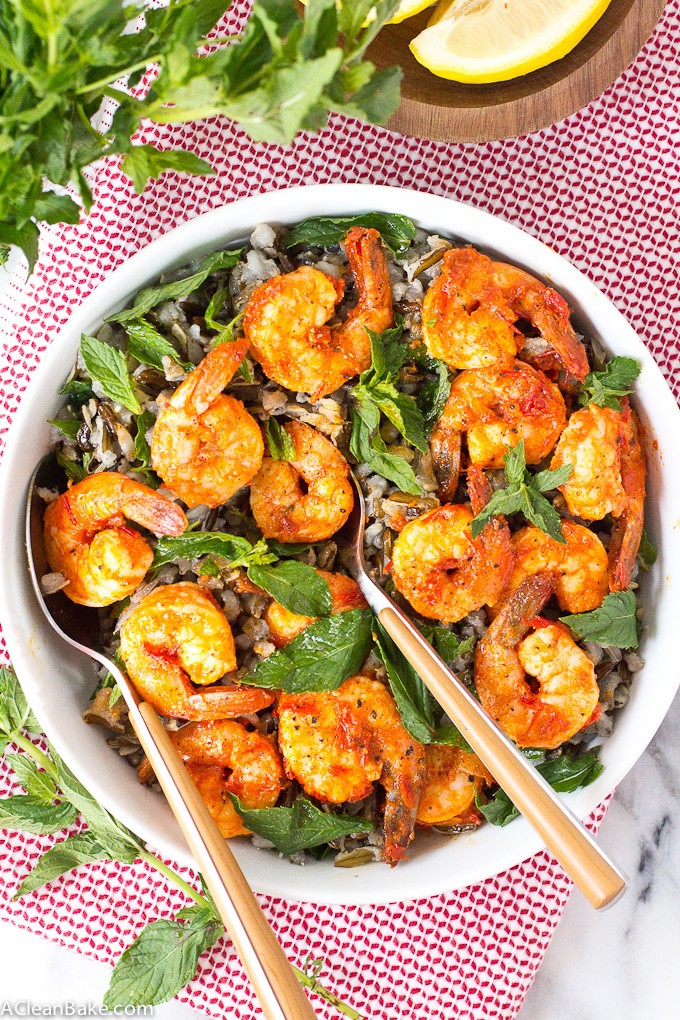 I use a lot of words here (and, well, everywhere. Those who know me in the offline world are wide-eyed and nodding vigorously, yes?) but right now, I am at a loss. Though it feels woefully inadequate, thank you is the best I have. Thank you, yes you, for your kindness, excitement, support and name suggestions, both here and on Instagram, in response to my post last week. Can I just say that the community here on A Clean Bake is the absolute best? Accept no substitutes 😉
It feels good to finally be honest with you about something that has been absorbing so much of my time and energy lately. This blog has always been, and will always be, my baby but I'd be lying if I said that the constant reminders of the other baby-in-progress, in the form of fatigue and disinterest in most foods, throughout the day weren't overwhelmingly winning the battle for my attention.
But I love this blog, and I love to cook for all of you guys, and I promise this is not going to turn into a mommy blog or a baby food blog (though you must know that I am going to be that mom who makes my own baby food, at least as much as time allows, but I promise that whatever I share won't be at the expense of big-people food) or a pregnancy blog.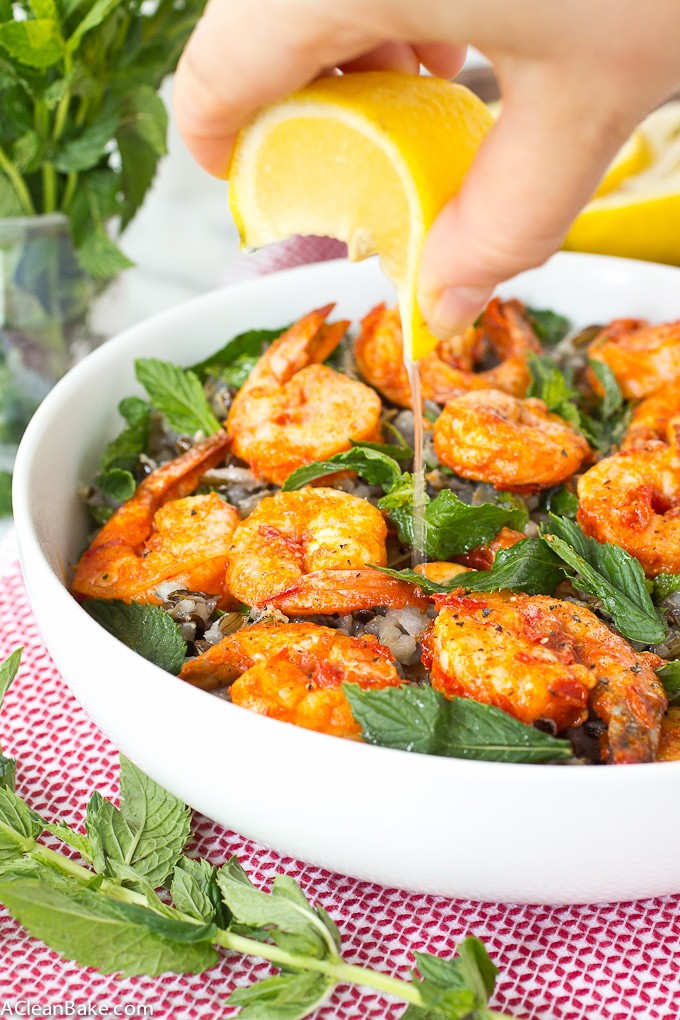 I'm still me, and even though I am adding "preggo" and, eventually, "mother" (eep.) to my Life Resume, I'm not going to wipe the slate clean of all the other things I am, like Obsessive Home Cook, Clean Baker, Hit-Or-Miss Food Photographer, or Lover of Flavorful Foods.
Speaking of which, can you believe that some pregnant women are advised to stay away from spicy food? Maybe that helps some women's nausea but it doesn't make a difference to me, and food that is drowning in flavor sounds much more appealing to me than 9 months of cardboard-bland meals. So, maybe not much has changed.
What has changed, besides my waistline, is my body's demands for macronutrients. I tried to stick to the low-carb diet at first, but one of the only ways I can keep the sickness in check is to make sure to eat some carbs at every meal. Though I have eaten a few more fries than normal in these last few months, I am trying hard to stick to good quality carbs that I know are healthy, nutritious and safe for my sensitive system (though some people notice a lessening of their symptoms during pregnancy, I seem to react much more easily and severely since I've been pregnant). This means low-sugar fruit like green apples, grapefruit, and berries, white and sweet potatoes, and white or wild rice.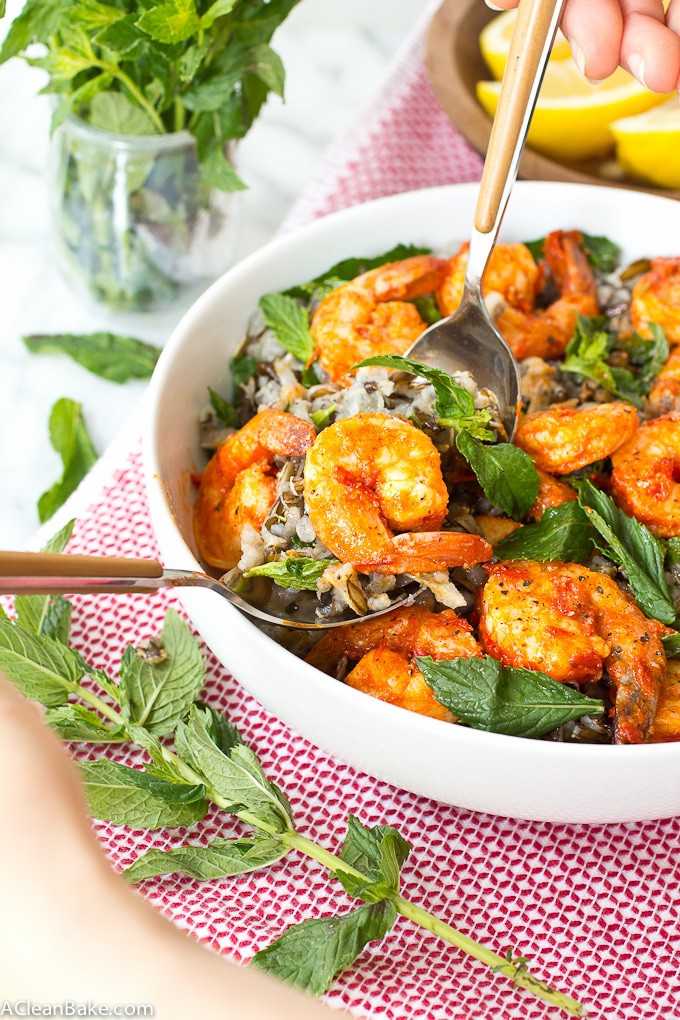 Wild rice has been a lifesaver; brown rice doesn't agree with me and white rice has been stripped of many of the nutrients and antioxidants of whole grains like wild rice. It's naturally gluten free, and I've been eating the organic, non-GMO wild rice from Now Foods because, like all first-time pregnant ladies with too much time on their hands to worry, I now worry about the quality of every bite of food I put in my mouth. Plus, some studies indicate that organic foods may be more nutrient dense, so it can't hurt.
The same goes for the shrimp. You're not going to find organic, but if you can find sustainably-raised, then everyone wins. Even the shrimp who, despite being offed for this dish, get covered in the most dignified funereal garb delicious coating of the spicy Moroccan condiment harissa.
Finally, the shrimp and wild rice (which you can make in advance in your slow cooker – method here; scroll down to the note just above the recipe – so talk about a low-effort meal!) get tossed with mint, olive oil, lemon juice and a few other unobtrusive flavors for a simple summer salad that you'll love.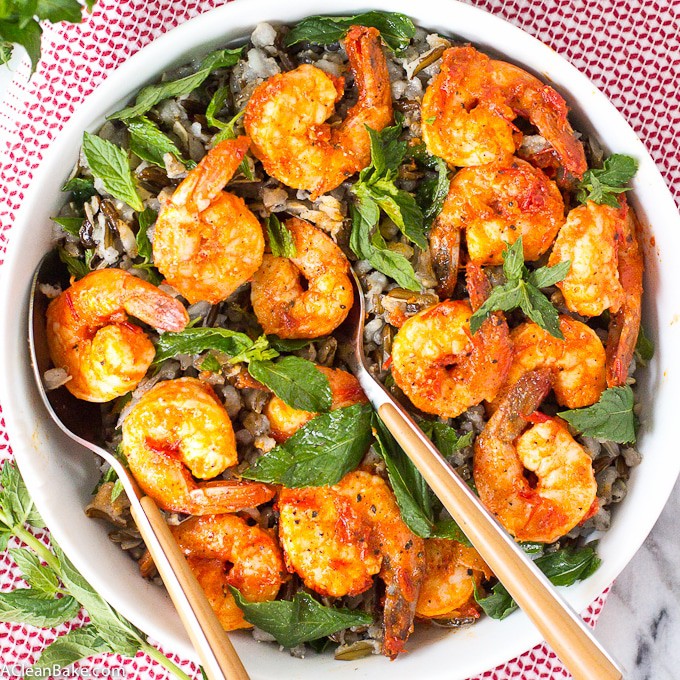 Cold Wild Rice Salad with Harissa Shrimp and Mint
This satisfying and nutritious summer salad combined tender wild rice, flavorful harissa shrimp and refreshing mint. It's naturally gluten free, too.
Ingredients
1/2-3/4 lb raw shrimp, peeled and deveined
1/3 cup harissa
Sesame oil, if frying; you do not need the oil if you are grilling the shrimp instead, for cooking shrimp
2 Tablespoons extra virgin olive oil
1 Tablespoon freshly squeezed lemon juice
1/4 teaspoon granulated garlic
salt and pepper to taste + more for finishing, optional
4 cups cooked and cooled wild rice, 1 cup dry rice + scant 3 cups water
1 cup fresh mint leaves, rinsed, stems discarded
Lemon wedges, for finishing and serving
Instructions
Rinse your shrimp and pat them dry. In a large bowl, gently toss shrimp and harissa to thoroughly coat.
Preheat a large pan or a grill. If using a pan, add enough oil to coat the bottom of the pan.
Cook the shrimp in a single layer until firm and curled up (which indicates they are cooked through). Transfer to a clean plate, and set aside to cool.
In a medium mixing bowl, whisk together the oil, lemon juice, garlic, salt and pepper. Then add it to the wild rice and toss to coat. Add the mint and toss to combine.
Top the rice and mint mixture with the cooled harissa shrimp.
Finish with an extra sprinkle of salt and freshly ground black pepper and a squeeze of fresh lemon juice and serve immediately.
Notes
The easiest way to cook your wild rice is to use your slow cooker. Instructions are here
Use any kind of harissa you find or make, but my favorite brand is Mina, which you can find in most grocery stores.  I use the spicier one, but you can get a mild version instead if you want less heat.
If you'd like to add some vegetables to this dish, I'd suggest chopping cooked and chilled green beans or asparagus and tossing them with the rice when you add the mint.
Nutrition Information:
Yield:

2
Amount Per Serving:
Calories:

634
Saturated Fat:

2g
Cholesterol:

285mg
Sodium:

1507mg
Carbohydrates:

83g
Fiber:

10g
Sugar:

7g
Protein:

38g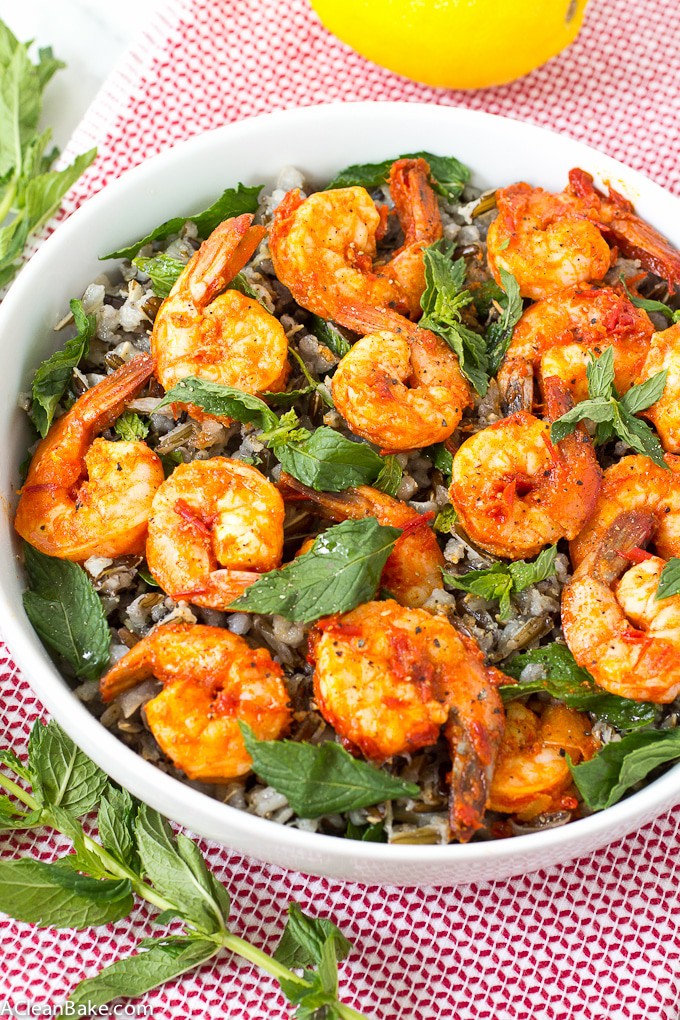 Thank you to Now Foods for providing the ingredients that inspired this delicious recipe. This post contains affiliate links, which means that if you click through and purchase a product, A Clean Bake receives a small commission, which goes toward continuing to bring you delicious, healthy recipes every week. This does not affect the price you pay. Thanks for supporting A Clean Bake!