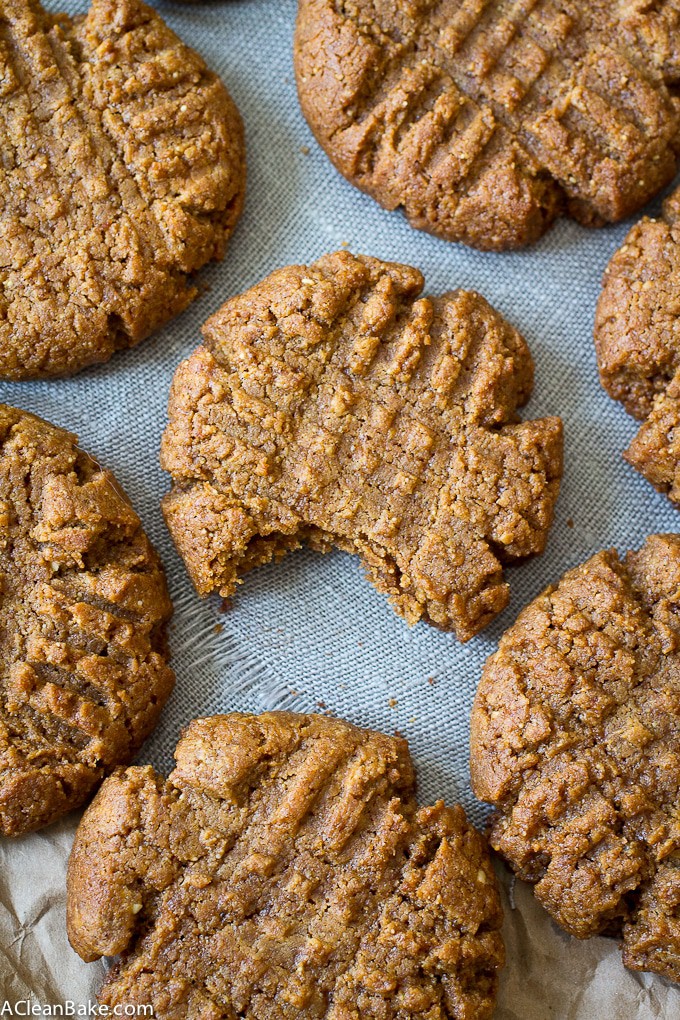 Before you ask: yes, you can use almond butter or sunbutter in this cookies instead! These cookies are a dream: 1 bowl, a handful of ingredients and a spoon. Plop the dough on the cookie sheet and quickly smash 'em with a fork; don't worry if they're imperfect, because imperfect is rustic and rustic is perfection with this recipe. As, let's face it, is the case with most of the recipes you'll find here 😉
Anyway…hello from New England! I'm on vacation for the week at my uncle's house in rural Connecticut. But, since my husband and I are crazy people, this is our 4th stop in nearly as many days. We drove here, too, by the way, all the way from Chicago, stopping on the way in Dearborn, MI (just for an incredible lunch at this James Beard Award-winning joint). Then it was on to Buffalo for a multi-course feast prepared by my cousin in honor of his wife's birthday (talk about perfect timing to drop in for dinner) and some quality time with him, his wife, his daughter, who is headed for high school next year (I'M OLD) and my great aunt and uncle. My great aunt, by the way, is one of the sources of my genetic predisposition to compulsively cook and feed people immense quantities of food, although mine will never in a billion years be as good as hers – or her son's. But I try.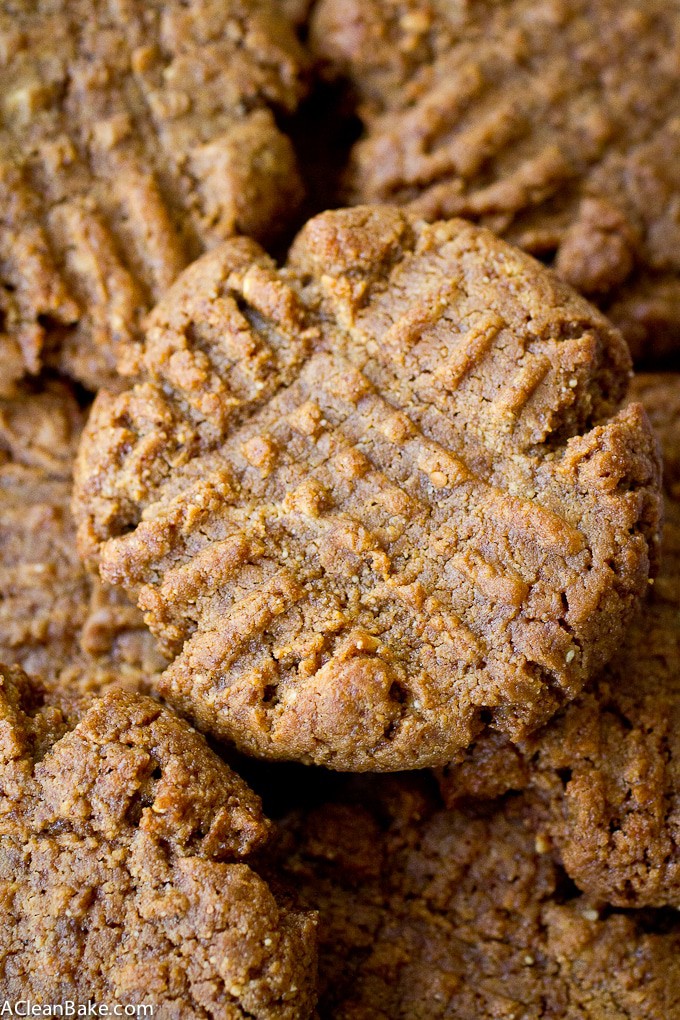 Anyway, after a quick stop to see Niagara Falls, we headed out of Buffalo, drove alllllll the way across New York state and up to Vermont to see another branch of the family at a beautiful (I mean, like, this place was clearly a movie set or something; it could not have been real. BUT IT WAS.) resort on Lake Champlain, where we spent the weekend celebrating another cousin's wedding and working on our farmer's tans (mostly the former). Luckily, on our last day there, it helpfully decided to start torrentially raining, and the roof in the room we were staying in started to leak. So it was much easier to leave than I anticipated. Furthermore, we were a mere hour from Ben and Jerry's and there's nothing like ice cream to lure me away.
We headed toward Waterbury and, despite not being able to take the tour of the B&J Factory, were able to hit the gift shop and – most importantly – the cafe, but not before stuffing ourselves full of super good quality burgers (good turkey burgers are hard to come by, but this one was GOOD. It even came with a GF bun, which I ended up not eating, but it's the thought that counts) and crispy and addictive fries at this place in Waterbury. Then, just before we became fully ensconced in our imminent food comas, we drove another 5 hours to Connecticut, where you'll find us now. At the end of the week, we'll head to New York for my college reunion, and then drive all the way back to Chicago – possibly in one day. So, please don't be surprised if the blog is a little quiet this week and, especially next, because I think I'm going to be preoccupied trying to figure out where am I over the weekend, rather than writing posts.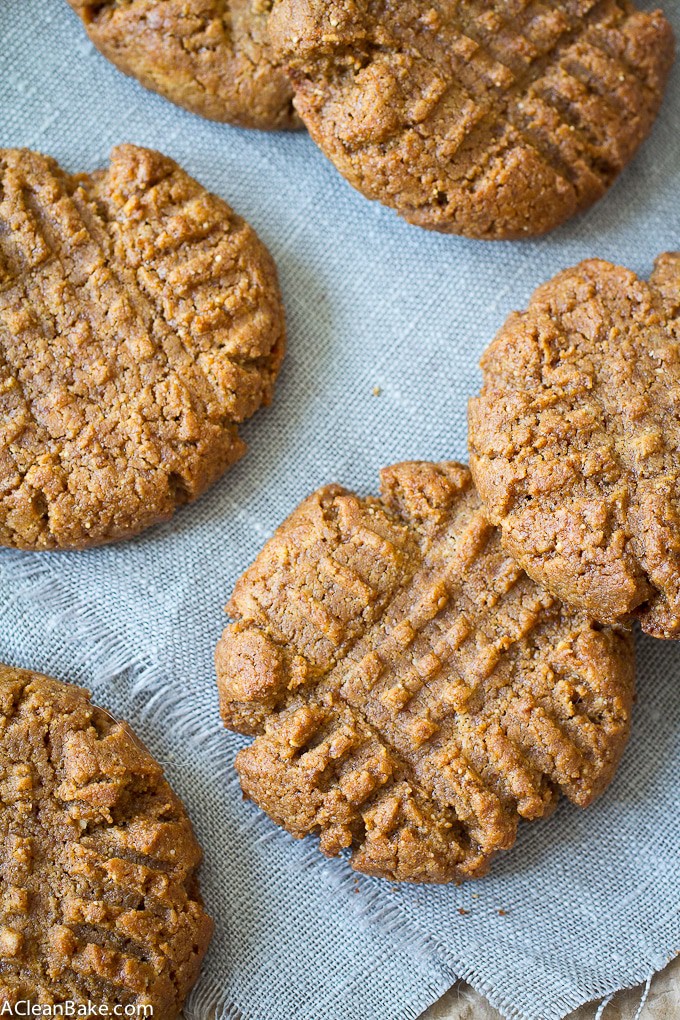 So what in the name of baked goods does this have to do with cookies? Ah. Yes. Good question. So, as I said, my little cousin in Buffalo is about to graduate middle school and *gulp* go to high school next year. She had a graduation-related awards ceremony the day after we visited and, since we had to make it to Vermont by a certain time for the rehearsal dinner, we were forced to miss her ceremony. So, as a half distraction ("ceremony?…. er… look! cookies!") and half apology ("I'm sorry I am going to miss your ceremony, but will you forgive me if I give you cookies?") I made her these cookies.
She has always had a really impressive palate, so don't mistake these for bland "kid cookies". They are soft, tender, and comfortingly peanut butter-y with slight hints of caramel from the coconut sugar. They are as complex as you'd want them to be for such a humble cookie. Oh, and, I probably sound like a broken record, but I would get all squirmy if I didn't remind you that the fewer ingredients a recipe calls for, the more important it is to get the best you can find. That means natural, unsweetened, and unadulterated peanut butter; great eggs; aluminum-free baking powder; rich vanilla extract; and deep and caramel-y coconut sugar. For the latter two ingredients, I turned to my favorite brands: Ellyndale Foods Organic Vanilla Extract and Now Foods Organic Coconut Sugar. I strongly recommend you do the same, if you can!
But, despite their awesome flavor, these are definitely a simple and humble cookie that any 8th grader would be proud to pass around to her friends after her ceremony (I'm not sure if she did, but she could have). Also, they had to survive a hot car and several state lines, not to mention customs (and I thought we could use a few to bribe the Canadian Mounties if they caught us speeding, so BONUS!), so I needed a sturdy workhorse of a cookie. These fit the bill perfectly.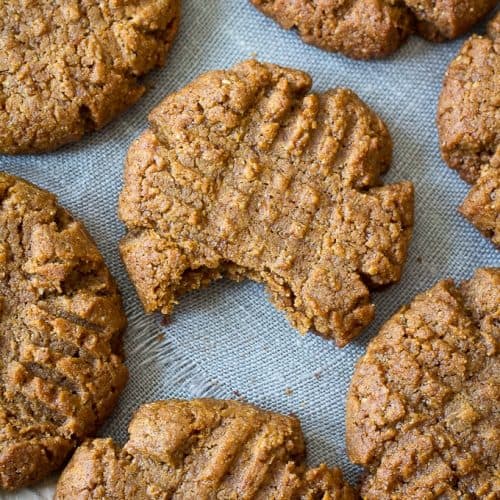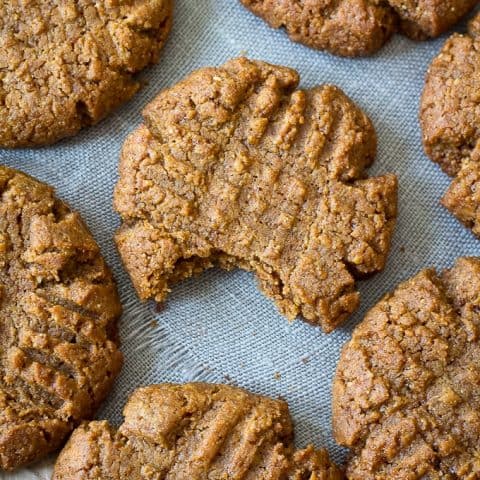 5-Ingredient Peanut Butter Cookies
It only takes 5 ingredients and a few minutes of stirring to put together these rustic and beautiful peanut butter cookies that everyone will love!
Ingredients
1 cup natural unsweetened peanut butter, see notes
2 large eggs
1/2 cup coconut sugar
1/2 teaspoon baking powder
1/4 teaspoon vanilla extract
pinch salt, optional, but recommended if your peanut butter doesn't already contain salt
Instructions
Preheat the oven to 350F and line a cookie sheet with parchment or a nonstick pad.
In the bowl of an electric mixer fitted with the beater attachment or in a large mixing bowl using a hand mixer, whip the peanut butter for a minute until smooth, and then mix in the eggs.
Add the sugar, baking powder, vanilla and salt and mix until smooth.
Scoop 2-3 Tablespoon portions and roll them into balls.
Place them 2" apart on the prepared cookie sheet, then use the back of a fork to gently press twice in opposite directions to flatten the dough balls slightly.
Bake for 13-16 minutes until firm on top (the centers will still be soft).
Allow the cookies to cool for about 10 minutes on the cookie sheet (during which time they will firm up slightly) before transferring to a wire rack to cool completely.
Notes
You can use crunchy or creamy peanut butter, depending on how much texture you'd like your cookies to have. But I find that creamy peanut butter produces a cookie that holds together a little better.
Yield: About 10 cookies
Feel free to replace the peanut butter with almond or sun butter.
Nutrition Information:
Yield:

10
Amount Per Serving:
Calories:

192
Saturated Fat:

3g
Cholesterol:

37mg
Sodium:

148mg
Carbohydrates:

12g
Fiber:

1g
Sugar:

7g
Protein:

7g
[wprm-nutrition-label align="center"]
Thank you to Now Foods for providing the ingredients that inspired this delicious recipe. This post contains affiliate links, which means that if you click through and purchase a product, A Clean Bake receives a small commission, which goes toward continuing to bring you delicious, healthy recipes every week. This does not affect the price you pay. Thanks for supporting A Clean Bake!