Dessert hummus is all the rage these days! This is one of the originals: a chocolate, chickpea-based brownie batter dip that is a great party snack!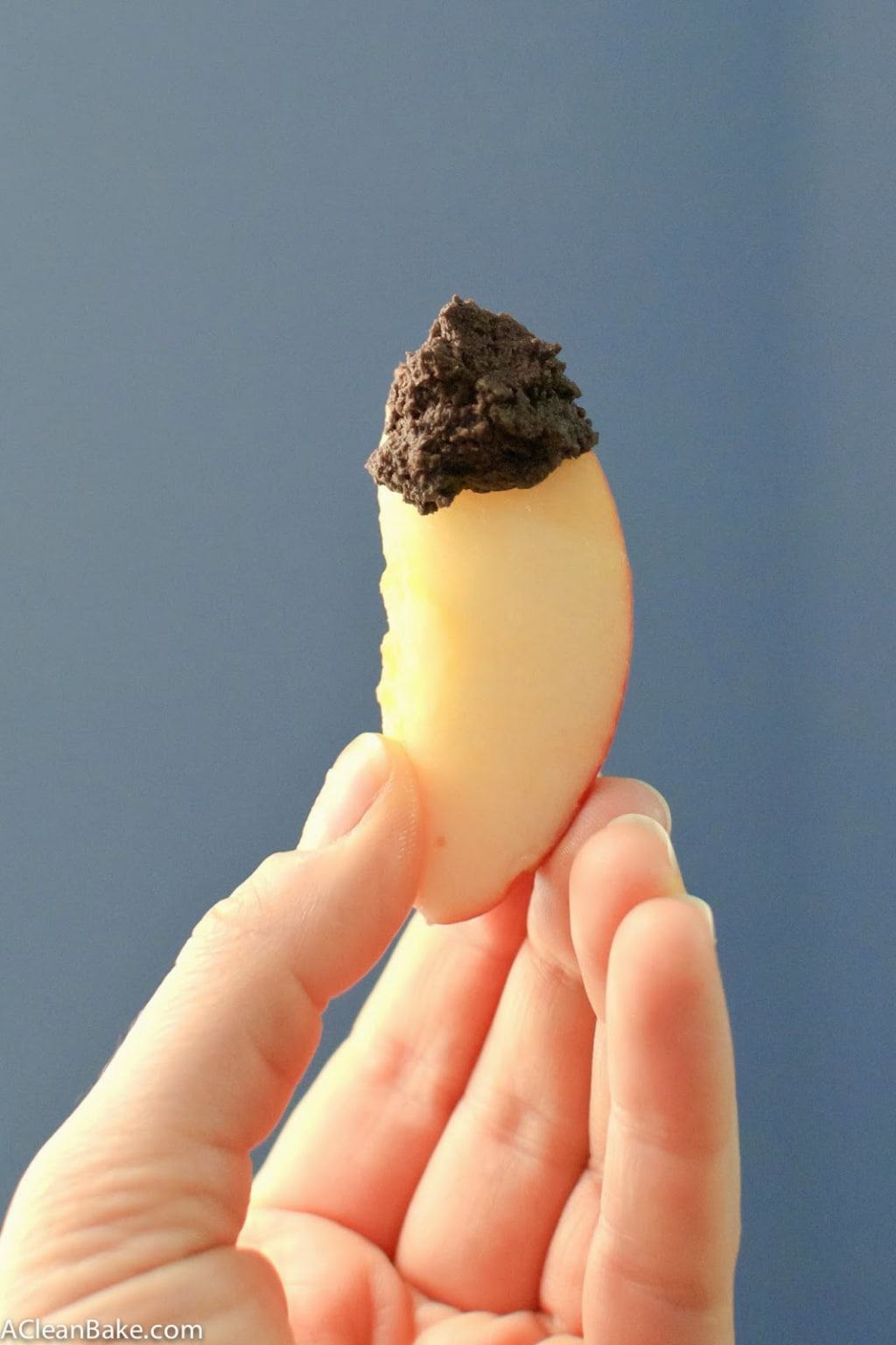 Two super-chocolatey recipes in one week? Oh well, I guess that's what stress does to you (and by you, I mean me, of course).
So, let's get one thing straight: I detest labels like lightened-up, skinny, and, yes, secretly-healthy. As you probably already figured out, I strongly object to the concept that healthy and delicious or indulgent are mutually exclusive and I don't think you need to trick people into eating healthier. So, here I am, seething at the title of this recipe as I write. But the title speaks the truth. Privately, I call this recipe chocolate hummus, but I thought that might sound really strange, and I think that if you add chocolate, it might automatically become Not Hummus. Plus, this tastes like brownie batter.
So, here we are. Forget what it's called. Let's focus on how it tastes.
If you like black bean brownies (like this recipe or this one), you'll be a fan of this too. You get the same flavor with less work, fewer ingredients and no need to turn on the oven, which is a relief, unless you're in the midwest where the highs have been in the low 70s lately (seriously? I want my money back, summer). You can compliment the healthfulness by dipping fruit in it, or embrace it but still eat it piled on some kind of cookie. Because life is all about balance.
No-Bake Brownie Batter Dip
Ingredients
1 cup canned chickpeas, rinsed and drained
2 teaspoons tahini (see note)
2 Tablespoons unflavored oil that is liquid at room temperature (see note)
2 Tablespoons cocoa powder
1 Tablespoon honey, maple syrup or liquid sweetener of choice (or adjust to taste)
1/8 teaspoon salt
Cooking Directions
Combine all ingredients into the bowl of a food processor or blender. A mini food processor is best, if you have one.
Puree until smooth, stopping periodically to scrape the bottom and sides. Make sure there are no chunks left. Add a splash more oil if necessary for texture.
Transfer to serving bowl and serve immediately alongside cookies, sturdy fruit like apples, pretzels or other snacks, or store covered in the fridge for up to a week.
Notes:
(1) If you are not familiar with tahini, it is sesame seed paste (think of peanut butter, but made with sesame seeds instead of peanuts) that is available at health food stores, some supermarkets, and
online
.
This
is my favorite brand.
(2) Make sure that whatever oil you use has little flavor and is liquid at room temperature. That means coconut oil is, unfortunately, not going to work well in this recipe. Nor will something pungent like sesame oil or extra virgin olive oil. Try virgin olive oil, canola oil, or any other oil with a mild flavor.
**

This page contains affiliate links, meaning if you click through and decide to complete the purchase, I get a very small commission which gets invested directly back into supplies, ingredients, and administrative fees that are necessary to keep A Clean Bake running.

Thank you for your support!