This is one of the easiest and best gluten free waffle recipes you'll find, and they're grain free, too! Whip them up with just a bowl and whisk (or use your food processor!), and enjoy a perfectly crispy-on-the-outside-soft-and-pillowy-on-the-inside grain- and gluten-free free waffles!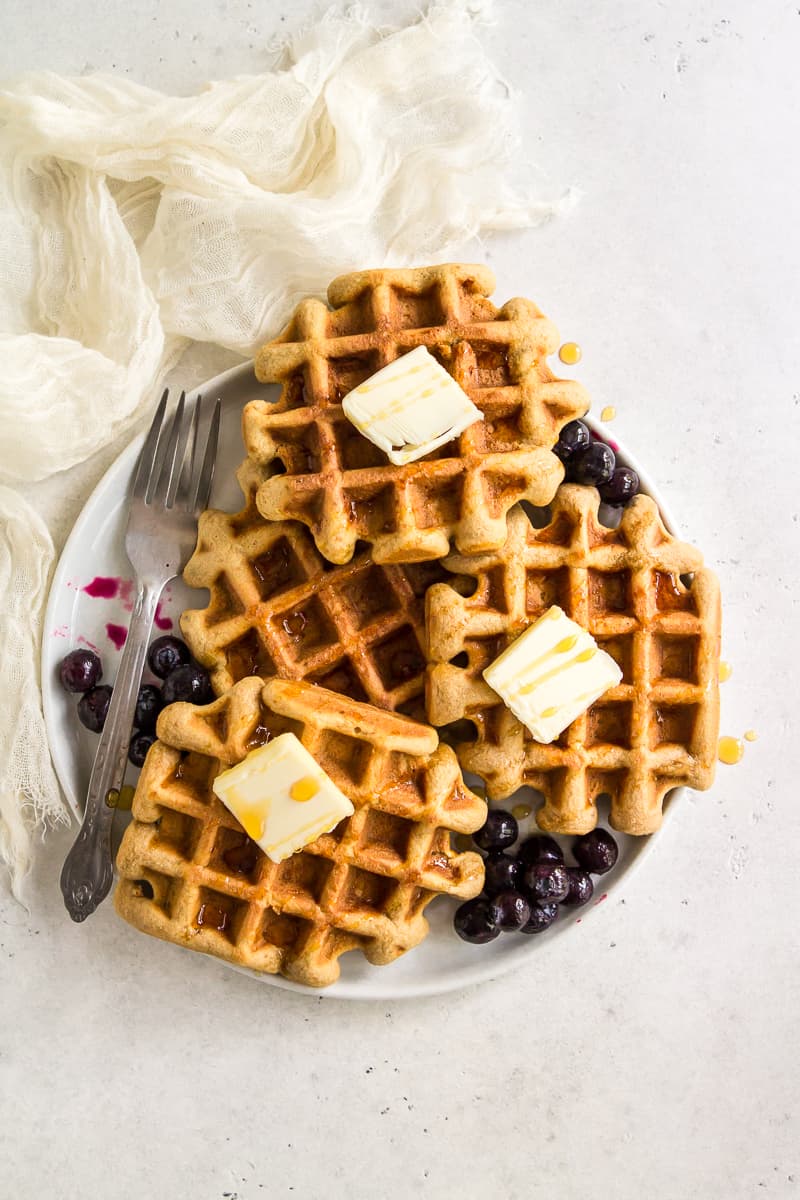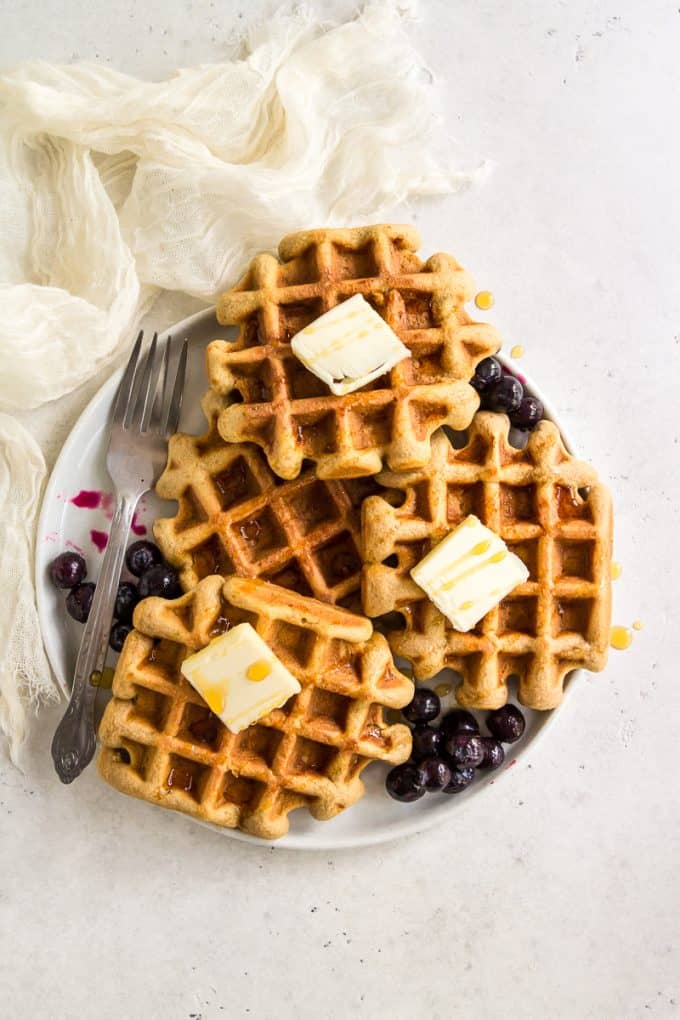 If you're a particularly eagle-eyed reader, you might have noticed the category on my (old) recipe page that said:
"Waffles and pancakes – Coming soon!"
After awhile, it became a source of embarrassment; how long can you say "soon" before it starts to undermine your credibility?
But I'm not one to flake on my promises. I am, increasingly, one to take a ridiculously, shamelessly long time to actually deliver on my promises, but deliver I shall.
I promised you waffles some unnamed number of months, ok years, ago and voila: WAFFLES!
And these are some of the best waffles (gluten free and paleo waffles or otherwise) I've had in a long time, so I think it was worth the wait.
What you'll need for perfectly crispy paleo gluten free waffles
My goal in creating this waffle recipe, aside from taste and texture, was to make it easy. The ingredient list is minimal, the process is extremely low-effort, and they are pretty fool-proof when it comes to cookies.
So, the ingredient list is as simple as I could make it.
You'll start with your dry ingredients: almond flour, tapioca flour, coconut sugar, and baking soda. Whisk those together in a large bowl and set them aside.
Then, you'll turn to your wet ingredients. Whisk a couple of large eggs, then whisk in avocado oil, vanilla extract, and white or apple cider vinegar. You do not need to separate the egg whites and egg yolks, like some other recipes out there. I have tested this recipe with the eggs separated and the whites whisked and folded in, but it doesn't really make much of a difference in the crispiness level of the waffles.
Then pour the wet mixture into the mixing bowl with the dry mix and whisk to combine. Pour the batter into your greased and pre-heated waffle iron and cook according to the manufacturer's instructions.
Pull them out of the waffle maker when they're just golden brown around the edges. The whole waffle won't be browned when they're done; if the whole waffle is brown then they are overcooked.

Perfect Crispy Waffles Every Time
When you make conventional waffles, the shatteringly crisp outside is produced, primarily, by three ingredients:
the wheat flour, which contains starch that toasts in the heat of the waffle iron
the cane sugar in the batter which caramelizes, creating the appetizing golden brown exterior and crispiness
the egg white which not only binds the waffle together but also contributes to the browning and outer crust
So, then, all we have to do is replace these ingredients that act similarly. Easy right? Well, not…exactly. But after many, many trial batches, I figured it out!
You start with the base of the waffles, which is made from a combination of almond and tapioca flour. The almond flour provides moisture, heft, and lightness, while the tapioca flour provides springiness and crisps up perfectly in the waffle iron. I've tried these with almond and coconut flour, almond and arrowroot flour, and almond and tapioca flour and I can confidently tell you that tapioca flour produces the crispiest waffle. You can sub arrowroot and the waffles will turn out fine, but tapioca flour really produces the absolute crispiest paleo waffle possible.
Next, the sweetener. Obviously we're not going to use white (cane) sugar, but the caramelization process is critical to a crispy, golden brown waffle. Coconut sugar, luckily, does the job perfectly. (I've also tried maple sugar, which works fine, but I prefer the flavor complexity of coconut sugar in this recipe.) Do not skip the coconut sugar. Sugar-free sweeteners like stevia or monk fruit do not caramelize. So, while they may sweeten the batter, they will produce a waffle without the texture you're looking for. These waffles are relatively low glycemic, but keto waffles are for another day.
Last, the egg. Unfortunately, I have not had the time to test these without eggs, but I wouldn't recommend it. If you can tolerate eggs, do not leave them out of this recipe. They're essential for binding, and caramelizing. However, you don't need to do anything special with them. I've seen recipes out there that call for separating the eggs, whisking the whites, and folding them into the batter at the last minute. I tested that against a batch where I just threw the whole egg in and there was no discernible difference. Phew.
But do you know what does make a huge difference? Letting them cool before you dig in. It's hard, I know. But if you wait for the waffles to be crispy to remove them from the waffle iron, you'll end up with soft, burnt waffles. Take them off when they look ready, not when they feel ready, set them on a wire cooling rack, and in about 5 minutes (give or take), they'll have magically transformed from soft and floppy, to pillowy and crispy-shelled.
If, once cooled, they're not quite crisp enough for you, stick them in the toasted for 1-2 minutes. Similarly, if you make them in advance, their time in an airtight container will soften them. Crisp them back up with a few minutes in the toaster. Although they do toast from frozen (did I mention they freeze really well?), for best results, defrost them partially or fully before toasting.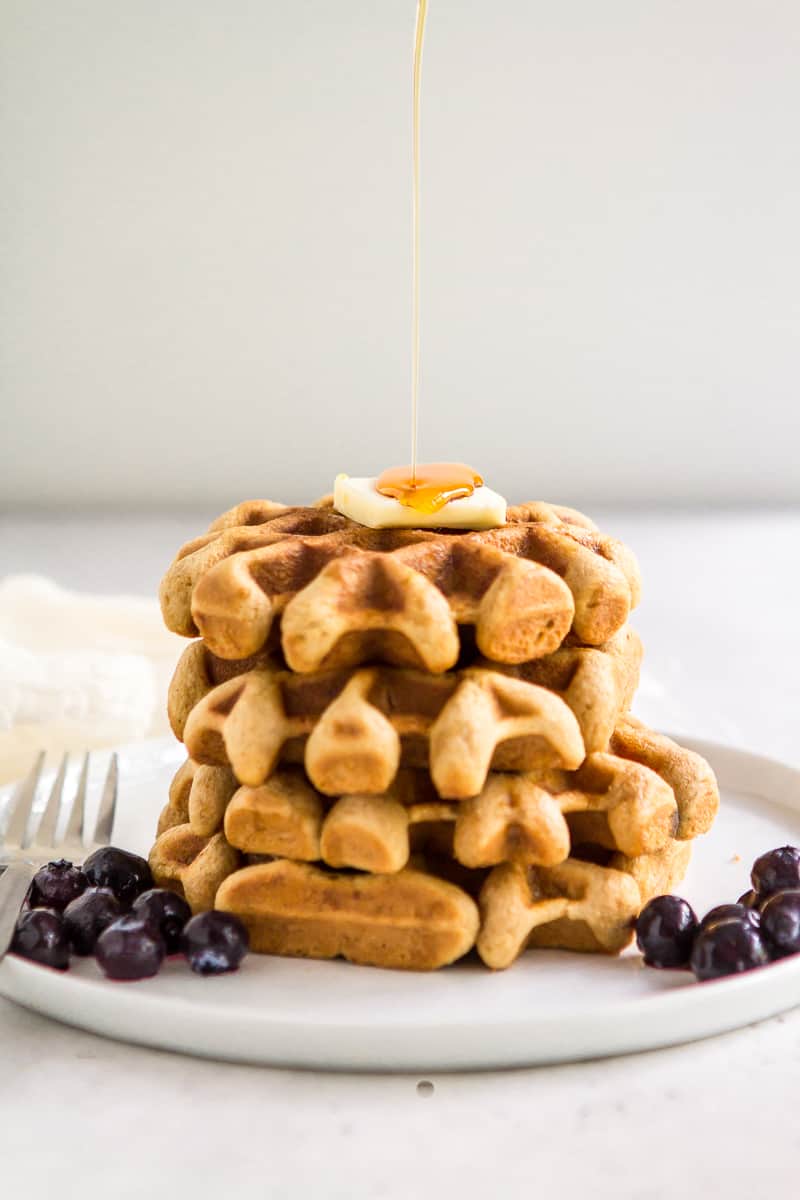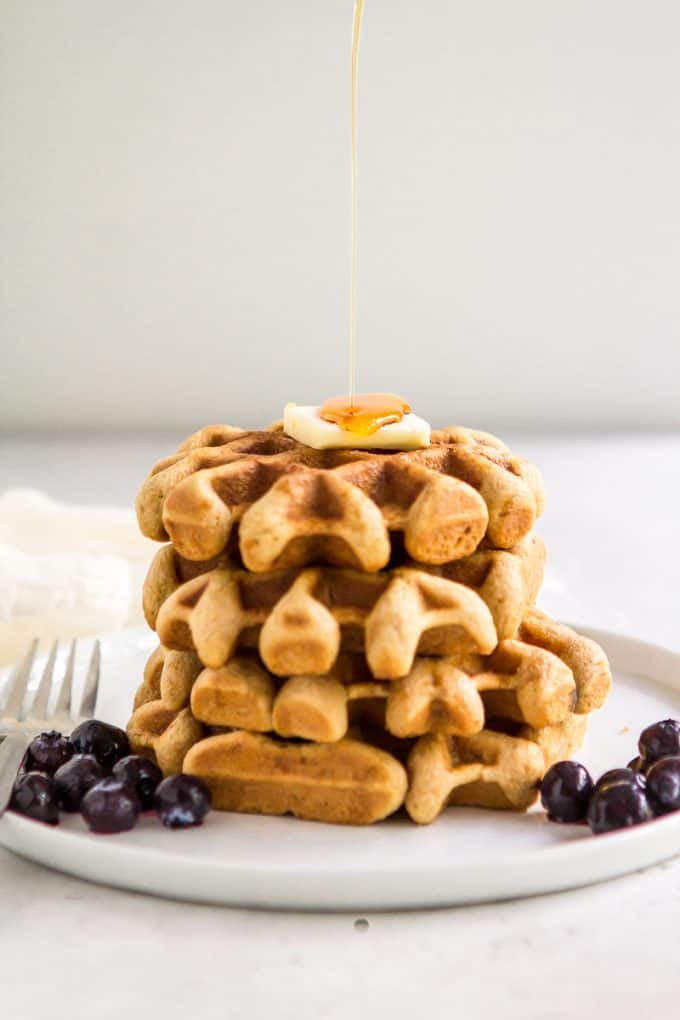 The Gluten Free Waffle Recipe That Is Just Sweet Enough
Despite the importance of the sugar, you may be surprised to learn how little coconut sugar is actually in this recipe: just 1/4 cup in the entire batch. In my waffle maker, this recipe yields about 6 waffles, which means there is only about 1 1/2 teaspoons of coconut sugar per waffle.
That means that although these waffles are not sugar free, they have the perfect subtle sweetness, and don't end up being cloyingly sweet once you add a generous splash of maple syrup to the top.
FAQs and Substitution Questions (and Answers) For Perfect Gluten Free Waffles
What kind of almond flour should you use?
I recommend blanched almond flour for almost all of my baked recipes. My go-to brands are Honeyville (available online) and Bob's Red Mill (available at supermarkets, in the baking aisle). I have also found Trader Joe's almond flour to be a good option.
Look for something very finely ground that is a uniform cream color. To learn more about buying and using almond flour, check out this post and this post.
Can you replace the tapioca with arrowroot flour?
As I mentioned above, you can use this arrowroot flour (you'll replace it 1:1 for tapioca), but the waffles will be slightly less crispy. They'll still be good, though!
Can you substitute coconut flour, additional tapioca flour, or gluten free all purpose flour for the almond flour?
Unfortunately, no. A gluten free flour blend is grain-based (it is a mixture of grain flours, that is), and these are intended to be almond flour waffles, so the recipe is formulated for the grain free flours that are specifically called for.
Not only do grain based and grain free flours work differently, but almost all grain-based flour blends contain added xanthan gum, which affects the texture and general behavior of the batter, and that some people don't tolerate well.
What waffle iron should you use?
I use and like this Belgian waffle maker. It is affordable, space-efficient, and gets the job done. Also, I prefer thicker Belgian waffles over their thinner American counterparts (they're more fun to eat!).
You can use whichever waffle iron you have handy, but if your waffle maker is a different size and shape than the one that I linked above, the recipe may not yield the same number of waffles for you.
One more note about the waffle iron: like toasters, waffle irons are a household appliance that can become contaminated by gluten, despite the best cleaning efforts. So, if you're making these for a friend or family member who has Celiac disease, avoid using a waffle iron that has made wheat-based waffles in the past, even if you've cleaned it throughly since then.
Can you replace the baking soda with baking powder?
No. I get this question often, and it's understandable. The two products sound like almost exactly the same thing, but they're actually completely different!
Baking soda is a base that reacts with an acid in the batter (in this case, that's what the vinegar is for) to create rise. Baking powder is a mixture of baking soda (base) and cream of tartar (acid), and is only 1/3 as powerful than baking soda teaspoon-for-teaspoon.
Plus, baking powder often contains grains, like cornstarch, to maintain texture, which would render these waffles no longer grain free.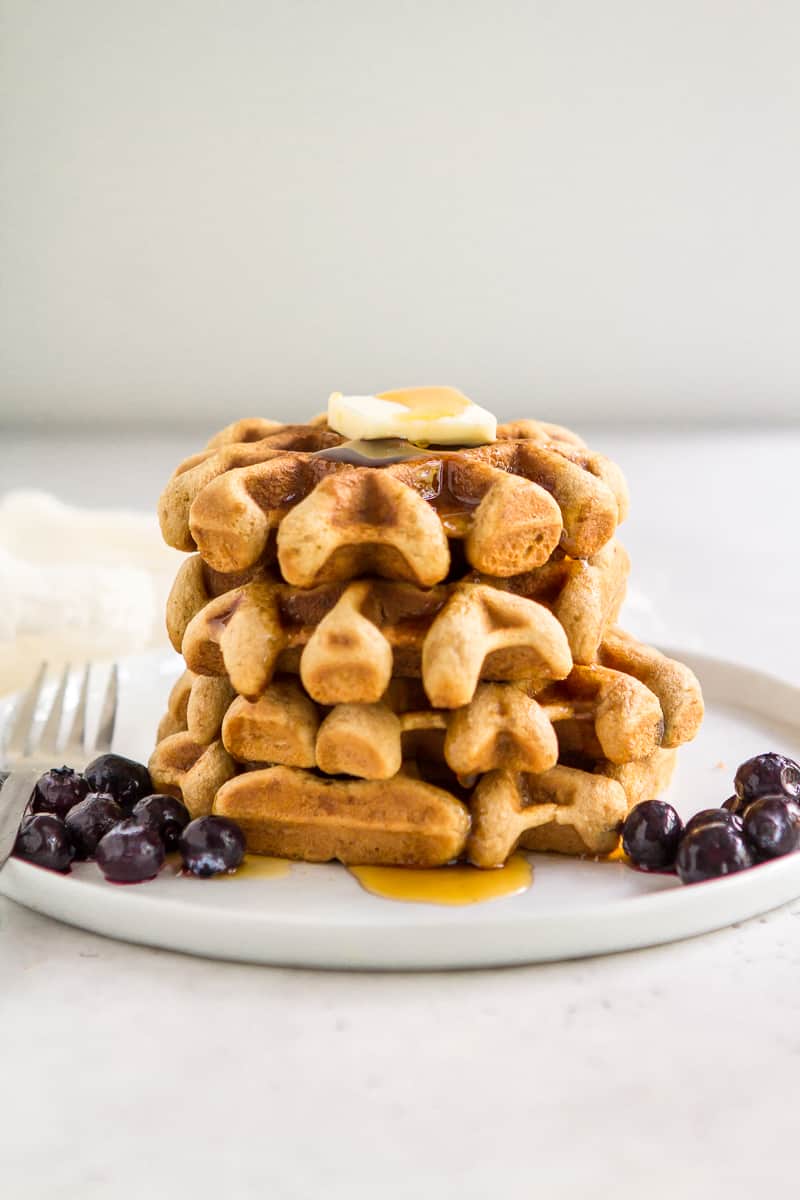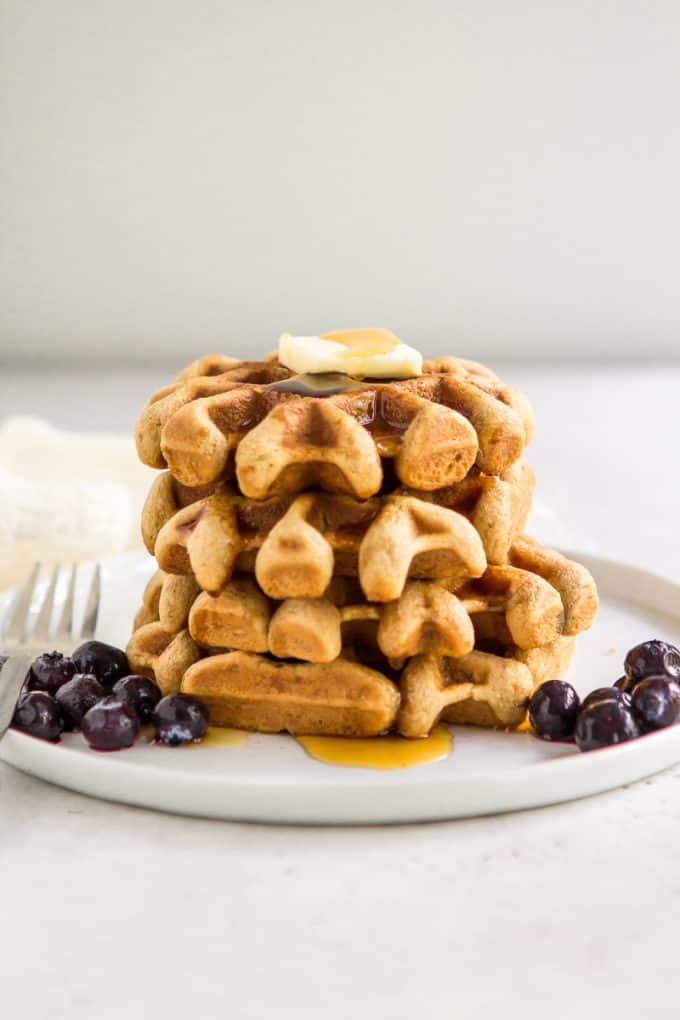 Can you replace the avocado oil with coconut oil?
You can but I wouldn't recommend it. Coconut oil is solid at room temperature, which makes the waffles taste hard and dry when they're not warm. And I don't know about you, but I really like eating them at room temperature.
If you need to replace the avocado oil, I would recommend an oil that is mild-flavored and liquid at room temperature like organic vegetable oil, organic canola oil, or grapeseed oil.
Can you make these vegan?
They're already dairy free, but the egg is, as I mentioned above, pretty crucial for browning, structure, and binding. I have not tested these with flax eggs or any other egg substitutes yet, but if you do, please let me know how it goes!
Can you make them low carb?
Almond flour waffles are already lower-carb than grain-based waffles, but you do need the starchy tapioca flour for that soft, fluffy texture you demand inside perfect grain free waffles, not to mention the crispy outside of the waffle. So, no, you can't really tweak these to make these low carb or keto AND make them taste good.
How to prevent these waffles from sticking to the waffle iron
One of the worst first-world problems is waffles that stick to the iron and tear apart when the iron is opened. There are two tricks for preventing this.
The first is obvious: coat your waffle iron with a thin layer of non-stick spray before you add the batter. I like olive oil cooking spray (this one has no propellents or other additives).
The other is less obvious, but once you learn it, you'll never wreck a waffle again. Ready…? Do not try to open the machine until the waffles are done. That's it! If the waffles are sticking, they may not be done cooking yet. So gently try to open the top about 1″ at first, and if the waffles are resisting, put it back down right away and let them cook a little longer. When they're done, as long as your iron is greased well, they won't stick!
What should you do if your waffle batter is too thick?
This batter should be very thick, but it should be just pourable.
If it's a little closer to a dough than a batter, add a tablespoon or two of almond milk or coconut milk until it is just thin enough to pour. Again, it should be quite thick.
Despite the long introduction, these really are simple, satisfying classic waffles!
Well, 2,000 words later, I think you have officially earned your brunch! Top with strawberries and maple syrup, blueberries and almond butter, or a handful of chocolate chips (YOLO) and dig in!
I hope your whole family enjoys these waffles as much as mine does.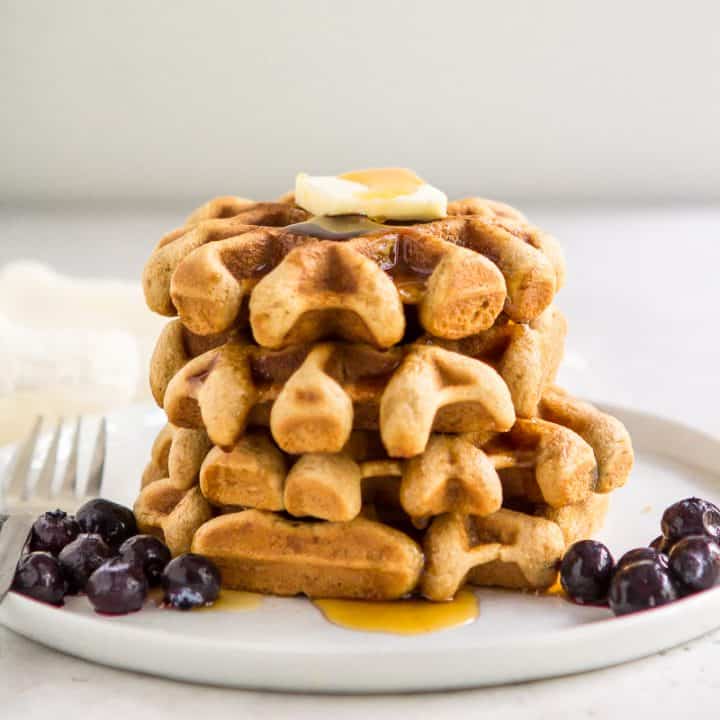 Classic Paleo & Gluten Free Waffles
Yield:
6 Waffles (or more or less, depending on your waffle iron)
This is one of the easiest and best gluten free waffle recipes you'll find, and they're grain free, too! Whip them up with just a bowl and whisk (or use your food processor!), and enjoy a perfectly crispy-on-the-outside-soft-and-pillowy-on-the-inside grain- and gluten-free free waffles!
Ingredients
2 large eggs, at room temperature
1/4 cup avocado oil
1 teaspoon pure vanilla extract
1 teaspoon apple cider vinegar
1/4 cup + 2 tablespoons tapioca flour
1/4 cup coconut sugar
1/2 teaspoon baking soda
Instructions
Preheat your waffle iron to medium-high heat.
While it is preheating, lightly whisk the eggs in a large mixing bowl, and then whisk in the oil, vanilla, and vinegar.
In a medium mixing bowl, whisk together the almond flour, tapioca flour, coconut sugar, baking soda, and salt.
Pour the dry (flours) mixture into the bowl with the wet (eggs, etc) mixture, and whisk until just combined.
When your waffle iron is preheated, spray it with nonstick spray and then bake your waffles according to the manufacturer's instructions.
Notes
You can make the batter in food processor. Add the eggs, oil, vanilla, and vinegar to the bowl, fitted with the "s" blade. Process for 20-30 seconds, or until combined and frothy. Add the remaining ingredients and process until just combined. Proceed with steps 5 and on.
This batter will yield about 6 waffles at 1/4 cup of batter per waffle.
These freeze very well. Add them to an airtight container or ziptop bag in single layers, with a piece of wax paper or parchment paper between layers to prevent sticking. Defrost on the countertop or in the microwave, and re-crisp in the toaster before serving.
Recommended Products
As an Amazon Associate and member of other affiliate programs, I earn from qualifying purchases.
Nutrition Information:
Yield:

6
Serving Size:

1 waffle
Amount Per Serving:
Calories:

254
Total Fat:

20g
Saturated Fat:

2g
Trans Fat:

0g
Unsaturated Fat:

17g
Cholesterol:

62mg
Sodium:

151mg
Carbohydrates:

14g
Fiber:

2g
Sugar:

9g
Protein:

6g