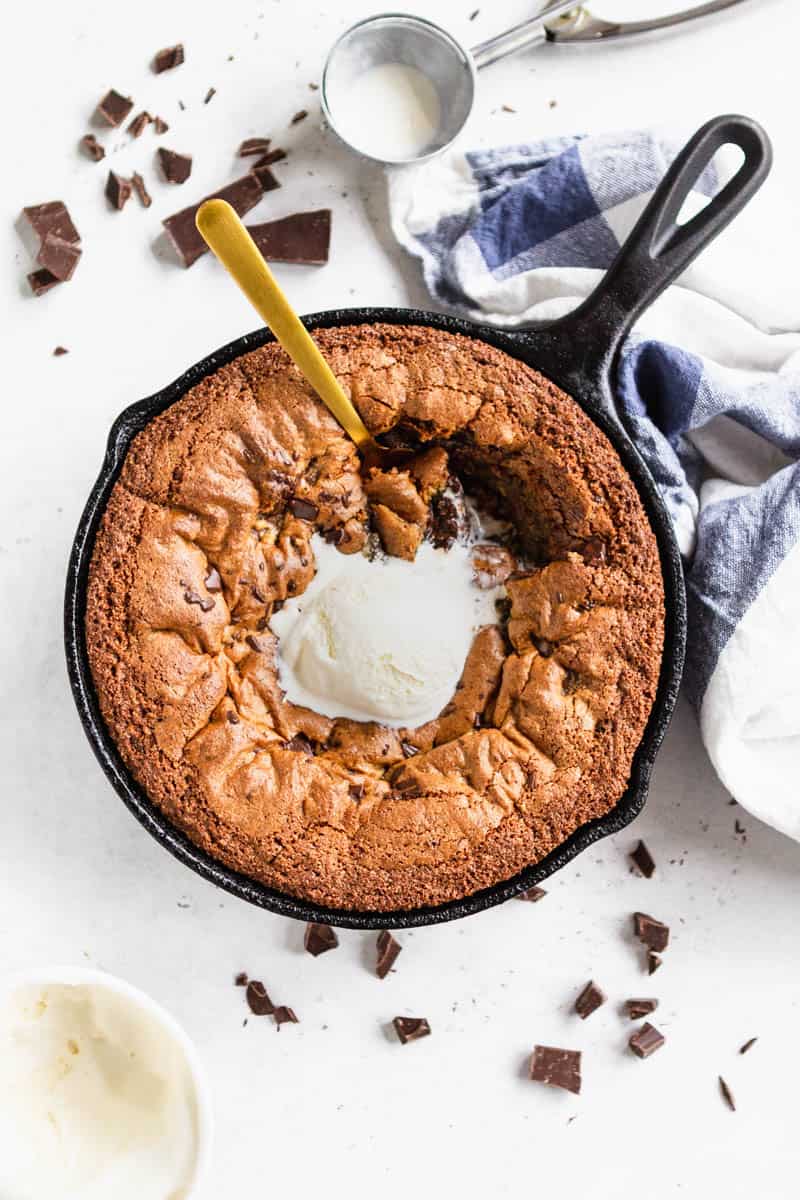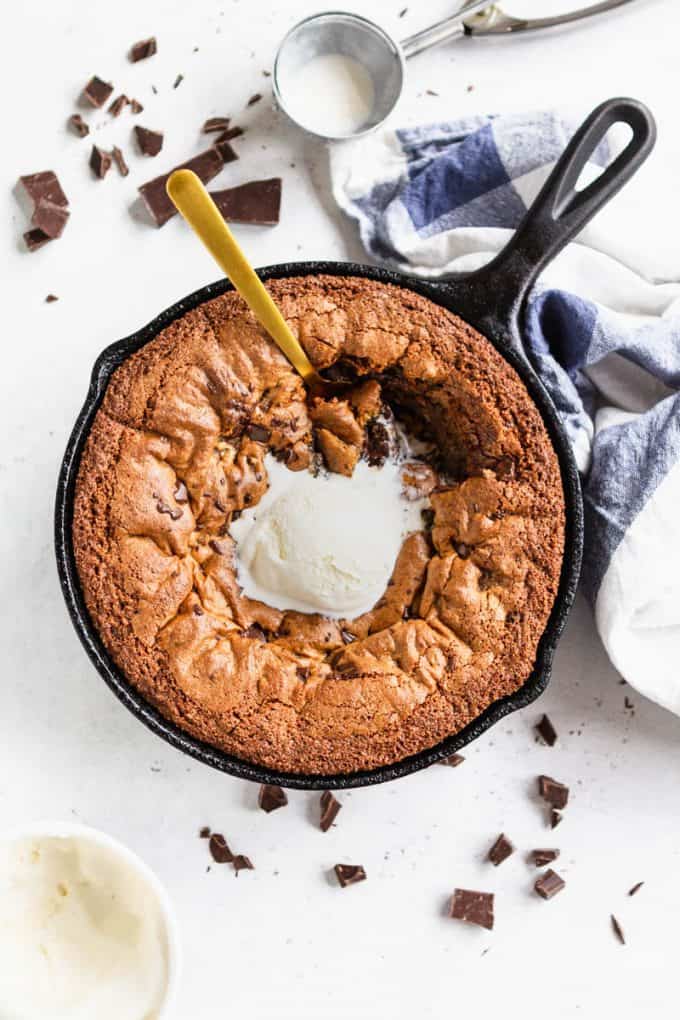 This recipe originally appeared as a guest post on The Gracious Pantry blog.
My desert island food would definitely involve warm chocolate chip cookies, but sometimes I just don't have the time to scoop and roll all of the batter into individual cookies. I know, I know, it sounds silly, but sometimes I have just minutes to make a full dinner, so rolling cookies seems like a luxury these days.
Instead, I save time and still satisfy my chocolate chip cookie cravings by cooking the whole batch in a cast iron skillet. Once it's cooked, the inside stays soft and warm and is perfect to slice into sections or eat with a spoon.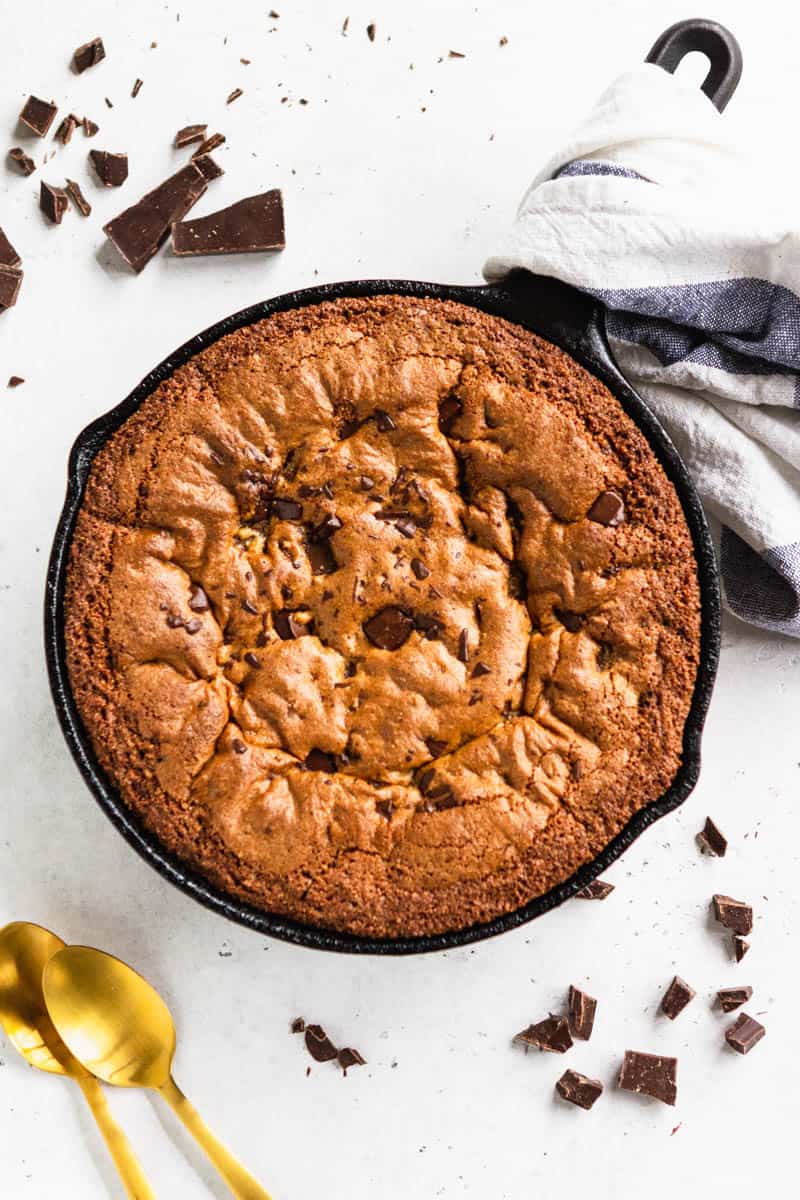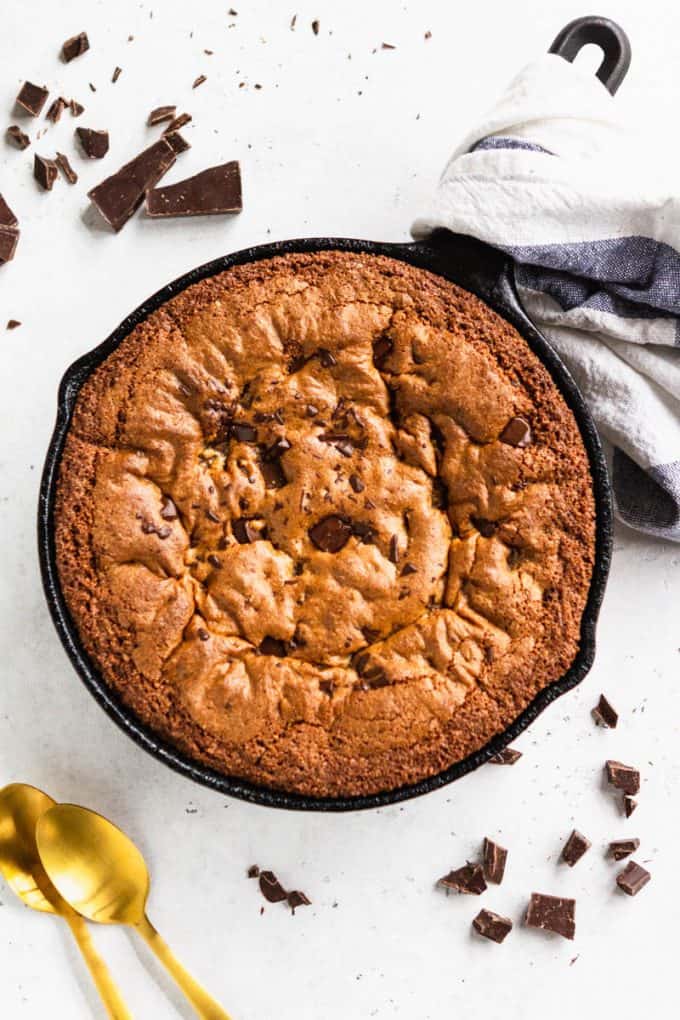 Best of all, this skillet cookie has the crisp edges, ooey gooey center, and pools of silky chocolate, you'd expect from a really, really good chocolate chip cookie. It's definitely desert island-worthy.
Tips for Success

The ingredient list is fairly simple, and the ingredients should be familiar if you don't usually bake without grain flours. The base of the cookies is made from almond and coconut flours. When you're buying your almond flour, look for a product that is extremely finely ground, and is blanched (the almond skins were removed prior to grinding), which you'll recognize because the flour will be a consistent cream color without little brown flecks throughout it. It may be called almond meal; don't worry about the label. I like Honeyville or Trader Joe's brands.

These cookies are made dairy free using coconut oil, but if you prefer to use melted grass-fed butter, you can substitute 1-to-1. Just make sure you're using unsalted butter.

The recipe calls for both coconut sugar and maple syrup to sweeten the cookies and, yes, you do need both. But you can sub maple sugar for the coconut sugar and honey for the maple syrup if that's what you have on hand.

You can use whatever chocolate you have on hand. I chopped up some chocolate bars, but if chocolate chips are handy, use those instead. I like dairy-free Enjoy Life brand, or coconut sugar-sweetened Hu brand chocolate for this skillet cookie.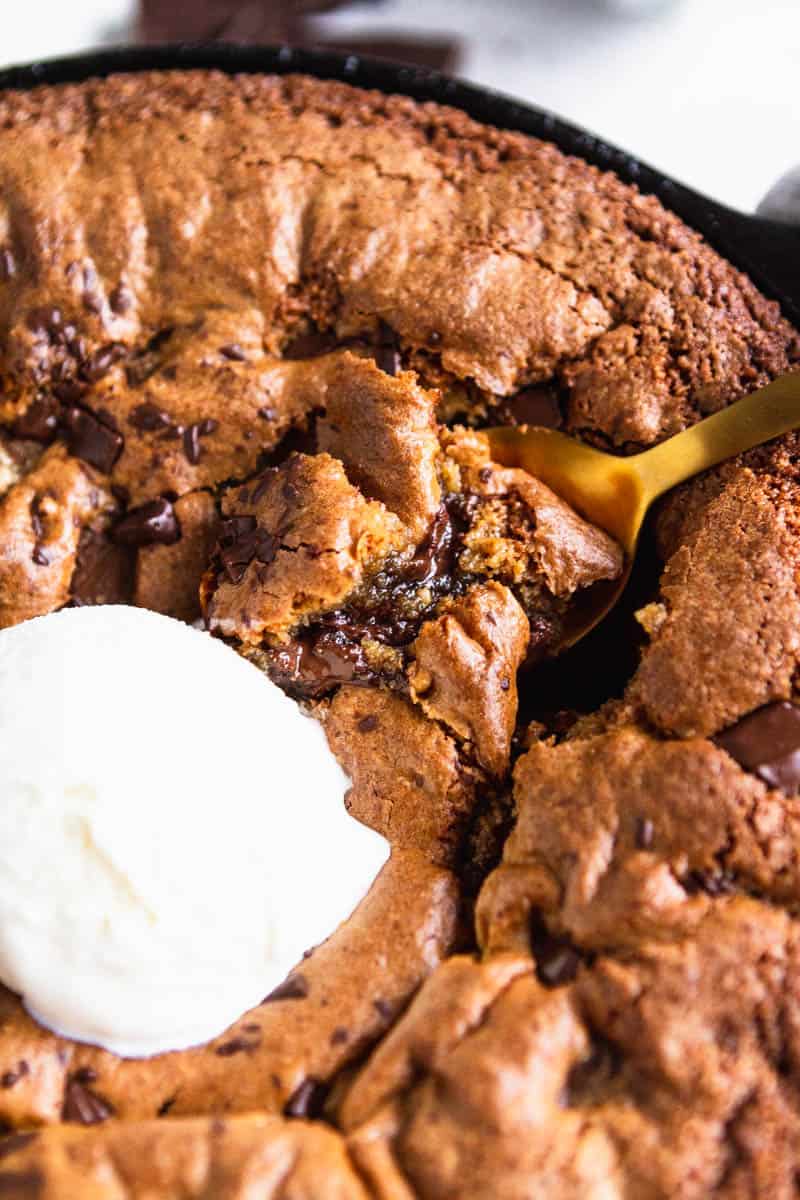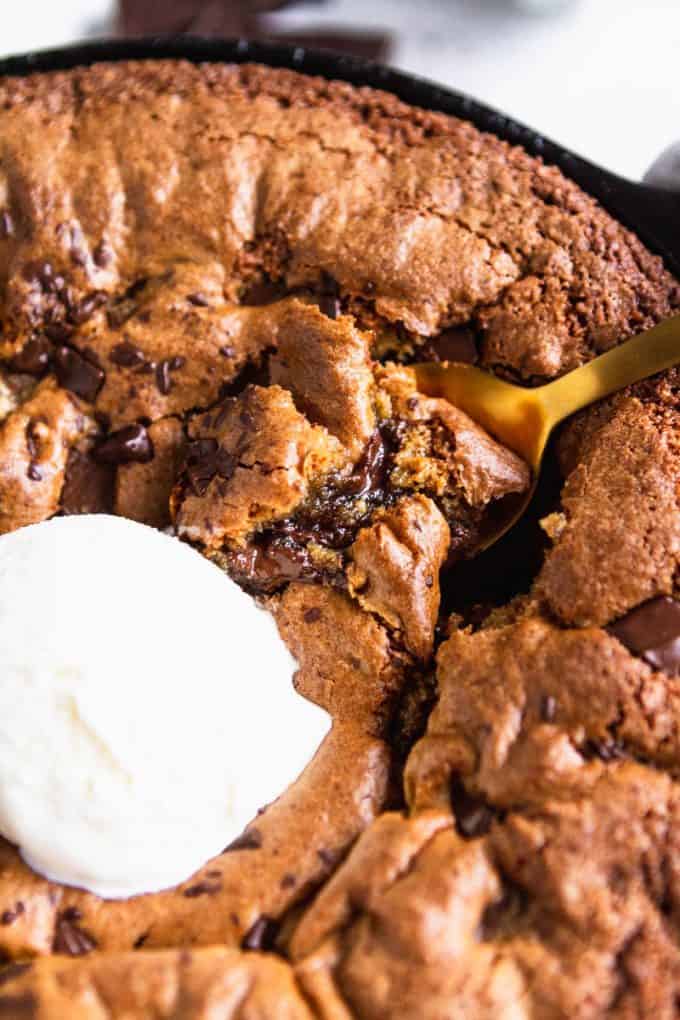 Once you've gathered your ingredients, making this skillet cookie is a snap! Simply whisk together the dry ingredients and the wet ingredients, then combine and fold in the chocolate chips or chunks
If you're jonesing for a rich, gooey chocolate chip cookie, but you don't feel like doing all the scooping and rolling, this is the dessert for you!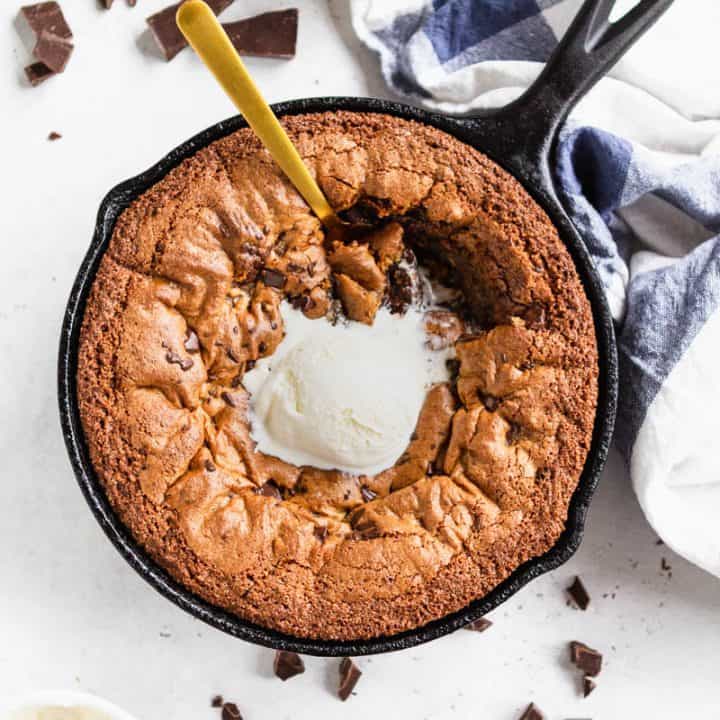 Paleo and Gluten Free Deep Dish Skillet Chocolate Chip Cookie
Yield:
1 10" skillet cookie
Save time and satisfy your chocolate chip cookie cravings by cooking the whole batch in a cast iron skillet. Once it's cooked, the inside stays soft and warm and is perfect to slice into sections or eat with a spoon.
Ingredients
1 large egg
½ cup warm coconut oil (it must be liquid)
½ cup light-colored pure maple syrup
½ teaspoon pure vanilla extract
1 ½ cups blanched almond flour
½ cup coconut sugar
½ teaspoon baking soda
¼ teaspoon salt
1 ¼ cup dark chocolate chips or chopped dark chocolate, plus more for garnish (optional)
Instructions
Preheat the oven to 350 degrees F.
Generously grease an 8" cast iron skillet and set aside.
In a large mixing bowl, whisk the egg, then whisk in the coconut oil, pure maple syrup, and vanilla extract. Set aside.
In a medium mixing bowl, whisk together the almond flour, coconut sugar, coconut flour, baking soda, and salt.
Pour the dry (flours, etc.) mixture into the large bowl and whisk to combine the wet and dry mixtures.
Fold in the chocolate chips.
Pour the batter into the prepared pan and top with a few extra chips or chunks.
Bake for 45-60 minutes until the edges are crisp and the center is slightly soft but not soggy.
Remove from the oven and either dig in with spoons immediately, or allow to cool before slicing (like a pie) and serving.
Store leftovers in an airtight container on the counter for up to 2 days (it will soften overnight), or in the freezer for up to three months. But, be aware, that the cookie is best fresh from the oven.
Recommended Products
As an Amazon Associate and member of other affiliate programs, I earn from qualifying purchases.
Nutrition Information:
Yield:

10
Serving Size:

1 slice (1/10th of the skillet)
Amount Per Serving:
Calories:

476
Total Fat:

28g
Saturated Fat:

15g
Trans Fat:

0g
Unsaturated Fat:

11g
Cholesterol:

21mg
Sodium:

135mg
Carbohydrates:

52g
Fiber:

4g
Sugar:

42g
Protein:

6g