Missing pita chips on a grain free diet? These grain free pita chips are quick and easy to make with homemade grain free flatbreads.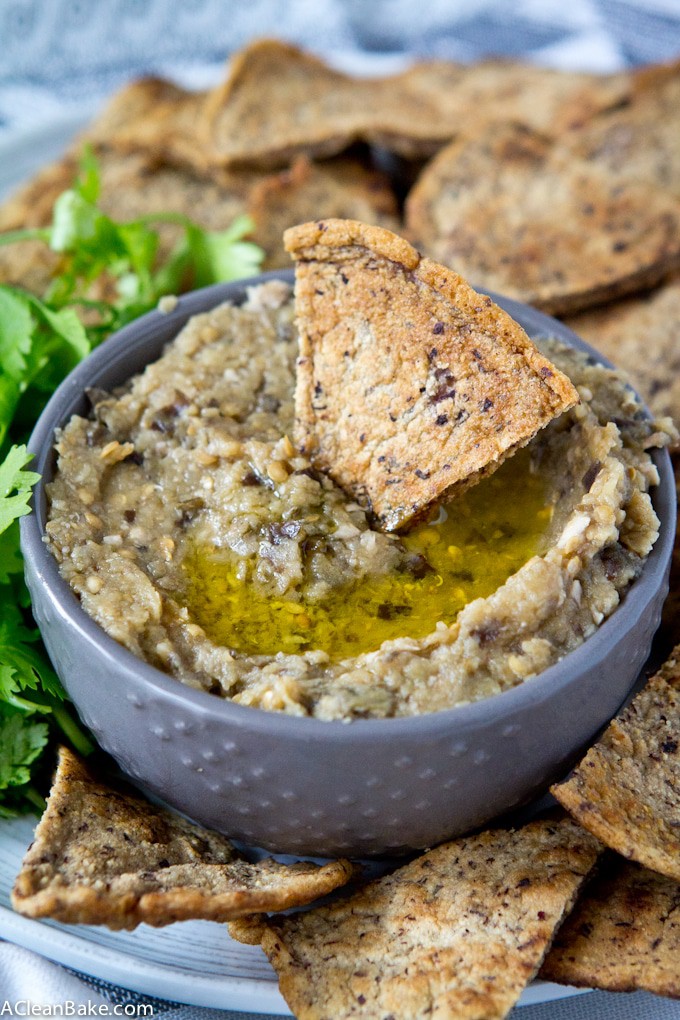 I took a week off from meal planning last week and it was wonderful. But it meant a lot of grazing and impromptu meals,  many of which revolved around these grain free pita chips. Luckily, they're versatile enough to do the  job: dippable, dunkable, meltable, the works. So far, my favorite way to eat them is with babaganoush, but you can also throw some hummus or another dip on them; dunk them in thick soups and stews,  or even melt some cheese on them. Or, actually, there are probably five thousand other ways to use them, but I can't make them fast enough to keep up with their variety of uses.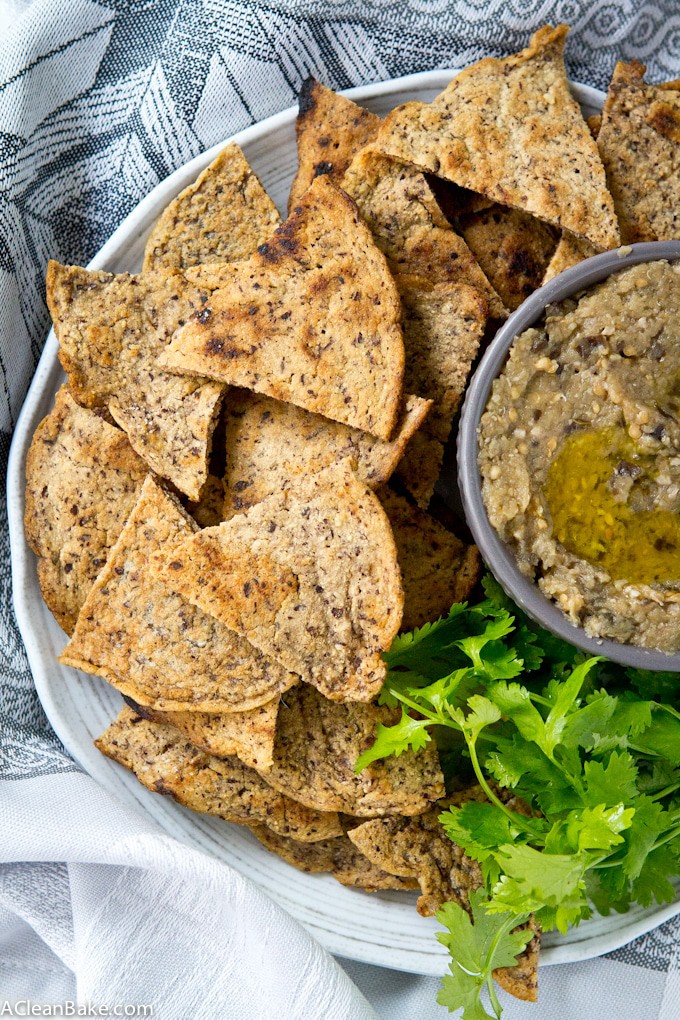 It's about that time when I am starting to think about stocking my freezer for the apocalypse after the baby is born, and luckily, the grain free flatbreads I posted awhile back freeze really well, making it easy to stock up in advance, then defrost them when you're ready to make these pita chips (which, incidentally, also last for a really long time in the fridge), which could not be momre incredibly easy to throw together. Like, new mom easy.*
*Actually, I still have no idea what that entails, so please feel free to laugh at me if that's a ridiculous statement. I deserve it.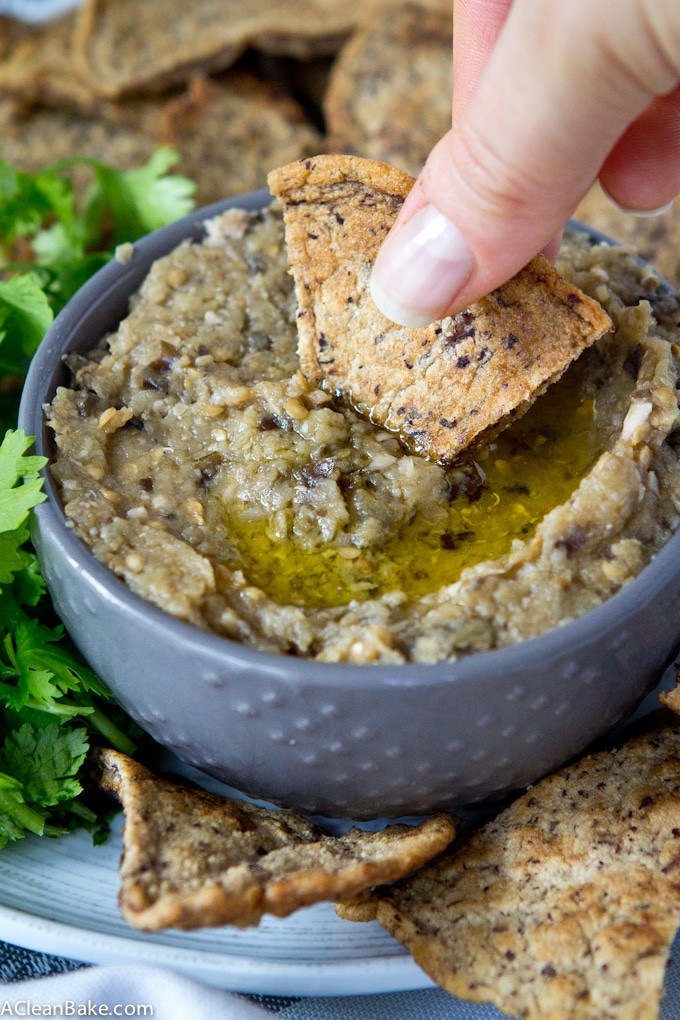 All these require is a quick slice to  turn the flatbreads into wedges, a brush or spray of oil (and a sprinkle of salt, if you want), and a long, low-temp bake in the oven. Sound easy? It is. The hardest part is deciding what to do with them.
So, I want to hear from you: if you made these or plan to make them, what did (or will) you use them for?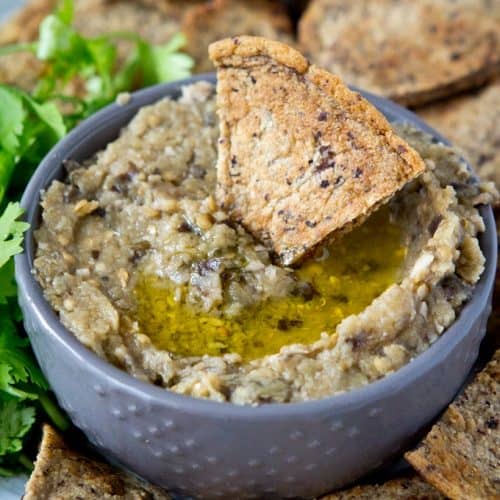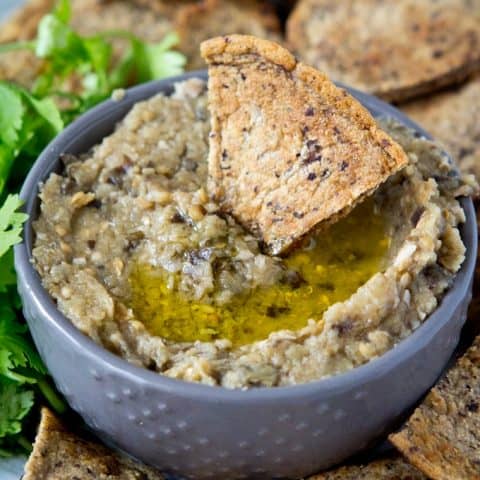 Grain Free Pita Chips
Prep Time:
1 hour
55 minutes
Cook Time:
1 hour
15 minutes
Total Time:
3 hours
10 minutes
Missing pita chips on a grain free diet? These grain free pita chips are quick and easy to make with homemade grain free flatbreads.
Ingredients
3 grain free flatbreads, , fully cooled
Olive or coconut oil for baking, melted and cooled
pinch Fine sea salt
Instructions
Preheat the oven to 250F. Cover a baking sheet with a nonstick pad or sheet of parchment, and set aside.
Cut the flatbreads in half, then cut eat half into thirds to form three triangles or slices per side. You should have 18 total chips from one batch of flatbreads.
Lay the slices out in one even layer on the prepared baking sheet, leaving about 1/2" - 1" of space between each slice.
Brush or spray each chip with oil, then flip and brush or spray the other side.
Sprinkle the chips with salt to taste.
Bake for 60-75 minutes (see note) until crisp, flipping the chips after about 45 minutes.
Remove from the oven and allow to cool on the baking sheet (they will crisp up more as they cool) before serving.
Notes
You can feel free to adjust or alter the seasonings if you'd like. For example, add pepper, chili powder, or garlic powder to make the chips a little more flavorful.
If you want your chips to be a little softer, bake them for 60 minutes. If you're planning to use them for dipping and want them a little sturdier, you'll need to bake them for an extra 10-15 minutes.
Store leftovers in an airtight container at room temperature for up to 2 days, or in the fridge for up to a week. If they have lost some of their crispness when you go to use them again, simple bake for another 5-10 minutes in a preheated 350 degree oven until they reach the consistency you like.
Yield: 18 chips, but multiple as necessary.
Nutrition Information:
Yield:

18
Amount Per Serving:
Calories:

17
Sodium:

29mg
Carbohydrates:

3g
[wprm-nutrition-label align="center"]
Pin for later: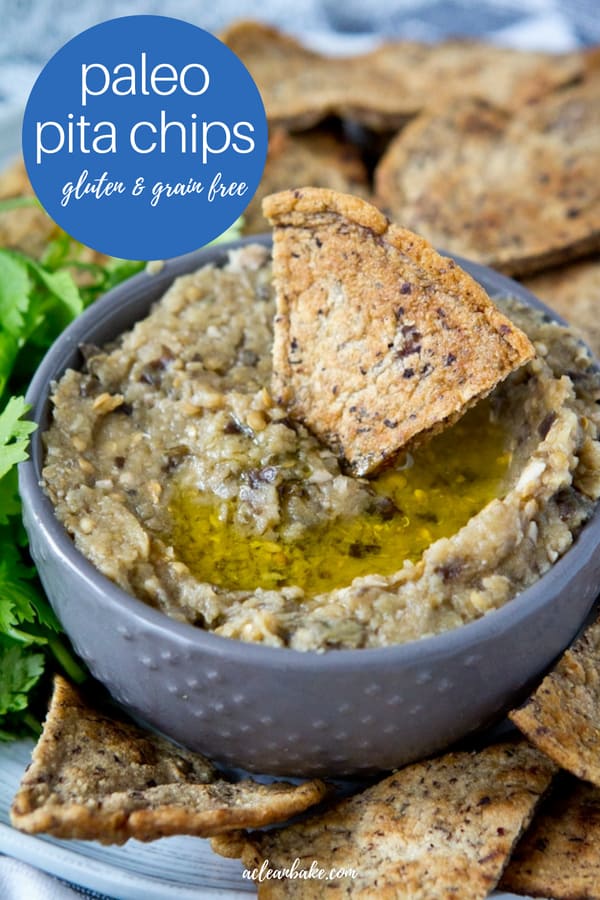 Thank you to Now Foods for providing the ingredients that inspired this delicious recipe. This post contains affiliate links, which means that if you click through and purchase a product, A Clean Bake receives a small commission, which goes toward continuing to bring you delicious, healthy recipes every week. This does not affect the price you pay. Thanks for supporting A Clean Bake!