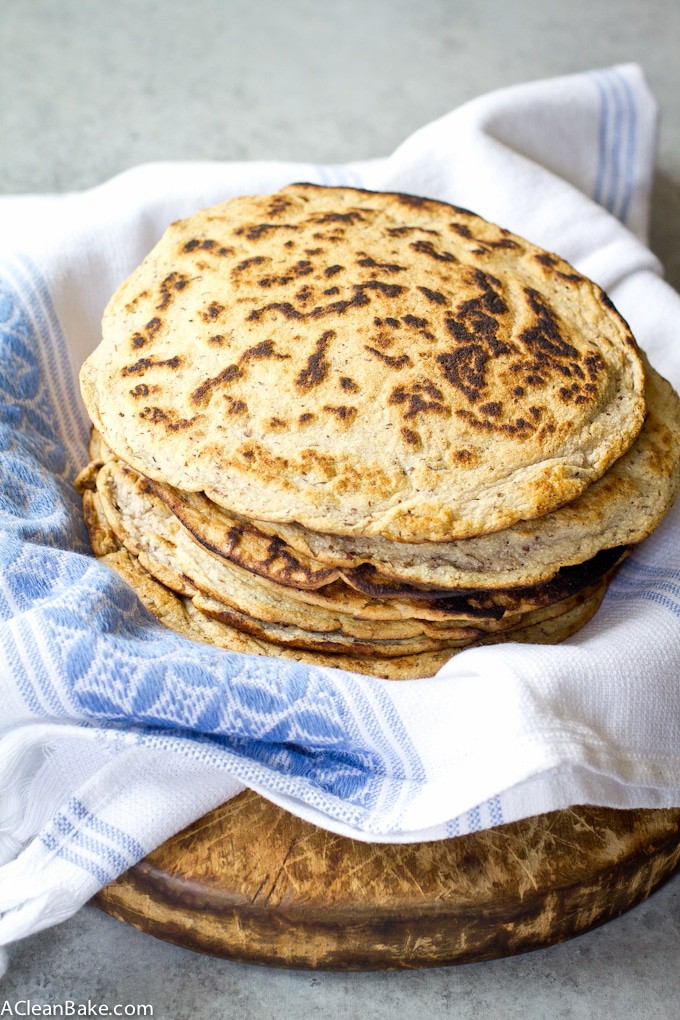 I know what you're thinking: "haven't I seen these before?" Well, yes and no. It's true; these flatbreads do look like the grain free tortillas I posted here a while back, and they should, because that's where I adapted the recipe from. But don't be fooled. I wouldn't use these flatbreads for a taco and a gyro sandwich – or whatever you put in your flatbreads – would be way too much for a tortilla to handle. 
It's clear that we've all needed this recipe for a lot longer than I realized. Several weeks back, I posted a picture of my husband's dinner on Instagram (we're trying to meal plan more and eat out less, so I am posting pictures to keep myself accountable!) that included a piece of flatbread that, unfortunately, wasn't gluten or grain free. I was a tease. So I decided to make it up to you by figuring out how to make equally thick, equally pliable, equally satisfying-to-sink-your-teeth-into grain free flatbread.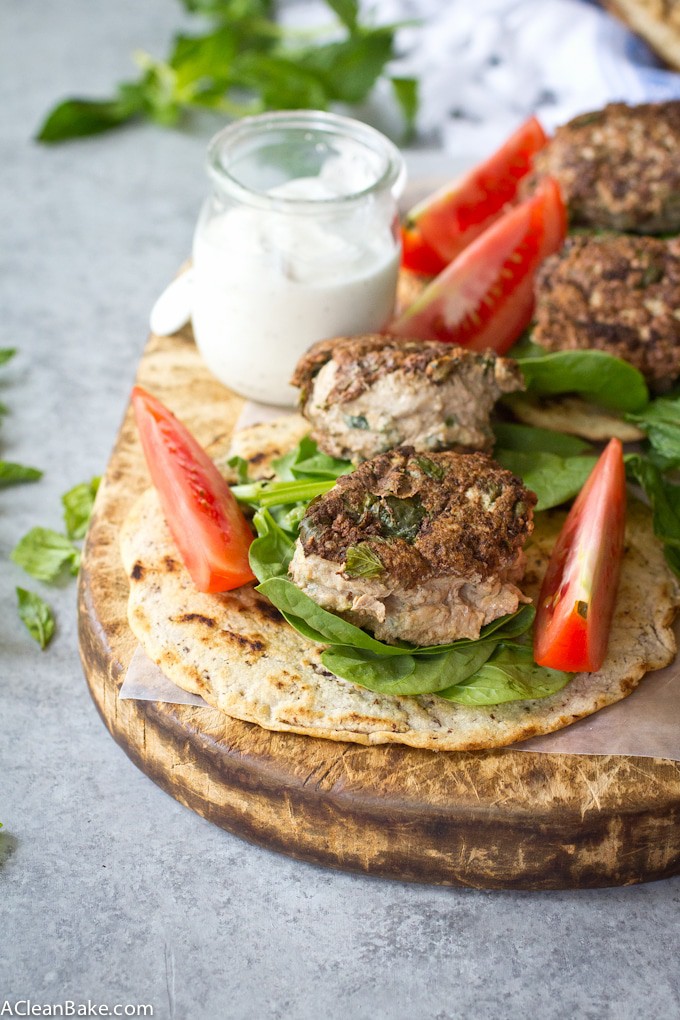 The major difference between this and the original wheat-y version that inspired it is that this version is also yeast free. There's a huge upside to skipping the yeast (including: tons of time and energy saved, no finicky yeast to mess with, and I know some of you are sensitive), but the downside is that the flatbreads will be a touch more dense and less airy than a yeasted bread. That doesn't mean they aren't still well worth a try, especially given their versatility. I'm talking…
These flatbreads can go from pita to naan in 1.5 seconds flat.
Use them to wrangle sandwich fillings
Make your own shawarma, gyro, or meatball sandwich, like the example in the picture above (those turkey zucchini meatballs are adapted from Ottolenghi's recipe, via Hungry By Nature's site)
Fry them, slice them into triangles, and dip them in babaganoush
Wrap them tightly and freeze them for up to 3 months if you're not sure yet what you want to do with them
And I'm sure there are plenty more ways to use these that I haven't even though of yet. What will you use them for?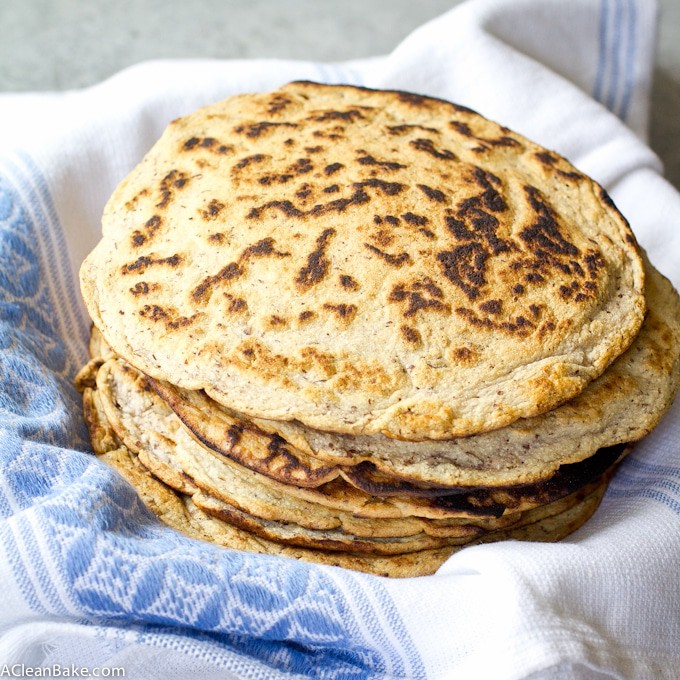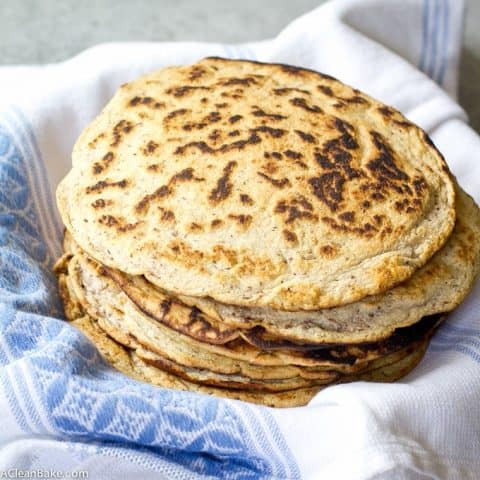 Grain Free Flatbread
This grain free flatbread is such an easy and versatile recipe that is an amazing basis for sandwiches, wraps and ethnic food!
Ingredients
1/4 cup tapioca flour
1/4 cup coconut flour
2 Tablespoons almond flour
1/4 teaspoon baking soda
pinch salt
1 large egg
3/4 cup milk of choice
Oil, for cooking
Instructions
In a large mixing bowl, whisk together the dry ingredients (flours, baking soda and salt). Set aside.
In a small bowl, whisk the egg, then whisk in the milk.
Pour the wet ingredients into the dry and stir to combine and eliminate any clumps. Stir just enough, but try not to overmix. You don't want air bubbles in your bread!
Preheat a heavy-bottom 6" skillet (e.g. cast iron) over medium heat.
Add just enough oil to cover the bottom of the pan (I recommend a nonstick spray if you have one - the less grease you use, the better, so use just enough to prevent sticking).
Pour 6 Tablespoons of batter into the pan and quickly and gently shake/tilt the pan to spread the batter into a thin, even layer across the bottom of the pan. It's ok if the batter looks too thin; the flatbreads will rise slightly during cooking.
Cook slowly over medium heat for several minutes until the bottom is firm and golden. Flip and cook until the other side is equally cooked and the inside of the bread is cooked through (not gummy)
Notes
The trick to success is to keep the pan at the right moderate temperate and let the flatbreads cook slowly so that they cook through without burning.
Some signs that your pan is too hot are...
- if the breads crack and break when you try to spread the batter over the bottom of the pan
- if the inside of the flatbreads are gummy
- if the outside of the breads are cooked and the insides are still wet/liquid
If you think the pan is too hot, simply turn off the flame and let it cool for a few minutes before cooking the remaining batter.
You can double this recipe, but you may need to add about 2 Tablespoons of milk about halfway through the cooking process if it thickens up too much.
Ideally, instead of doubling, simply make two batches.
Yield: 3 flatbreads, but multiply as necessary
Nutrition Information:
Yield:

3
Amount Per Serving:
Calories:

134
Saturated Fat:

2g
Cholesterol:

62mg
Sodium:

217mg
Carbohydrates:

15g
Fiber:

4g
Protein:

4g
[wprm-nutrition-label align="center"]