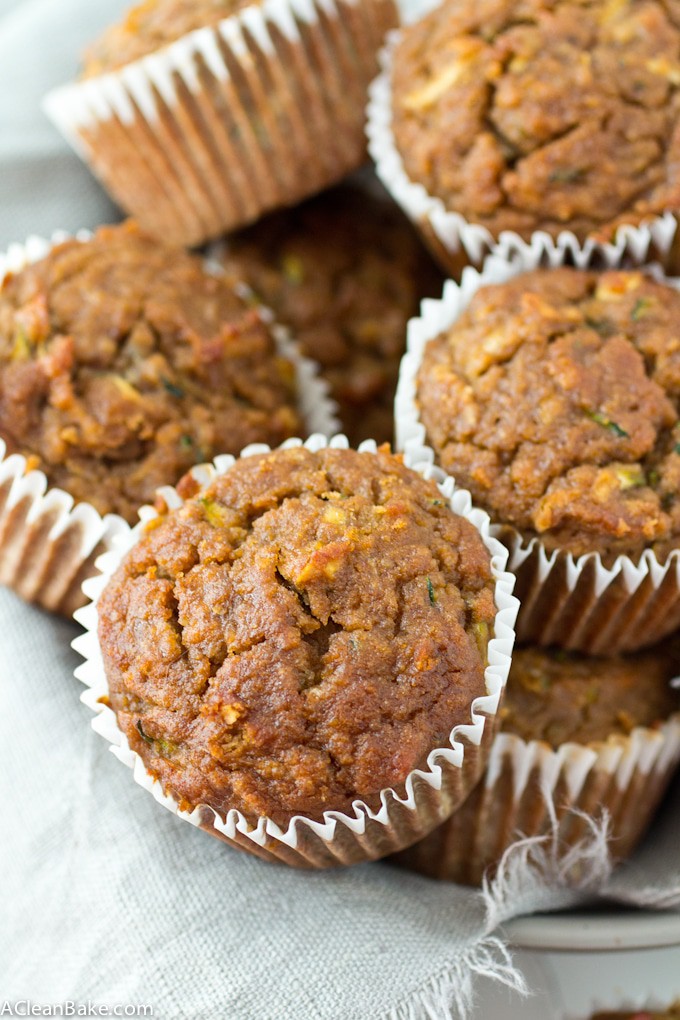 I'm desperately searching for inspiration about how to tell you about these muffins and I'm having the toughest time.
They're so simple, yet so incredible.
They're so (seemingly) nondescript, but so moist, flavorful, and bursting with fresh, vibrant fruit and veggie flavors.
They're the perfect back to school snack. And they're the perfect snack to celebrate my last year of not having to worry about back to school (or having to worry about worrying about back to school).
They're so easy that it would be a crime not to make them asap.
Grab and bowl and a spoon and let's get started.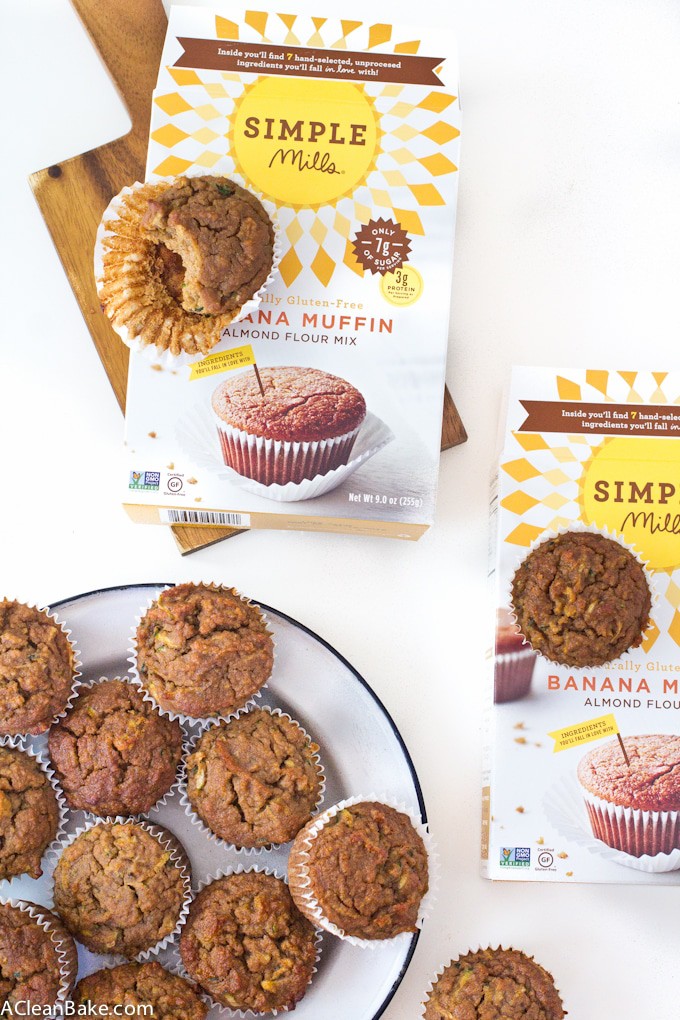 The easiest part about these is that the base is….a mix. WAIT. Hear me out. You know I don't mess around when it comes to ingredients, so I used a Simple Mills banana bread and muffin mix (which the above picture probably gave away) as the base for these muffins because we have been juggling a lot this summer in my house, but that doesn't alleviate the need for muffins in the slightest. Talk to me about maximizing the efficiency with which I can get a muffin from the bowl to the oven to my mouth, and I'll talk to you about Simple Mills.
If you're not familiar with this brand, you must be new here (welcome!) because I have worked with them for a long time and never stop loving their products. Forget the taste (which is, incidentally, outstanding), and instead consider the guts of the brand: simple, natural, real food ingredients that you know, love and can pronounce. I'm not big on endorsing a lot of products on this site, but you can tell from the number of times I've used Simple Mills products in a recipe that I can't live without this brand. I have a feeling that I'll be relying on it even more frequently as soon as Baby Bake arrives and puts my current state of busy-ness, sleep deprivation and multitasking to shame.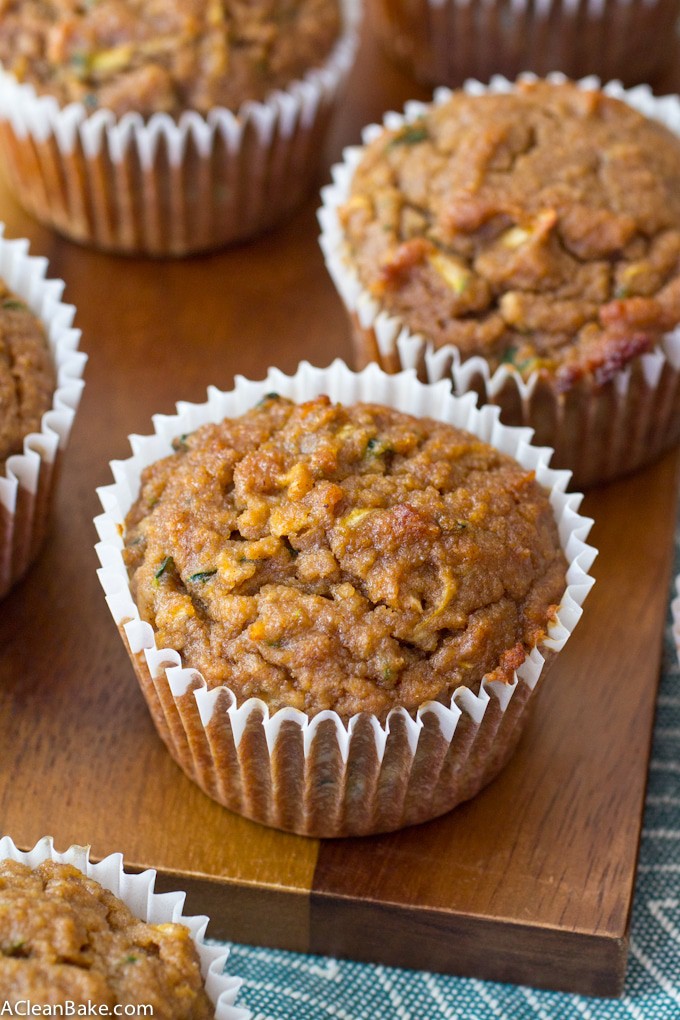 Speaking of which, whether or not you are sending anyone back to school in the next couple of weeks (or did already? Have some schools already started?), these muffins give you no excuse to skip a healthy snack. They're high in protein and healthy fat, lower carb and packed with nutritious, fiber-rich fruits and veggies so they are the perfect antidote to the 3pm slump. Or, if you're me, the 9:45am slump, at which point I either need to eat something or go back to bed for the rest of the day.
I'm not exaggerating when I say that healthy, low-glycemic snacks like these muffins are saving my life, or at least my productivity and focus, every day and without them I wouldn't be able to make it through even half of the day. Who else could use a little pick me up?
If you're raising your hand right now, let me make it even easier for you! I'm giving away a box of the Simple Mills banana muffin mix so that you can make these muffins asap, and I'm even throwing in a box of Simple Mill's new Fine Ground Sea Salt Crackers (<– actual crackers that you can eat out of the box, no baking required. Don't you miss that?!) All you have to do to enter is leave me a comment below telling me about one awesome, unusual or otherwise memorable thing you did this summer. I'll randomly pick a winner on Friday (8/26) so let me know soon! The contest is now closed! Thank you to all who left me messages below. Your summer plans sound amazing!!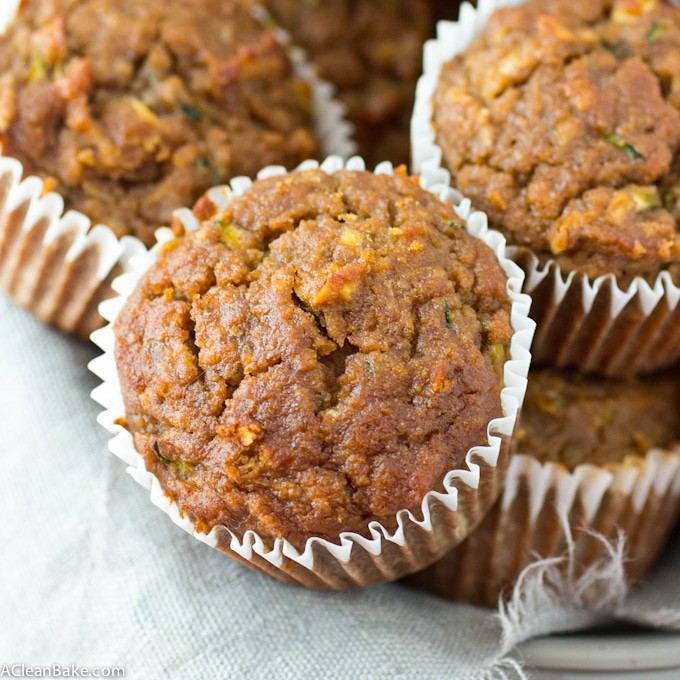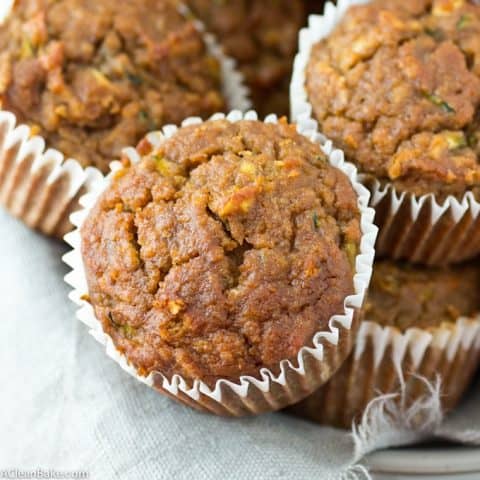 Zucchini Apple Banana Muffins
These naturally-sweetened banana muffins are so irresistible, you won't even notice the extra fruits and veggies hidden inside! (gluten free and paleo)
Ingredients
2 large eggs, beaten
2 Tablespoons grapeseed or other mild oil
½ cup shredded zucchini
½ cup shredded apple, Fuji or similar variety is recommended; skin on or off is ok
½ cup water
½ teaspoon pumpkin pie spice
1 box Simple Mills banana muffin mix
Instructions
Preheat the oven to 350F. Line 9 compartments of a 12-cup standard muffin tin with papers, or coat thoroughly with oil or nonstick spray. Set aside.
In a large mixing bowl, whisk together the eggs and oil, then add the zucchini and apple and mix to combine.
Stir in the water.
Stir in the pumpkin pie spice, then the Simple Mills mix. Stir until combined, but do not overmix.
Use an ice cream scoop or large spoon to divide the batter between the 9 prepared muffin compartments.
Bake for 30-35 minutes, until the muffins are domed, golden brown, and firm and springy to the touch.
Cool before serving.
Notes
If you don't have pumpkin pie spice on hand, you can replace it with cinnamon.
Store leftovers in an airtight container in the fridge for up to a week. These will also freeze well, tightly wrapped, for up to 3 months.
Yield: 9 muffins
Nutrition Information:
Yield:

9
Amount Per Serving:
Calories:

47
Cholesterol:

36mg
Sodium:

16mg
Carbohydrates:

1g
Protein:

1g
[wprm-nutrition-label align="center"]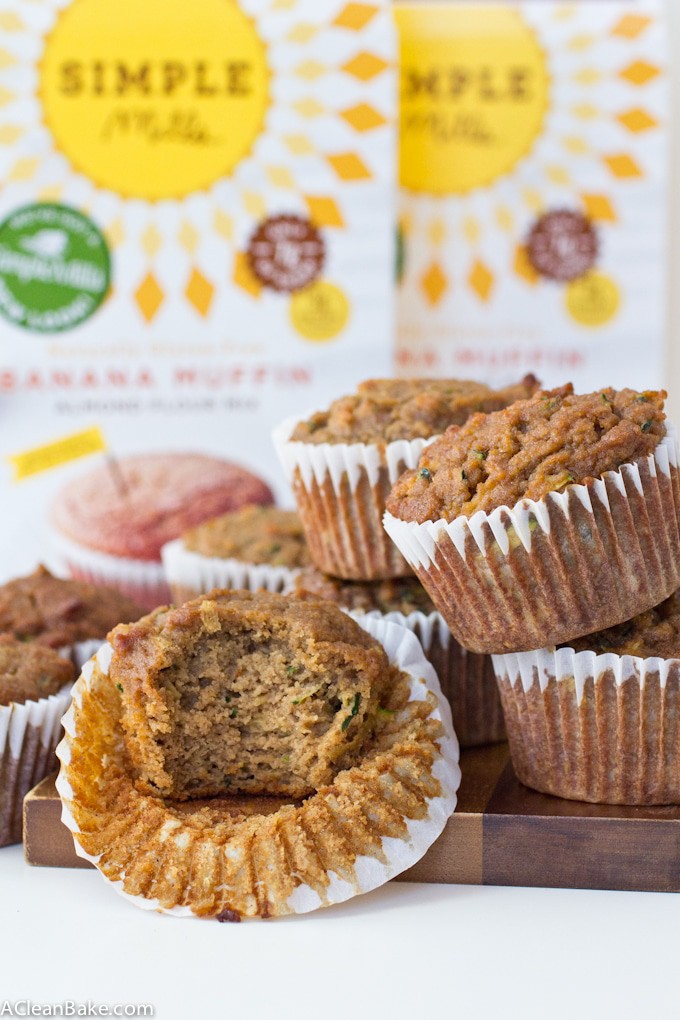 Thank you to Simple Mills for providing the ingredients that inspired this delicious recipe. This post contains affiliate links, which means that if you click through and purchase a product, A Clean Bake receives a small commission, which goes toward continuing to bring you delicious, healthy recipes every week. This does not affect the price you pay. Thanks for supporting A Clean Bake!