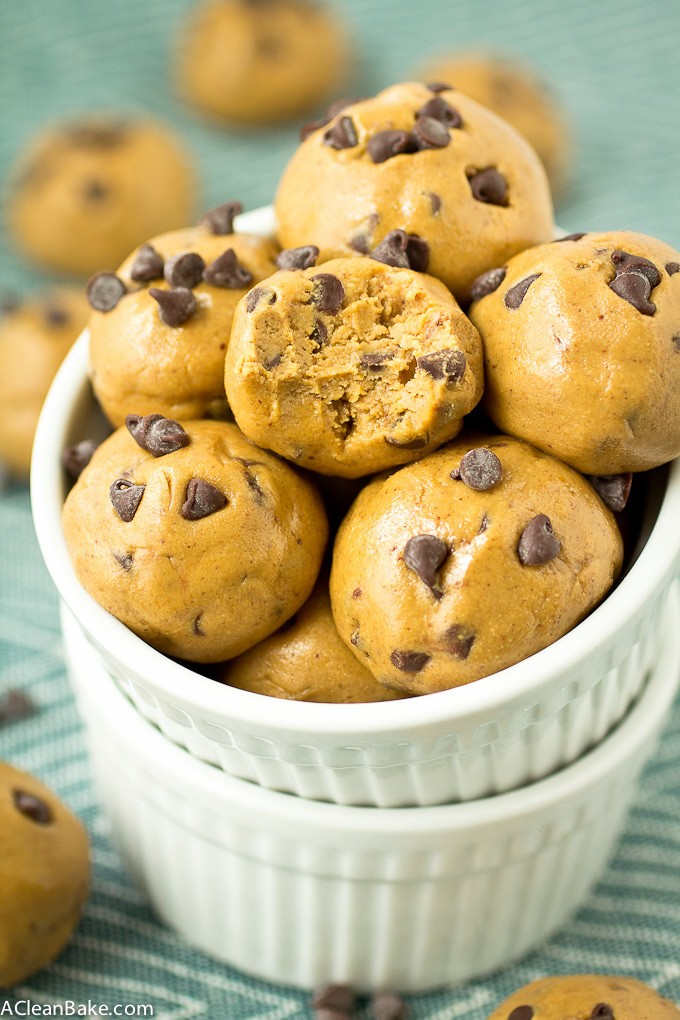 It's time to get back in the swing of things like chocolate. January, the month of purifying oneself from the holidays sins (tongue in cheek!) is almost over and although that doesn't mean that I will stop sharing dinner recipes, let's turn our attention briefly to handfuls of raw cookie dough.
If it helps, they taste and sound so much more disastrous to your waistline than they actually are. To be clear, if you make these protein bites, you will not be gnawing on actual raw cookie dough – it will just taste like you are. It only takes three ingredients (we're not counting salt, right? right.): nut butter, protein powder and chocolate chips.
You know what I'm going to say next, right: since the recipe calls for so few ingredients, make sure you choose the best ones you can get your hands on. I tried this with almond butter, peanut butter and – for a nut free alternative – sunflower butter. All three were delicious, so it really boils down to what flavor you prefer. The protein powder does the lion's share of the work in terms of making the bites taste like actual cookie dough, go with a vanilla powder that you already know you like the taste of.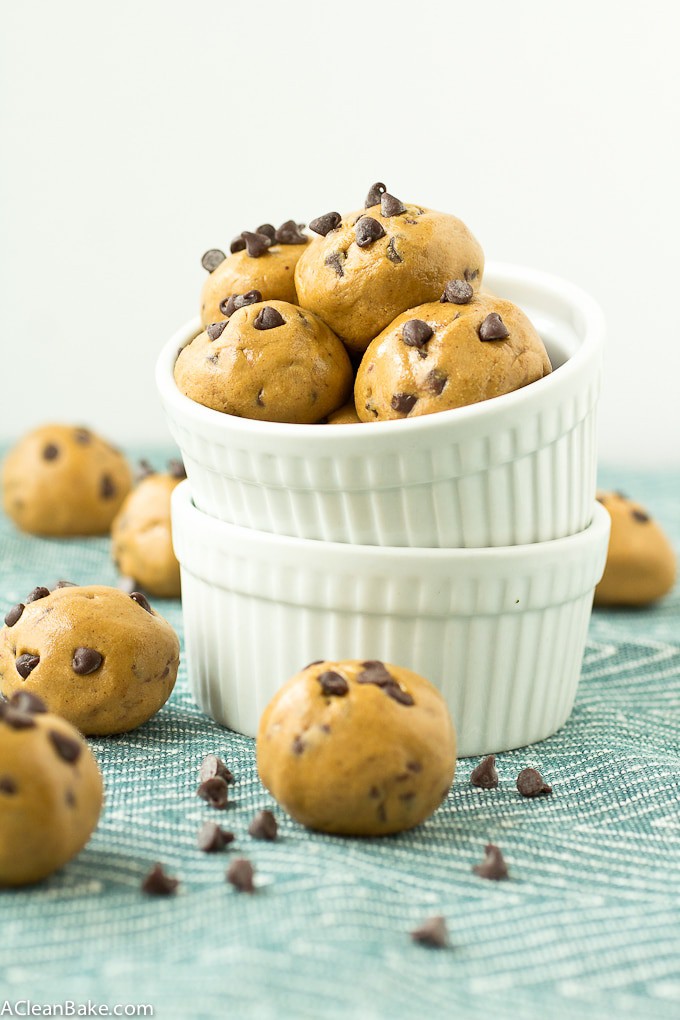 I used Now Foods's vanilla egg white protein powder, which has a wonderful vanilla flavor and is lightly sweetened with stevia, so I didn't add any sweetener. **Edited to add: Yes, you can use any vanilla protein powder you like or have handy. It doesn't have to be egg white-based** Depending on its level of sweetness, you certainly can add some granulated sweetener of your choice, or a few drops of liquid stevia, if you want to. Do not use honey or maple syrup, because there is nothing in the recipe to absorb the extra moisture.
Ok, I'm going to stop now because I am really overthinking this. I have now written more paragraphs than there are ingredients in this recipe or minutes required to make it. All you need to know is that these protein bites are reasonably un-sinful (so, they're perfect if you're tapering off of a new year's detox and need a treat), they taste like cookie dough but aren't cookie dough, and they are terribly, terribly addictive – in the best way.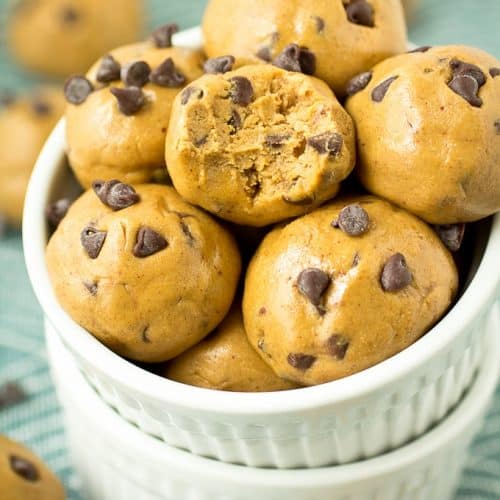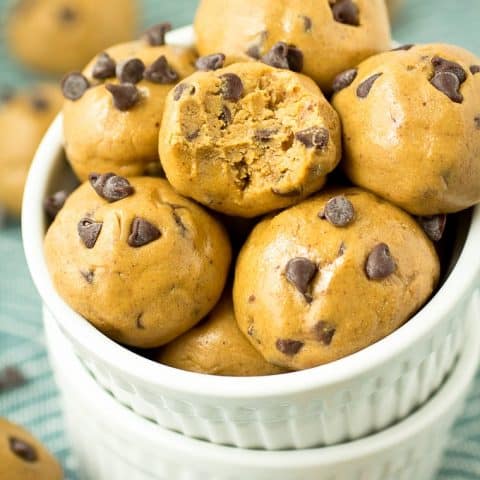 Chocolate Chip Cookie Dough Protein Bites
Chocolate Chip Cookie Dough Protein Bites - Only three ingredients and 5 minutes is all you need to make these gluten free, vegan and paleo treats!
Ingredients
1 cup nut or seed butter of choice, e.g. peanut, almond, sunflower
1/2 cup vanilla protein powder, plus an additional 1-2 Tbsp if your nut or seed butter is particularly oily
pinch salt, optional, to taste
Granulated sweetener of choice, optional, to taste
1/3 cup mini chocolate chips, optional, plus more for garnish
Instructions
In a large microwave-safe mixing bowl, heat your nut or seed butter for 30-60 seconds until softened and easier to stir. If you really want an arm workout, you can skip this step.
Stir in the protein powder (and, if using, salt and/or sweetener) until combined.
The dough should be soft and pliable, but hold its shape when you squeeze it together. If it is too soft, stir in another 1-2 Tablespoons protein powder until it resembles hearty (not soft or oily) cookie dough.
The stirring should have cooled the mixture, but give it a few more minutes if necessary. Then fold in the chocolate chips.
Scoop 1 Tablespoon portions and roll into balls. Press a few more chocolate chips into the top of each ball for garnish, if desired.
Notes
These will be soft, like cookie dough. They will settle a little bit in the storage container, so will not hold a firm ball shape. 
Store in an airtight container in the refrigerator for up to 2 weeks, or in the freezer for up to 3 months.
Yield: 16 bites
Nutrition Information:
Yield:

16
Amount Per Serving:
Calories:

127
Saturated Fat:

1g
Cholesterol:

7mg
Sodium:

12mg
Carbohydrates:

6g
Fiber:

1g
Sugar:

3g
Protein:

5g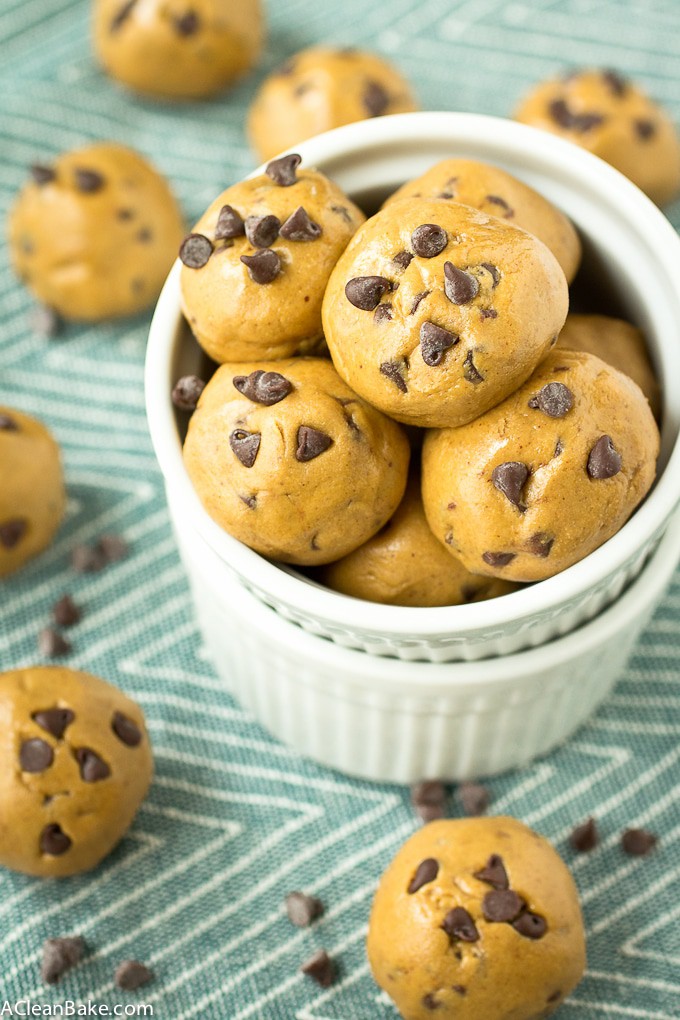 Thank you to Now Foods for providing the protein powder that inspired this delicious recipe. This post contains affiliate links, which means that if you click through and purchase a product, A Clean Bake receives a small commission, which goes toward continuing to bring you delicious, healthy recipes every week. This does not affect the price you pay. Thanks for supporting A Clean Bake!