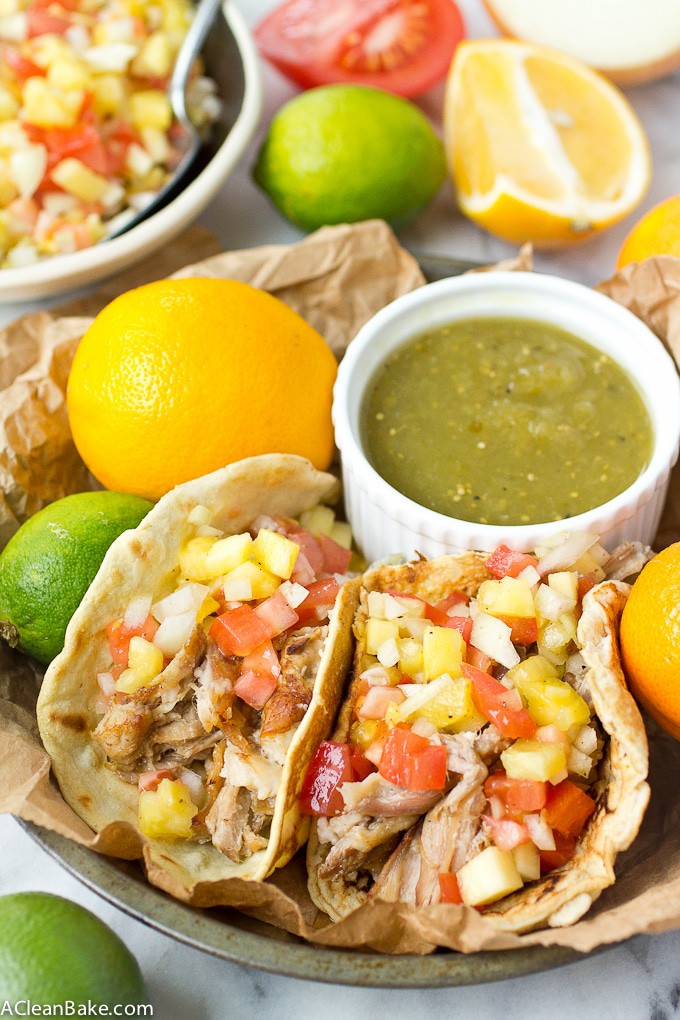 So many of you have requested more crockpot recipes and now that I have recovered from the crockpot overkill of the kitchen renovation period, I am more than happy to oblige. It's not hard, this time of year, when cold weather makes everyone want to move a little slower, a little less, than they do in the summer, so a dinner prepped mostly by a machine is a welcome reprieve. Not to mention that most crockpot-made food falls, inherently, into the realm of comfort food – and there's nothing like a massive January snowstorm and its aftermath (the storm didn't hit us here in Chicago, but from years past, we know what it's like and had a sympathy snow day) to elevate comfort food from a luxury to a necessity.
I think crockpot cooking and comfort food in general are typically associated – unfairly, in my opinion – with unhealthy, empty calorie cheat food. It's no surprise, honestly, given what atrocities Pinterest has to offer if you search crockpot/slow cooker (different names for the same thing) recipes. Most of them involve either:
Canned, sodium- and preservative- heavy "Cream of [Something]"soup
Heavy cream/cream cheese/excessive amounts of butter, then topped with cheese
Empty carbs
Ranch dressing, premade seasoning packets (which are like 104% sodium), or some similarly offensive pre-made marinate or flavoring source.
Sugar. Lots of sugar.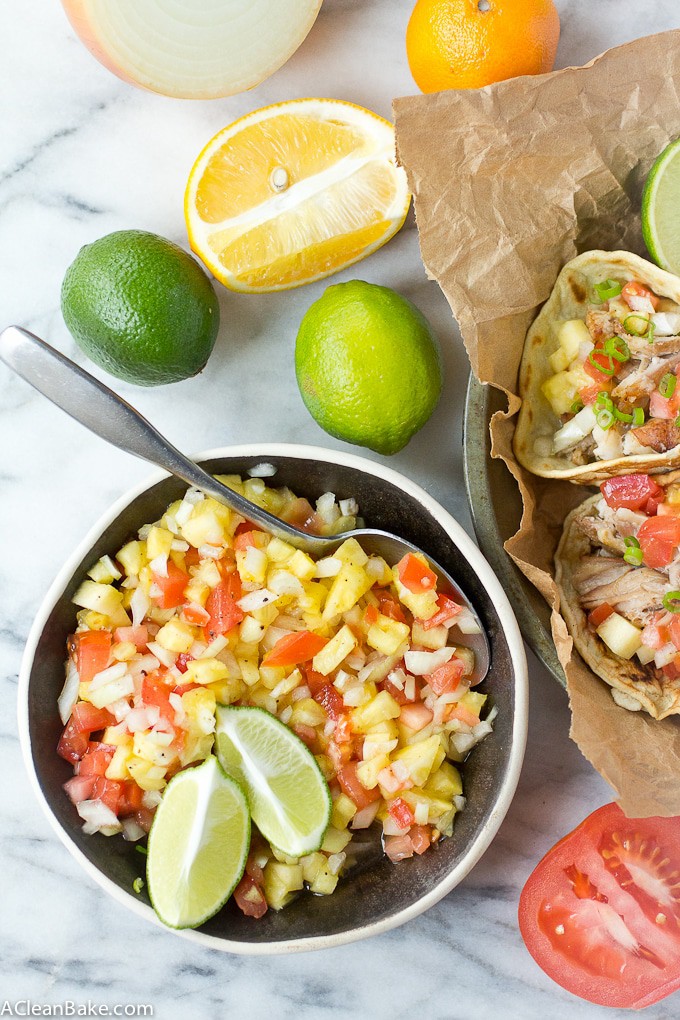 I'm not trying to get on my high horse here, I'm really not. In fact, I'm probably not telling you anything you don't already know, and in keeping with the theme of today's Duh! By Nora episode (I'm in talks to make it into a podcast) (KIDDING.) I feel compelled to state that crockpot/comfort food recipes aren't always, and in fact, really shouldn't be excuses to eat garbage. There are so many exceptions that it really should be the rule. You definitely already know that, though, or else you wouldn't have asked me for more crockpot-friendly recipes.
This one is going to be a new favorite of yours – I promise. It makes a ton of leftover-friendly food with plenty of flavor and minimal hands-off time. What's not to love?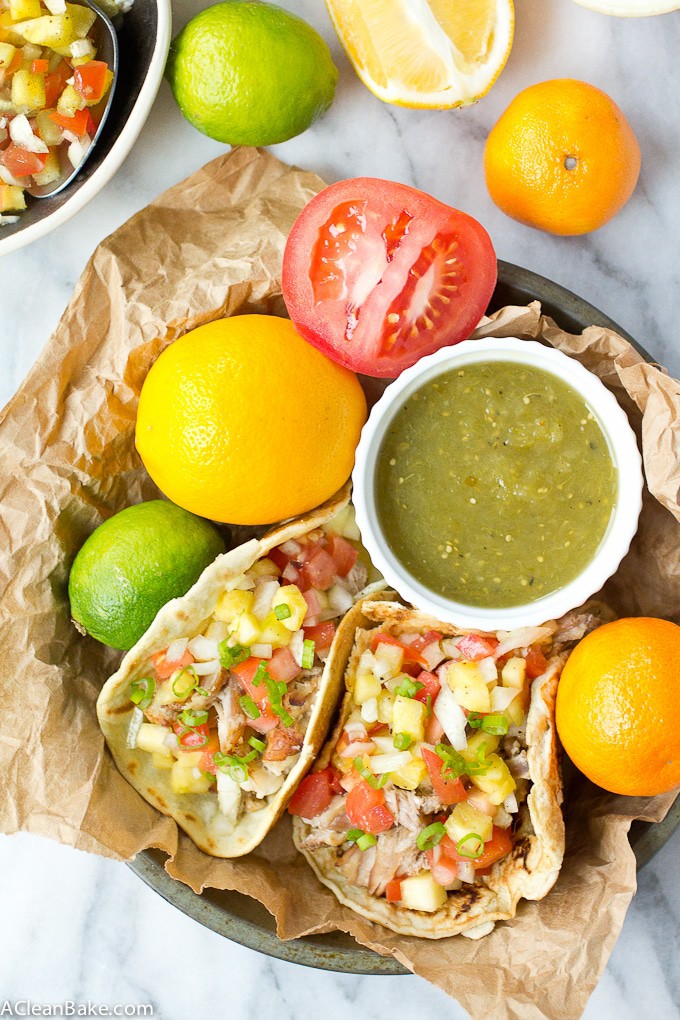 Although I tweaked it ever so slightly, I can't really take any credit for this brilliant recipe. It is straight out of a new cookbook called Paleo Planet, which is, as you may have guessed from the title, a compilation of recipes from around the world, only adjusted to be gluten free, paleo-friendly, and many of them are low carb too. As a card carrying obsessive when it comes to foreign foods – I love 'em all – it would not be an exaggeration to say I am head over heels in love with this book. The only thing I don't love about it is that I didn't get to write it myself (even that isn't too disappointing, though, because my friend Becky, an extremely talented recipe creator and all-around awesome human, got to do the honors).
If you're a fan of foreign cuisines, this book is for you. It contains over 125 recipes inspired by food from all over the world and everything I have tried so far is delicious. Honestly, the best and most surprising part about the recipes in this book is that they're easy. Of course, as with any cookbook, there are a few more involved, project-y recipes, but generally speaking, I really expected the recipes to be a lot more time consuming than they are. Most of them are incredibly straightforward, simple, and fast to make. They require a minimum of specialty ingredients, and Becky even provides recipes for making some of the specialty ingredients – like cuisine-specific spice blends – at home, saving you the trouble of trying to track them down in the store or online. I was quite pleasantly surprised by how accessible the recipes are, allowing you to dine on fabulous foreign flavors in less time than it takes to order delivery.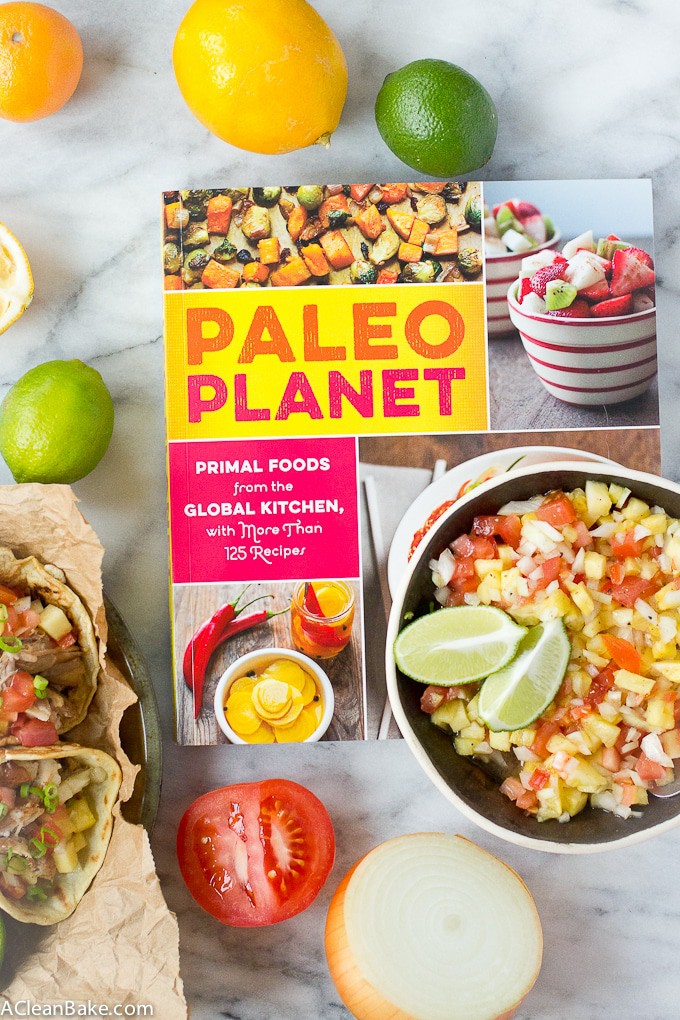 I've never made carnitas before, but Becky's recipe was so easy I was sure I was doing something wrong (I wasn't). It takes some planning ahead, but of the 10 or so hours that this recipe took me to make, about 9 hours and 50 minutes of it were hands off. I prepped the pork and cooked it overnight, and just kept it warm all day until dinner time, when I crisped it in the oven just before serving. The salsa takes a few more minutes to throw together, but is well worth the effort and can certainly be made ahead of time. Though the book version of this dish is presented as lettuce wraps, I served the carnitas on grain free tortillas that I had on hand in the freezer (defrost to room temperature, then crisp up in a dry pan before serving). For a lower carb version, you can use butter lettuce leaves as wraps instead, as the original recipe suggests.
Either way, the carnitas killed it. They smelled like heaven, turned out moist and juicy with satisfyingly crisp edges after a bit of time under the broiler (which you can skip if you need to save time), and made my husband happier than a new episode of Mozart in the Jungle (he's a musician, so he's suuuuper into it). :-p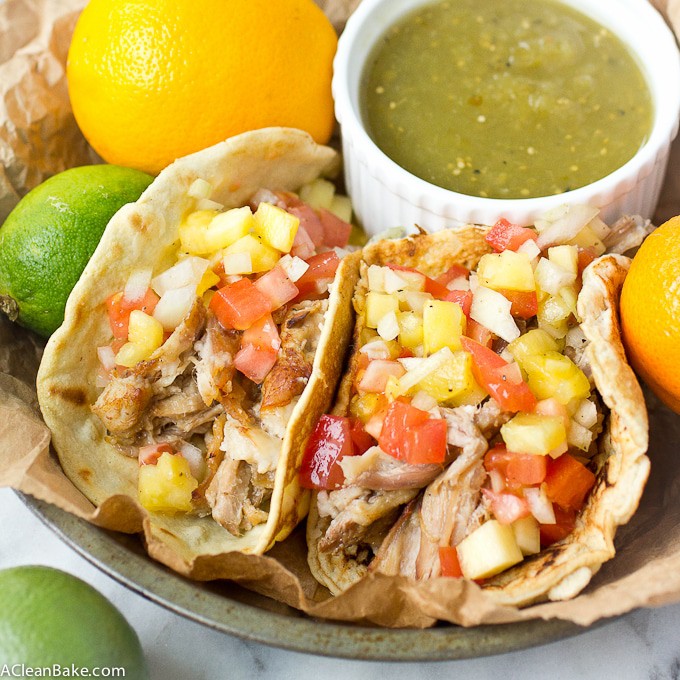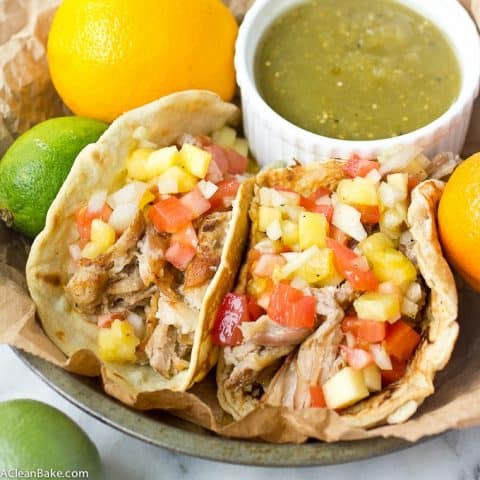 Crockpot Carnitas with Pineapple Salsa
Total Time:
10 hours
10 minutes
Moist and succulent carnitas that you can make in the crockpot! (gluten free, low carb and paleo friendly)
Ingredients
Ingredients for the carnitas
1 Tablespoon extra virgin olive oil
1/2 teaspoon cumin
1/2 teaspoon garlic powder
1/2 teaspoon flaky sea salt, or more to taste
1/4 teaspoon freshly ground black pepper, or more to taste
1/4 teaspoon dried oregano
pinch of cayenne pepper, or more to taste
1 bone-in pork shoulder, 2.5 lb
1 onion, thinly sliced
Juice of 1 orange, reserve the rinds
2 Tablespoons fresh lemon or lime juice
Ingredients for the salsa
3/4 cup bite sized fresh pineapple chunks
1 large beefsteak tomato, washed and hulled, cut into bite sized pieces
1 small red or white onion, minced
1/4 cup chopped fresh cilantro
1 Tablespoon extra virgin olive oil, optional
1 Tablespoon fresh lime juice, or more or less to taste
pinch of flaky sea salt, to taste
For serving
Tortillas or leaves of Boston lettuce, corn or grain free
Instructions
For the carnitas, mix the olive oil, cumin, garlic powder, salt, pepper, oregano and cayenne in a small bowl.
Pat the pork dry and rub the spice mixture all over it, covering evenly.
Place the pork in the bowl of the slow cooker and top with the onions, citrus juices and orange rinds.
Cover and cook on low until the meat is tender and falls apart easily, about 8-10 hours.
When the pork is cooked, preheat the broiler and line a baking pan with aluminum foil.
Remove the pork from the slow cooker, discarding the orange peel and about half of the onion (reserve the liquid; you'll need it in a moment).
Use two forks to pull apart the meat (discarding the bone and excess fat) into bite sized pieces.
Place the meat in a single layer on the prepared baking sheet and spoon about 1/4 cup of the liquid from the slow cooker evenly over the meat.
Broil until browned and crispy along the edge, about 3-5 minutes. Taste and season with additional salt and pepper, if necessary.
For the salsa, toss together all of the ingredients until thoroughly combined.
To assemble: top a tortilla or lettuce leaf with a generous scoop of hot carnitas, then another scoop of the salsa. Serve immediately.
Notes
The original recipe does not include the onions in the baking pan (under the broiler) with the carnitas, but I kept about half of them and only discarded the other half.
The salsa can be made in advance and kept in an airtight container in the fridge for up to 3 days.
The original salsa recipe calls for 1 Hass avocado, peeled, pitted and cubed, instead of the tomato. You can use either or a combination of both. The recipe also does not call for olive oil, since there is plenty of fat in the avocado, but if you're not using avocado, I highly recommend including it.
This recipe originally appeared in Paleo Planet and has been reprinted with the permission of the author.
Nutrition Information:
Yield:

6
Amount Per Serving:
Calories:

335
Saturated Fat:

5g
Cholesterol:

123mg
Sodium:

335mg
Carbohydrates:

5g
Sugar:

2g
Protein:

36g
[wprm-nutrition-label align="center"]