Spring is here, so let's dig in to all the lemony treats! I've been tinkering with this lemon pound cake recipe for years, and I think it's finally perfect. Sturdy and tight-crumbed, yet delicate, this gluten free and paleo lemon pound cake is simple to make and full of all natural lemon flavor! It's perfect for Easter, or for brunch any time of year!
This recipe was updated April 2019.

I notoriously obsess over recipes. It took me 18 tries to get this cake right, about 25 versions until this one was perfect, and I lost count of the number of times I tweaked these cookies until they were finally exactly as I imagined them.
But for some reason, this lemon pound cake has been my achilles heel. I've been working on it since 2014, struggling to create a grain free version of the beloved spring treat – struggling, that is, until now.
As you can imagine, I've learned a lot since 2014. Making cakes over and over again teaches you more than you ever thought possible about gluten free and grain free baking, whether or not you want to learn.
But all those mediocre cakes, and all those eureka moments, have brought this humble paleo and gluten free lemon pound cake (version 3.0) to you.
The best part? The newest version is simpler to make, requires fewer ingredients, is far more foolproof, and is bursting with bright lemon flavor.
How to make a pound cake
Let's back up a little bit, because a pound cake is a very unique and specific type of cake.
Pound cake is so named because the original recipe went something like this: combine a pound of butter, sugar, all purpose flour, and eggs. That's one pound each. That must have yielded one hearty slice.
Since then, professional bakers and home cooks alike have tinkered with the proportions, used cake flour in place of all purpose flour, added leavening agents like baking soda and baking powder, and personalized their loaves with flavors like spices or lemon juice. As long as the batter yields an ultra-moist, dense loaf with a tight crumb, that slices like a hot knife through a stick of butter (because many of these loaves contain quite a bit of it), it's a pound cake.
So, now that almost no one is making it the original way, who's to say what makes a pound cake a pound cake anymore? So, why not make it with almond flour?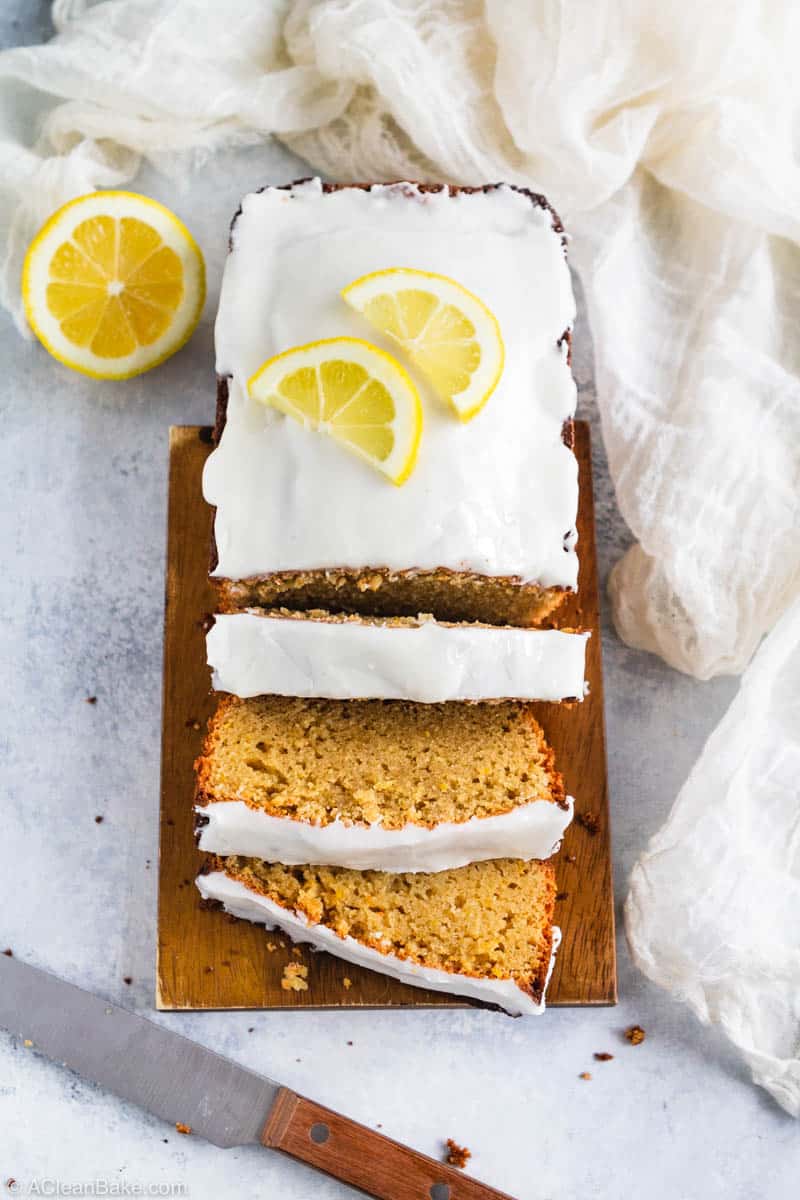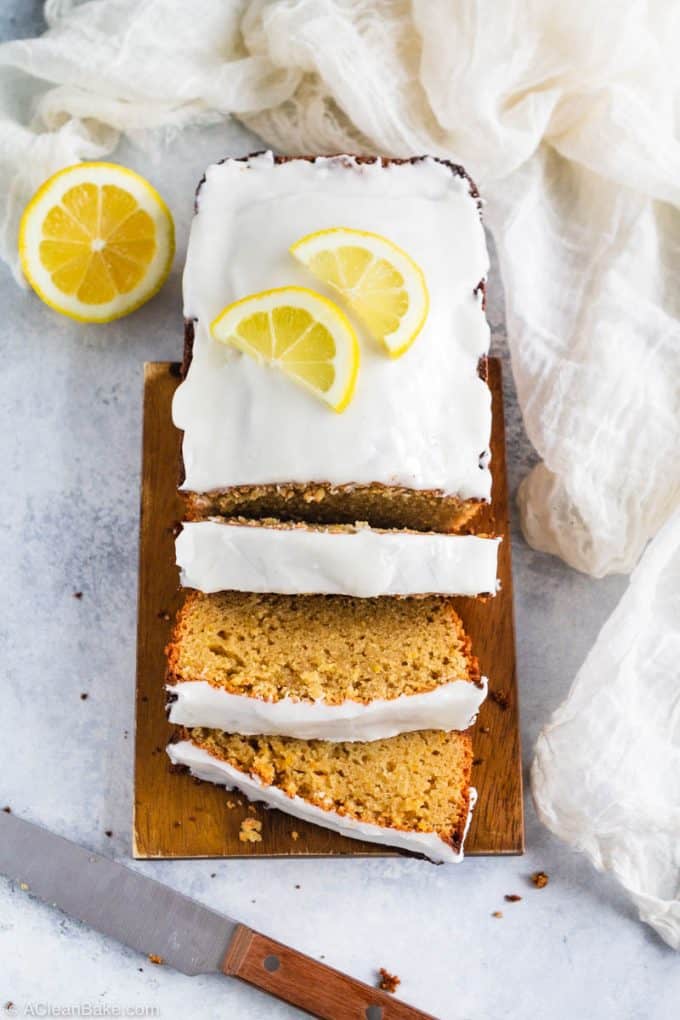 What you'll need to make your lemon pound cake
Like most of the cake recipes on this site, the batter starts with a flour mixture (almond flour and tapioca flour; I don't like using coconut flour in cake recipes because it tends to make the cake a little too tough. Coconut flour is not a delicate ingredient!), baking soda, and salt. That's your dry mixture; can you believe how simple this is?
You will quickly whisk the dry ingredients together in a large bowl and set them aside. And yes, you do need a large bowl for the dry ingredients because this is the bowl you're going to use to assemble the cake batter.
The wet ingredients are the key to this cake. You'll need:
Eggs for moisture and binding (make sure you're using large eggs, not extra large. More is not better, in this case!)
Coconut milk for richness and moisture (it's worth noting that, though many pound cake recipes use unsalted butter or sour cream for richness, this recipe is completely dairy free). Make sure you're using the full fat stuff that comes in a can. Avoid "lite" coconut milk or the kind that comes in a carton, since both will make your batter too runny. Since coconut milk contains so much moisture-imparting fat, you don't need coconut oil or any other additional fats for this cake.
Lemon zest and fresh lemon juice, both of which impart that zingy lemon flavor without any artificial enhancements
You'll mix together the wet ingredients, them pour them into the dry mixture and combine before pouring the batter into the loaf cake pan. Then, bake!
And that's it. I told you I had drastically simplified this recipe.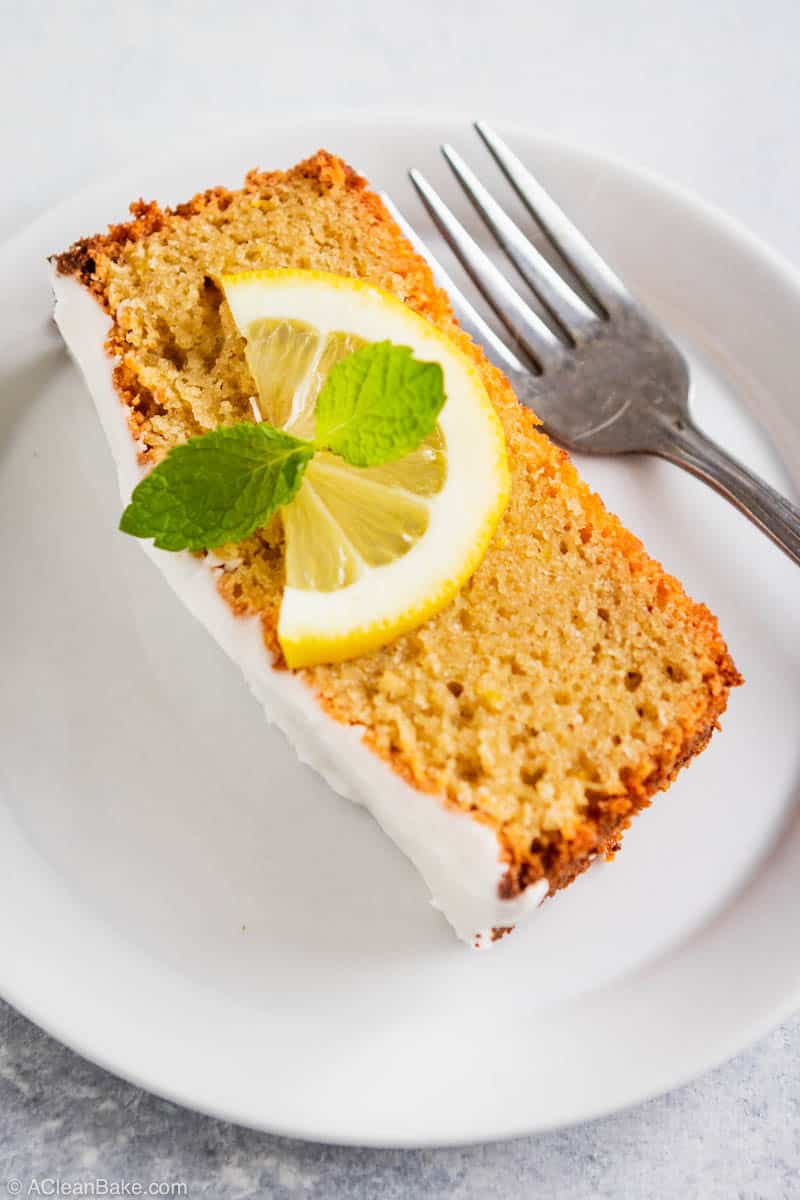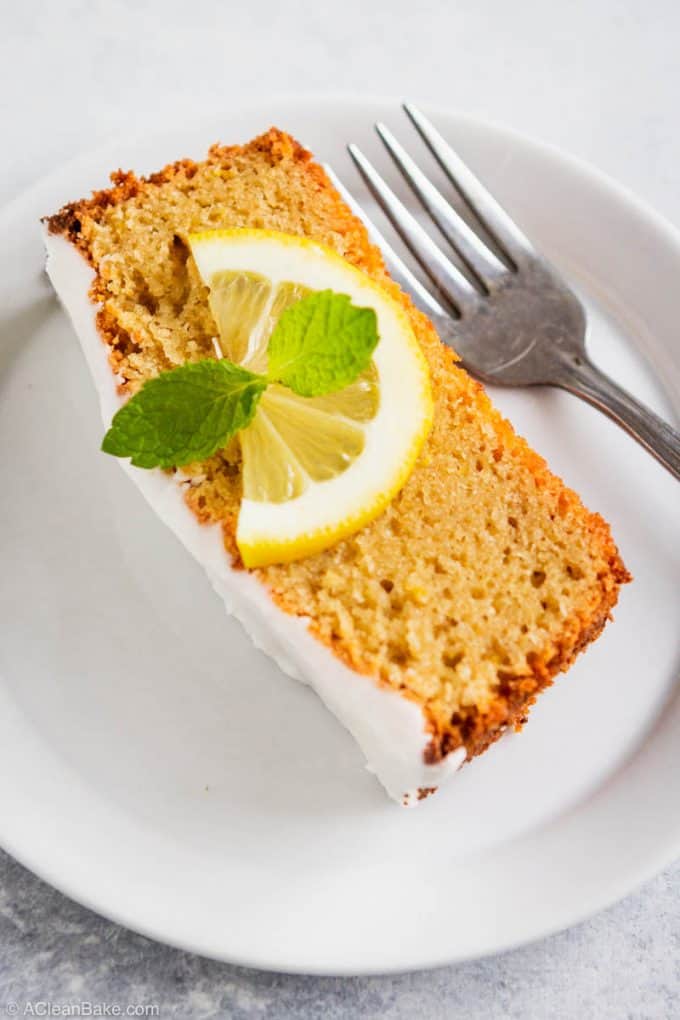 Lemon glaze: your finishing touch
Although this cake is fine on its own, there's nothing like a silky glaze to finish a loaf cake.
This simple glaze is made from confectioner's sugar mixed with fresh lemon juice. Yes, confectioner's sugar (aka powdered sugar; they're the same thing) is a type of cane sugar, and I know that while many of you allow it in extreme moderation, some of you must avoid cane sugar at all costs.
Over the course of many years, I've tried quite a few different ways to make a paleo-friendly glaze and nothing has the same consistency as a glaze made from powdered sugar. However, if you need a sugar free option, you can use 1 cup powdered monk fruit (or stevia) + 2-3 tablespoons tapioca flour as the base. The amount of lemon juice you'll need will vary with the brand of powdered monk fruit you choose (Lakanto makes one, and I believe Swerve does too). You can also feel free to skip the glaze altogether, or use whipped cream to top your cake instead.
One other suggestion: if dairy is not an issue and you'd like to serve this like more of a traditional lemon cake, you can skip the glaze and top the loaf with cream cheese frosting instead, which is easier to make sugar free, since the frosting relies more on the cream cheese for texture, rather than the sweetener. In this case, you can find any cream cheese frosting on the internet, and substitute powdered monk fruit or stevia for the powdered (cane) sugar called for in the recipe. The other ingredients should be butter, cream cheese, and vanilla extract – that's pretty much it.
Whichever glaze or frosting you decide to use, make sure your cake is completely cool before you add it. That means removing the loaf to cool on a wire rack for a half hour to an hour until it has cooled all the way through. Jumping the gun by glazing (or frosting) before the cake is completely cool will result in runny glaze, most of which will probably end up on the counter, rather than on the loaf, where you want it!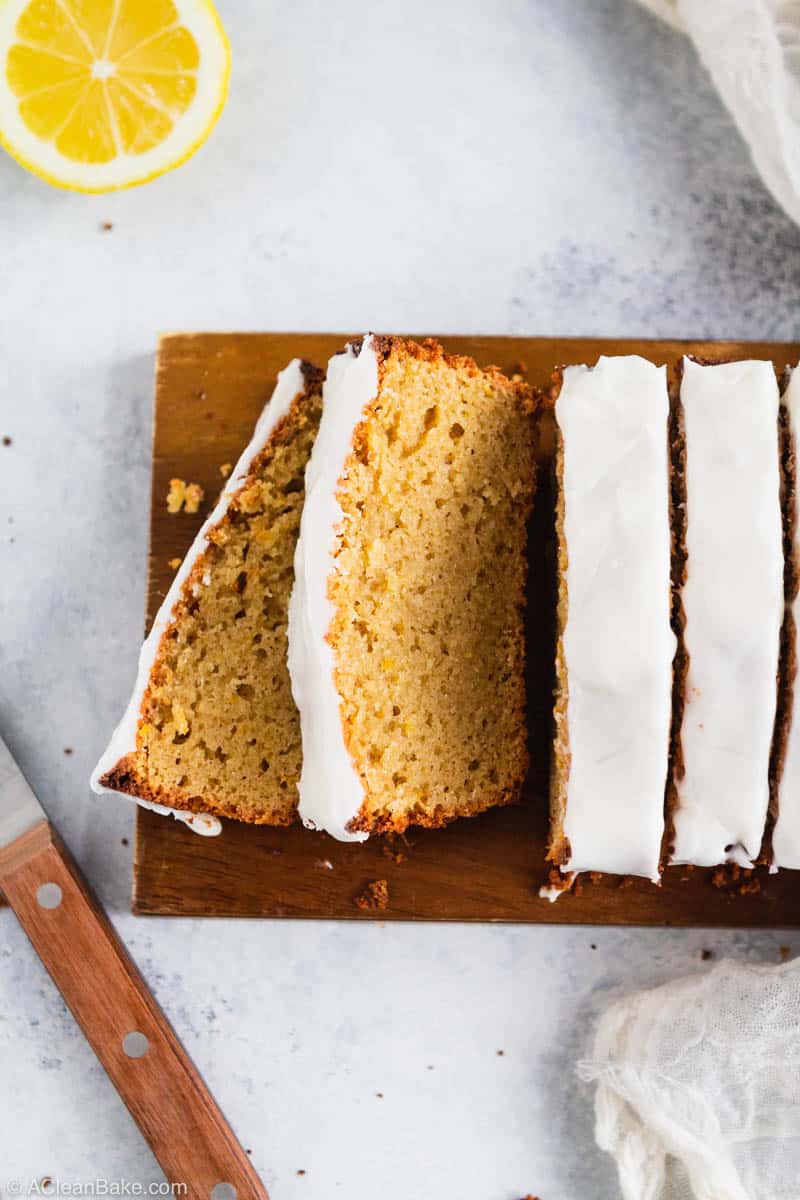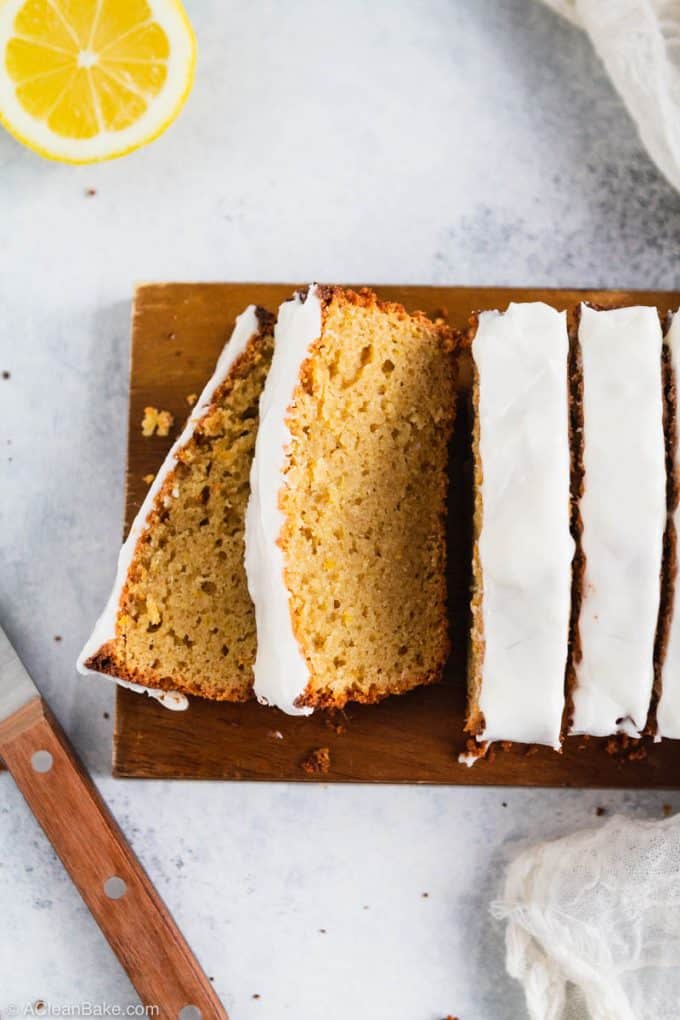 Gluten Free and Paleo Lemon Pound Cake FAQs:
To make the best lemon pound cake you can, be sure to read through all these tips (as well as the recipe in full) before you start baking!
If you have any questions that I haven't answered here, please feel free to leave a comment below the post!
What kind of equipment do you need to make this cake?
All you really need is two large bowls, a couple of spoons, and a loaf pan. Oh, and an oven.
If you'd like, you can use your hand mixer – but keep it at low speed and be careful not to over-mix. Over-mixing will incorporate too much air into the batter, that will cause the loaf to over-rise during baking and then collapse as it cools. If this happens, just add more glaze on top of the cake to cover it up. I prefer mixing this batter with a fork or spoon over using the electric mixer, because stirring by hand makes it easier to avoid over-mixing in the first place.
Likewise, it's not really worth breaking out your stand mixer for this recipe. It's overkill for such a simple cake batter; you'll risk over-mixing and it's no fun to clean that beater, so don't do it if you don't have to.
What size loaf pan should you use?
Remember that loaf pans come in two sizes: 8.5″ and 10″. This lemon pound cake recipe is intended to be baked in an 8.5″ loaf pan.
This recipe yields a loaf that is a bit short, even in the smaller loaf pan (you won't have to worry about it overflowing out of the pan!), so it really won't work well in a 10″ loaf pan.
If you don't have the right size pan, try baking the batter in cupcake tins or mini bundt pans instead (note that I would not recommend using a full size bundt cake pan). Little individual lemon pound cakes would be adorable for brunch!
Can you substitute coconut sugar for maple sugar?
I know that maple sugar is expensive, so I try to use it sparingly. But there is no substitute when a recipe needs a granulated sweetener with a mild color and flavor.
Unfortunately, in this recipe, I would not recommend using coconut sugar in place of the maple sugar. Coconut sugar will change the flavor (and color) of the cake too much, and will drown out the lemony flavor of the bread.
You should also avoid using maple syrup or raw honey, which will contribute too much liquid to the batter. It's best to stick with maple sugar, as the recipe calls for.
Can you use arrowroot flour in place of tapioca flour?
You can! It will change the texture of the finished bread verrrrry slightly.
Normally, I like to use arrowroot flour in cakes, because it gives the cake a lighter, airier texture. Cakes made with tapioca starch tends to be more dense. But, in this case, that's exactly what we want!
The difference won't be significant, though, so go ahead and use whichever flour you have handy.
What if it's not lemony enough?
The batter contains both lemon juice and lemon zest in order to maximize the lemon flavor of the loaf, without resorting to extracts.
However, if you want your loaf to have an even stronger lemon flavor, try adding 1/4 teaspoon of good quality lemon extract to the batter. Try to find one that is made from lemon oil and alcohol (often labeled Pure Lemon Extract), rather than "natural" lemon flavors (which are probably not very natural). I like this one.

A better-for-you lemon pound cake
If you're here, then I assume I don't need to do the hard sell on why almond flour beats all purpose flour, handily, on health, flavor (you'd never know it's there), and satisfaction (of knowing you just turned almonds into a baked good! I never stop enjoying that feeling of having performed sorcery.).
But to your Easter brunch guests, this is just one darn good lemon pound cake. ????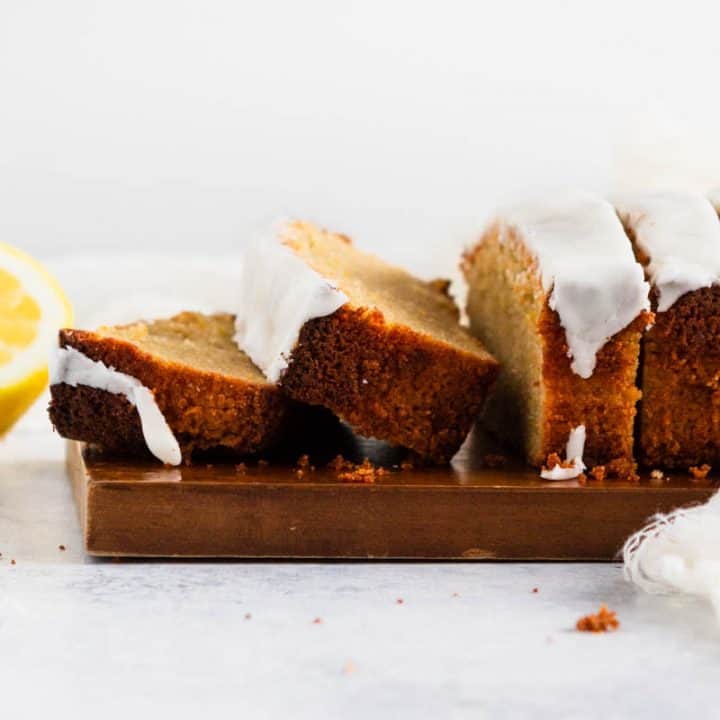 Gluten Free and Paleo Lemon Pound Cake
Yield:
1 loaf (about 12 slices)
Total Time:
1 hour
25 minutes
Spring is here, so let's dig in to all the lemony treats! I've been tinkering with this lemon pound cake recipe for years, and I think it's finally perfect. Sturdy and tight-crumbed, yet delicate, this gluten free and paleo lemon pound cake is simple to make and full of all natural lemon flavor! It's perfect for Easter, or for brunch any time of year!
Ingredients
2 large eggs (warmed to room temperature)
Zest of 2 lemons (about 2 tablespoons)
Scant 1/4 cup lemon juice, divided
1 cup powdered confectioner's sugar (see article above for alternatives)
Instructions
Preheat oven to 350°F.
Lightly grease or spray an 8.5" loaf pa (or line with parchment paper) and set aside.
In a large mixing bowl, whisk together the almond flour, maple sugar, tapioca flour, baking soda, and salt, and set aside.
In a medium bowl, whisk the eggs, then whisk in lemon zest, 2 tablespoons of lemon juice, coconut milk.
Pour the wet (eggs, etc.) mixture into the try mixture and stir until just combined.
Taste and stir in 1/4 - 1/2 teaspoon pure lemon extract, if desired.
Pour batter into the prepared pan.
Bake for 50-60 minutes, until a tester inserted into the center of the cake comes out mostly clean (a few crumbs are ok).
Cool in the pan for 10-15 minutes before turning out onto a wire rack to cool completely.
When the cake is completely cool, make the glaze by whisking together the confectioner's sugar and the remaining 1 tablespoon plus 1 teaspoon of lemon juice until smooth.
Pour over the cooled pound cake and use an offset spatula to gently spread the glaze to cove the loaf.
Allow the glaze to set for about 30-60 minutes at room temperature before slicing and serving.
Notes
Yield: one 9" loaf cake
Store leftovers in an airtight container at room temperature for up to 5 days or in the freezer (unfrosted) for up to 3 months.
Recommended Products
As an Amazon Associate and member of other affiliate programs, I earn from qualifying purchases.
Nutrition Information:
Yield:

12
Serving Size:

1 slice
Amount Per Serving:
Calories:

240
Total Fat:

12g
Saturated Fat:

3g
Trans Fat:

0g
Unsaturated Fat:

9g
Cholesterol:

31mg
Sodium:

87mg
Carbohydrates:

30g
Fiber:

3g
Sugar:

21g
Protein:

5g
If you'd like the original version of this recipe, you can find it
here
.