This moist and dense paleo lemon pound cake is bursting with lemon flavor! It's gluten-free, grain-free, paleo and naturally-sweetened, too.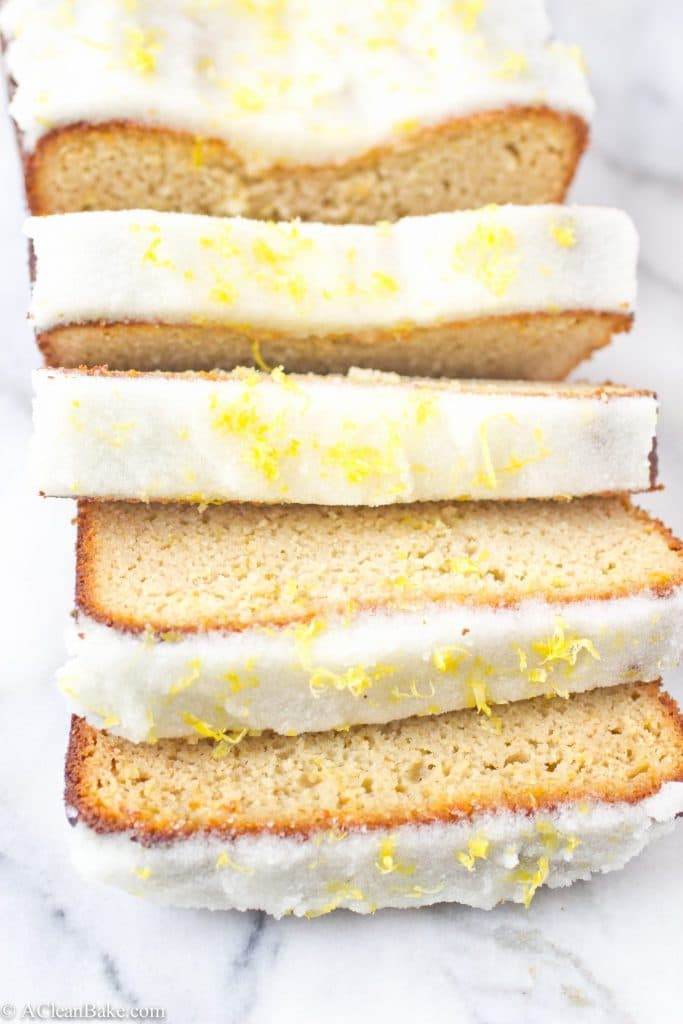 A smart man once said that it takes 10,000 hours to achieve mastery in a field.
Granted, there is some controversy surrounding this premise, as I'm sure there is surrounding just about every rule about success that has ever been suggested, but whether or not it is exactly true, the point is that talent is important, but it is nothing without deliberate practice.
You didn't think the Beatles just woke up one day to discover they were The Beatles, right? Bill Gates started the process of becoming Bill Gates in high school. Probably earlier. 
I'm certainly no Bill Gates or Paul McCartney, but I think that applies to mere mortals as well, and that's what powers me through every exhausted Friday night of baking or Saturday afternoon of photography when I'd rather be lying on the couch.
And that's what keeps me going back into the archives and remaking old recipes to make them better, healthier, and tastier. The more hours I put in, the better the food. And isn't that what this is all about?
This weekend, I remade two old recipes and brought them to a Memorial Day dinner party. The first was a peanut butter cup recipe that combined the chocolate coating from this recipe stuffed with the peanut butter filling from this recipe (rolled into a ball instead of a football shape and placed in a pool of melted chocolate in 12 mini muffin cups) and boy did those go fast. The second is this pound cake.
I first made a version of this paleo lemon pound cake over a year ago and what a difference a year makes in learning how to make grain-free, naturally-sweetened baked goods the best they can be.
I've remade the original recipe a few times and each time it felt like it was good, but could be better. So, I started over from scratch, and now it is: it's more moist, lighter (but still dense), sweeter, and – most importantly – lemonier. And I mean bursting with lemon flavor.
It's also topped with a thick layer of frosting, rather than a thin, running glaze, which is my personal preference.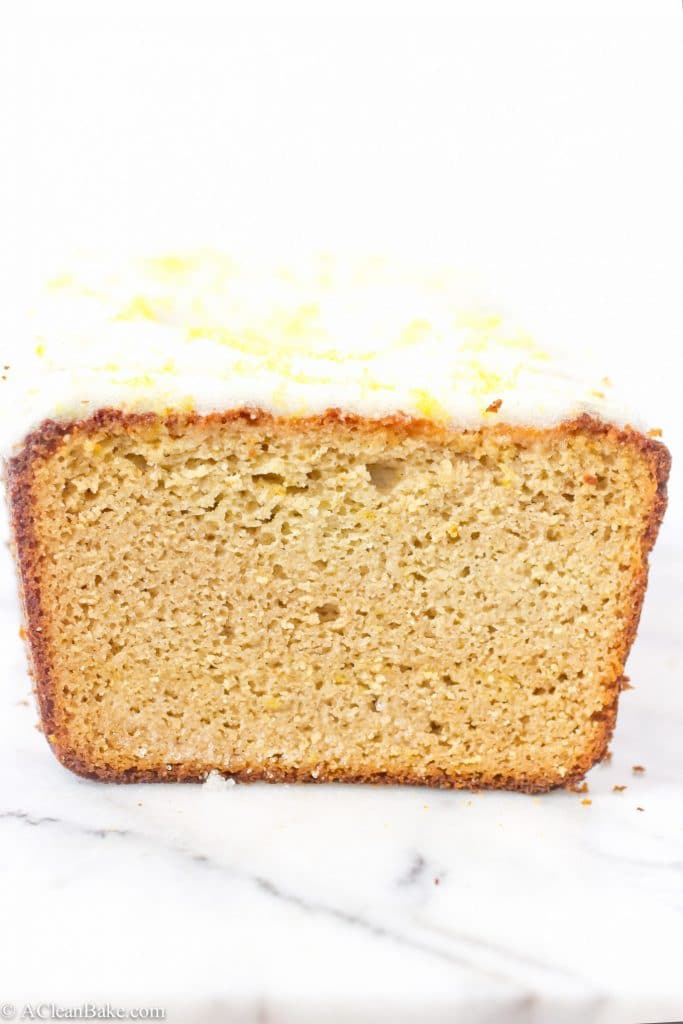 The verdict: well, I couldn't get any testimonials from the party guests because their mouths were pretty full (not just on this case; all the food was amazing.
Wait until you taste these tacos my mom made, which I'll share with you in a few weeks) but I can tell you by the rate the cake disappeared that it was a big hit.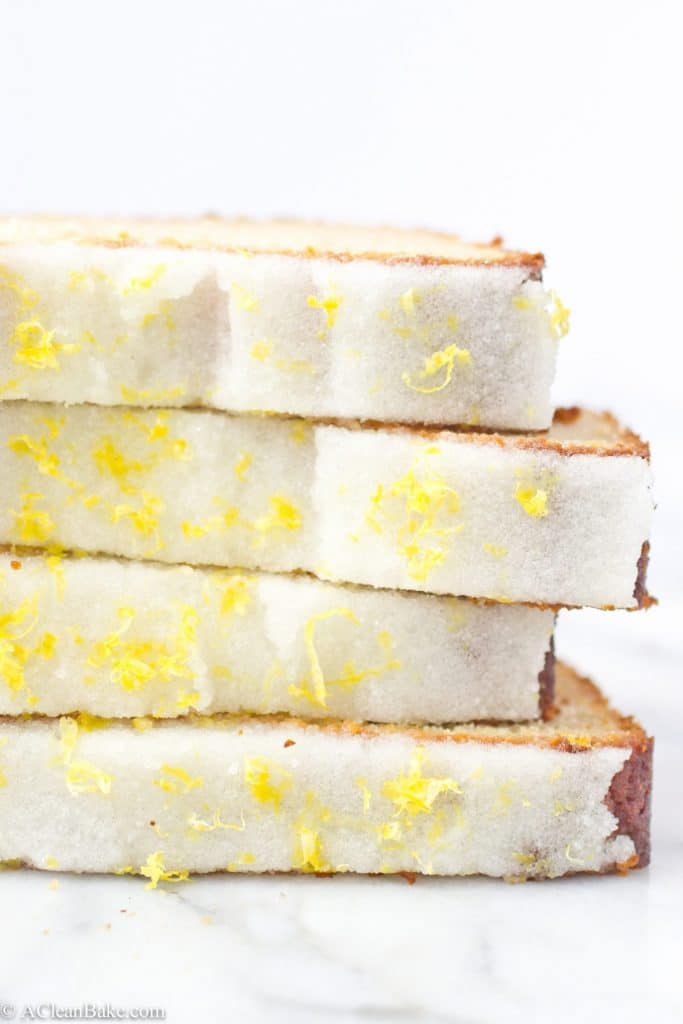 You should try it for yourself, and see what you think!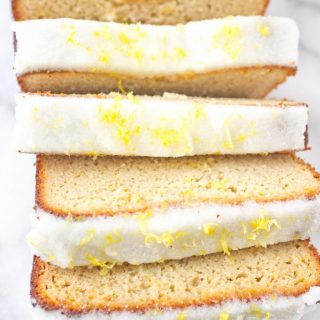 Ingredients
2 1/2

cups

blanched almond flour

1/4

cup

coconut flour

2 1/2

Tablespoons

granulated stevia

(I used Natvia brand)

1/4

teaspoon

coarse salt

1 1/2

teaspoons

baking soda

3

large eggs

lightly beaten

2

Tablespoons

unsweetened vanilla almond milk

1/4

cup

honey

Scant 1/2 cup unsweetened applesauce

4 ounces

1/2

cup

coconut oil

or butter, melted and slightly cooled

1

cup

fresh lemon juice

Zest of 2 large lemons - approx. 2 Tablespoons

lightly packed
Instructions
Preheat the oven to 350F. Coat a 8.5" loaf pan with nonstick spray and set aside.

In a large mixing bowl, combine the flours, granulated sweetener, salt and baking soda and set aside.

In another bowl, combine the eggs, milk, honey, applesauce, oil, lemon juice, and lemon zest.

Pour the wet mixture into the dry and stir to combine. Then pour the batter into the prepared loaf pan and smooth the top into an even layer.

Bake for 30 minutes until the top is golden brown, then tent with foil and bake for another 30-35 minutes until a tester comes out clean.

Cool in the pan for 20 minutes, then remove from the pan and cool completely on a wire rack.

If you'd like to glaze it, there are two options: for a traditional frosting or glaze, whisk together 1 cup powdered sugar and 1-2 Tablespoons lemon juice until it reaches your desired consistency. For a paleo-friendly frosting/glaze, pulse 1/2 cup stevia (or Norbu or Natvia) and 1 Tablespoon tapioca flour in a food processor until fine, then add 6-8 Tablespoons of lemon juice and process until it reaches your desired consistency.
Notes
Yield: one 9" loaf cake
Store leftovers in an airtight container at room temperature for up to 5 days or in the freezer (unfrosted) for up to 3 months.
[amazon_link asins='B00HS01I1A,B00PD2B68K,B00DJTO82U,B00CMQD3VS,B0058ABS7G,B00FN3M1RE' template='ProductCarousel' store='butterfanati' marketplace='US' link_id='66c753ce-30f1-11e7-8e1b-1b16612db103′]
Pin for later: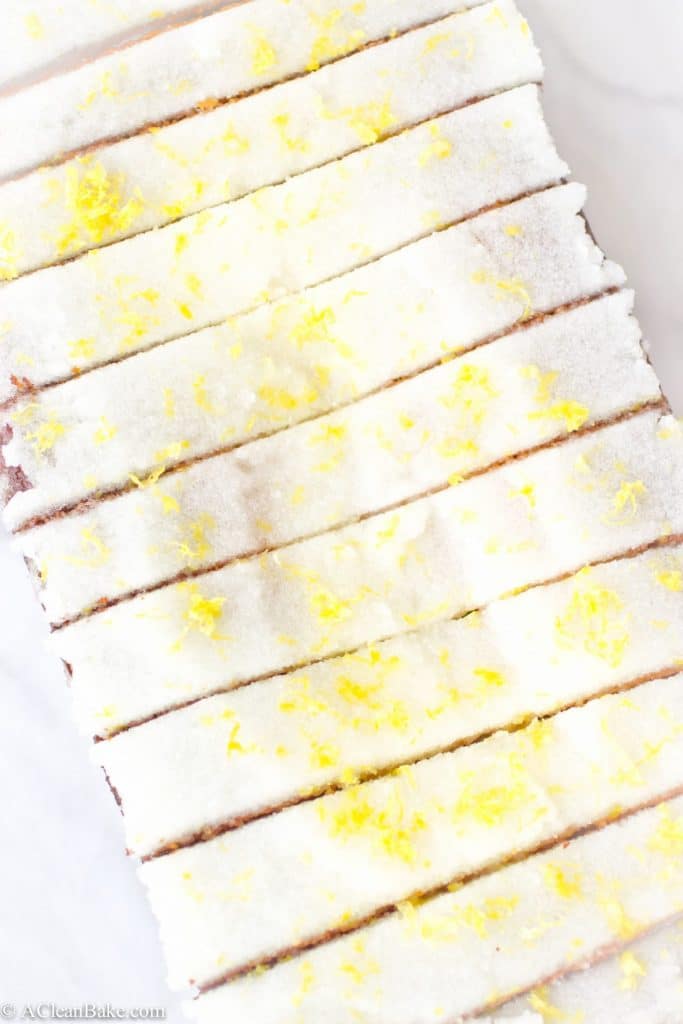 This post contains affiliate links, which means that if you click through and purchase a product, A Clean Bake receives a small commission. All proceeds go toward continuing to bring you delicious, healthy recipes every week, and this does not affect the price you pay. Thanks for supporting A Clean Bake!