This is the only paleo vanilla layer cake recipe you'll ever need! It's easy and requires 2 bowls and a whisk to make. It's rich and just sweet enough, with a tight, moist crumb – just like a vanilla cake should be. Keep this versatile recipe on hand, because everyone loves this cake!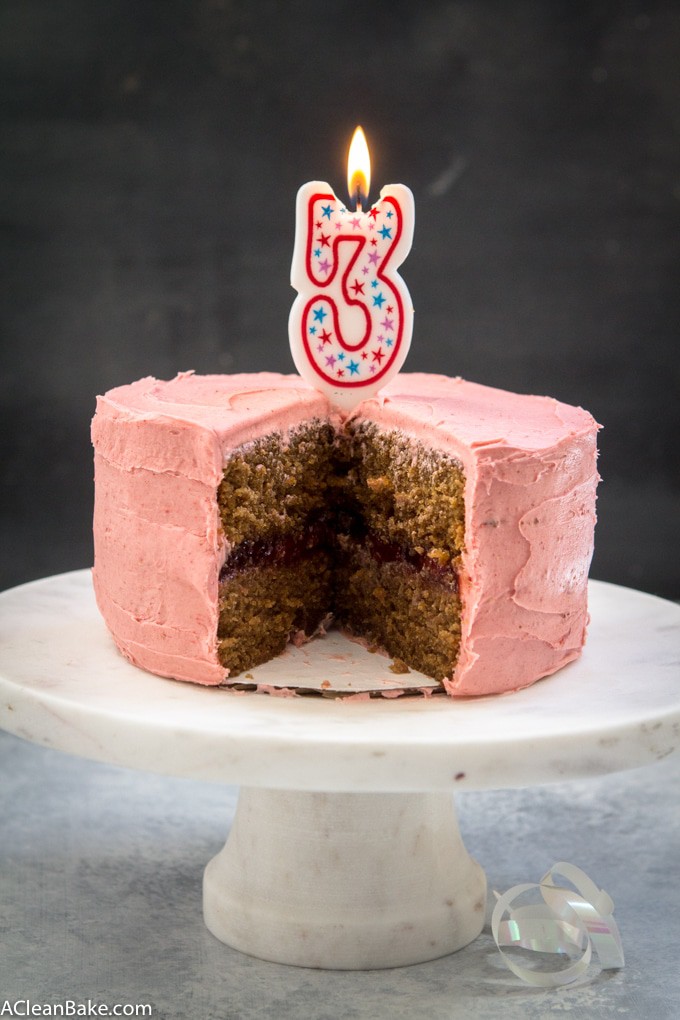 If the conspicuous candle on top of the cake didn't give it away…. it's the third anniversary of A Clean Bake!
As I reflect on the past three years, three things come to mind:
I love this. I can't wait for the next three years, and the three after that, and on and on.
Thank you. You, there, the person whose eyes are flickering over these words right now: I'm talking to you. Thank you, truly, for another year of following, reading, commenting, emailing, and baking with me.
I'm so damn sick of cake.
Oh ok, fine, that last one is a little bit of a lie. Cake and I need to take a step back from each other after 16(!!!) test batches of this one to get it exactly right, but in the end it was all worth it. This cake is perfect, and I wouldn't, and couldn't, settle for anything less because this was for you. And so, I persisted. (Special shout out to my husband and parents, who taste tested many batches of this cake, and suggested tweaks when I was ready to throw in the towel, to my dad for the strawberry filling idea and to my mom for the hand modeling in the next newsletter.)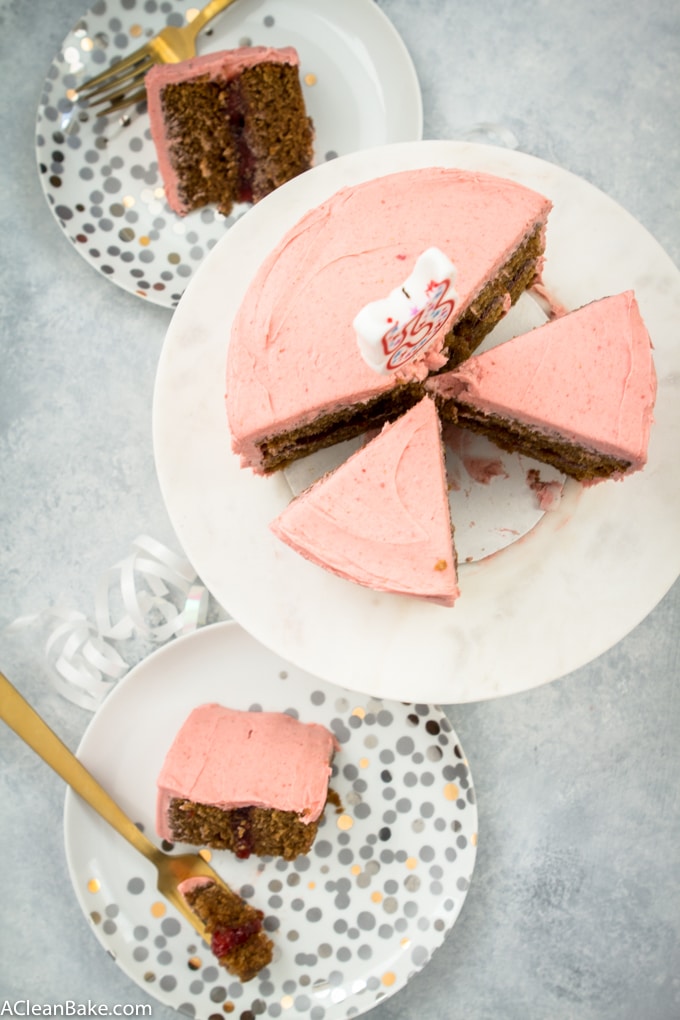 My love letters usually come from 6″ round cake pans or cookie sheets, so know that when I asked you on Facebook what kind of cake you most pined for, and you surprised me by answering with a request for a simple vanilla layer cake (If you didn't vote and want to in the future, make sure you have liked the Facebook page!), I resolved to give you the best damn paleo vanilla layer cake there ever was.
We have a bunch of sugar free vanilla cake recipes around here, but this one takes the… ahem… cake. (oof, I'm so sorry I had to do that, but I really backed myself into a corner). The others are good too, of course, but this one is uniquely moist and fluffy, rich with a tight crumb and just the right about of spring to it. The secret is coconut sugar which, though I usually use stevia or monk fruit, I know many of you prefer to bake with and keep on hand. And I desperately want you to try this cake – yes, I am putting my desperation front and center, because a slice of this cake is worth sacrificing a slice of my dignity – so it is made out of ingredients that, I hope, you can pull out of your cabinets right now.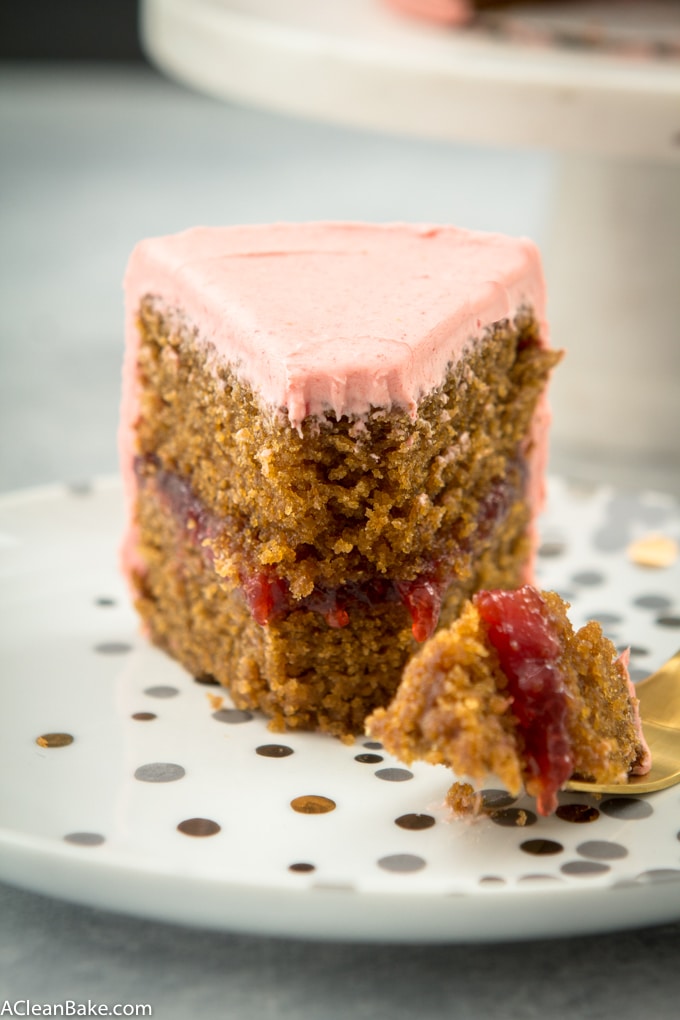 Or maybe you're low on baking ingredients right now, and that's fine too. I have you covered because, to celebrate this monumental day of the year, I'm giving away a huge prize pack featuring some of my favorite and totally indispensable baking ingredients, plus some additional products and ingredients that I love and what you to try. If you win, you'll receive:
Many of my essential baking ingredients from NOW Foods, including coconut flour, tapioca flour, coconut oil, cocoa powder, and coconut sugar.
Simple Mills frosting, which is conveniently ready-made, but is also gluten, dairy and grain free, paleo-friendly and made from real food.
Simple Mills's new ready-made cookies, to snack on while you bake!
Ellyndale Organics's new Q-Cups, which offer the convenience of ramen, minus all the garbage, plus real food – since, I suppose, we should eat some dinner before cake.
Bonus: A few of Ellyndale Organics's line of premium oils. Have you cooked with brazil nut oil or avocado oil yet? Well, if you win, you get to start!
Let's pause to give the sponsors of this giveaway a huge round of applause for their delicious and incredibly good quality products. Thank you, NOW Foods and Simple Mills!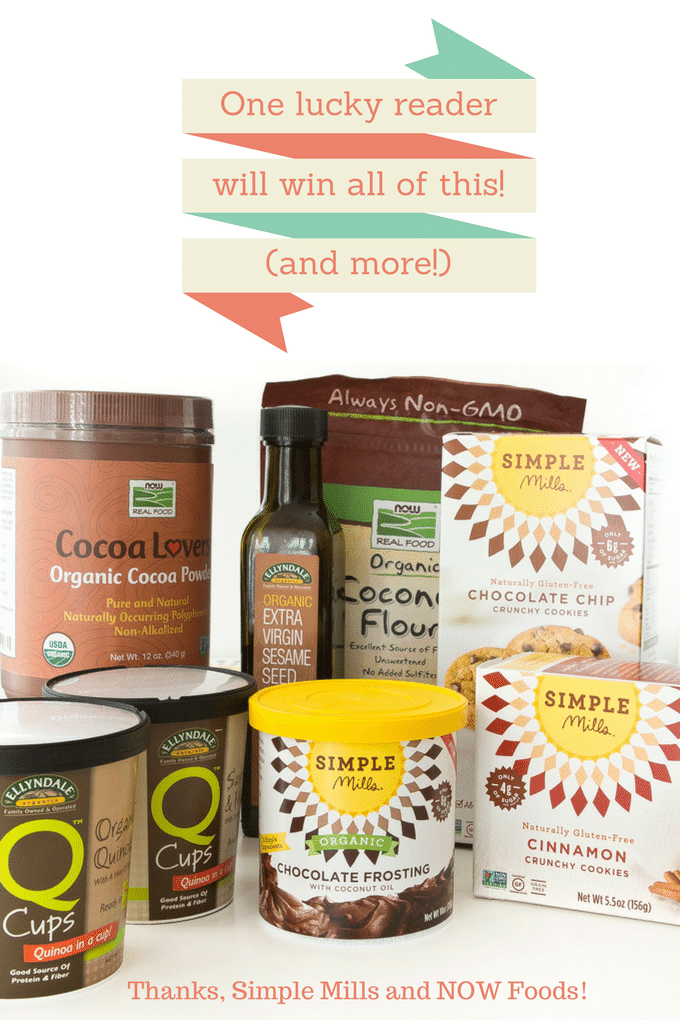 How to enter: A lot of contests require you to pin or share or like something, but that's not going to happen today. I don't need anything from you; you already give me your time and trust and space in your kitchen and on your computer twice a week, and this giveaway is to thank you for that. So no need to follow me on social media (unless you want to!) or share this post (but feel free!). All you need to do to enter is to leave me a comment below telling me something about yourself and why you come here Contest entries are now closed. Thanks for all of your wonderful comments! Are you looking for a particular recipe? Do you just really like paleo chocolate chip cookies? Did you diet change and you didn't know where to start? Are you cooking for someone whose food allergies threw you for a loop? I'm interested to learn more about you so tell me something in the comments below by next Monday (3/20) at 11:59pm and I'll randomly choose a winner! (Make sure you fill in the email address field when you comment, or else I won't be able to notify you if you won.)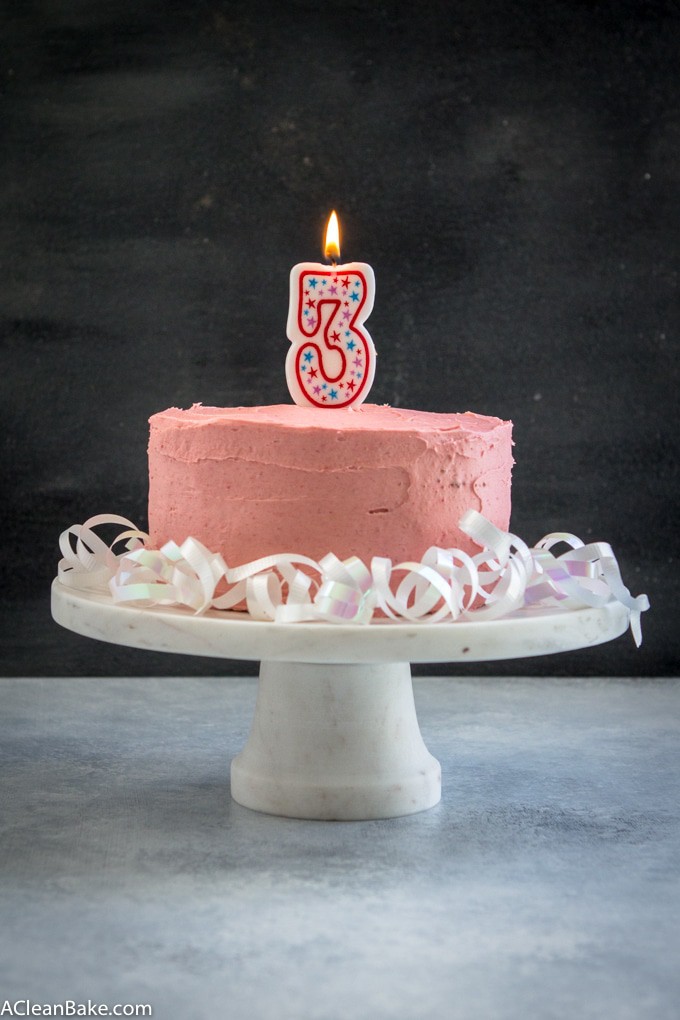 So before I sign off and let you get back to your weekend, I have to say one more time: Thank you. All this is possible because of you, and I can't wait for year four of Clean Baking together!
-Nora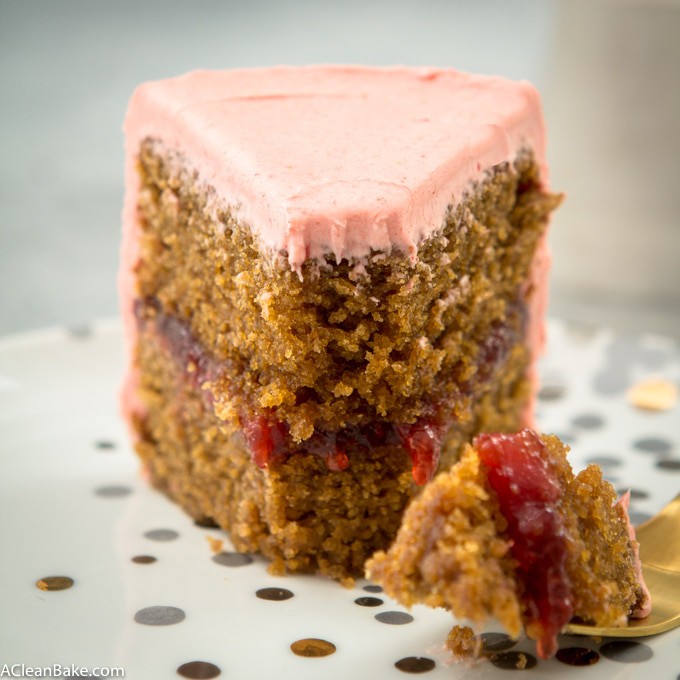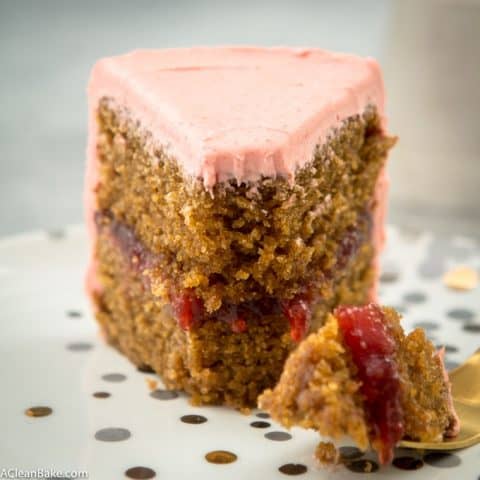 Paleo Vanilla Layer Cake
This is the only paleo vanilla layer cake recipe you'll ever need! It's easy and requires 2 bowls and a whisk to make. It's rich and just sweet enough, with a tight, moist crumb - just like a vanilla cake should be. Keep this versatile recipe on hand, because everyone loves this cake!
Ingredients
For the cake:
2 large eggs,, room temperature
6 tablespoons avocado oil
1/4 cup milk of choice, (see note)
2 teaspoons vanilla extract
1/2 teaspoon white or apple cider vinegar
2 cups blanched almond flour,, sifted
1 cup coconut sugar
1/2 cup tapioca flour
1/2 teaspoon baking soda
1/8 teaspoon fine sea salt
For the frosting:
3/4 cup freeze dried strawberries
1 - 1 1/2 cups vanilla frosting of choice, (see note)
Strawberry extract,, to taste (optional)
1/2 Tablespoon milk or water, (more or less; enough to achieve spreadable consistency)
For assembling:
1/2 cup strawberry jam
Fresh strawberries, for garnish (optional)
Instructions
Preheat the oven to 350F. Generously grease or spray two 6" round baking pans and set aside.
Make the cake:
In a medium mixing bowl, lightly beat the eggs, then whisk in the oil, milk, vanilla and vinegar. Set aside.
In a large mixing bowl, whisk together the almond flour, coconut sugar, tapioca flour, baking soda, and salt.
Pour the wet (eggs, etc) mixture into the dry (flours, etc) and stir to combine. Make sure to scrape the sides and bottom of the bowl to make sure everything is well incorporated.
Divide the batter evenly between the two prepared baking pans. Gently smooth the batter into an even layer.
Bake for 25-30 minutes until the tops are golden and the cakes are firm.
Remove the cakes from the oven and allow them to cool for 20 minutes, before removing them from the pans and transferring them to a wire rack to cool completely.
Make the frosting
In a small food processor, pulse the strawberries several times until they have been ground to a fine powder.
In a medium mixing bowl, fold the strawberry powder into the frosting until the frosting is completely pink and no white streaks remain.
Assemble the cake:
Place a dollop of frosting on the cake plate. This will help secure the cake while you decorate it.
Add one completely cooled cake layer, upside down, on top of the dollop of frosting.
Add the strawberry jam in a single layer. Then place the second cake, face down, on top.
Frost the cake by putting a large pile of frosting on top of the cake and then use a butter knife or offset spatula to work it across the top and down the sides. Add more frosting as needed, and keep working it outward and downward, until the entire cake is covered.
Garnish with fresh strawberries, if desired.
Serve immediately, and store leftovers in an airtight container in the fridge for up to a week.
Notes
This recipe was tested using unsweetened almond milk and 2% dairy milk. I would recommend using a nut milk, soy milk, rice milk or dairy milk. I would not recommend canned coconut milk, which might affect the texture and baking time. 
Tapioca flour is sometimes labeled tapioca starch. 
To remove cakes from the pans: run a knife or thin rubber spatula around the edge to separate the cake from the pan (it should have pulled away from the sides slightly while it cooled) then turn it upside down on the wire rack and firmly tap the bottom of the pan until the cake releases.
For the vanilla frosting, you can use any recipe you prefer, or - for a ready made option - use Simple Mills vanilla frosting.
The strawberry flavor in the frosting is subtle. If you'd like a stronger strawberry flavor, you can add a few drops of pure strawberry extract, like this one, to the frosting.
As written, this recipe makes one 6" double layer cake.
This recipe can make one 9" single layer cake, if you prefer, but you'll have to increase the baking time. Double the recipe to make a 9" double layer cake. 
Nutrition Information:
Yield:

8
Serving Size:

g
Amount Per Serving:
Calories:

508
Saturated Fat:

2g
Cholesterol:

46mg
Sodium:

178mg
Carbohydrates:

64g
Fiber:

5g
Sugar:

39g
Protein:

7g
[amazon_link asins='B00PDR8NOU,B00UWRS8EQ,B00HS01I1A,B00NMDF0SE,B00D8L3B5E,B008479AT8,B01N8SQ1EW,B002X48WHY,B0000CFMLH,B00F0A6FYU' template='ProductCarousel' store='butterfanati' marketplace='US' link_id='8d407699-0cb7-11e7-a99f-dfc967a0482a']
[wprm-nutrition-label align="center"]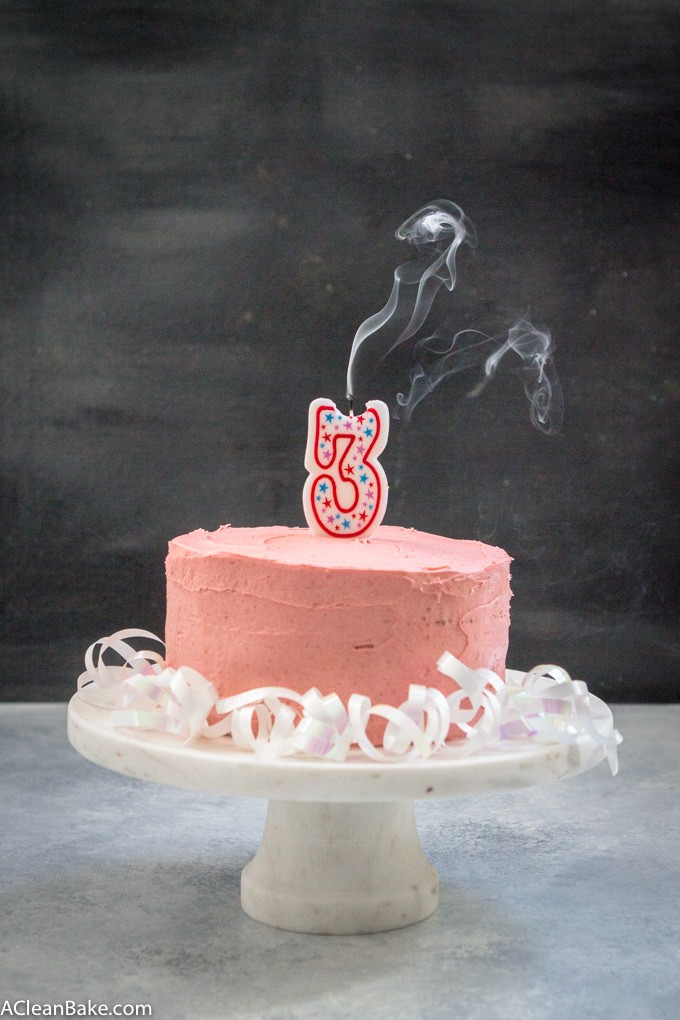 This post contains affiliate links, which means that if you click through and purchase a product, A Clean Bake receives a small commission. All proceeds go toward continuing to bring you delicious, healthy recipes every week, and this does not affect the price you pay. Thanks for supporting A Clean Bake!