These flourless gluten-free brownies are made with dark chocolate, butter, cocoa powder, espresso powder, and vanilla. Sweetened with coconut sugar and topped with a bit of flaky sea salt, they're an easy, fudgy brownie recipe the whole family will enjoy.
Here's what separates bakers from the rest of the global population: To a non-baker, a brownie is a brownie. But to a diehard baking snob (*cough* not unlike myself *cough*), a brownie can be categorized under half a dozen umbrellas.
There are the cakey brownies and the fudgy brownies. Brownies topped with chocolate chips and pecans and others drizzled with caramel. A brownie can – and should – be judged by its chewiness, fudginess, and chocolatey-ness — all of which I've tackled in other recipes on this blog.
Not to toot my own horn, but — toot! toot! — I have tried to serve every brownie-loving niche group and I'm still going. In fact, this is the ninth grain- and gluten-free brownie recipe I've published at A Clean Bake, and (trust me) they're all better than any brownie mix you'll find in stores.
So, if you're wondering how this particular version of chocolatey, gooey brownies stands apart from the rest, here it is: This recipe calls for zero flour, creating a fudgy, delectable texture you'll happen to love. These also have the crackly tops that are key to perfect brownies, but are hard to get when you're not using white sugar (don't worry, I've cracked the code for you in this recipe). And finally, with limited ingredients and no gluten-free flours to sift or measure, they could be the easiest brownies I have ever made. I'm not saying these are the best brownies on this site… but I'm also not not saying that.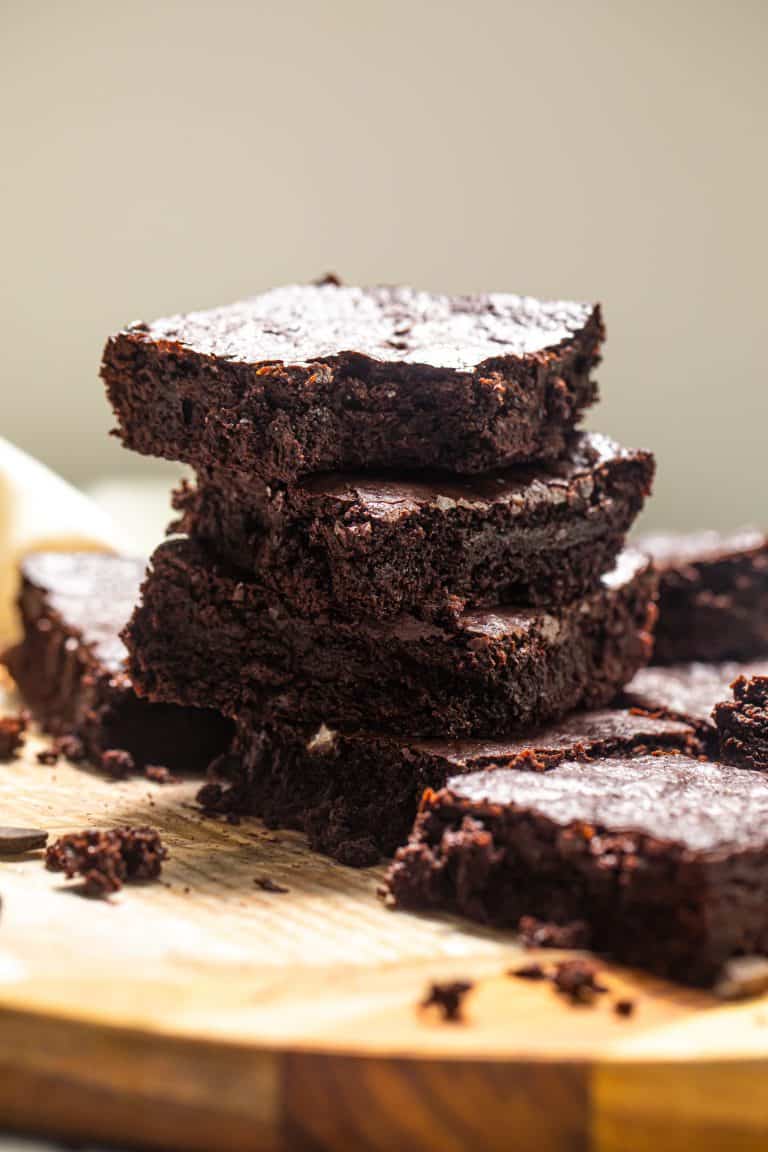 I'll let you be the judge. Scroll toward the bottom of this post for some of my favorite brownie recipes on this site, and let me know your favorite(s) in the comments.
How To Make the Best Gluten-Free Brownies
To make this gluten-free brownie recipe, start by preheating your oven to 350 degrees. Grease a baking dish with coconut oil or olive oil cooking spray or ghee, or line it with parchment paper.
In a small mixing bowl, add in your dark chocolate chips and unsalted butter. Microwave on high, whisking every 30 seconds until smooth. Once the chocolate is fully melted, mix in your unsweetened cocoa powder and vanilla. Set it aside for a few minutes to cool.
In a large bowl, whisk the eggs. Next, whisk in the coconut sugar, for one minute until frothy. Combine the egg mixture with the melted chocolate mixture.
Lastly, stir in the remaining dry ingredients, including the baking soda, a fourth teaspoon salt, and espresso powder, removing any clumps. Pour your brownie batter into your prepared glass pan, using a spatula to smooth out the top. Bake for 30-35 minutes, or until a toothpick comes out clean, or until you see a crispy, crackly top (check your brownies at 30 minutes, to ensure you don't overbake them).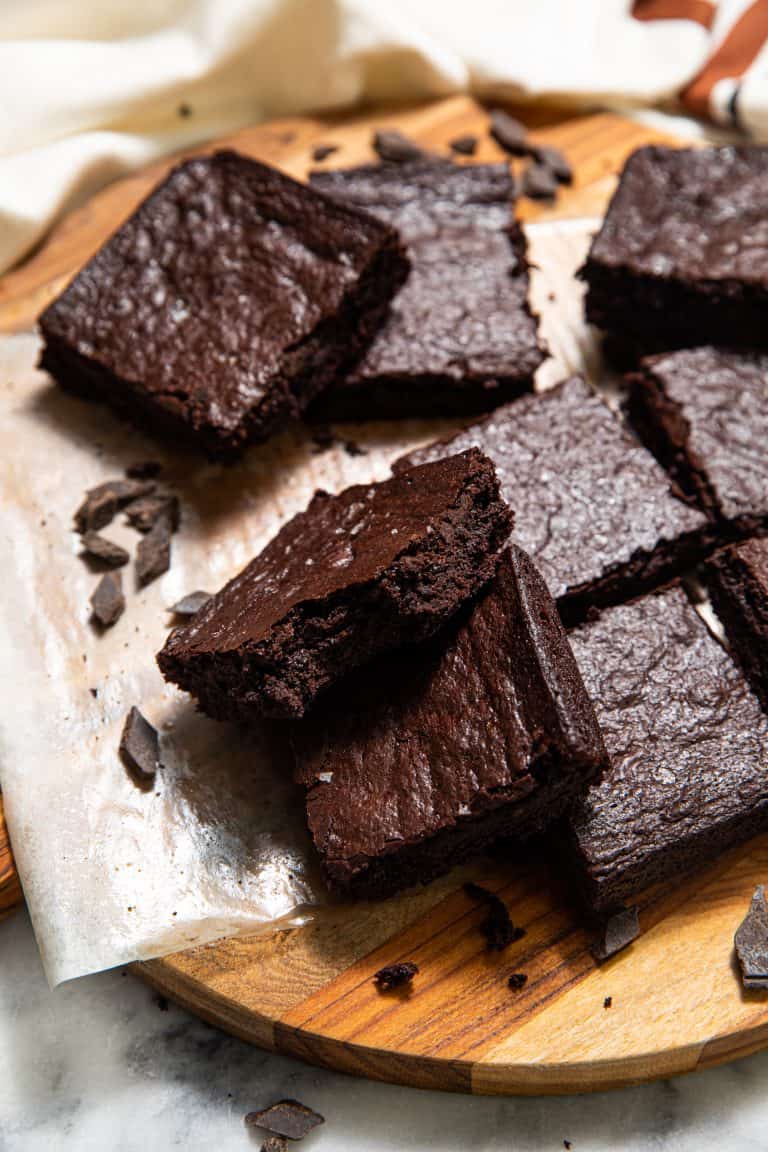 Recipes FAQs: Tips for Gluten-Free Brownies Success
If this is your first time experimenting with gluten-free baking, there are a few important guidelines to follow (starting with the fact that gluten-free flour blends have completely different chemical makeups that all-purpose flour). Below, I offer a few substitution tips and other recipes notes to make the perfect brownie (i.e. super fudgy and delicious).
How can I make these delicious brownies paleo-friendly?

Since chopped chocolate contains cane sugar (

white sugar

), they're not paleo friendly. To make refined-sugar free paleo brownies, use 6 ounces of

unsweetened

chocolate in lieu of

dark chocolate

. Then, increase the coconut sugar to 1 1/4 cups.

Can these brownies be made vegan?

I wouldn't recommend it. Without flour, these brownies tend to be a little crumbly, so the eggs are an important binder that prevents the brownie from disintegrating when you pick them up. You can try using the equivalent amount of vegan egg substitute, but I haven't tried it and can't vouch for whether it will work.

How long will these brownies keep?

You can keep these gooey brownies in an airtight container for up to five days on the counter, or in the freezer for three months.

Can you substitute granulated sugar or brown sugar for coconut sugar?

You can, although it will increase the overall sweetness of the recipe. If you use cane sugar, try using unsweetened chocolate instead of dark chocolate.

Can you substitute semi-sweet chocolate chips for dark chocolate?

Yes. If you choose bittersweet chocolate or milk chocolate, I would decrease the amount of

coconut sugar

to about 1/2 cup, or to taste.

How should I serve these brownies?

Serve your brownies all on their own, or drizzle with a

dairy-free

caramel sauce

, a scoop of vanilla

ice-cream

or

whipped cream

, or

chocolate buttercream

frosting

.

Is there a paleo chocolate brand you recommend?

I enjoy

Enjoy Life

chocolate chips

, which can be found on Amazon or in most grocers.

Can this recipe be made low-carb or keto?

Yes. If you use unsweetened chocolate and granulated monk fruit, you will significantly bring down the sugar and

carb

count of this recipe.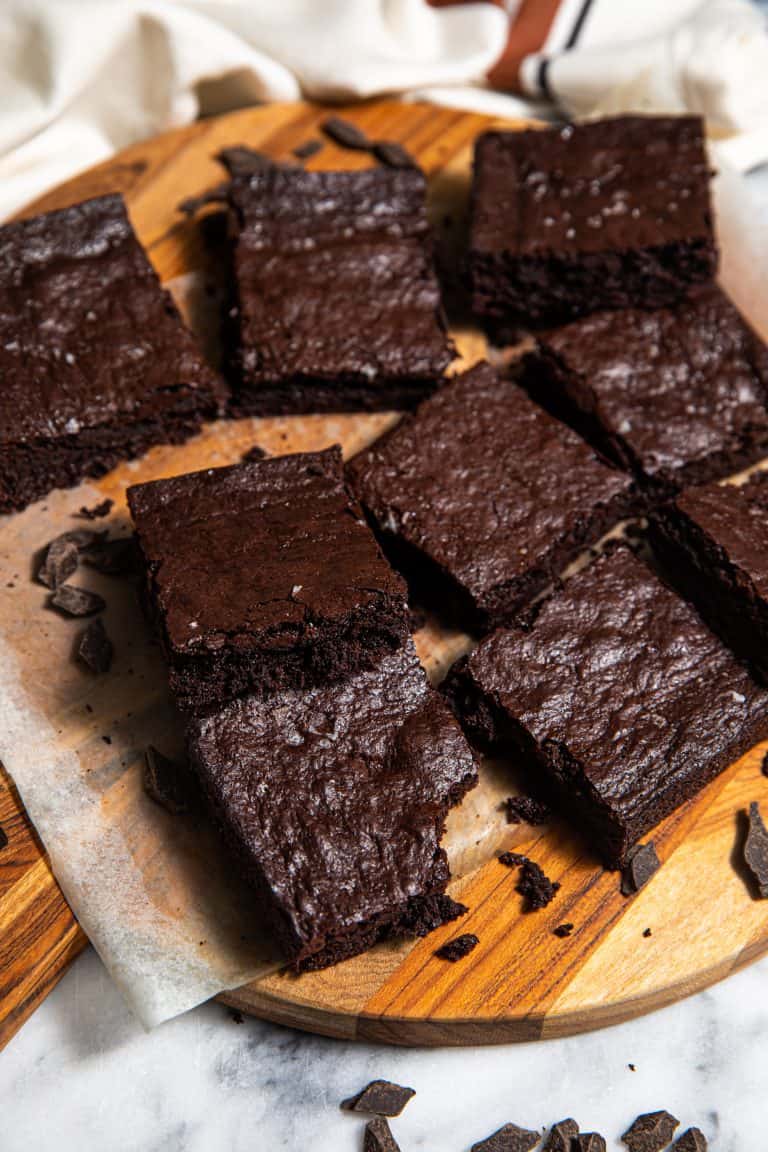 You May Also Enjoy These
Gluten-Free
Paleo Dessert Recipes
From A Clean Bake
Spoiler alert: This is not my first time creating gluten-free brownies. Depending on your personal tastes, you may also enjoy these gluten-free and paleo recipes from A Clean Bake: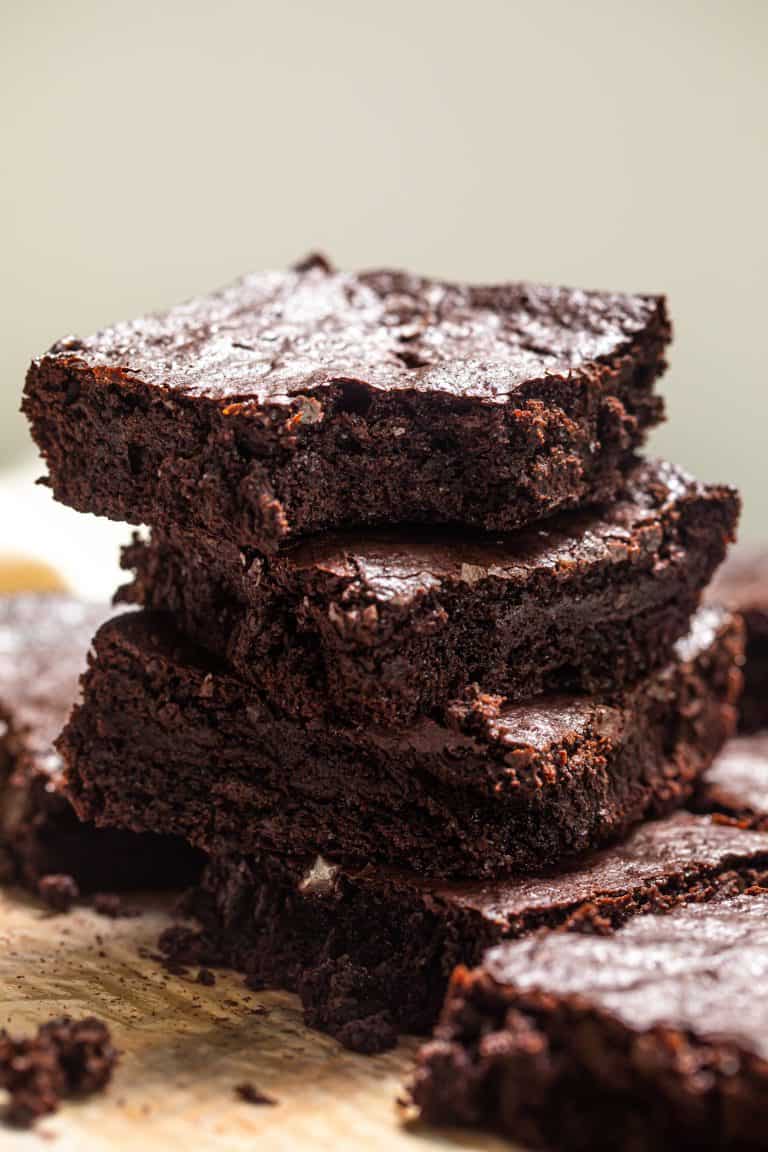 Try These Homemade Brownies the Next Time You Crave a Sweet Treat
These flourless, gluten-free brownies have a fudgy texture and rich chocolate flavor you won't be able to resist. Plus, they're way better than any gluten-free box mix you could ever buy at the store.
These are the best fudgy brownies you'll ever make, simply because it's such an easy recipe to follow. Enjoy these brownies all on their own, or top with caramel sauce, ice cream, or chocolate buttercream to satisfy your sweet tooth.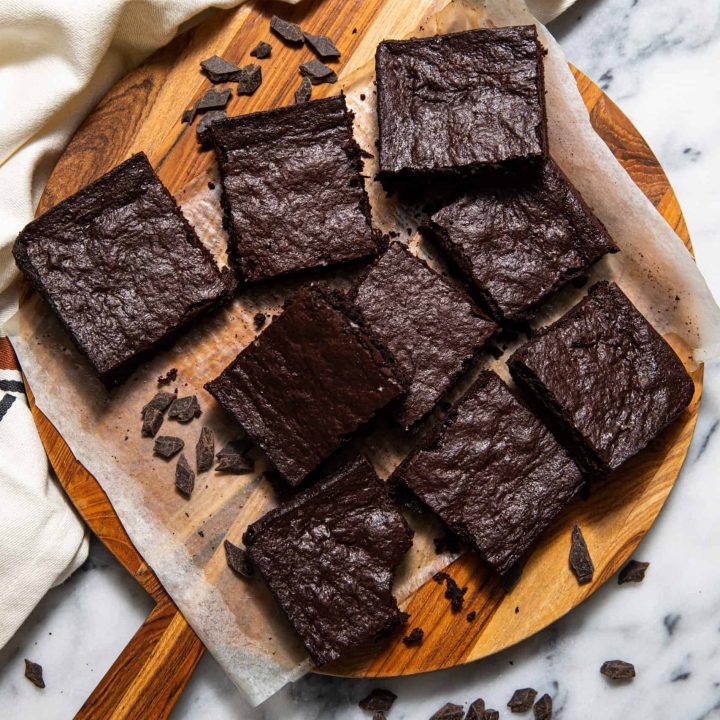 Perfect Crinkly-Topped Grain- and Gluten-Free Brownies
These flourless gluten-free brownies are made with dark chocolate, butter, cocoa powder, espresso powder, and vanilla. Sweetened with coconut sugar and topped with a bit of flaky sea salt, they're an easy, fudgy brownie recipe the whole family will enjoy.
Ingredients
6 ounces dark chocolate, chopped (60-80% cocoa)
1/4 cup grass-fed butter or ghee, cut into cubes
1/4 cup natural cocoa powder, sifted to remove clumps
1 teaspoon pure vanilla extract
2 large eggs, warmed to room temperature
3/4 cup coconut sugar
1/4 teaspoon baking soda
1/4 teaspoon fine sea salt
1/4 teaspoon espresso powder (optional)
Flaky sea salt for finishing (optional)
Instructions
Preheat the oven to 350 degrees F. Grease or spray an 8x8" baking pan and set aside.
Add the chopped chocolate and butter to a heatproof bowl and melt over a double boiler, or in the microwave, stirring every 30 seconds until smooth.
Stir the cocoa powder and vanilla extract into the chocolate-butter mixture and set aside.
In a medium bowl, whisk the eggs, then whisk in the coconut sugar for about a minute until frothy.
Test the chocolate-butter mixture to make sure it is warm but no longer hot, then stir in the egg mixture until well-combined.
Stir in the baking soda, salt, and espresso powder (if using) until well combined. No clumps should remain.
Pour the batter into the prepared pan. Use a rubber spatula to gently spread it into an even layer with a smooth top.
Sprinkle with flaky sea salt, if using.
Bake for 25-30 minutes until the top is set and slightly crackled.
Allow to cool completely in the pan before cutting and serving
Notes
Make sure you're using natural cocoa powder, not Dutch-processed.
The salt flavor is already well-balanced in these brownies, so you may want to test the batter before you add flaky sea salt to the top of the brownies.
For a cleaner cut, chill the brownies overnight in the fridge before cutting.
Store leftovers in an airtight container on the counter for up to 5 days, or in the freezer for up to three months.
PALEO VARIATION: Chopped chocolate contains cane sugar. If you would like to remake these with an unrefined sugar alternative, swap the 60-80% chocolate for 6 ounces of unsweetened chocolate, and increase the coconut sugar to 1 1/4 cups, or to taste.
Recommended Products
As an Amazon Associate and member of other affiliate programs, I earn from qualifying purchases.
Nutrition Information:
Yield:

16
Serving Size:

1/16th of the Pan
Amount Per Serving:
Calories:

140
Total Fat:

8g
Saturated Fat:

4g
Trans Fat:

0g
Unsaturated Fat:

3g
Cholesterol:

34mg
Sodium:

123mg
Carbohydrates:

16g
Fiber:

1g
Sugar:

14g
Protein:

2g