There will be no reason not to make your own salad dressing once you see how easy this apple cider vinaigrette can be. Just pour all of the ingredients into a container and shake or stir. That's it! It's gluten free, paleo, and vegan, and easy to adapt to be sugar free and Whole30-compliant, too!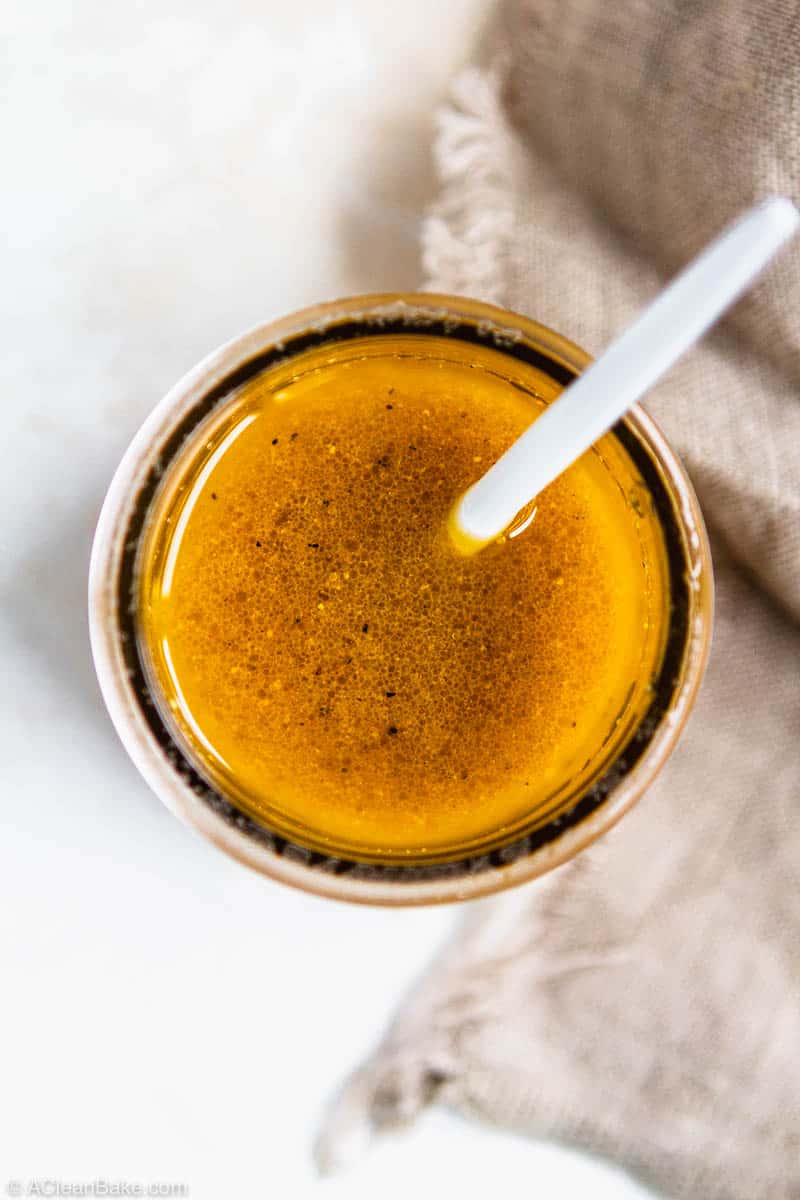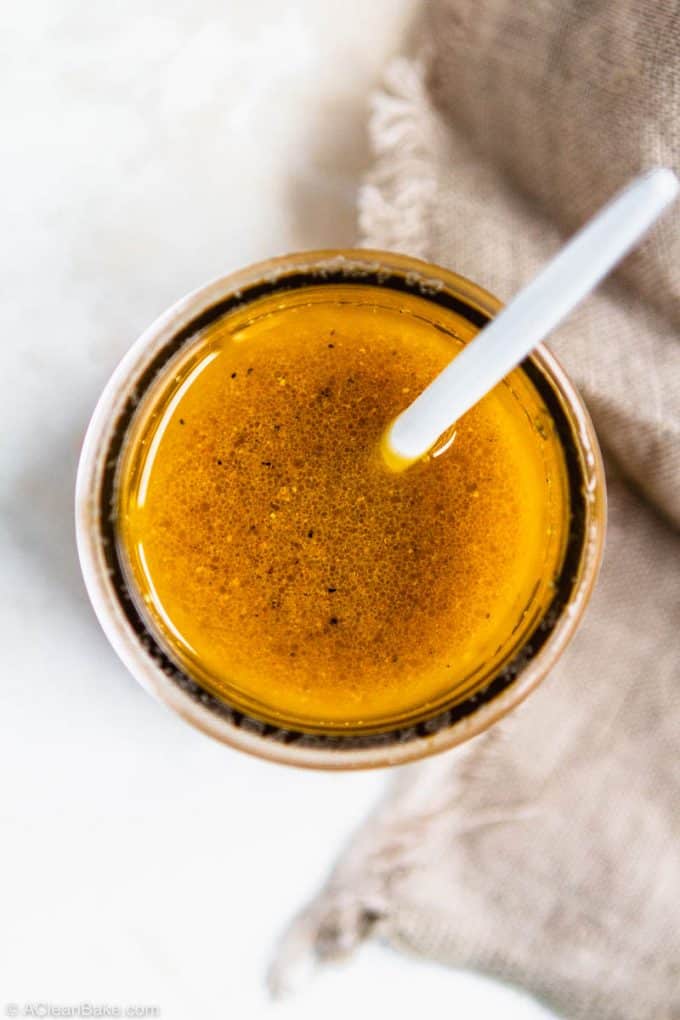 This post was updated April 23, 2019.
Please forgive the exceedingly boring nature of this recipe – at least on the surface, although the flavor would beg to differ – but after innumerable batches of cookies, cake, and more cake (<—this one was especially hard to cut into an eat, but we persevered…) – my body is begging for mercy in the form of anything crunchy, green and packed with nutrients. So, salad it is.
Every time I share a salad on Instagram, someone asks about the dressing and the answer is always the same: it's homemade apple cider vinaigrette. I put this on everything. It's quick and easy to make, keeps in the pantry or cabinet for months and, is made from apple cider vinegar (not, as the name may initially appear to suggest, apple cider) which provides a pleasantly fruity tang and, as an added bonus, a healthy dose of probiotics*.
What is Apple Cider Vinegar?
Oooh, good question.
Apple cider vinegar, sometimes known as "cider vinegar" is a pungent liquid made from fermenting apple juice into highly acidic vinegar, then diluting it with water. That's why the bottles you buy always say "#%" – the number is what percent of the solution in the bottle is pure vinegar, and the rest is water.
Fermentation, as you probably already know, produces an abundance of probiotics, or good bacteria, something that Americans are just recently realizing the health benefits of. For reference, I got food poisoning in Europe in 2005 and was prescribed probiotics as a matter of protocol. Can you imagine the American healthcare system doing that. Yeah, I can't either.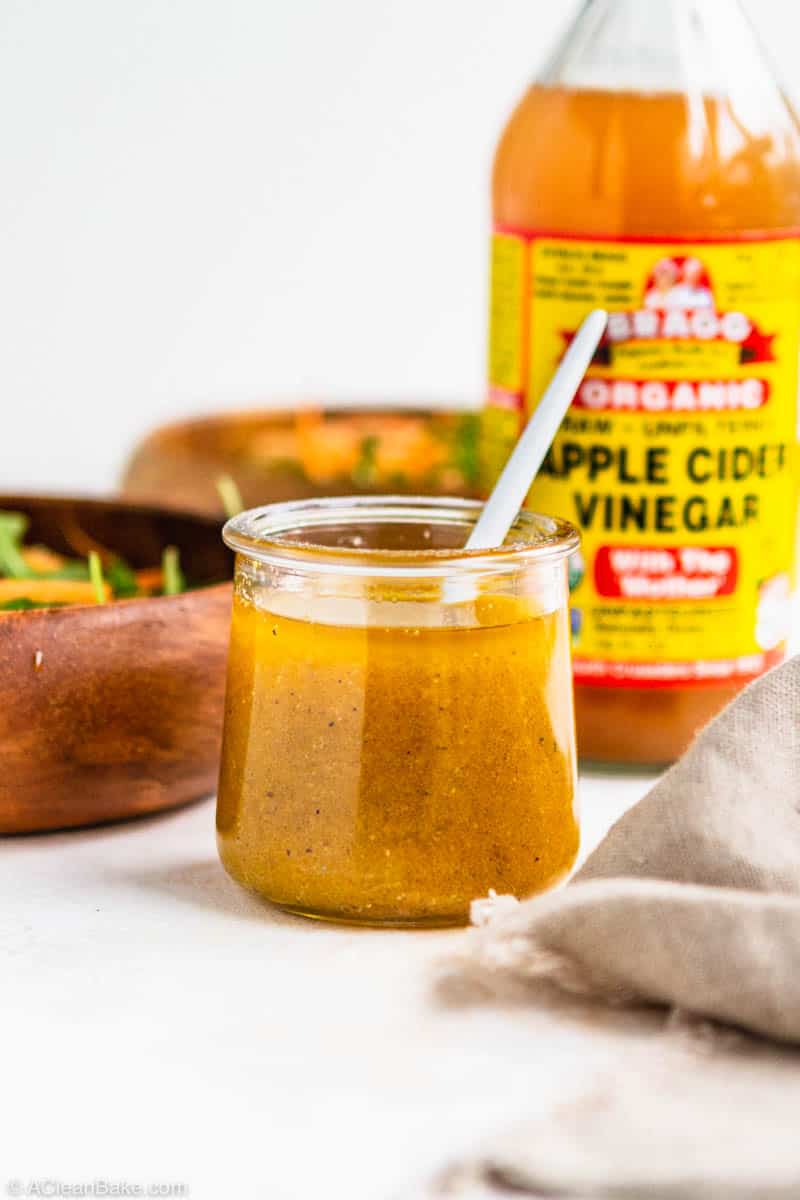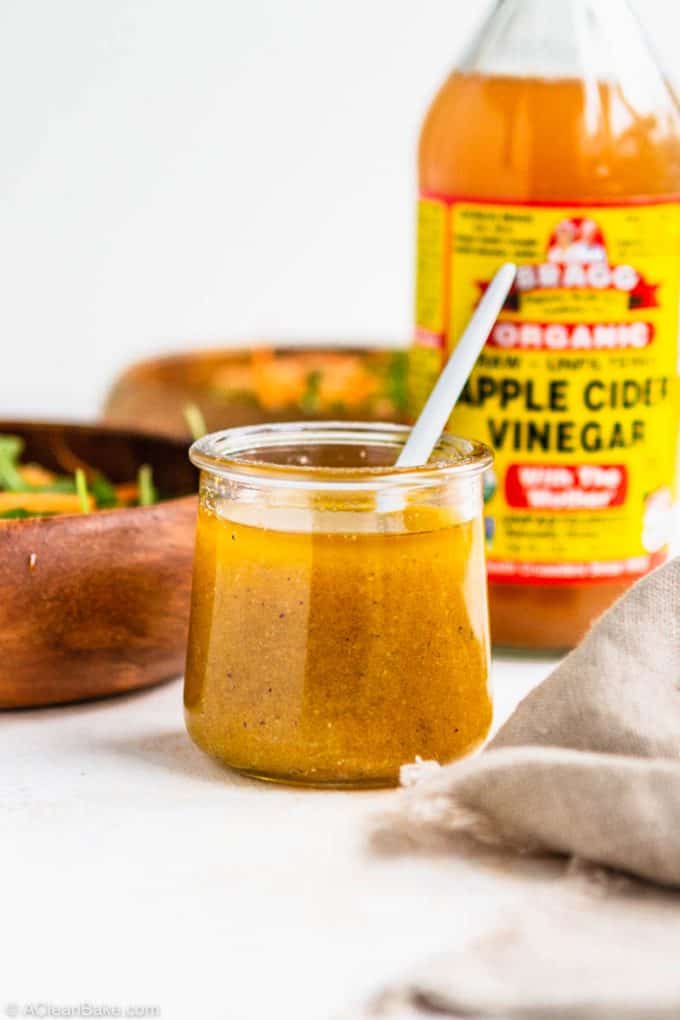 But I digress.
Fermentation produces bacteria that is beneficial to digestion and numerous other bodily functions that we're still trying to understand (since science is nowhere near grasping the full impact of the microbiome on your overall health). What we know, with certainty, so far is that fermented foods are good for you. So I try to work them into my diet as much as I can, including – yep – on my salads.
Quick note: make sure you are selecting a raw (unpasteurized) apple cider vinegar, preferably an unfiltered one that still has the "mother" (blob of starter) in it. Pasteurization kills bacteria in the vinegar, including the good bacteria. If you're nervous about it being unpasteurized, make sure you're getting a reputable brand like Braggs – which I used continuously throughout my pregnancy, to give you an idea of how safe it is – or just get a pasteurized product and forgo the probiotics.
Why make your own salad dressing?
The reasons are so simple that you can probably already guess: cost, nutrition, sugar and other additives, and flavor. Making your own allows you to control what's in the dressing, how it tastes, and allows you to use ingredients you already have around your house, rendering this dressing, basically, free.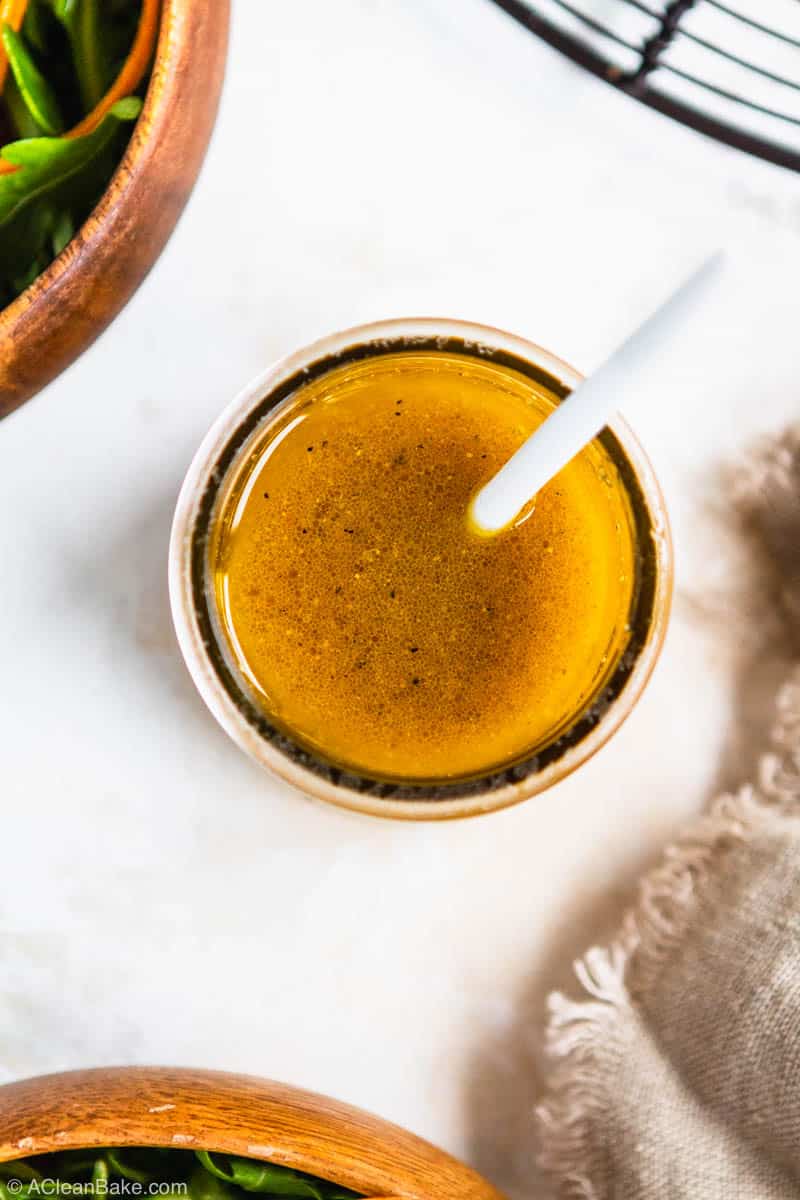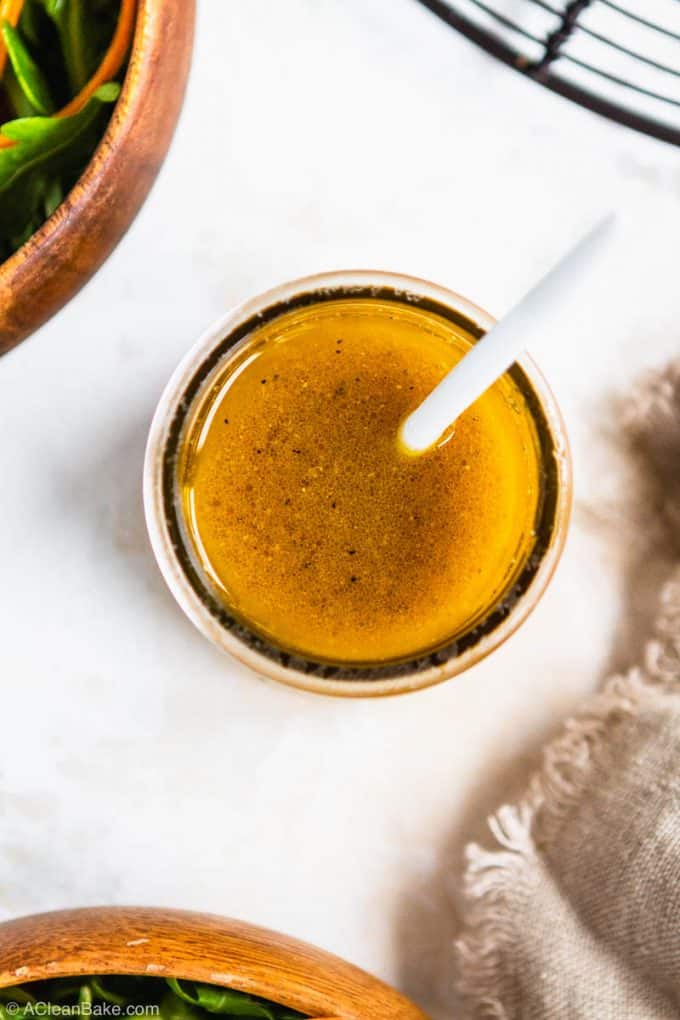 Plus, you'll make and store it in a reusable container, which reduces waste. Win – win – win! (That's your body, your wallet, and the planet, if you were wondering ????)
Oh oh OH! And, it takes five minutes or less to make.
My salads have never been happier.
How to make apple cider vinegar dressing
You'll make this vinaigrette using similar basic ingredients that are in any homemade salad dressing:
Oil: Extra virgin olive oil, in this case, although you can use avocado oil instead, if you want.
Vinegar: Apple cider, obviously
Sweetener: honey or maple syrup; optional
Dijon mustard: this helps to prevent the oil and vinegar from separating
Seasoning: salt, pepper, garlic, and paprika
As for how to actually make the dressing, you're going to laugh. Ready? Put it all in a mason jar, or another pour-able container with a tight lid, and shake it up just until everything has mixed (don't over-mix, or you'll break the emulsion, which is what suspends the oil and vinegar together). You're done!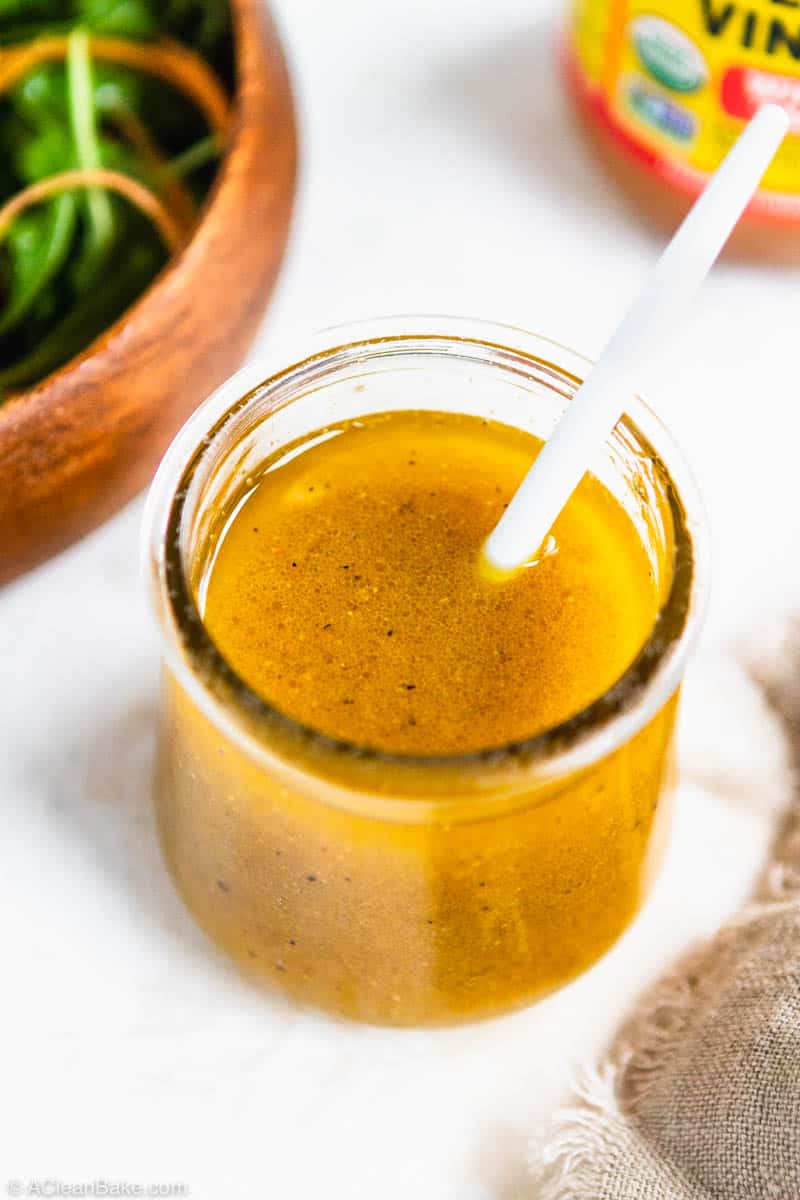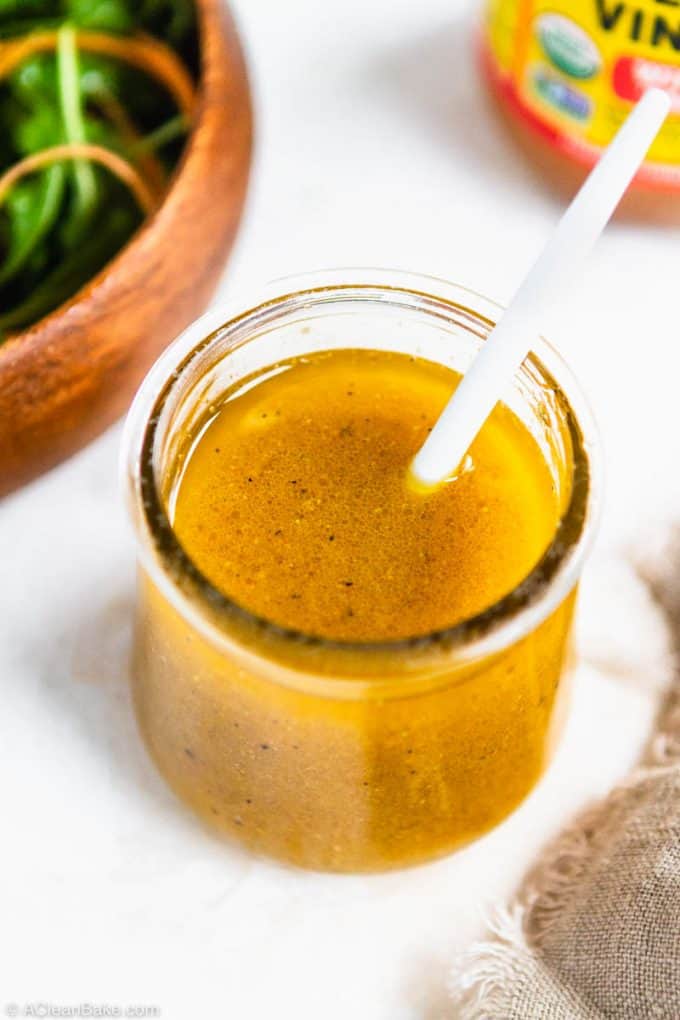 This recipe doubles, and even triples, quite well, and keeps in the cabinet or pantry for several months at a time. Since none of the ingredients are refrigerated, the dressing does not need to be kept chilled either.
Is this apple cider vinaigrette [blank] compliant?
Yes. Almost always yes. This delicious dressing is:
Gluten free
Paleo
Low carb
Dairy-free
Whole30 compliant (just leave out the honey)
Vegan (if you use maple syrup instead of honey)
If you're on any kind of new diet, you know how boring the food can get. You can us this apple cider vinaigrette dressing to jazz up almost any meal!

Ways to use apple cider vinegar salad dressing
I tend to stick to the obvious – salads – but you could use it in all sorts of healthy recipes instead of a store-bought or another, more time-intensive, homemade dressing. For example, marinate meat, drizzle over fresh or grilled sliced veggies, toss with shredded carrots and broccoli stems for a quick slaw, or fold into potato salad.
Time to go whip up a batch!
Your salads will be happier than ever.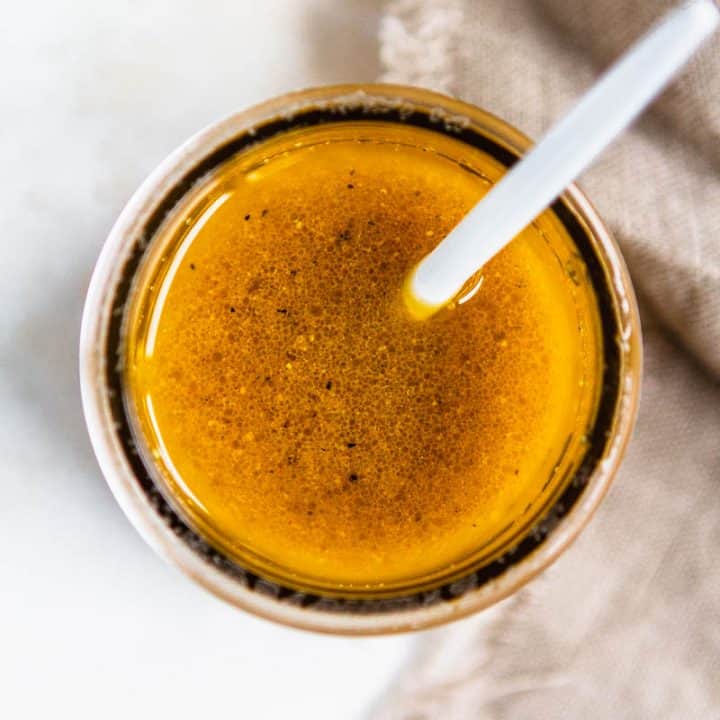 Apple Cider Vinaigrette
There will be no reason not to make your own salad dressing once you see how easy this apple cider vinaigrette can be. Just pour all of the ingredients into a container and shake or stir. That's it! It's gluten free, paleo, and vegan, and easy to adapt to be sugar free and Whole30-compliant, too!
Instructions
Whisk together the olive oil and vinegar, or shake in an airtight jar, just until combined. Do not overmix!
Add the remaining ingredients and whisk (or shake in an airtight container) vigorously until well combined.
Use immediately or store in the pantry or cabinet for up to 2 months.
Notes
Make sure you're using raw/unpasteurized apple cider vinegar for the full health benefits. I recommend Bragg's brand, which is available at grocery stores, health food stores, and online.
Omit the honey for sugar free or Whole30 variation.
Replace the honey with maple syrup for vegan variation.
Check the mustard ingredients; make sure you're using a sugar free product if sugar/carbs/Whole30 compliance is a concern.
Stop whisking as soon as you see the emulsion (the ingredients are mixed and the vinaigrette becomes opaque). It is possible to overmix and break the emulsion, which means the oil and vinegar will separate and you won't be able to reincorporate them easily.
This recipe doubles, or triples, easily.
Yield: about 1 cup
Recommended Products
As an Amazon Associate and member of other affiliate programs, I earn from qualifying purchases.
Nutrition Information:
Yield:

16
Serving Size:

1 tablespoon
Amount Per Serving:
Calories:

102
Total Fat:

10g
Saturated Fat:

1g
Trans Fat:

0g
Unsaturated Fat:

8g
Cholesterol:

0mg
Sodium:

33mg
Carbohydrates:

3g
Fiber:

0g
Sugar:

3g
Protein:

0g