There will be no reason not to make your own salad dressing once you see how easy this apple cider vinaigrette can be. Just pour all of the ingredients into a container and shake or stir. That's it! It's gluten free, paleo, and vegan, and easy to adapt to be sugar free and Whole30-compliant, too!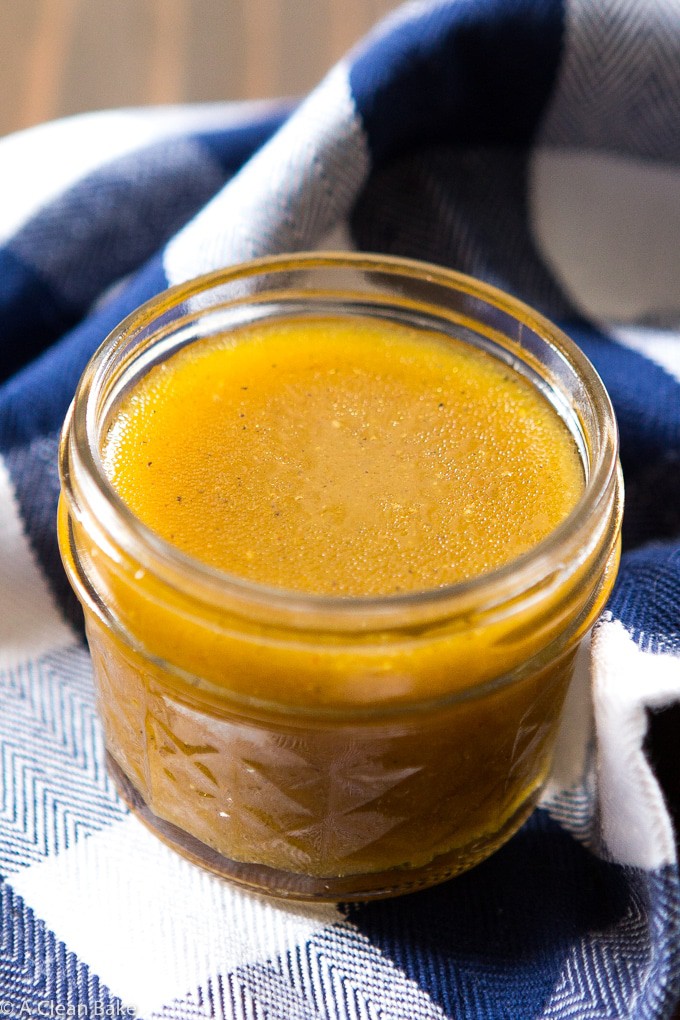 Please forgive the exceedingly boring nature of this recipe – at least on the surface, although the flavor would beg to differ – but after innumerable batches of cookies, cake, and more cake (<—this one was especially hard to cut into an eat, but we persevered…) – my body is begging for mercy in the form of anything crunchy, green and packed with nutrients. So, salad it is.
I used to be the kind of person that my friends only half jokingly called The Next Martha Stewart because I could whip up a home cooked meal on pretty short notice and kept from-scratch condiments on hand just because. I hope to someday be that person again – perhaps when Baby Bake is in college? Hopefully sooner.
Until then, I am getting used to opening the fridge to find a lot more empty space than I am expecting. (And also coming to terms with how dirty my fridge is. Seriously, those condiment shelves in the doors are like filth magnets.)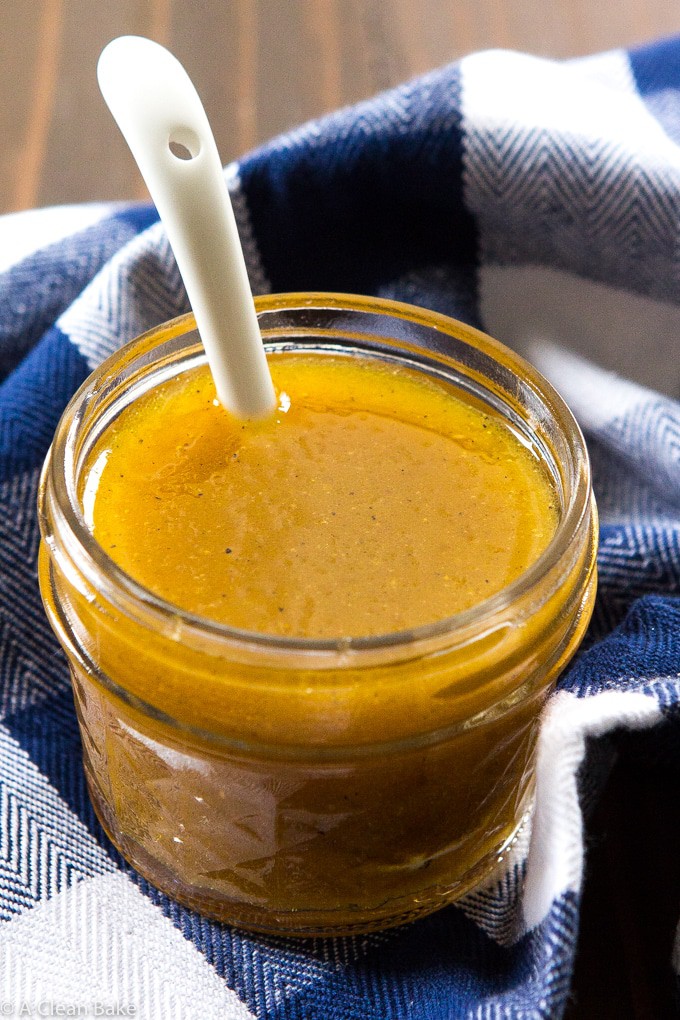 So in the interest of getting food on the table, and in the absence of the kind of creative energy I used to have in spades, I will admit to embracing the kind of culinary shortcuts that involve not questioning why the breasts on those Costco rotisserie chickens are so unnaturally, unnervingly large by comparison to the rest of the bird.
But I draw the line at salad dressing. I won't hesitate to expend a little bit of energy to make it before I'll buy some bottled garbage salad dressing from the store, especially not when the best ones are homemade, sugar free and only contain a few basic ingredients.
As a bonus, the base of this one is apple cider vinegar (not, as the name may initially appear to suggest, apple cider) which provides a pleasantly fruity tang and, as an added bonus, a healthy dose of probiotics*.
*Note: make sure you are selecting a raw (unpasteurized) apple cider vinegar, preferably an unfiltered one that still has the "mother" (blob of starter) in it. If you're nervous about it being unpasteurized, make sure you're getting a reputable brand like Braggs – which I used continuously throughout my pregnancy, to give you an idea of how safe it is – or just get a pasteurized product and forgo the probiotics.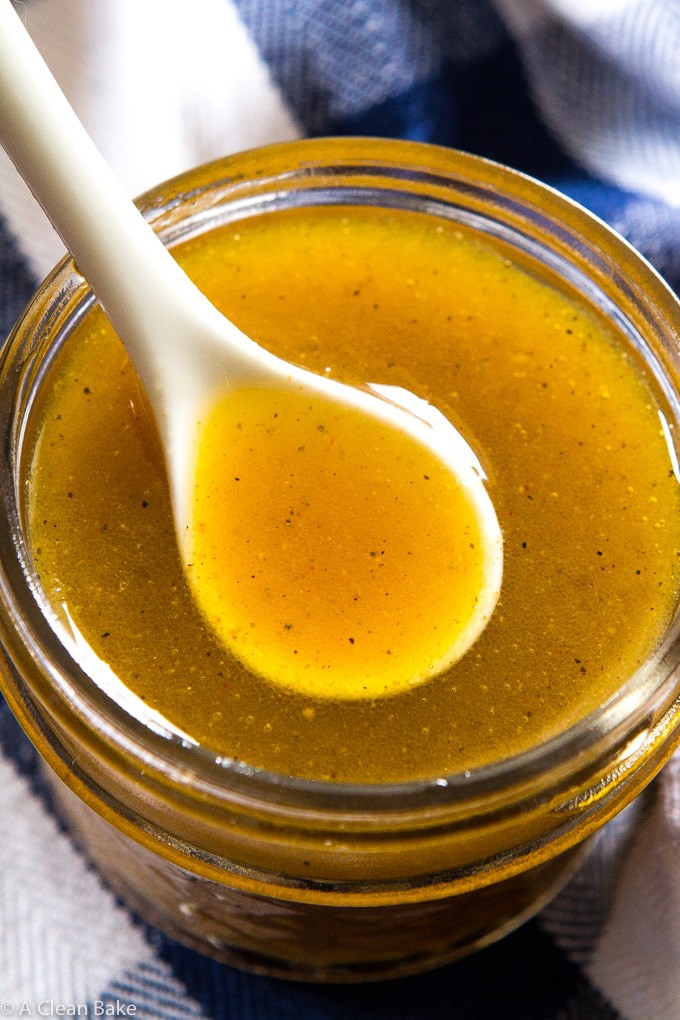 My salads have never been happier.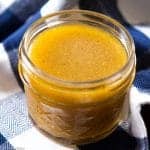 Apple Cider Vinaigrette
Ingredients
3/4

cup

extra virgin olive oil

1/4

cup

raw apple cider vinegar

2

Tablespoons

honey or maple syrup

(see note)

2

teaspoons

dijon mustard

1/4

teaspoon

fresh ground black pepper

1/4

teaspoon

sweet paprika

1/8

teaspoon

garlic

(fresh, minced or granulated)

Pinch

salt
Instructions
Whisk together the olive oil and vinegar.

Add the remaining ingredients and whisk (or shake in an airtight container) vigorously until well combined.
Recipe Notes
Omit the honey for sugar free or Whole30 variation.
Replace the honey with maple syrup for vegan variation.
Check the mustard ingredients; make sure you're using a sugar free product if sugar/carbs/Whole30 compliance is a concern.
Stop whisking as soon as you see the emulsion (the ingredients are mixed and the vinaigrette becomes opaque). It is possible to overmix and break the emulsion, which means the oil and vinegar will separate and you won't be able to reincorporate them easily. 
Products from Amazon.com
‹
›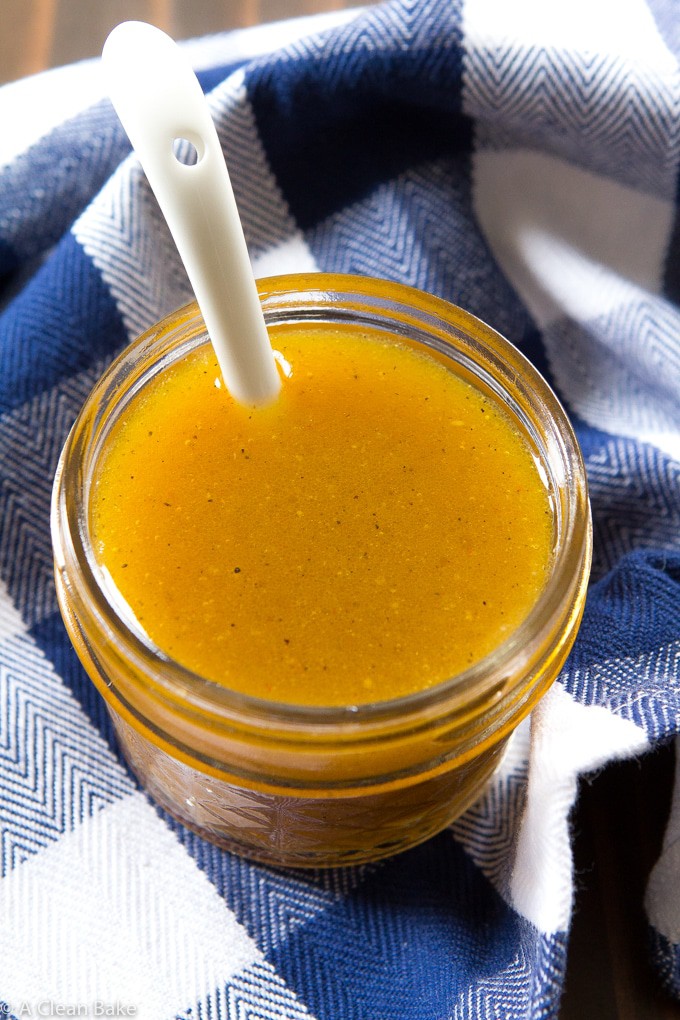 This post contains affiliate links, which means that if you click through and purchase a product, A Clean Bake receives a small commission. All proceeds go toward continuing to bring you delicious, healthy recipes every week, and this does not affect the price you pay. Thanks for supporting A Clean Bake!