This pistachio orange rice pudding (with brown rice) has a healthier, whole grain twist and pistachio and orange blossom water for outstanding flavor!
You'll use almond milk instead of heavy cream. Almond milk is considerably thinner and less creamy than, well, cream, but don't worry – the pudding will turn out as thick as it should. The par-cooked rice hasn't released all of its starch yet, so as it finishes cooking in the almond milk, that starch will thicken the pudding on its own. But, for maximum creaminess, you can use (full fat) coconut milk or a combination of coconut milk and coconut cream instead.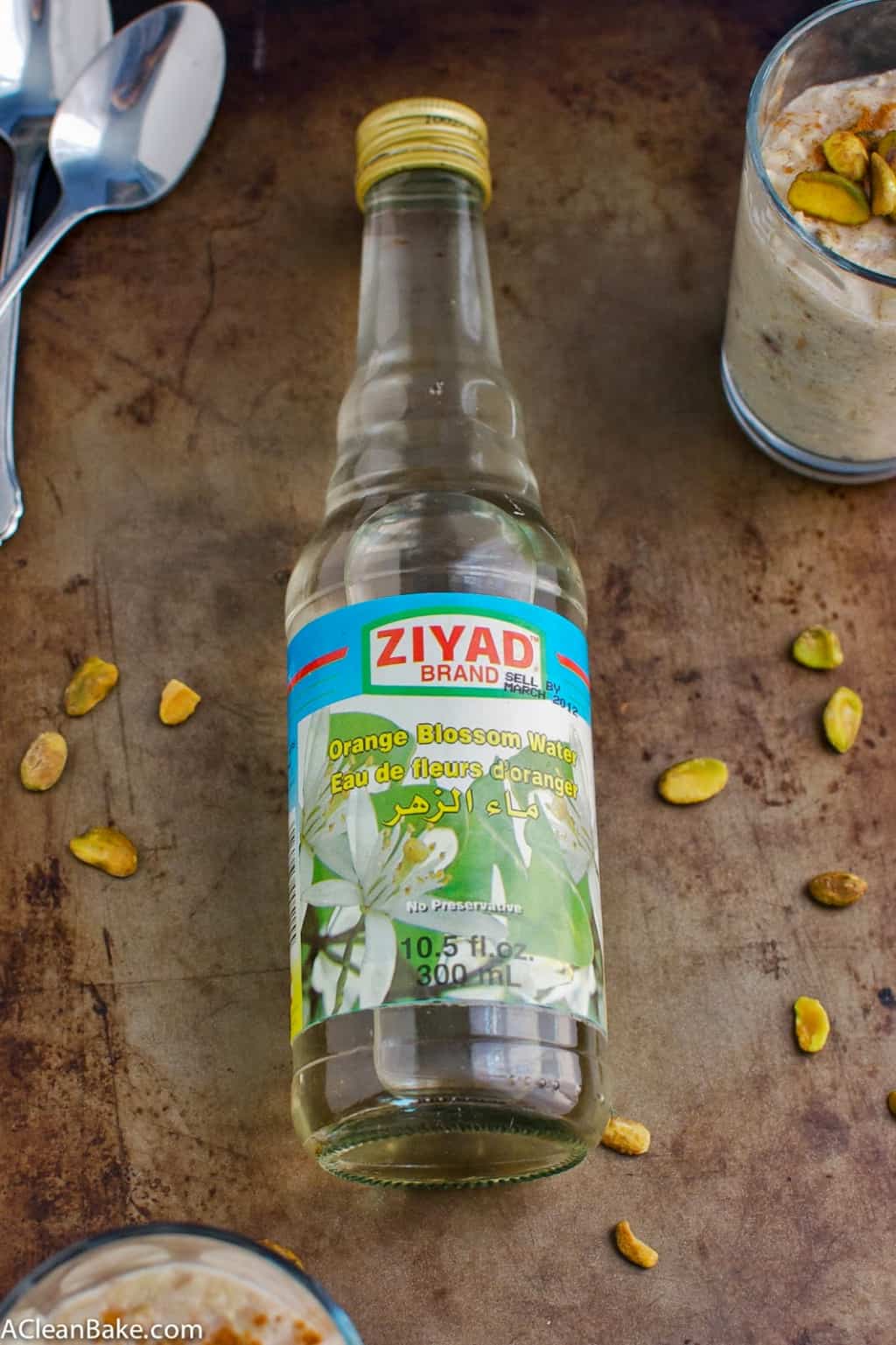 It's worth investing in a bottle since, as you can tell from the expiration date on mine, it lasts forever!
Today's recipe is an ode to the Muslim celebration called Eid, which commemorates the end of the holiest month of the Islamic calendar, Ramadan, a time of fasting, fellowship and prayer. After so many weeks of daily fasting and prayer (…well, others, not me. I'm not Muslim, and I've been doing the opposite of fasting lately), a no-holds-barred gustatory extravaganza is in order. My research (aka Meriem's expertise) tells me that rice pudding is a common dessert that is included in the Eid meal, alongside other pastries, puddings and sweet bites like almond paste fruits. Given the wide array of dessert possibilities, it's not surprising that when Meriem invited some of her blogger friends to a virtual Eid party, and we all brought desserts! Scroll down past the recipe to check out the rest of the recipes from the party.
1 cup brown rice, cooked to al dente (soft, but grains not open yet)

1 cup sweetened almond milk (or other milk of choice)

1 Tablespoon honey

Heaping 1/4 teaspoon cinnamon, plus more for garnish

1/4 teaspoon vanilla

1/8 teaspoon orange blossom water

1/2 teaspoon tapioca starch (aka tapioca flour)

1 1/2 Tablespoon salted pistachios, plus more for garnish