Maple roasted turnips are complemented by salty bacon and crispy shallots, and this easy one-pan dish is a perfect side dish or brunch!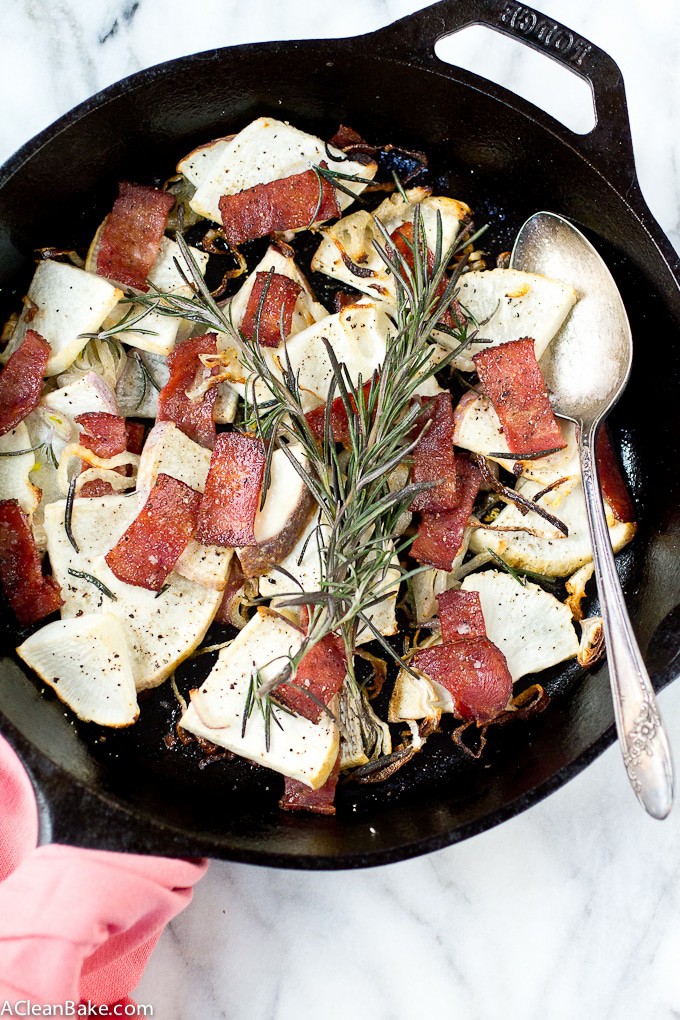 Butcher Box is offering A Clean Bake readers a bonus of free bacon with your first box, plus $10 off and free shipping! Sign up here.
When you were a kid, did you ever read those American Girl books? Molly was my favorite. That was, of course, back in the day when there were only 3 AG dolls, not a rotating cast of thousands and glossy outposts on some of the highest-rent streets in the world. Ah, the humble, pre-Mattel American Girl days. Back then, it was easy to choose: you were either a Kirsten (blond, hearty, sporty), a Samantha (glamorous, possibly-but-not-necessarily brunette, probably popular), or a Molly (nerd, allergic to sports, glasses mandatory). I was a Molly (no pictures. long ago had them all destroyed. DO NOT LOOK FOR THEM.).
No matter how old I get, I will never stop associating turnips with Molly. If you're either not familiar with the books, or don't have a mind that holds on to useless trivia like a steel trap (but releases important information like names of people you just met 20 seconds ago) like I do, here's the gist of it: Molly's story takes place in the middle of World War II, during which time food was rationed and people grew a lot of what they ate. Molly's family is having turnips for dinner, and Molly is not allowed to leave the table until she finished them which, of course, she's having trouble doing because they're – in the book, according to Molly – terrible. Until someone – her mom? her housekeeper? I dunno. The books are packed in a box somewhere and I don't feel like digging them out. – surreptitiously reheats her turnips with some (forbidden! highly rationed! worth its weight in gold!) butter and sugar, thus rendering the turnips palatable and an entire generation of young women highly suspicious of this root vegetable that they probably hadn't ever tried for themselves before.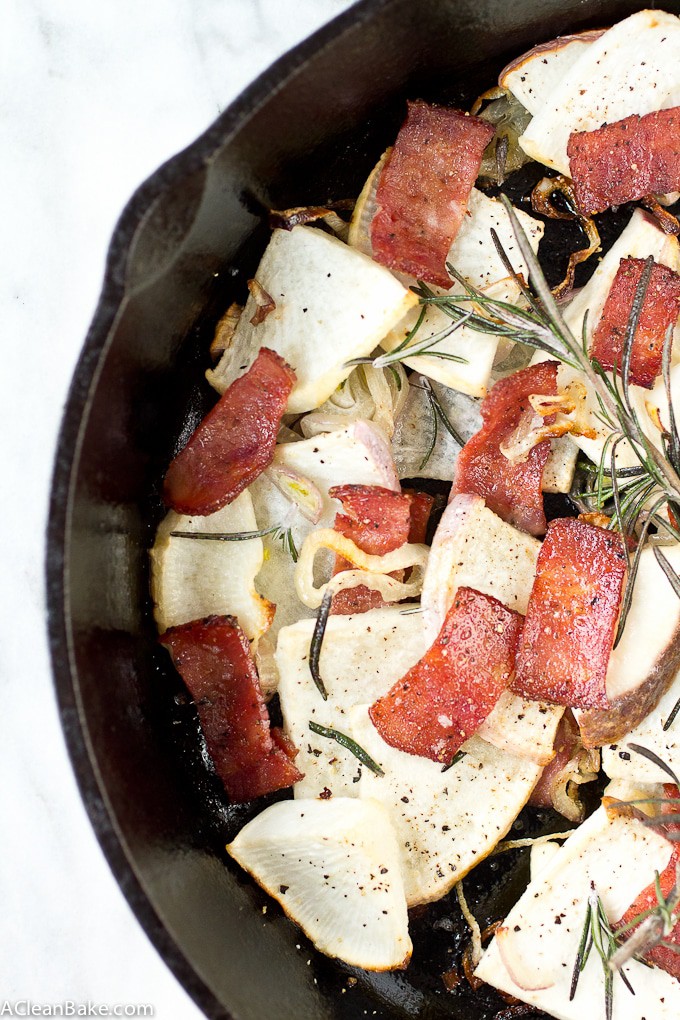 If you were a mousy, brown-haired, bespectacled child, Molly was your leader and if she didn't like turnips, then turnips were dead to you.
But with all due deference to Molly, I don't know where her turnips came from because once I finally tried turnips, I was surprised to find them appealing. More than appealing, actually: delicious. Like most root veggies, their starches roast up into a sweet, tender bite that only needs the slightest encouragement from some fat (olive oil, in this case) and natural sweetener like maple syrup, to caramelize the outsides. If you like roasted carrots, give turnips a try too.
And what's not to love? Besides a little peeling and chopping, it's mostly just a bit of hands-off cooking time standing between you and a delicious and healthy-ish (we're counting bacon as healthy, right? I presume yes?) one pan dinner. Plus, of course, there's bacon.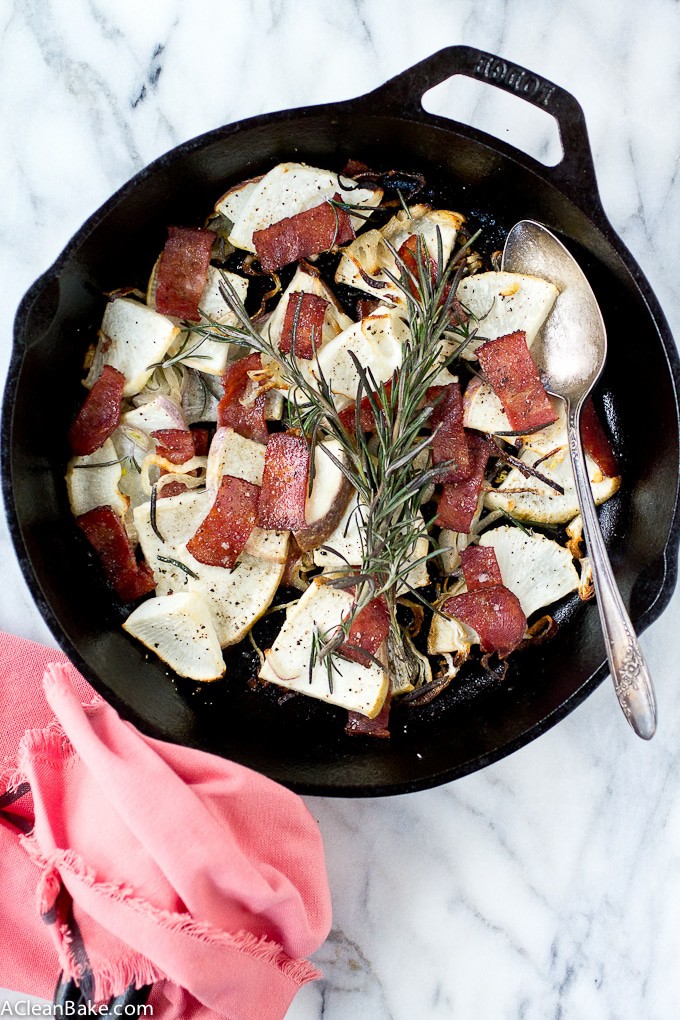 PS: I made this recipe several times using Hakurei (white) turnips, but added some watermelon radishes to the final batch for variety and, I admit, visual interest. You can mix it up however you want, if you want, by mixing the turnips with radishes, carrots, or almost any other starchy root vegetable you can think of. Or you can follow the recipe and use all turnips, and it will still be delicious!
Maple Roasted Root Veggies with Bacon and Crispy Shallots
gluten free, grain free, paleo friendly. omit maple syrup to make it low carb or whole30 compliant.