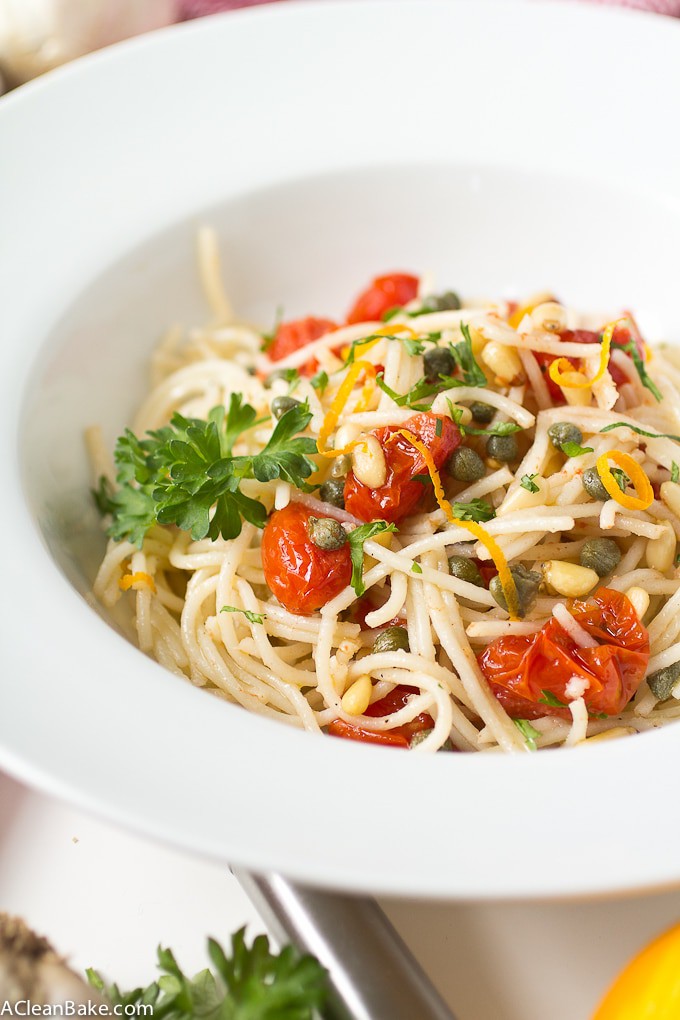 Do you do Meatless Mondays in your house? One day of the week, or even one meal, that is meat free? Apparently, if everyone did that, it would make a huge environmental impact. Also, if you don't think of yourself as quite that selfless/committed to the environment/into vegetarian food, it is a fun way to mix up your dinner routine and challenge yourself to cook recipes that are a little bit outside of the norm.
And it doesn't have to mean spending a huge amount of time preparing a fussy meal. This quinoa spaghetti dish is simple: You make it in one pot (not counting the roasted tomatoes, but you can make those ahead of time if you want to), and it comes together in about 30 minutes, give or take.
Don't you love* a 30-minute weeknight dinner?
(*By love, of course, I mean feel intense relief that, at the end of a long day, dinner doesn't take a lot of brainpower or energy, both of which are pretty much running on fumes?)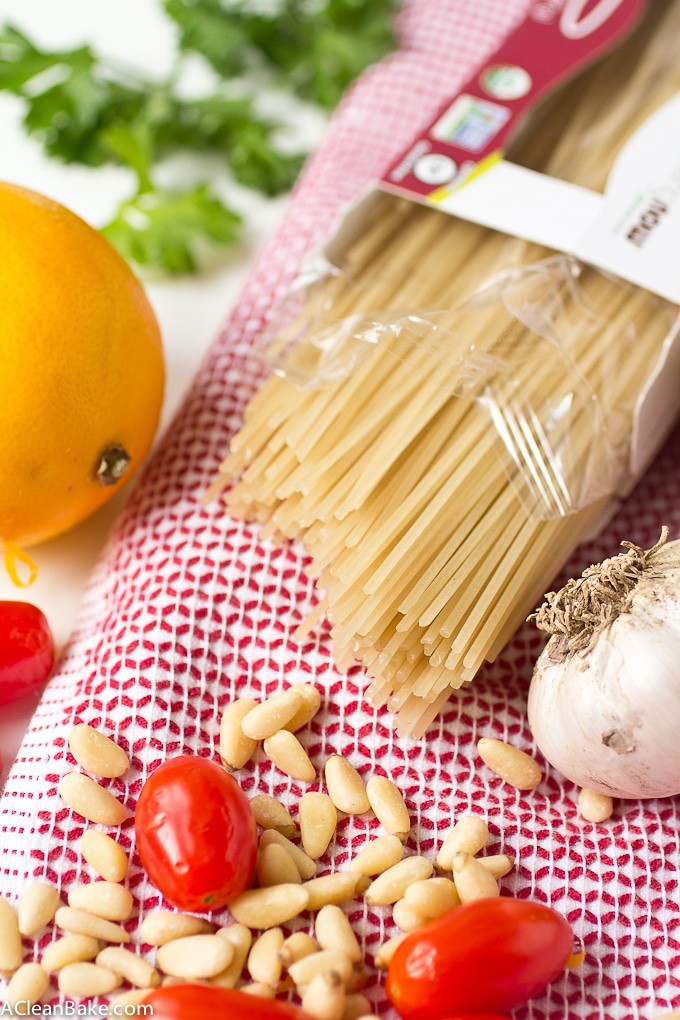 Plus, you need a bowl of pasta once in awhile. Don't deny it: everyone does. You can use whatever kind of pasta you want here (zoodles, spaghetti squash, kelp noodles, arrowroot noodles, etc) but I used quinoa spaghetti in this version for several reasons, not least of all because it affords you a built-in source of protein, which quinoa is a wonderful source of. Plus the brand of quinoa spaghetti I prefer – from Now Foods – is gluten/dairy/nut/soy/corn/egg free, organic and non-GMO. So, though I don't eat spaghetti often, I still like to eat the highest quality stuff I can find when I do.
If you prefer to use a grain-free noodle alternative like zucchini or spaghetti squash, adding tuna to this dish is a great way to add some (extra) protein to your dinner. As long as it's not Monday, of course 😉 (Just kidding/no judgement).
Quinoa Spaghetti with Roasted Tomatoes, Capers and Pine Nuts
gluten free, vegan, adaptable to be low carb and paleo
Thank you to Now Foods for providing the ingredients that inspired this delicious dish, including the quinoa spaghetti, pine nuts and olive oil.
This post contains affiliate links, which means that if you click through and purchase a product, A Clean Bake receives a small commission, which goes toward continuing to bring you delicious, healthy recipes every week. This does not affect the price you pay. Thanks for supporting A Clean Bake!