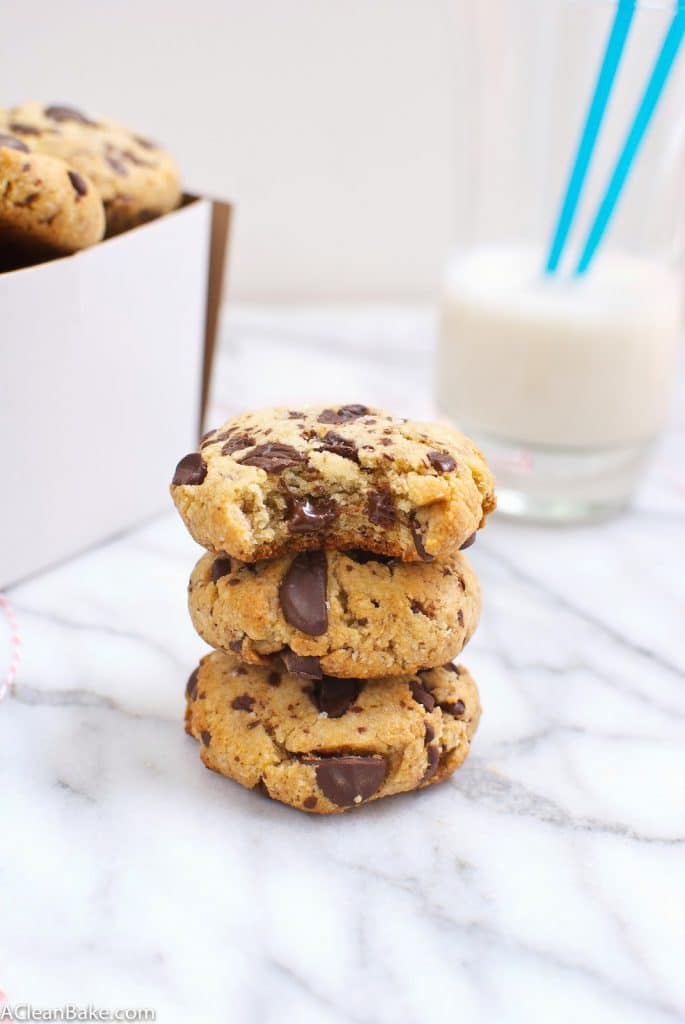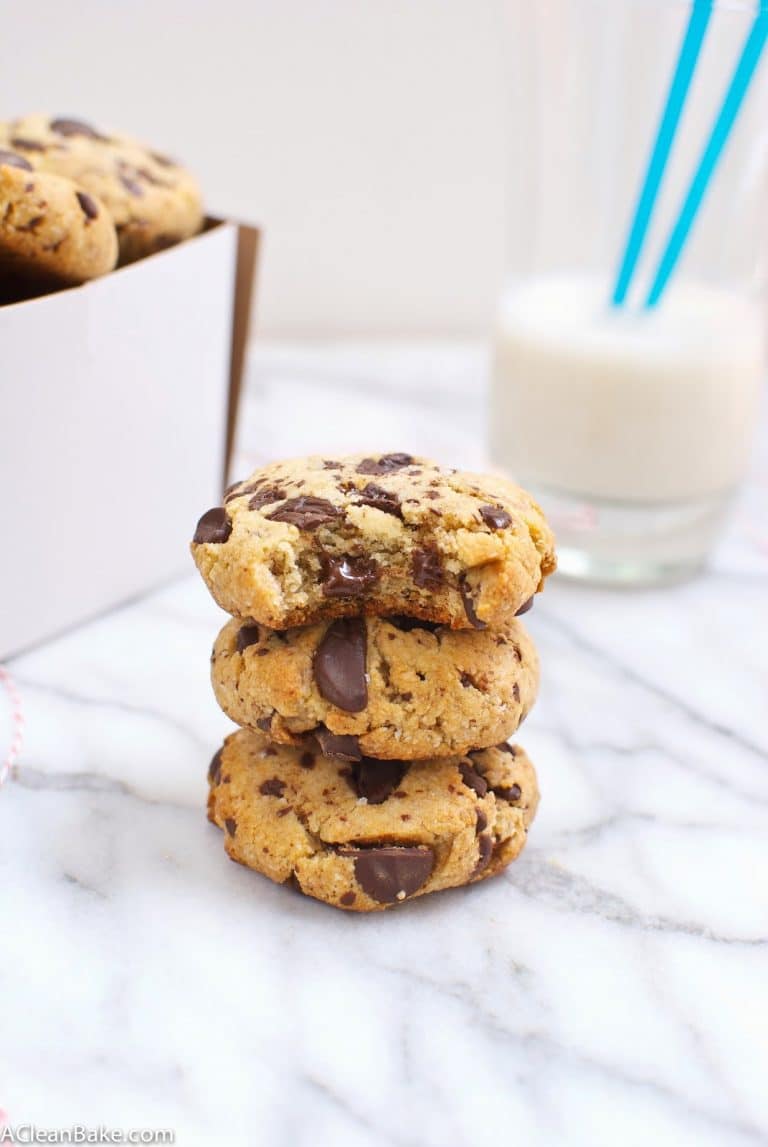 How do I start this post? How do I convey to everyone reading this how much I appreciate your your comments, emails, texts, and Facebook messages in response to
last week's post
? I don't think words can ever describe how grateful I am for the amazing support and encouragement that I have received in the last week. But cookies can. I'm better with cookies than with words.
Lucky for me, it is National Chocolatee Chip Cookie Week, and I was invited to contribute to a virtual Chocolate Chip Cookie party with some of my favorite bloggers. Every day, one of us shares a different recipe (If you follow on Facebook, this is probably old news!) and with all the creative and delicious recipes this group has to offer, I thought what better time to share my absolute favorite new chocolate chip cookie recipe?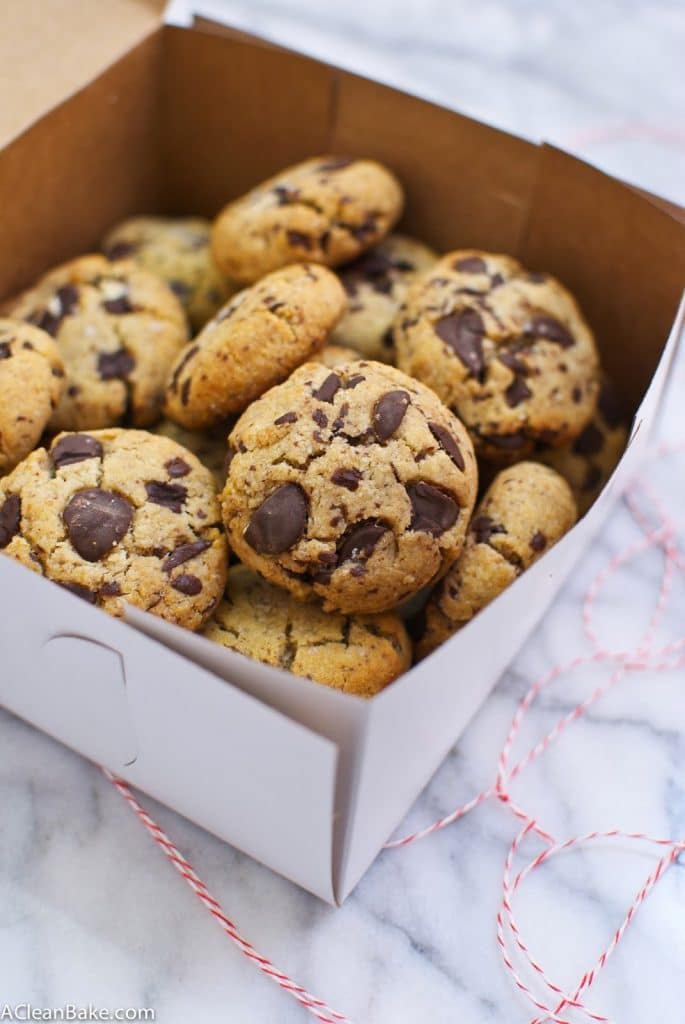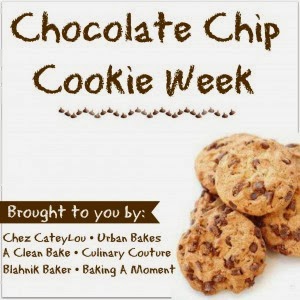 I have been working on this chocolate chip cookie recipe for months now – basically since I went on this crazy eating plan and, at the beginning, I wasn't able to eat almost any grains without getting a terrible stomach ache. The worst part was the withdrawal from that feeling of taking the first moist, chewy, salty-sweet, chocolatey bite of a freshly baked chocolate chip cookie. It took about 231902831 batches, but it was worth it. These are the best grain-free chocolate chip cookies you'll ever eat, and if you're like some of the people who tasted these, you probably won't even realize they don't contain any wheat.
The trick is to use the right almond flour; the finer the better. I tested these with two brands: Wellbee and Honeyville, and both worked like a charm because they are extremely finely ground. Almond flour, in case you aren't familiar with this ingredient, is simply made from whole blanched almonds that are ground up (it is sometimes labeled almond meal). The finer the grind, the better the flour can hold fats (moisture) and mimic regular wheat flour. I would not advise using a courser ground brand, like Trader Joe's almond meal, if you can help it.
But if the Trader Joe's stuff is all you have, use it (maybe just process it in the food processor to get it a little finer). Because you can't miss out on these. Fresh out of the oven they are crispy on the outside and soft and gooey on the inside, exactly how a perfect chocolate chipper should be. Storing them overnight in an airtight container lets the moisture redistribute, yielding an even softer little blob of chocolatey goodness the next day. The few days after they are baked, they taste just like they rolled out of the Keebler Soft-Batch factory, but they are lower in sugar and carbs, grain-free, lactose-free, Paleo (if you're in to that sort of thing), and not only easy on the tummy, but will make your tummy very, very happy.
**
Meriem is in charge of Wednesday's Cookie and boy does her Chocolate Chip Paradise Pie put my simple little CCC's to shame!
Click here for her recipe.
Droooooool.
Happy Chocolate Chip Cookie Week, everyone!
This post contains affiliate links, which means that if you click through and purchase a product, A Clean Bake receives a small commission. All proceeds go toward continuing to bring you delicious, healthy recipes every week, and this does not affect the price you pay. Thanks for supporting A Clean Bake!