Add this refrigerator oatmeal to your breakfast rotation! It's a make-ahead batch cooking recipe that finishes up in the fridge while it waits for you. Plus, it's vegan and gluten free – but don't forget to use certified gluten free oats, to be sure!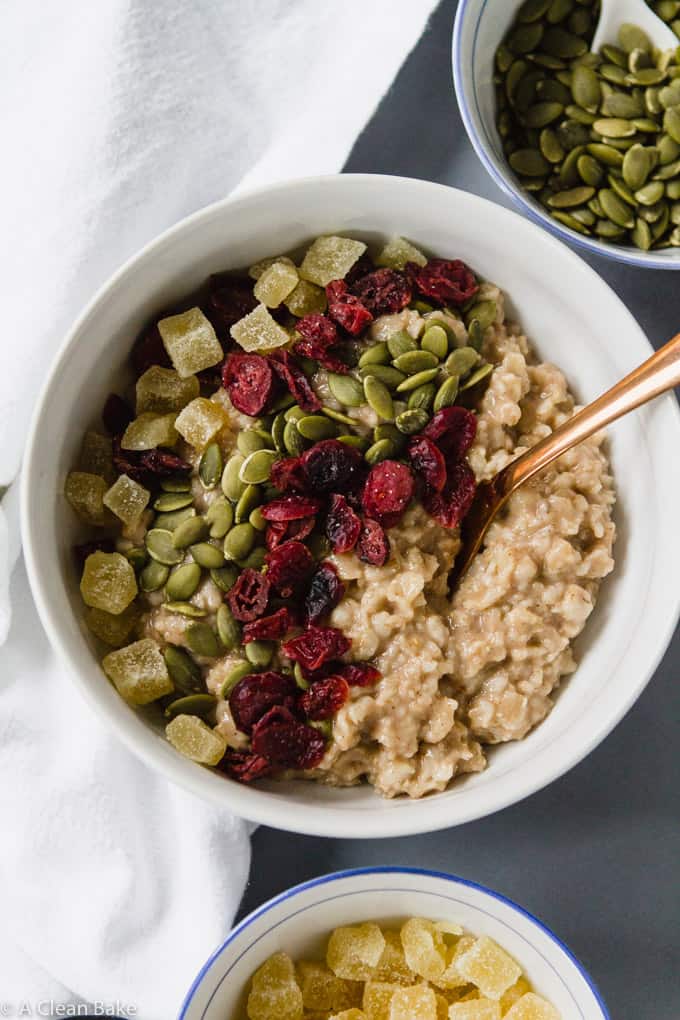 It may be necessary, in the midst of all the holiday excitement and Thanksgiving planning and prep, to think about the other Thursdays. You know, just another normal Thursday that dawns dark and chilly, and you have to force yourself out of bed, rush to shower, maybe skip breakfast or just down a banana with one hand as you lock the house with the other and balance your coffee, in its hopefully-tightly-sealed (please be tightly sealed) travel mug, under your chin… that kind of Thursday.
The kind of Thursday that grab-and-go breakfasts were made for. The kind of Thursday that demands a hearty, warming morning meal, but gives you precisely no time to prepare it.
The kind of Thursday that makes you thankful for refrigerator oatmeal.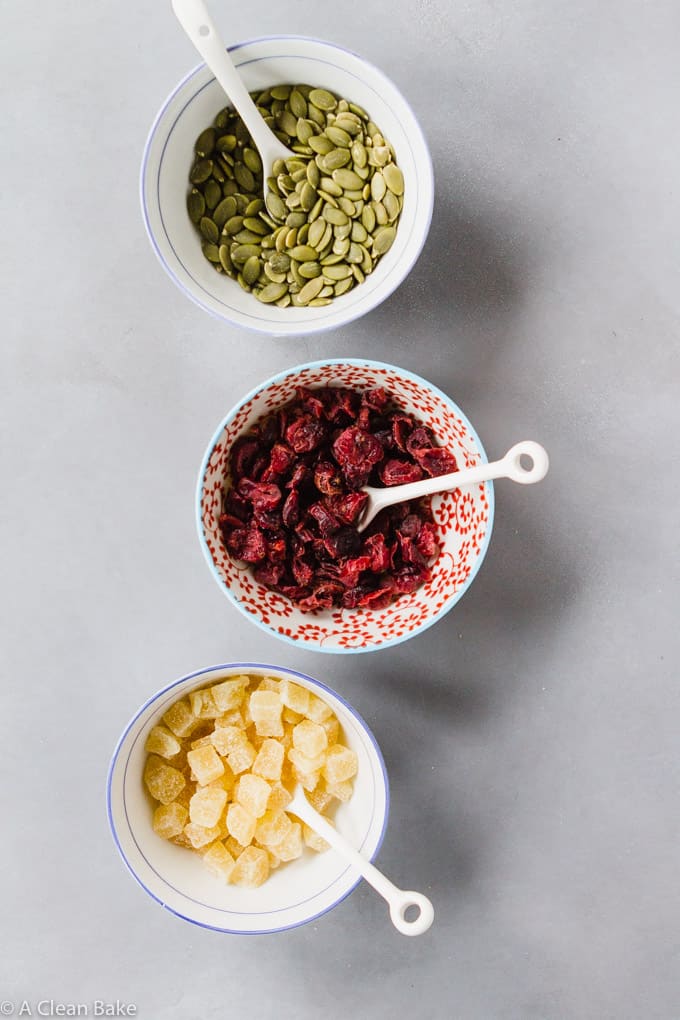 You've heard of overnight oats. Let me introduce you to refrigerator oatmeal (a term I kind of made up).
Refrigerator Oatmeal vs. Overnight Oats
It's a small but significant difference.
The attractiveness of overnight oats is, as far as I can tell, all about convenience. It's one of those oh-so-attractively named "dump and stir" type recipes, but it's also the kind of recipe that gives you exactly as much as you put into it, and not a drop more of satisfaction.
I've never had an overnight oat that wasn't kind of off: too wet, but somehow at the same time too dry, as though the oats got lazy and decided not to absorb all the liquid; a weird consistency, somehow always involving clumps of peanut butter that didn't stir in (even when there isn't any peanut butter in the recipe); still hungry when it's gone.

Refrigerator oatmeal is the make ahead breakfast you've been looking for.
While the allure of overnight oats might be in its simplicity (dump! stir! let the jar do all the work!), the relatively small amount of additional effort required to make refrigerator oatmeal results in a huge payoff when you taste the difference.
What I'm saying is: yes, you'll have to stir, and then wash, a pot (the humanity!!) but the refrigerator oatmeal can be made in bulk – so you only have to do this hard labor (???? ) once a week or so – and the reward for just a small amount more effort is 1,000% more flavor and enjoyment than basic overnight oats.

Back up: Why is it called Refrigerator Oatmeal if I'm doing all this oat-stirring and pot-washing?
Ah, because the pot doesn't make the oatmeal, the refrigerator does. I mean, sure the pot makes the oatmeal, as in it cooks it, but the fridge really **makes ** the oatmeal. You know what I mean? No? Fair enough.
You cook the oatmeal in the pot, and right away, it's fine. You can eat it then and there. But I suggest you don't.
Instead, load it into a bunch of jars or airtight containers of your choice and stash it in the fridge overnight (or overnights). That extra time makes all of the difference. The oats slowly absorb the extra moisture and the spice flavor permeates the entire batch, resulting in a rich, creamy, pungent, and deeply satisfying morning meal.
Finish it with a few generous handfuls of dried cranberries, some perfectly spicy dried ginger (this is my favorite dried ginger. It's the best I've tried!) , and a sprinkle of crunchy raw pumpkin seeds, and whatever else you have on hand, pour it in a bowl (if you want), warm it quickly, and you're off to start your day!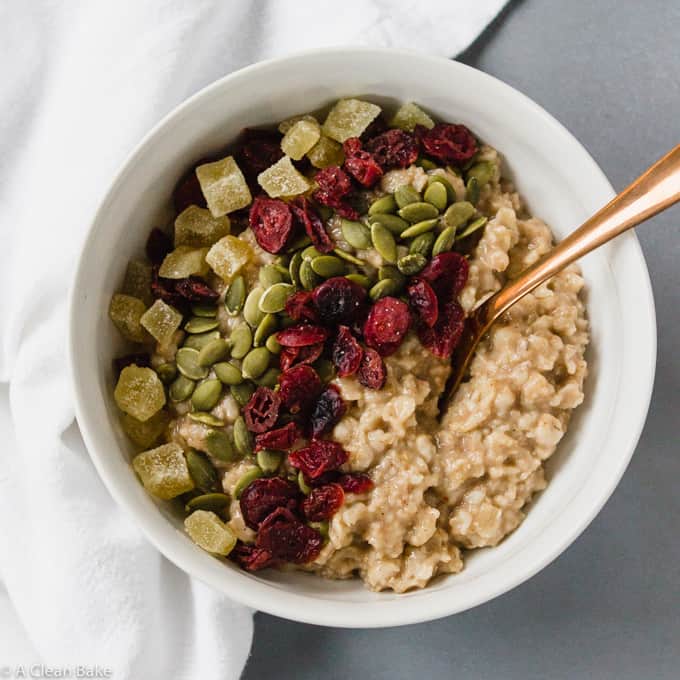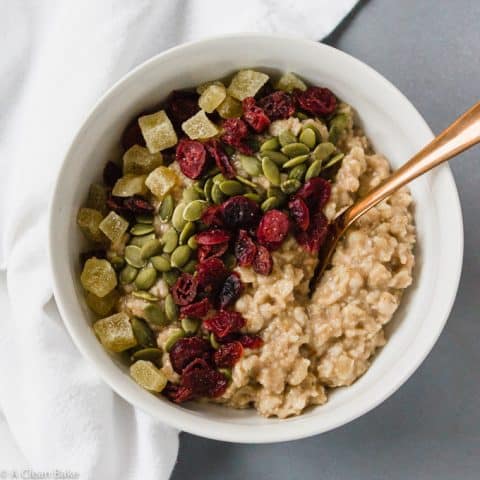 Make-Ahead Refrigerator Oatmeal
Add this refrigerator oatmeal to your breakfast rotation! It's a make-ahead batch cooking recipe that finishes up in the fridge while it waits for you. Plus, it's vegan and gluten free - but don't forget to use certified gluten free oats, to be sure!
Ingredients
Ingredients for the oatmeal:
3 1/2 cups water
1 3/4 cups gluten free rolled oats
1/4 teaspoon fine sea salt
1 cup coconut milk, (Full fat is preferable)
1/4 cup coconut sugar
1 teaspoon cinnamon
1/4 teaspoon vanilla extract
Ingredients for topping:
Dried ginger, (crystallized or uncrystallized)
Raw pumpkin seeds, (or nut of seed of choice)
Dried cranberries, (or fruit of choice)
Instructions
A large sauce pan, bring water to a rolling boil.
Add oats and salt, and cook, stirring regularly, until most of the water is absorbed, and the oats are softened. This will take around 10 minutes.
Reduce heat to medium and stir in coconut milk, coconut sugar, cinnamon, and vanilla.
Allow the mixture to cool slightly. It will be runny.
Divide the oatmeal between 4-5 lidded jars (mason jars work well), and top with ginger, pumpkin seeds, and cranberries.
Close tightly and store in the refrigerator overnight, or up to five days.
Optional: reheat before serving.
Nutrition Information:
Yield:

5
Amount Per Serving:
Calories:

224
Saturated Fat:

8g
Sodium:

148mg
Carbohydrates:

27g
Fiber:

3g
Sugar:

5g
Protein:

4g
[wprm-nutrition-label align="center"]
Thank you to Now Foods for providing the products that inspired this recipe. This post contains affiliate links, which means that if you click through and purchase a product, A Clean Bake receives a small commission. All proceeds go toward continuing to bring you delicious, healthy recipes every week, and this does not affect the price you pay. Thanks for supporting A Clean Bake!