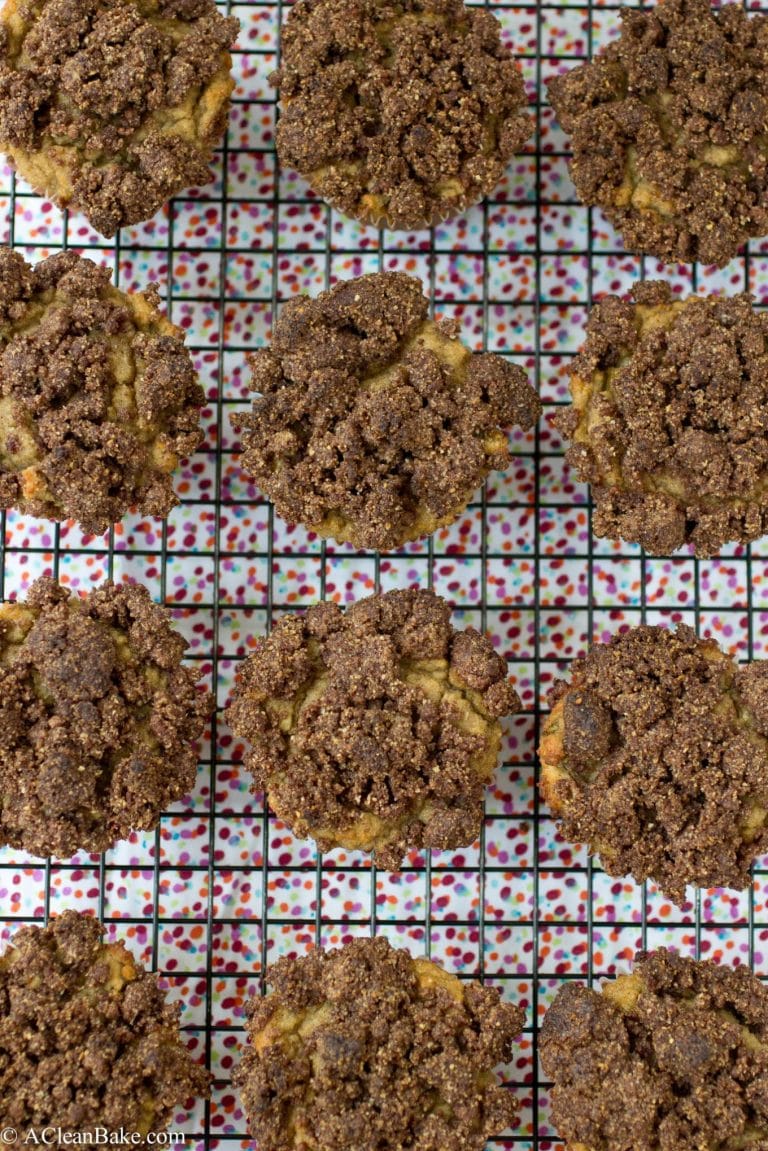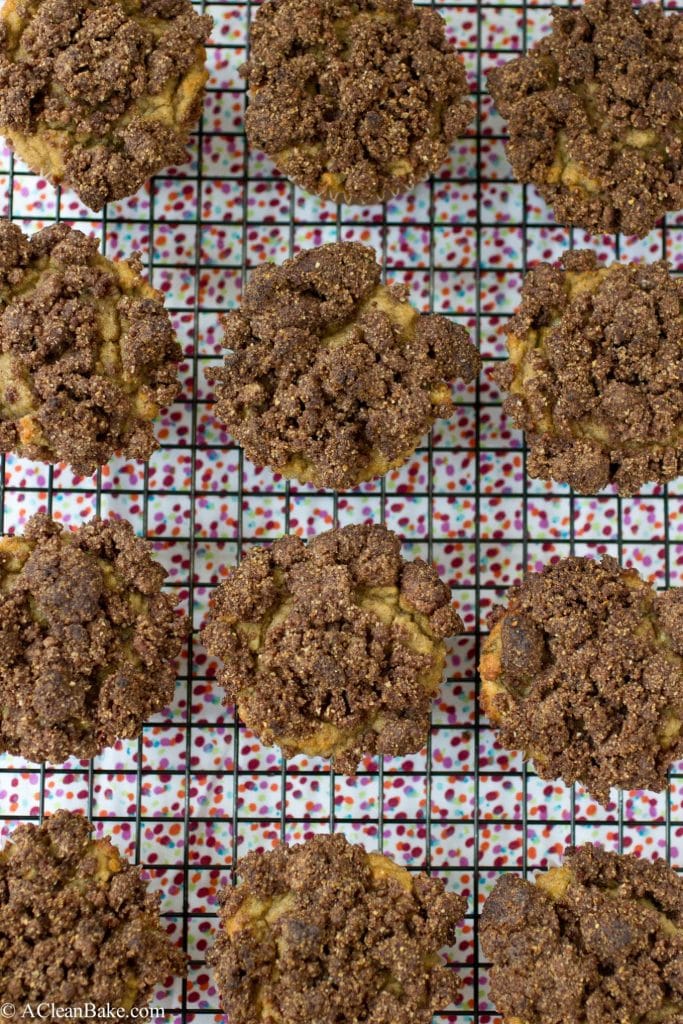 I'm known by many names, but most recently, The Cookie Fairy, The Doughnut Fairy, and – this week – the Muffin Fairy are topping the list. I have a strange and, some might say, slightly deranged, habit of leaving phantom plates of baked goods on the tables outside of my neighbors' doors, to be followed up with a sheepish text alerting them of the caloric fortune that awaits them in the hall. Hey, it's my thing.
Nearly as soon as these photos were taken, my neighbors were getting texts. I had to get these out of my house, or risk eating them all in the span of 10 minutes and promptly exploding. And that would just be messy. And gross. Ew, that's a disturbing mental image. QUICK – DISTRACT ME.
Oh yeah, muffins. Distraction accomplished. I wish I had a great story about what inspired these muffins, but the truth is that it was the least interesting inspiration ever. You ready for this? I was cleaning out the freezer. (Told ya.) It's the first of many preparatory steps leading up to the currently-theoretical-but-hopefully-very-soon-to-be-imminent kitchen renovation.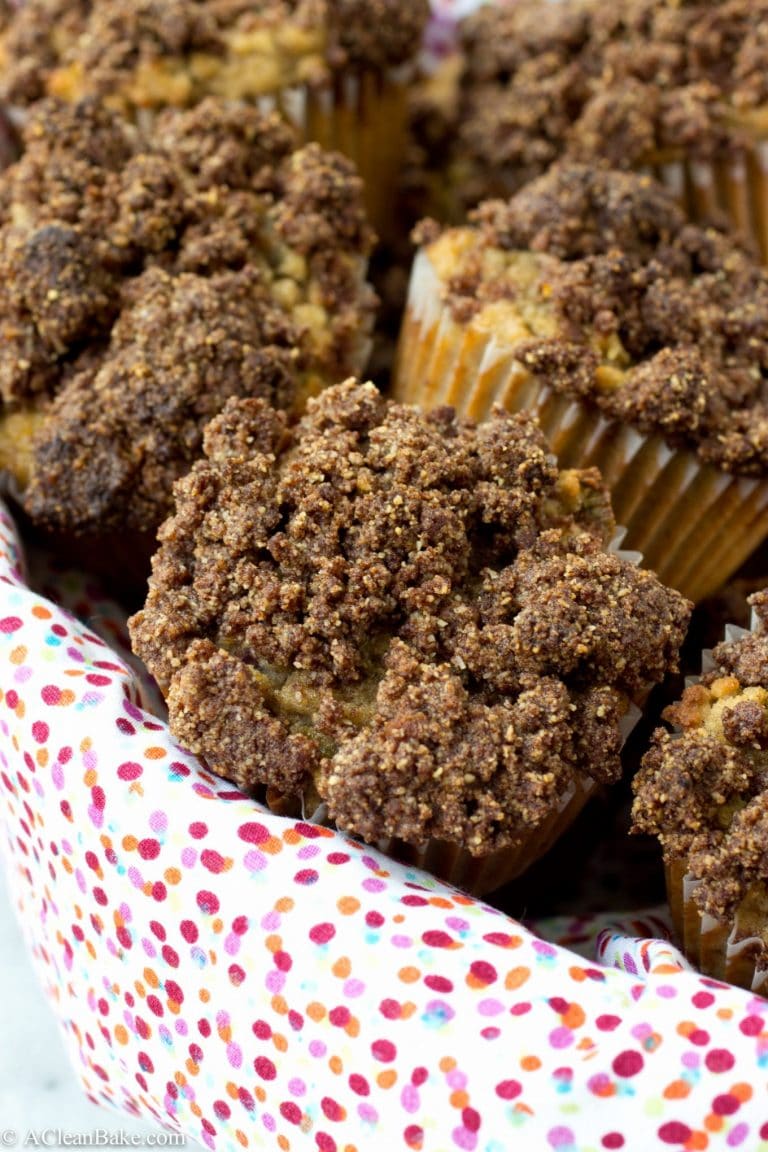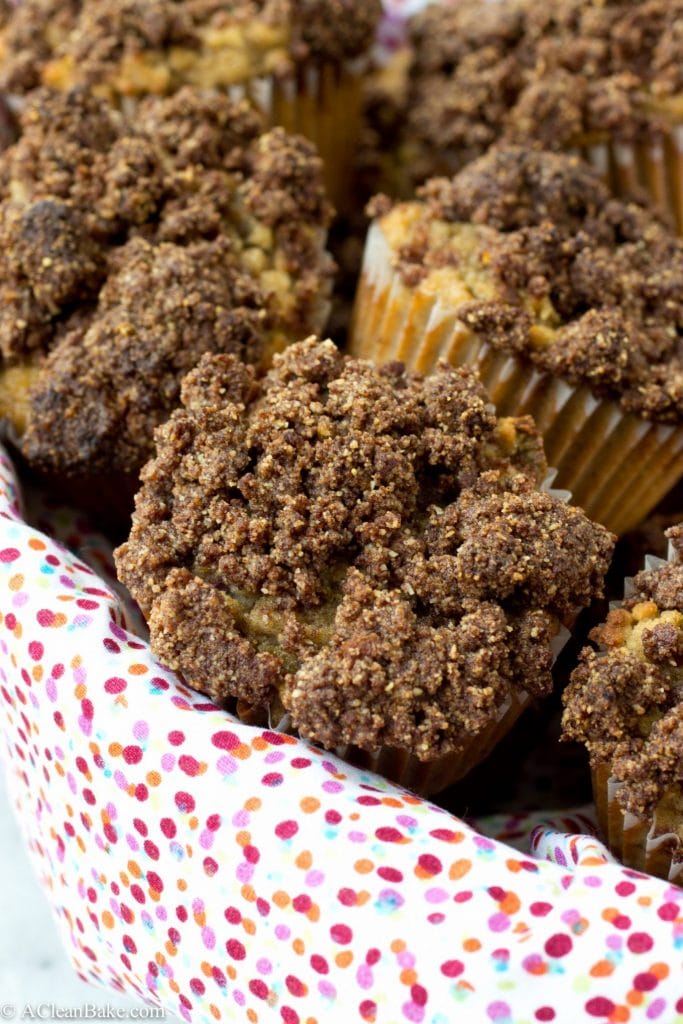 Wait, have I mentioned the kitchen debacle renovation plan? When we bought our condo 5 years ago, we knew it was a fixer-upper, but had no idea how long it would take to get all of the work done. We are finally ready to renovate the kitchen but ran into budget hurdles (i.e. we were given a quote than was twice our budget) but we're getting the plans back on track now, I think, and I am trying to stay optimistic by continuing to plan and prepare as though this is going to happen, and happen soon. Which brings me back to cleaning out the freezer, which brings me back to a container of frozen rhubarb I found in the back of it. It wasn't enough for a pie, but was too much for, say, scones or whatever, where the rhubarb is just a punctuation mark at the end of the bite, rather than the bite itself. These muffins are packed with rhubarb, so you get several tender bursts of fruit in each bite.
Rhubarb is a sour-bitter fruit (vegetable, I think, technically?) but when you cook it down, it looses its edge and responds really well to added sweetness and really, really well to a sweet, cinnamony streusel topping. So, this may seem basic – an unassuming muffin flavored with cinnamon and vanilla, studded with borderline-castoff (or, depending how you look at it, super special, kept for a special occasion) fruit and dressed up with a simple streusel crumble – but it also might be everything you need for your breakfast this weekend.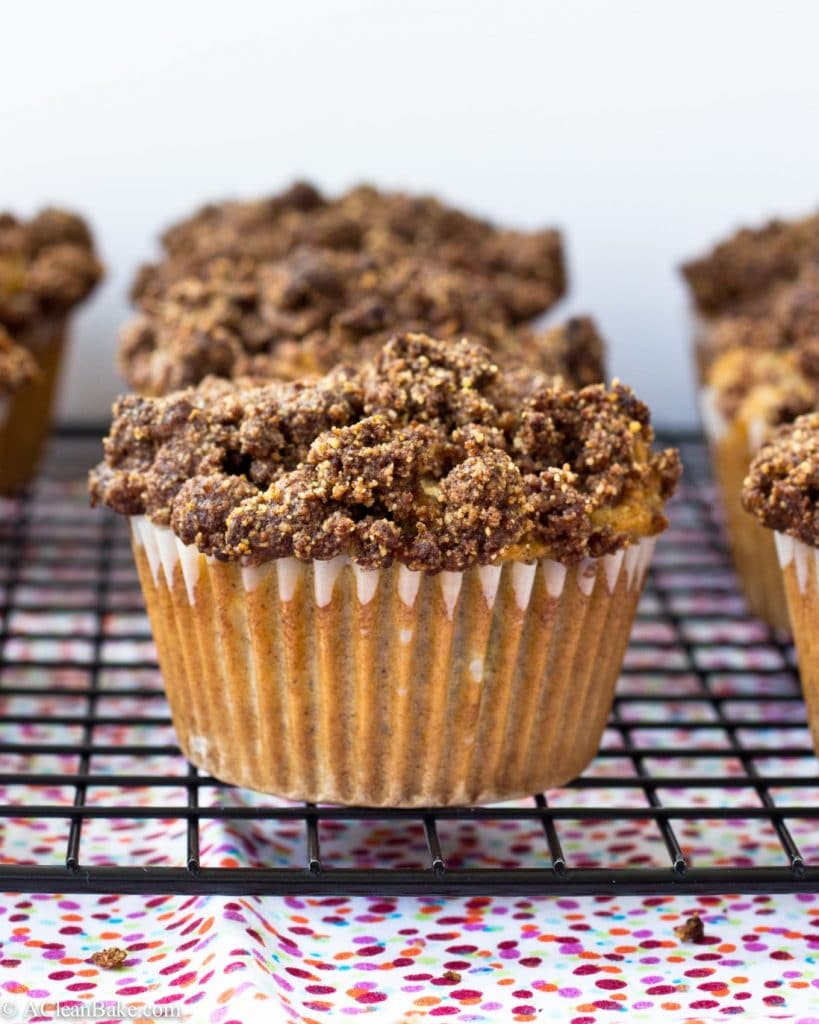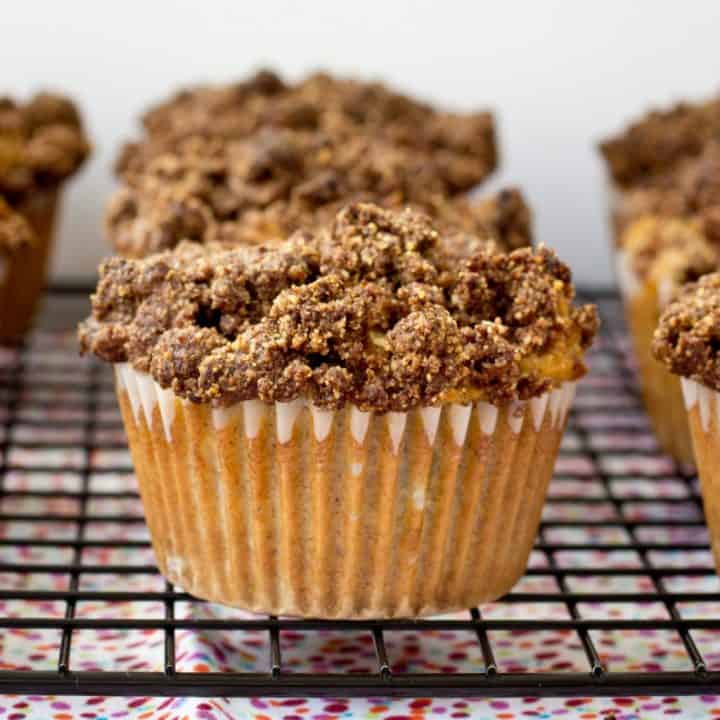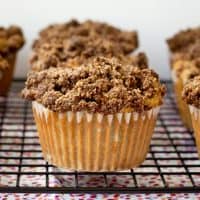 Ingredients
Ingredients for the muffin
Ingredients for the streusel
Instructions
Preheat the oven to 350F. Line a 12-compartment muffin tin with cupcake papers and set aside.

Prepare the muffins: In a large mixing bowl, whisk together the almond flour, coconut flour, tapioca flour, salt, baking soda, granulated sweetener, cinnamon, and cardamom. Then add rhubarb and toss to distribute throughout the dry mixture.

In a separate bowl, whisk the eggs, then add the cooled butter/oil and vanilla extract. Whisk vigorously to combine.

Pour the wet mixture into the dry and stir to thoroughly combine.

Divide the batter between the 12 prepared cupcake liners and set aside while you make the streusel.

Make the streusel: In a large mixing bowl, whisk together the almond flour, salt, cinnamon, and granulated sweetener. In a small bowl, pour the warm coconut oil over the maple syrup and whisk to combine.

Pour the wet mixture into the dry and stir until clumps form. Keep stirring until all of the dry mixture is incorporated. Use your fingertips to pinch the dough together to form large clusters.

Divide the streusel between the 12 muffins, pressing gently into the batter to make sure the streusel sticks.

Bake for 30 minutes or until a tester comes out clean.

Remove muffins from pan and cool on a baking rack before serving or storing.
Notes
You can sub butter or ghee for the coconut oil, if you'd like. 
You can replace the monk fruit sweetener in this recipe with twice the amount of coconut sugar (3/4 cup for the muffins, 1/4 cup for the streusel).
The room temperature eggs may seem like a trivial detail, but if they are straight from the fridge, their chill will solidify the fat, making it impossible to mix the wet and dry ingredients thoroughly. If you forget to take your eggs out of the fridge in advance, just submerge them in a bowl of warm water for about 10 minutes before you use them.
Store cooled muffins in an airtight container at room temperature for up to 5 days, or in the freezer for up to 3 months.
Nutrition
Calories:
265
kcal
|
Carbohydrates:
14
g
|
Protein:
7
g
|
Fat:
21
g
|
Saturated Fat:
9
g
|
Cholesterol:
40
mg
|
Sodium:
167
mg
|
Potassium:
89
mg
|
Fiber:
5
g
|
Sugar:
3
g
|
Vitamin A:
1.7
%
|
Vitamin C:
2.1
%
|
Calcium:
10
%
|
Iron:
8.1
%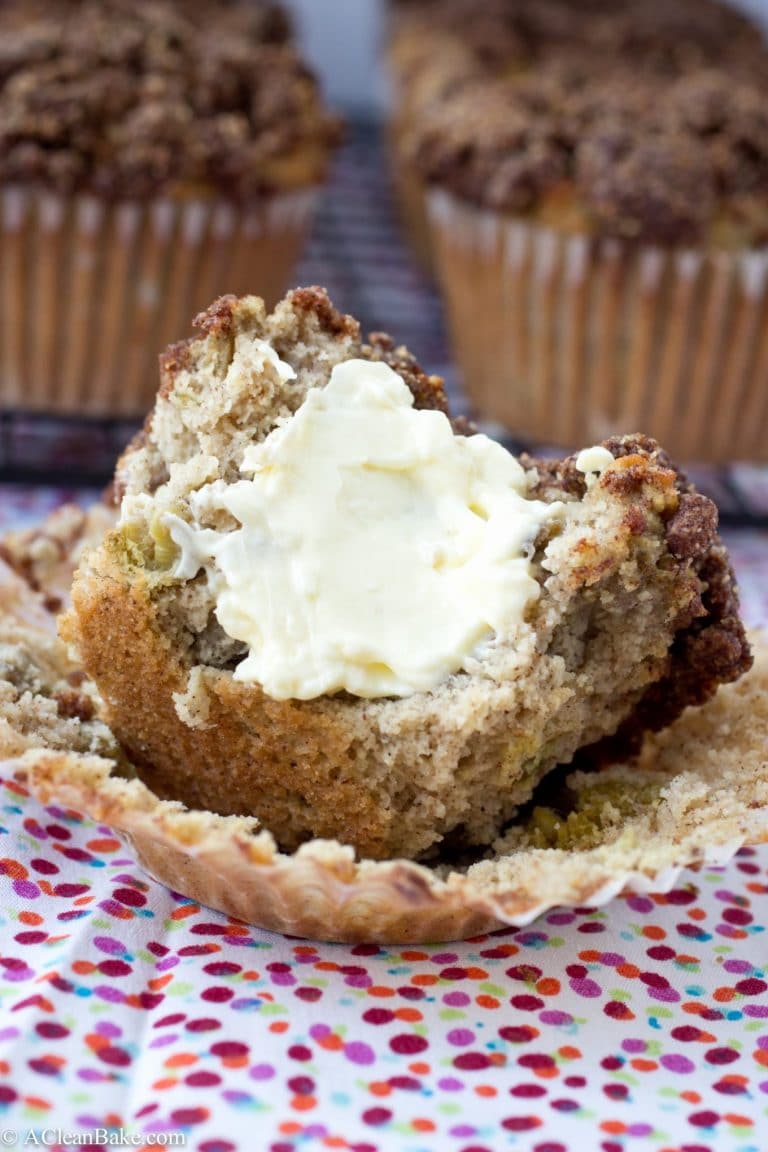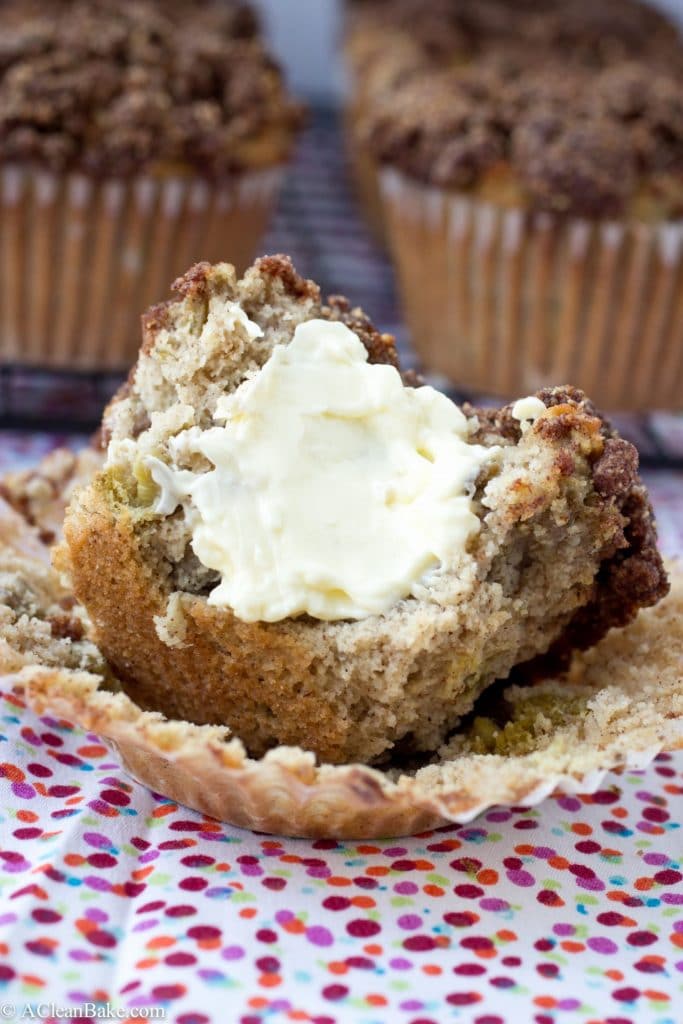 Nutrition Facts
Rhubarb Coffee Cake Muffins
Amount Per Serving
Calories 265
Calories from Fat 189
% Daily Value*
Total Fat 21g 32%
Cholesterol 40mg 13%
Sodium 167mg 7%
Potassium 89mg 3%
Total Carbohydrates 14g 5%
Protein 7g 14%
* Percent Daily Values are based on a 2000 calorie diet.
This post contains affiliate links, which means that if you click through and purchase a product, A Clean Bake receives a small commission. All proceeds go toward continuing to bring you delicious, healthy recipes every week, and this does not affect the price you pay. Thanks for supporting A Clean Bake!