At the intersection of side dishes and desserts is this grilled peaches and beets recipe. It's subtly sweet, but not so much so that you couldn't have it with dinner. The ricotta can be dairy or dairy free/vegan, so that this dish is suitable for everyone at the table!
Happy weekend!
I usually don't post on Saturdays but this simple and flavorful plate of sweet produce merited some extra attention. If you follow me on Instagram, you may have already seen this, and I apologize for the repetition. If you don't already follow me, and you use Instagram, I highly recommend you do. I mostly post bonus recipe and meal ideas, so if you like every day dinner inspiration, I think you might like my Instagram account. Ok, shameless self promotion over (I didn't mean it that way, but it certainly came out like SSP).
Are you a beet lover or a beet hater? I'm convinced that anyone who doesn't like beets just hasn't had them prepared the right way. If you just boil them to death, there's no way they will be palatable. If I'm being 100% honest, unless I am roasting them, I like to buy them pre-cooked.  For roasting, it's best to start with raw beets.  But if you're grilling them or baking with them, it's much easier if they are steamed until tender. And, it's grilling season.
When you grill beets, and ripe, juicy peaches, for that matter, the high heat of the flame caramelizes the sugars and turns them into sweet, soft, practically-melting-in-your-mouth medallions of summery goodness that fall somewhere between side dish and dessert on the spectrum of courses. (Except beets are technically a winter vegetable, so this isn't an entirely seasonal recipe.)
I ate a fair number of these beets and peaches straight off of the grill – just the produce, a brush of oil, and a kiss of flame – but if you want to go the extra mile, you can top them with a lemony, honeyed whipped ricotta (vegan or dairy), a crunchy walnut and an herbacious mint leaf. Please forgive my use of the word "herbacious". I've been watching too much Andrew Zimmern. If I promise not to, under any circumstances, use the word mineral-y or barnyard-y, will you forgive me?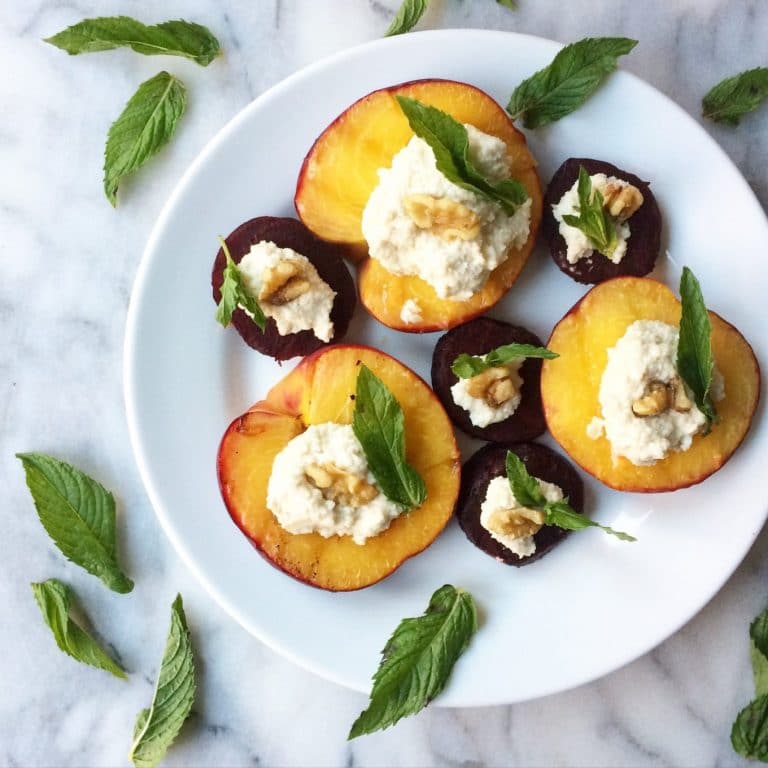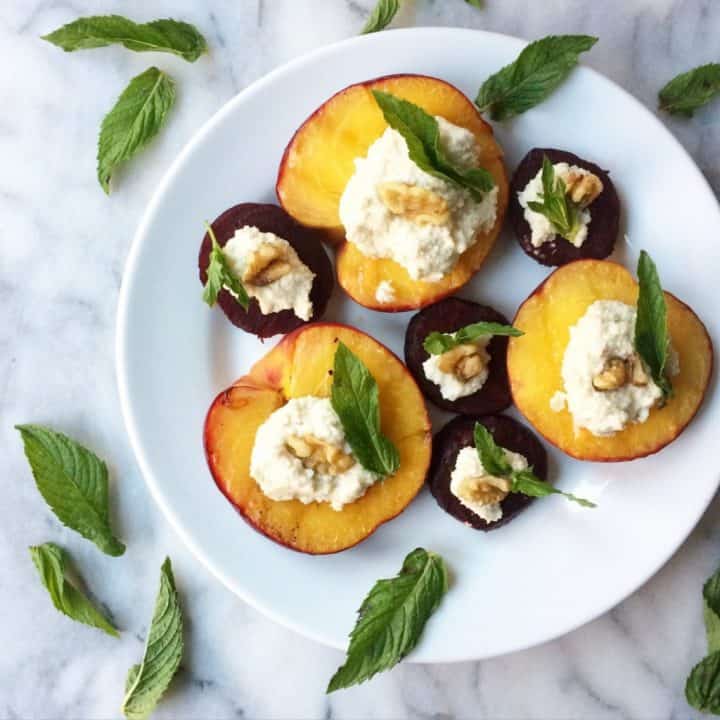 Grilled Peaches and Beets with Honeyed Ricotta and Mint
Ingredients
1 cup raw, unsalted cashews
Boiling water
2 Tablespoons fresh lemon juice, or to taste
2-3 Tablespoons honey, maple syrup or agave, to taste
Generous pinch of sea salt
2-3 large, ripe peaches, pitted and cut into 4 thick slices lengthwise
1 x 8.8 ounce package of cooked and peeled beets, about 6-8 medium beets, cut into 2-3 thick slices
Olive oil, cooking spray, or other mild or flavorless oil, for grilling
Roughly chopped walnuts and fresh whole mint leaves, for assembly.
Instructions
In a heatproof bowl, cover cashews with boiling water to about 1" above the cashews. Cover with a plate or tinfoil and set side to soak for at least an hour, or as long as overnight.
Once they are soft and slightly spongy, drain (reserve the liquid) and transfer nuts to a food processor or high speed blender. Puree with lemon juice, honey or other liquid sweetener, and salt until smooth. Add a splash of the reserved soaking liquid if necessary to keep the nut mixture moving and smooth it out. Set aside.
Preheat your grill. Brush or spray the peach and beet slices on each side with oil and place them in a single layer, about 1" apart on the preheated grill. Cook for 2-3 minutes. Once they have softened and grill marks start to appear, flip and grill another 2-3 minutes until grill marks appear on the other side.
Remove from the grill and lay out the slices in a single layer on a plate. Top each slice with a dollop of ricotta, a sprinkle of chopped walnuts and a mint leaf.
Serve immediately.
Notes
If you would like to use dairy-based ricotta, simply skip the cashews and the soaking, and instead, use a blender or electric mixer to whip together 1-1.5 cups whole milk ricotta with the lemon juice, honey and salt.
Feel free to slice the mint leaves into thin strips, if you prefer.
Store fully cooled leftovers in an airtight container in the fridge for up to 3 days. It's best to store the components (produce, cheese, nuts, mint) in separate containers and assemble immediately before serving.
This recipe was adapted slightly from Love Beets.
The beets that I used for this recipe were provided to me by Love Beets, with no obligation to share these recipes. I'm sharing this only because I genuinely enjoyed the recipe and hope that you will too!