Grain free cherry scones are easy paleo-friendly pastries that put the season's best fresh cherries on display! Fresh cherries halves nestle in pillows of simple grain free and sugar free (low carb) dough for an irresistible breakfast treat. And they only take about a half hour to make!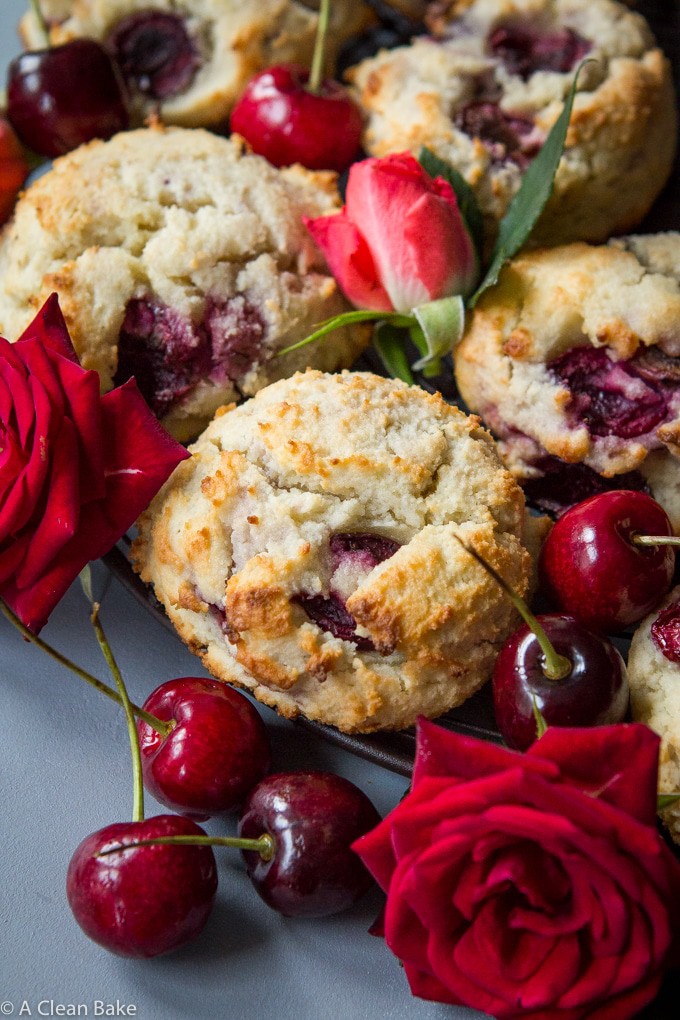 There are two kinds of scones: neat, clean, triangular scones that fit together like fluffy puzzle pieces, and blobby, abstract-shaped scones that could be called circular if you weren't wearing your glasses, but could also just be the perfect cloud-like base for a pillow of warm butter or whipped cream. All scones are created equal, if you ask me. It's just a question of whether you have the time and the patience to shape and roll and cut justso, of if you're having more of a scoop-and-go day. Or week. Or month. (If it's the latter, well, you might need a brownie in addition to a scone.)
Regardless of how busy the day or week or month ahead may be, these are worth taking a few minutes out of your day for, if for no other reason that the huge chunks of cherry halves that break up the dough in each scone and the fact that cherry-pitting is pretty relaxing (admit it, you agree).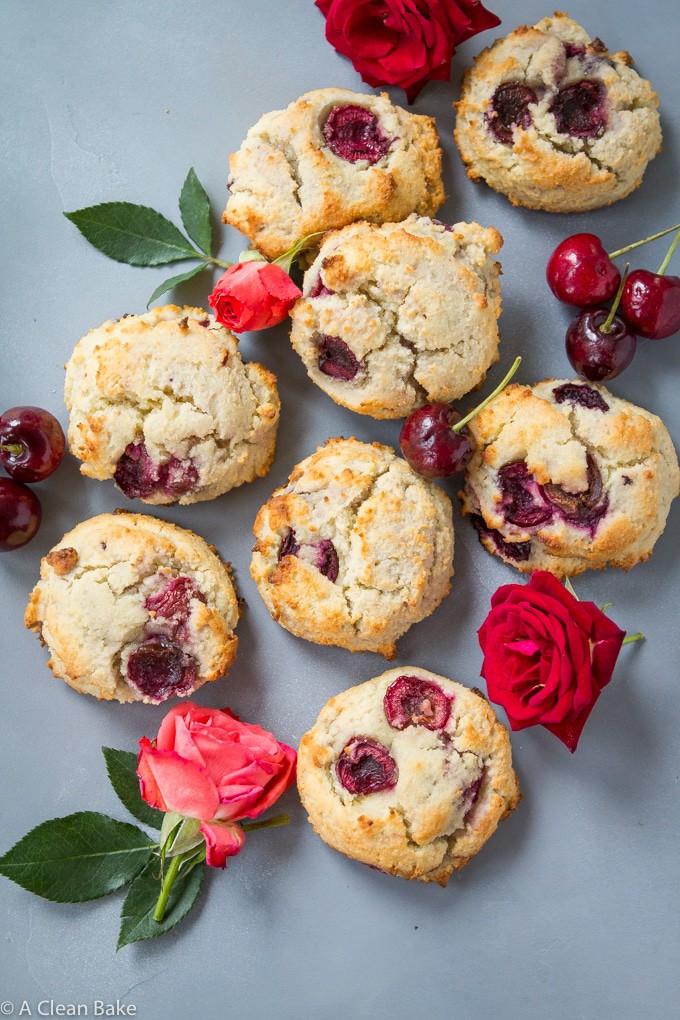 Oh, I should mention that I do not pit cherries using my fingers or a knife. A while ago, I invested in a seemingly-frivolous cherry pitter tool, which quickly turns to a can't-live-without gadget when faced with a bowl of fresh cherries (or olives, for that matter). Preserving your sanity AND eating as many pitted fresh cherries, and cherry-studded scones, as your stomach can handle without losing your mind? And all for the low, low price of something like $13? Yeah, sign me up. (This is the one I use, if you're interested.) If there is a secret to these scones, that little gadget is it.
What else do you need to know about these scones? They're so refreshingly simple.
No cutting butter into the dough.
I'll admit that these are not going to be as flaky as a gluten- and dairy-based scone, but they also take a fraction of the time and energy to make because you skip the labor intensive step of cutting cold butter into the dough. You certainly can use butter; I recommend Kerrygold, which is grassfed Irish butter and the flavor is OUTSTANDING. You could probably eat the butter alone. I'm not saying I've tested this theory but… I'm not saying anything, actually.
But I digress. The recipe calls for butter or coconut oil. If you decide to use butter, go for the best quality you can find, and make sure you are using an unsalted variety.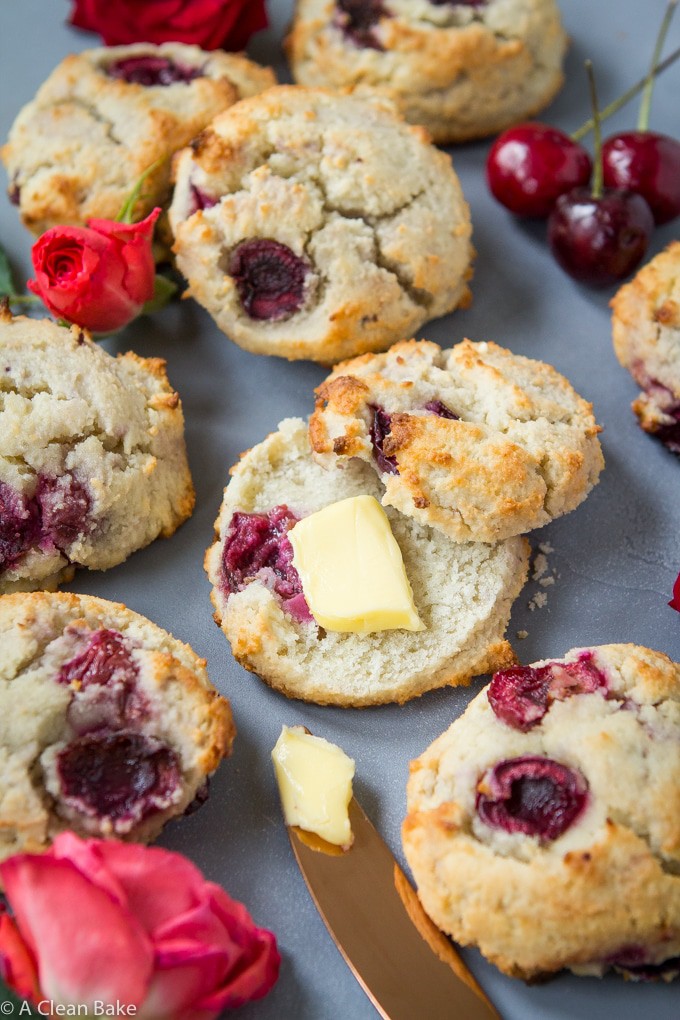 No special equipment of any kind.
No cold butter means no need for a pastry cutter or food processor. In fact, all you will need for this recipe is a few bowls and some dinner forks (I prefer to stir pastry dough with forks, rather than spoons; I think they mix better).
No wacky ingredients.
If you bake with me often, you probably already have everything you need on hand: almond, coconut, and tapioca flours, stevia (or monk fruit sweetener), baking powder, salt, butter or oil, eggs, and coconut milk. Plus fresh cherries, the star of the show, which are in most supermarkets these days.
And the best part about these scones is that they are a perfect way to use up some slightly wrinkly fruit before they go bad. If you have a bag of cherries in your fridge that are just over the hill, and maybe not quite as flawless as they should be, this is the perfect way to ensure they don't go to waste.
I bet you never knew that grain free scones could be quite that simple! I hope you get to try them. If you do, let me know what you think! Don't forget to post your ACB creations on Instagram and tag me (@nora_acleanbake) or use the hashtag #acleanbake. Or, you can post them on the A Clean Bake Facebook wall!
Oh wait, one more thing!
If you want a paleo glaze for these cherry scones…
I've included a quick formula in the recipe notes below. Unfortunately, it contains cane sugar; this remains the best way to make a glaze that behaves the way you'd expect it to. If you would like a sugar free glaze, you can use the one that goes with this cake.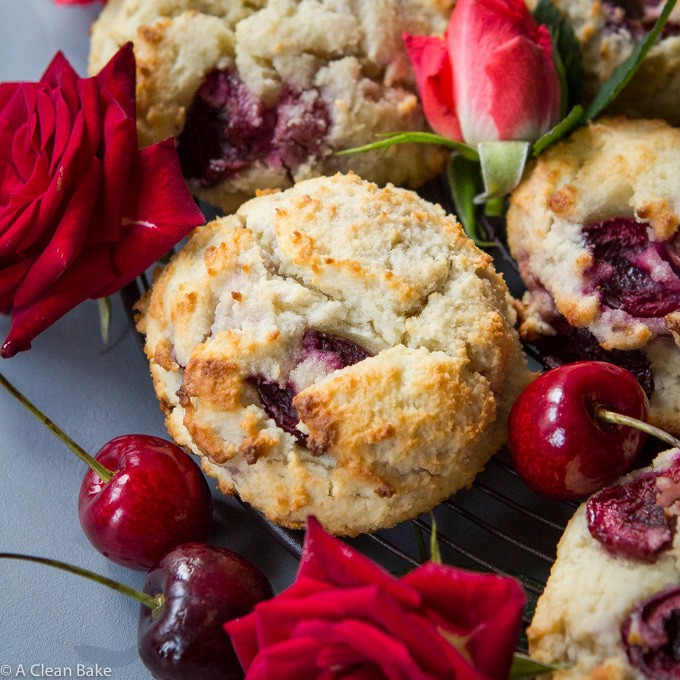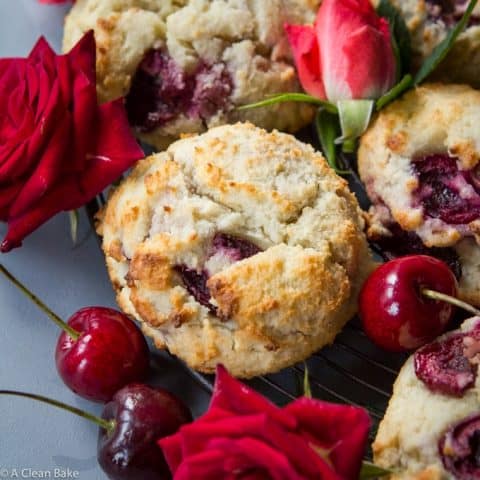 Grain Free Cherry Scones
Ingredients
1 1/2 cups blanched almond flour
1/2 cup tapioca flour
3 Tablespoons coconut flour
1/4 cup granulated stevia
2 teaspoons baking powder
1/4 teaspoon fine sea salt
1 large egg
6 Tablespoons coconut milk, (see note)
3 Tablespoons coconut oil, or unsalted butter, melted and slightly cooled
1 1/4 cup fresh cherries,, washed, pits and stems removed, and cut in halves (about 1 cup of halves)
Instructions
Preheat the oven to 450°F. Line a large baking sheet with a nonstick pad and set aside.
In a large mixing bowl, whisk together the flours, stevia, baking powder, and salt. Set aside.
In a medium mixing bowl, whisk the egg, then stir in the coconut milk and coconut oil.
Add the wet (egg, milk, and oil) mixture to the dry (flours, etc) mixture and stir to combine. Make sure to scrape down the sides and bottom of the bowl to make sure everything is well incorporated.
Fold in the cherries. Be as gentle as possible to avoid squashing them or releasing too many of the juices (a little bit is inevitable; don't worry about it too much).
Use an ice cream scoop to portion the dough and place the scoops of dough on the prepared baking sheet. Press down to flatten slightly.
Bake for 14-16 minutes until the edges are golden and the tops look matte (no longer look wet).
Remove from the oven and allow to cool on the pan for 10-15 minutes before transferring to a rack to cool completely.
Notes
You can replace the granulated stevia with granulated monk fruit sweetener or coconut sugar, if you prefer. If using coconut sugar, your scones will be much darker - more of a light caramel color. They may also be slightly less sweet, and also may require a few additional minutes of baking time.
For best results, use full fat, canned coconut milk. Do not use anything in a carton or marked "light". Shake the can of coconut milk well before opening and measuring. 
If you don't have an ice cream scoop on hand, you can use a 1/4 cup measuring cup to portion the dough. 
Store leftover scones in an airtight container in the fridge for up to three days or, tightly wrapped, in the freezer for up to three months.
If you'd like to top these with a glaze, whisk together 3/4 cup organic powdered (cane) sugar, with 1 1/2  - 2 Tablespoons milk of choice until it reaches your desired consistency. Pour over the scones, allowing the excess to drip off. I like to position the scones on a cooling rack set over a baking sheet or piece of parchment paper to catch the drips. Let set for about a half hour to an hour before serving. 
If you'd like a sugar free glaze recipe, you can use the one from this post.
Nutrition Information:
Yield:

10
Serving Size:

g
Amount Per Serving:
Calories:

196
Saturated Fat:

6g
Cholesterol:

18mg
Sodium:

71mg
Carbohydrates:

13g
Fiber:

2g
Sugar:

2g
Protein:

4g

This post contains affiliate links, which means that if you click through and purchase a product, A Clean Bake receives a small commission. All proceeds go toward continuing to bring you delicious, healthy recipes every week, and this does not affect the price you pay. Thanks for supporting A Clean Bake!