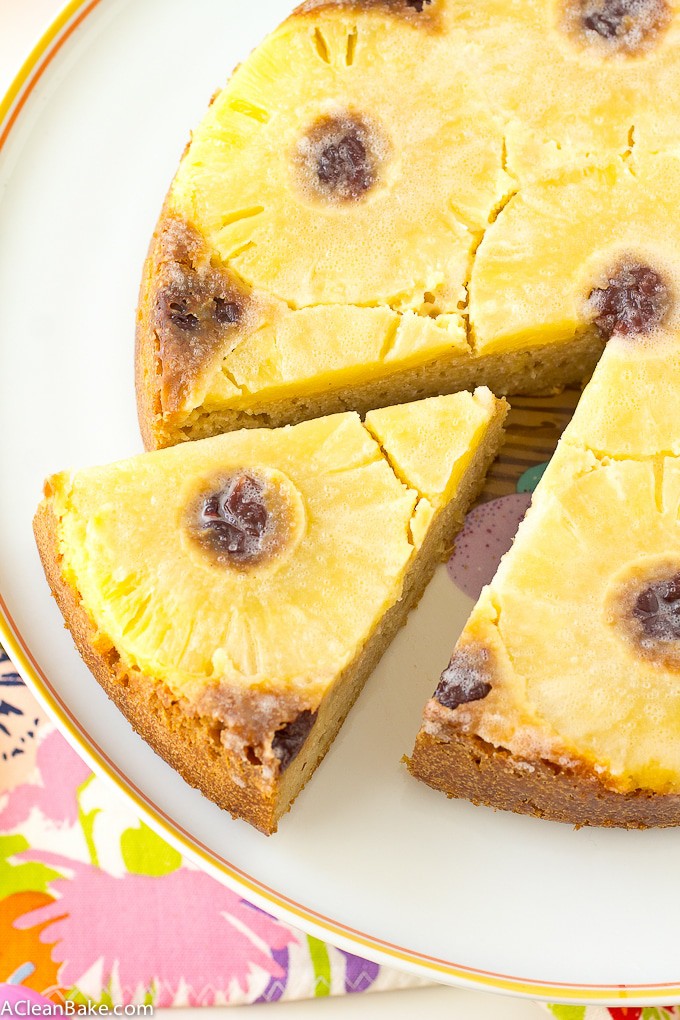 Now that St. Patrick's Day is over, I propose we zoom right ahead to Easter, skipping over all the silly, un-fun things that stand in our way (Tuesdays, for example). I look forward to Easter every year, despite the fact that I grew up in a family that wasn't religious and for me, the holiday was 10% about a bunny, 90% about sweets, 0% about anything even remotely substantial.
Instead of church, we gathered to worship at the altar of the Holy Loaf of Easter Bread. Have you ever had Italian Easter bread? It's dense, sweet, slightly anise-y egg bread – imagine a striated, less airy version of challah – topped with colored sprinkles (my favorite) and wrapped around a festively dyed hard boiled egg that nestles into the center. When it's homemade, and warm from the oven, it's basically poetry. The only recipe I have for it makes about 40 loaves. That's how Italians write recipes, when they do write recipes: it must feel a small army or it's worthless. Not only that, but it's also just short of impossible to do that soft, springy texture justice with almond flour, so it will have to wait until next year.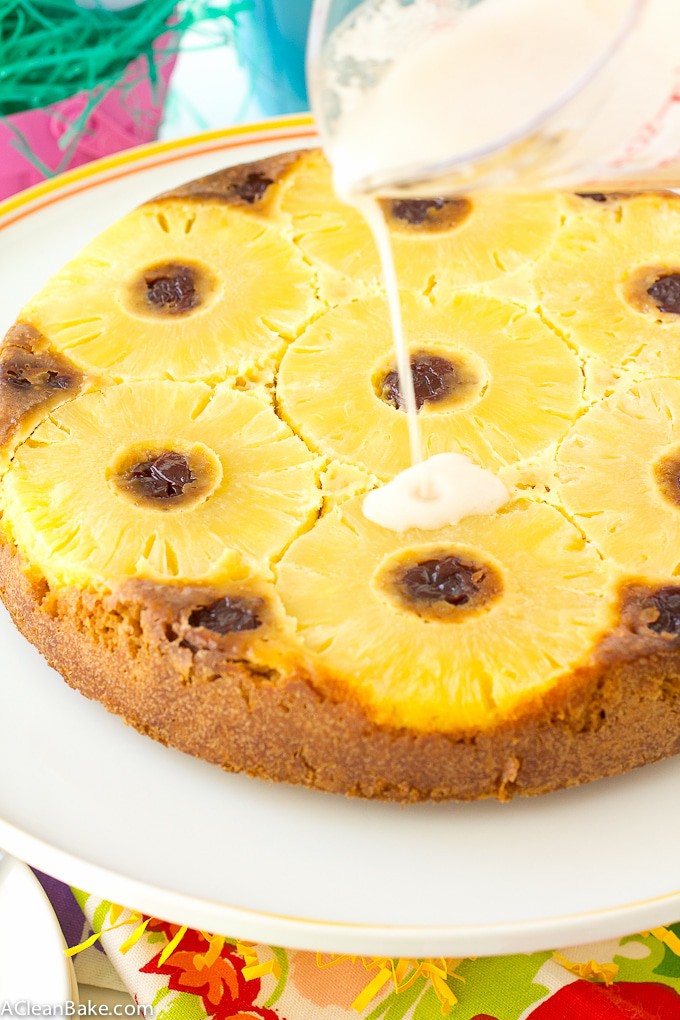 This year, we're having pineapple upside down cake, though. I'd say that's a pretty sweet stand-in, wouldn't you? I never quite knew where this quirky cake fit into the annual schedule of cakes (you know, like angel food in the summer, guinness-y stuff last week, chocolate covered chocolate for valentine's day, etc) until a few years ago when I did a research project at work about holiday baking. It turns out pineapple  upside down cake is a spring dessert. Well… DUH.
Ever since I learned that, I can't help but look at the explosion of pineapple in every super market this time of year and just cake-less pineapple upside down cakes. "Slice me up, top me with cake, and flip me over!!", they scream. (Unrelated: someone might want to look into the wacky voices in my head. This can't be healthy. But it sure is fun!). This is a pretty traditional version – as traditional as it can be, despite being grain free – except that I added a glaze to bring out the flavor of the pineapple. You can, of course, feel free to skip the glaze if you prefer. The cake definitely stands on its own, don't worry.
The other major change I made to the traditional presentation was using dried cherries instead of maraschino cherries. Unless you make them at home or have a really, really high quality version, it doesn't seem worth it to me to eat the chemical slurry that they're marinated in, just to make the cake a little brighter and prettier. That said, if you want to use them, feel free to swap them in for the dried cherries!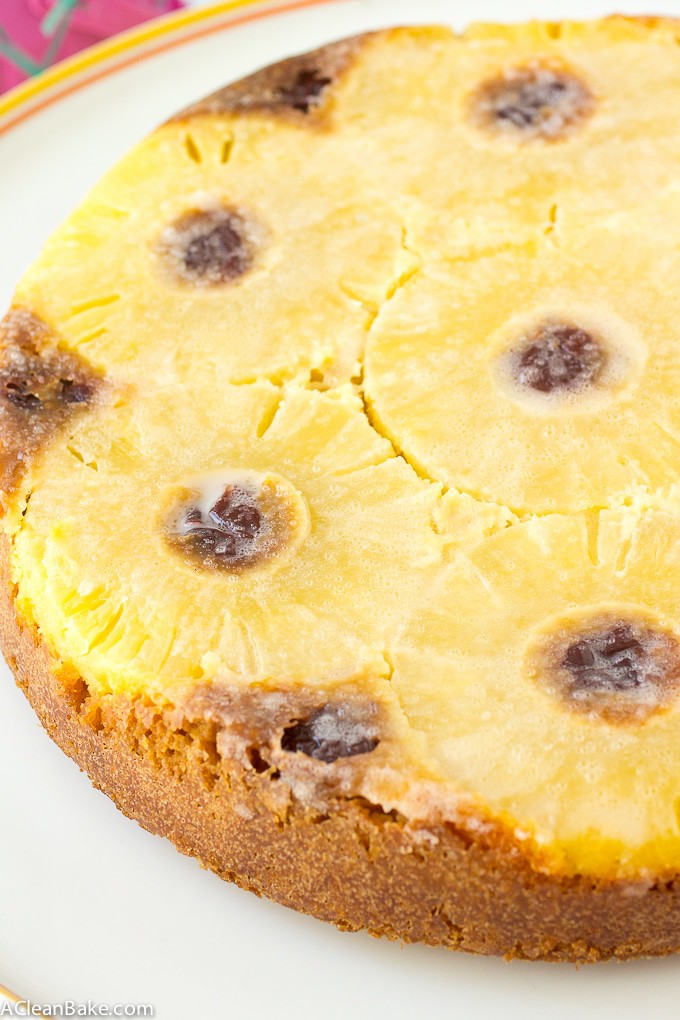 So, this is all a verrrrrry long winded way – as is my custom – of offering you a thick, moist (sorry. accurate.) slice of pineapple upside down cake with your jelly beans and chocolate peanut butter eggs (shameless self promotion: homemade version here.). Actually, I'd love to offer you a slice of mine, but it's long gone. Luckily, I went a little overboard with the testing and tweaking to make sure this cake is as easy as possible to make. Here are the secrets to killer pineapple upside down cake in about an hour or less:
(1) Use canned pineapple (in 100% juice, NOT syrup). Do not slice and core a fresh one, do not pass go or collect $200. Just open the can.
(2) Only use one pan and one bowl. Yep, the recipe doesn't require any of the mixing of the dry ingredients and setting aside or any o f that. It's a variation on this one bowl recipe that I didn't know I couldn't live without.
(3) Use reliable, finely ground, high quality flour. Almond flour is a huge proportion of the ingredients and it is the "meat" of the cake if you will. It's really, really, really important, then, not to skimp on this ingredient. I used Bob's Red Mill Blanched Almond Flour (aka Almond Meal), which is finely ground from whole, blanched sweet almonds, which is what gives this cake it's delightfully soft and vanilla-y flavor and texture. Not only is it naturally gluten free and low in carbs (which is why I use so much of it around here), almond flour is also relatively high in protein so what I'm actually saying here is: use the right flour; transform dessert into breakfast. 😉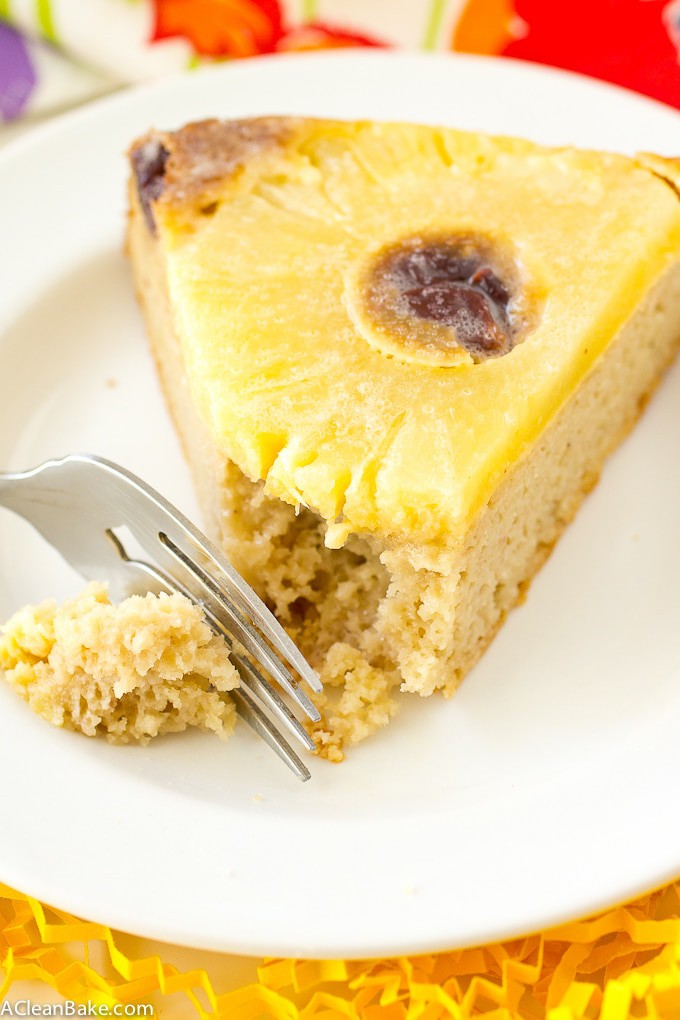 Sound simple enough? It is! Go get to work, and you'll be pulling a fresh and fruity spring cake out of the oven before you can say "who ate all my peanut butter eggs?".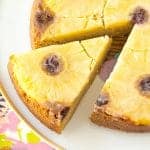 Pineapple Upside Down Cake
gluten free, grain free, dairy free-adaptable, naturally sweetened
Ingredients
Ingredients for the cake
1

Tablespoon

butter,

melted

2

Tablespoons

maple syrup

7

slices

of canned cored pineapple rings,

drained

1/2

cup

dried pitted cherries

2

large eggs

1/4

cup

plain dairy or nondairy yogurt

(not Greek)

2

Tablespoons

mild flavored oil

(such as grapeseed)

1

Tablespoon

vanilla extract

1/4

teaspoon

salt

1

teaspoon

baking soda

2

Tablespons tapioca flour

1/2

cup

granulated monk fruit sweetener or granulated stevia

(like Norbu or Natvia)

1 1/2

cups

almond flour
Ingredients for the glaze
2

Tablespoons

granulated monk fruit sweetener or granulated stevia

(like Norbu or Natvia)

1 1/2

tsp

tapioca flour

1/4

cup

almond milk

Splash of vanilla extract
Instructions
Preheat the oven to 350F. Liberally grease an 8.5" round cake pan.

Stir together the melted butter and maple syrup and pour it into the base of the pan. Gently tilt the pan to spread the butter mixture into an even layer covering the entire bottom of the pan. Place one pineapple ring in the center of the pan and place the remaining 6 rings around it to cover the bottom of the pan. Distribute the dried cherries in the centers of the pineapple rings and in the crevices between the rings. Set the pan aside.

In a large mixing bowl, beat together the eggs using a hand mixer or stand mixer fitted with the beater attachment(s).

Mix in the yogurt, then add the oil and vanilla.

Incorporate the salt, baking soda and tapioca flour, then the sweetener, and finally the almond flour. Mix until smooth.

Pour the cake batter into the prepared baking pan, covering the pineapple slices and cherries.

Bake for 35 - 40 minutes until the cake is golden brown on top and firm yet springy to the touch.

Let cool for 10-15 minutes in the pan, then run a knife or toothpick around the edges, between the pan and the cake, to loosen the cake. Place a large dinner plate upside down on top of the cake pan (It should cover the entire opening of the pan) and quickly flip the pan over so that the cake slides out onto the plate with the pineapple facing up.

If you'd like to glaze it, simply whisk together the glaze ingredients (if your glaze is too thick, add a bit more almond milk until it reaches a pourable consistency) and pour evenly over the cake. Allow the glaze to soak in slightly before slicing and serving.
Recipe Notes
Look for canned pineapple canned in 100% juice, not syrup (which means sugar).
If you prefer to use coconut oil, make sure it is melted, but cool enough to touch for 2-3 seconds without hurting yourself. That way it will not be so hot that it will cook the eggs.
To make cupcakes: line a 12-cup muffin tin with cupcake paper and divide the butter/maple liquid between them, coating the bottom of each muffin paper. Cut 6 pineapple slices in half and gently roll them each into a ring. Place one pineapple ring at the bottom of the first compartment, add a few dried cherries in the middle of the ring, then top with batter. Repeat until all 12 compartments are filled. Bake for 25-30 minutes until golden and springy to the touch. Allow to cool before removing the papers and serving the cupcakes pineapple-side up.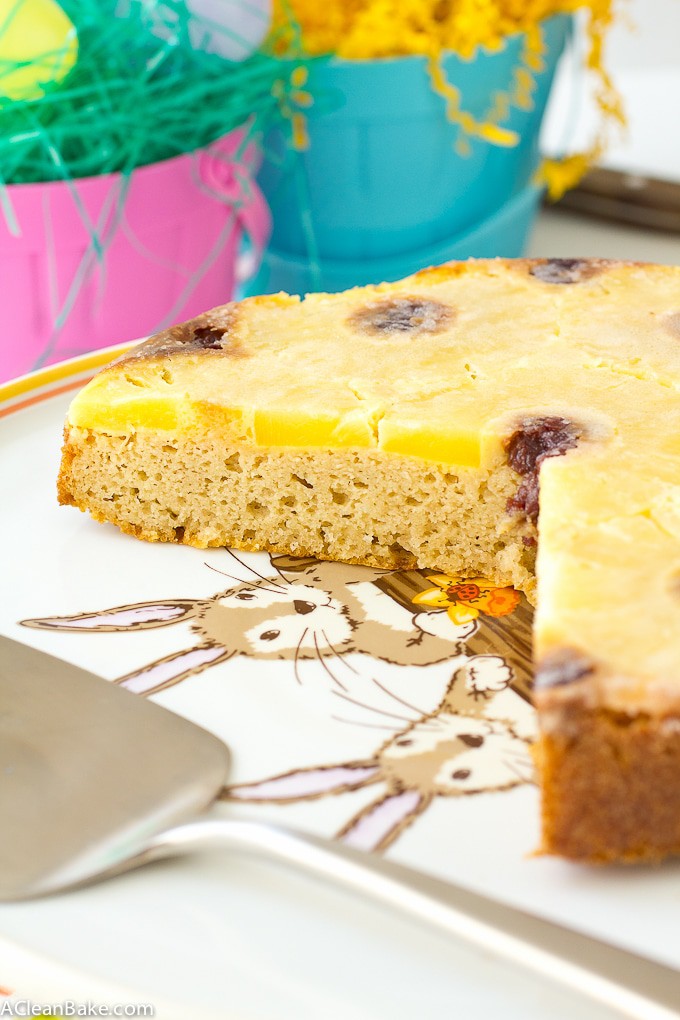 I was selected for this opportunity as a member of Clever Girls and the content and opinions expressed here are all my own.
Thank you also to Natvia for providing the ingredients that inspired this delicious recipe. This post contains affiliate links, which means that if you click through and purchase a product, A Clean Bake receives a small commission, which goes toward continuing to bring you delicious, healthy recipes every week. This does not affect the price you pay. Thanks for supporting A Clean Bake!