This sugar-free lemonade recipe is the perfect, refreshing drink for a warm summer day. Made with just three ingredients and sweetened with a zero-calorie, zero-sugar sweetener, it's a summertime beverage you can feel good about.
Ok, I'll admit it — I'm not much of a drinker.
I've been known to dabble in a few spritzers, and I even had a moment where I was obsessed with the Starbucks pink drink. But over the course in one year, the times you'll see me with a cocktail in one hand could be counted on your free one. Those times, of course, probably revolve around certain festivities — New Years, anniversaries, and the like — not a regular Saturday afternoon.
On a typical day, I'll drink water and tea or (occasionally) coffee, and that's about it. But this long, home-bound summer, I just wanted to sip on something more refreshing.
Something sweet, not bitter.
Something ice cold, not hot.
And something that tastes refreshing on a hot summer day — which, let's be real, ice water does not quite satisfy.
That's why I made batch after batch of this sugar-free lemonade for the last few months. It's non-alcoholic, my entire family can enjoy it, and it's much more refreshing than plain ol' water or coffee (and sweeter too).
Using fresh lemon juice, water, and a zero-carb sweetener, this is one sugar-free lemonade that you can feel good about.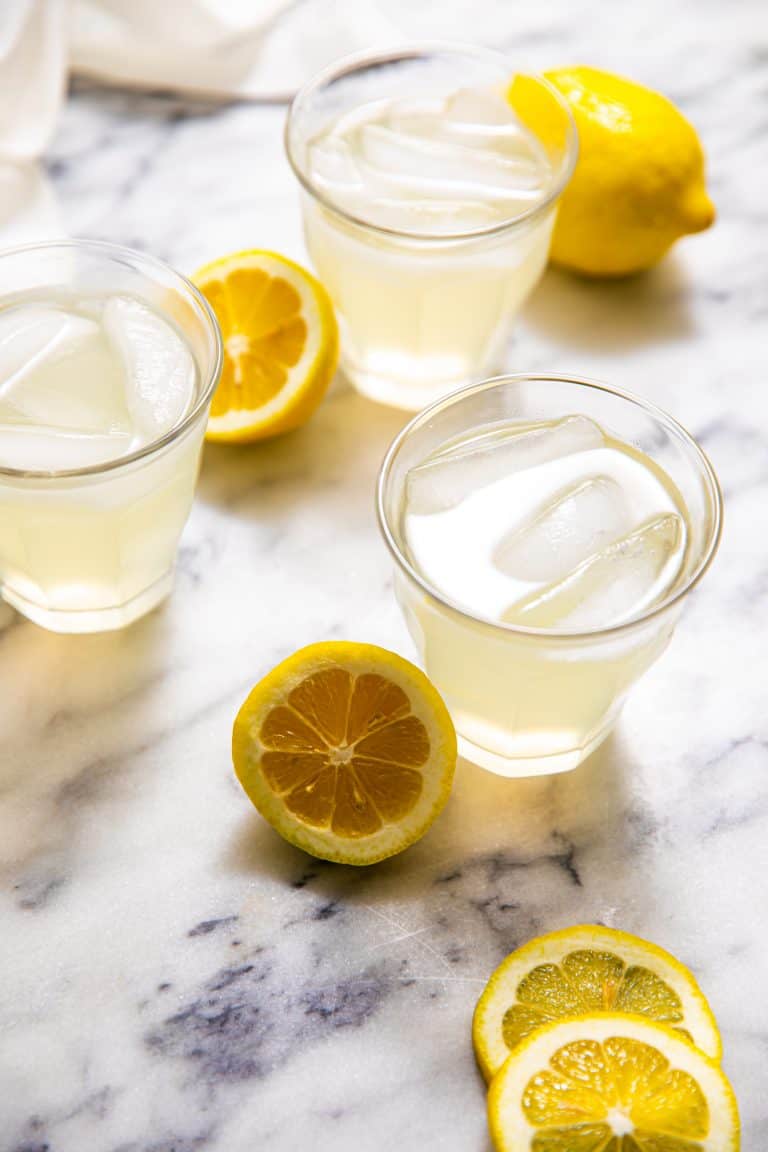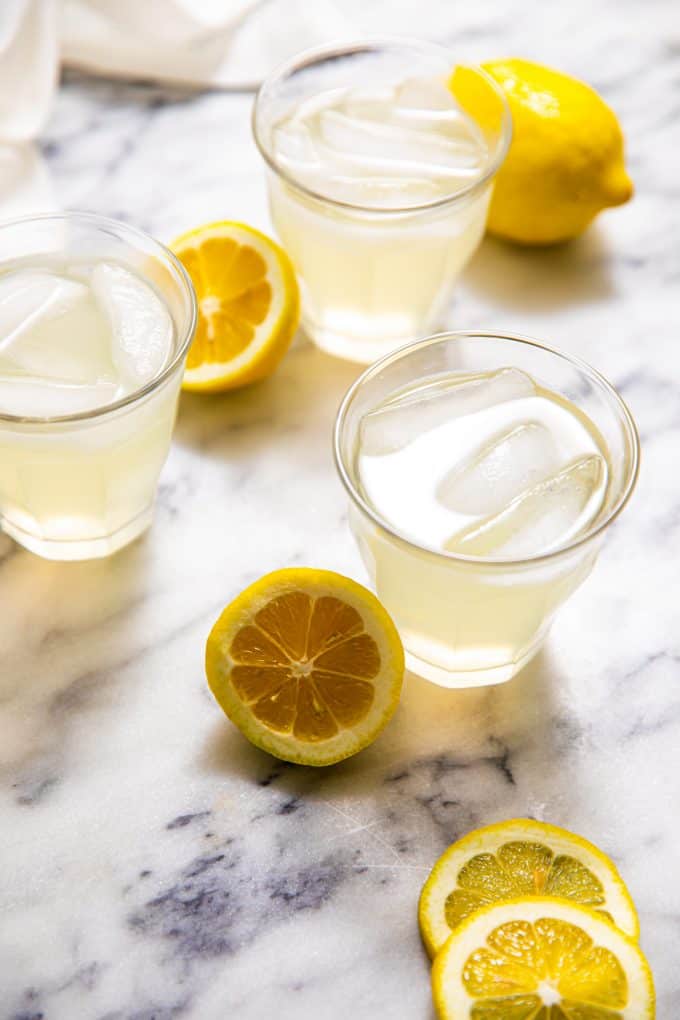 How to Make Sugar-Free, Homemade Lemonade
To make this recipe, you need just three simple ingredients: water, fresh lemon juice, and granulated stevia or monk fruit. In addition, you'll need a saucepan and a pitcher.
Start by making a homemade simple syrup, combining 3/4 cups of water and your granulated sweetener. Cook the water and sweetener over low heat, stirring occasionally. Once the sweetener is dissolved, remove the saucepan from heat.
Allow the simple syrup mixture to cool for several minutes before pouring into a heat-safe pitcher. Next, add the lemon juice to the pitcher, followed by two cups of cold water. Serve with ice cubes.
This recipe yields four, one-cup servings. You can easily tweak the tartness or sweetness of the recipe by adding more lemon juice and sweetener. Or, if you're serving a crowd, simply double the recipe.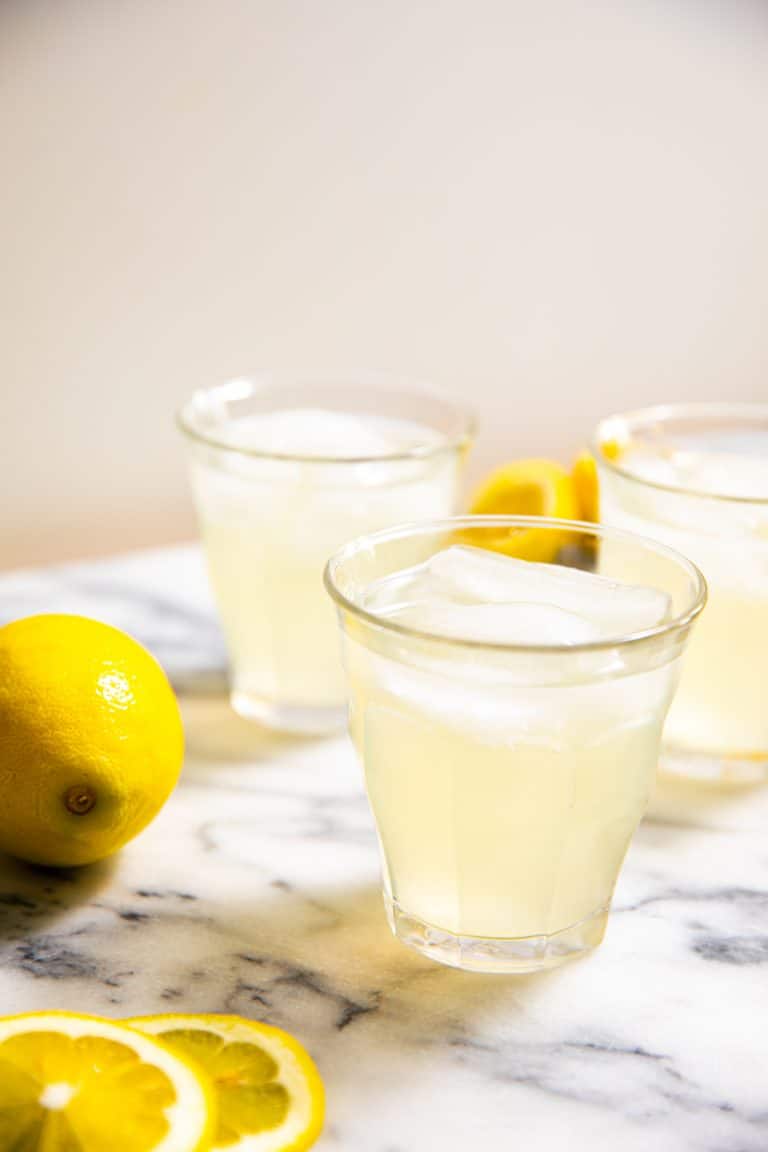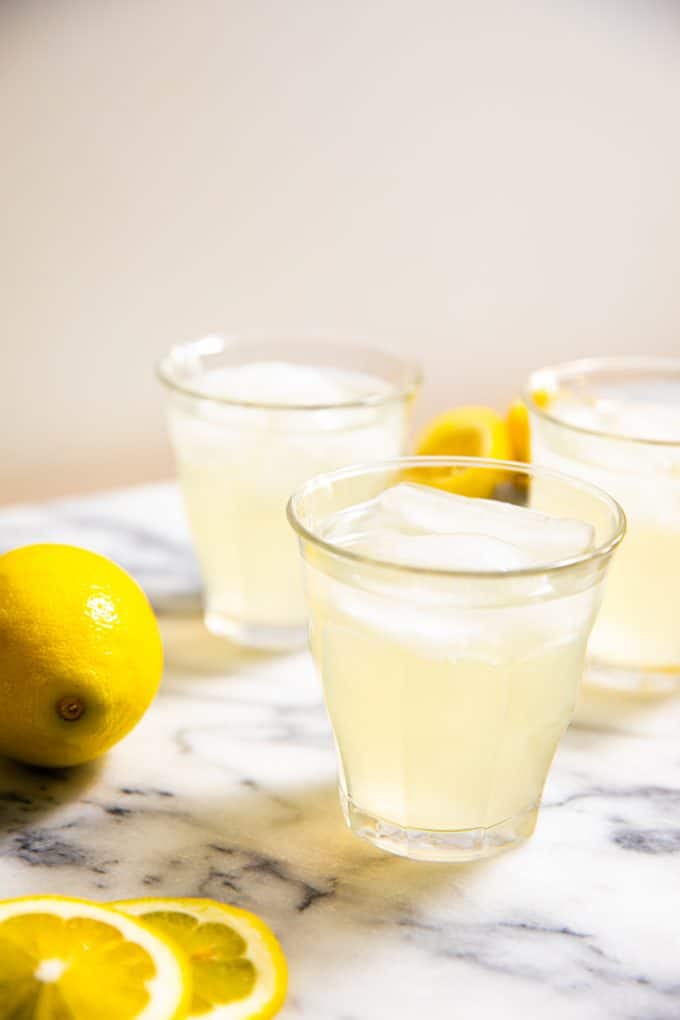 Recipe FAQs: Tips for Sugar-Free Lemonade Success
With just three simple ingredients, this is one of the easiest summer drink recipes you'll find on the internet. However, here a few suggestions on recipe tweaks, substitutions, and other answers to frequently asked questions:
Is this recipe keto-friendly?

Yes! Both

stevia

and

monk fruit sweetener

have 0 carbs and 0 grams of sugar. With

lemon juice

containing roughly 17 grams of carbs per cup, there are only 8.5 grams of carbs in this entire recipe — or a little over 2 grams of

net carbs

per serving.

Is this recipe vegan?

Yes! In fact, I'll do you one better: This

healthy lemonade

is

vegan

,

gluten-free

, dairy-free, and

low-carb

friendly.

What kind of sweetener do you recommend? I recommend Miss Jones Better Baking MonkFruit sweetener or Lakanto Powdered Monk Fruit sweetener (affiliate links).
Can another sweetener be substituted for monk fruit or stevia?

If you're looking for a

low-carb

or

keto lemonade

, I suggest you

sweeten

your lemonade with

granulated

erythritol

or Swerve (which contains

erythritol

). All four

sweeteners

rank zero on the glycemic index, making them compliant with the

keto diet

. I just prefer monk fruit or stevia.

Where can you buy monk fruit or stevia?

You can buy them online, on

Amazon

or Thrive Market, or in most health food stores.

Can you bottled lemon juice instead of fresh?

Absolutely. I always encourage readers to use what they have on hand, rather than traveling to the store. If you have bottled

lemon juice

instead of fresh, feel free to use it.

Can you use sparkling water instead of still?

Yes, although adding sparkling water will make this

lemonade recipe

more of a spritzer, rather than a classic lemonade.

How can you jazz this recipe up a little?

You can easily make this recipe your own by tweaking the ingredients. Add some fresh strawberries to your concoction to make a homemade

strawberry lemonade

, or free to top with

blueberries

, raspberries, or other

low-carb

fruit.

Can this recipe be made ahead of time?

Absolutely. Feel free to make this drink up to six hours in advance (but don't add any

ice cubes

, as it will dilute your recipe). But be sure to give it a good mix prior to serving.

Will this recipe keep in the fridge?

Yes, this recipe will keep for up to five days in the fridge.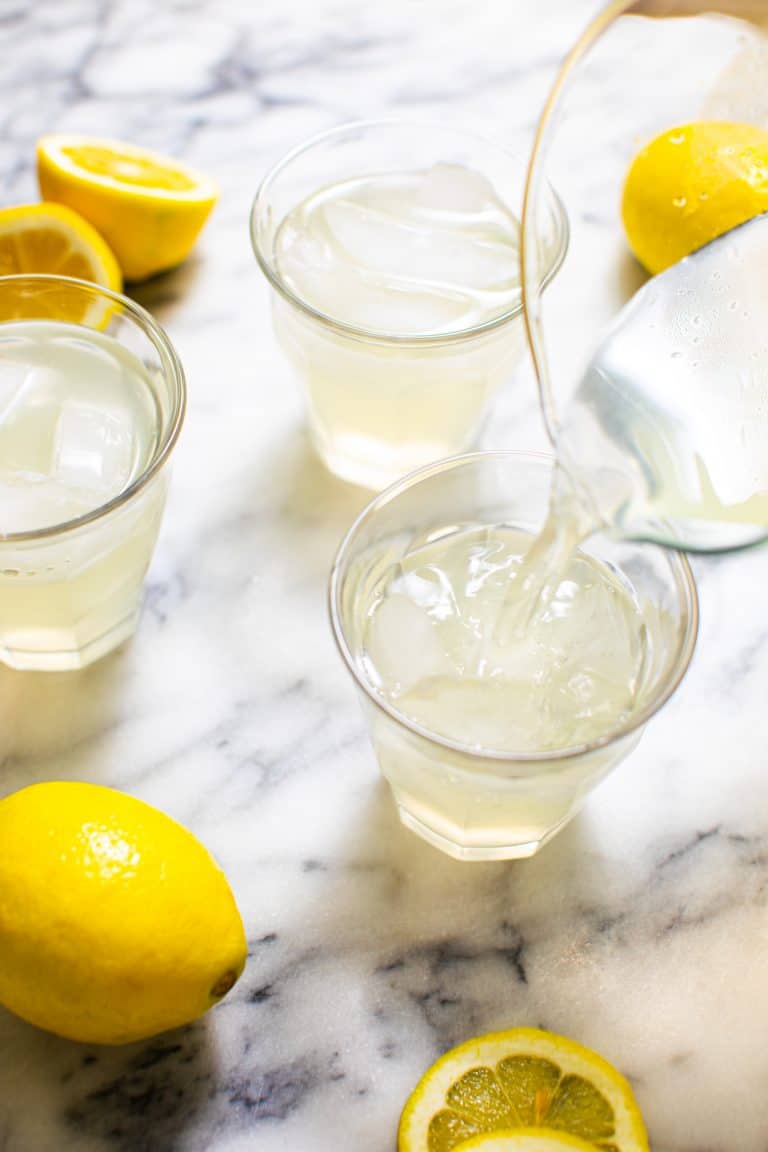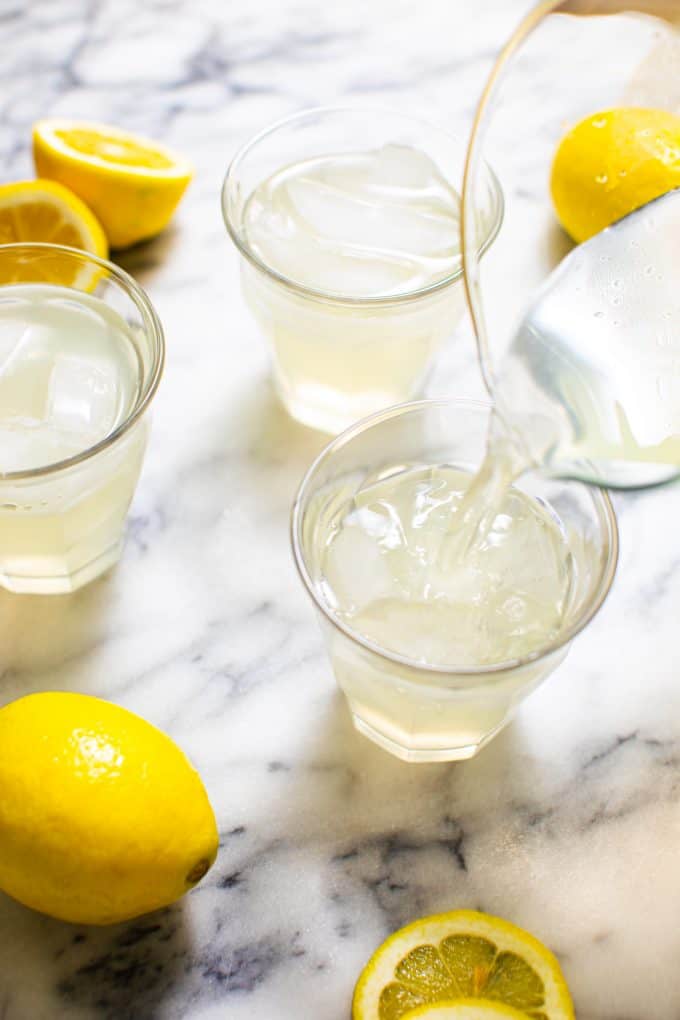 Recipes to Enjoy With Sugar-Free Lemonade
Looking for healthy, summertime recipes to enjoy with your lemonade? Try these recipe pairing for either lunch or dinner: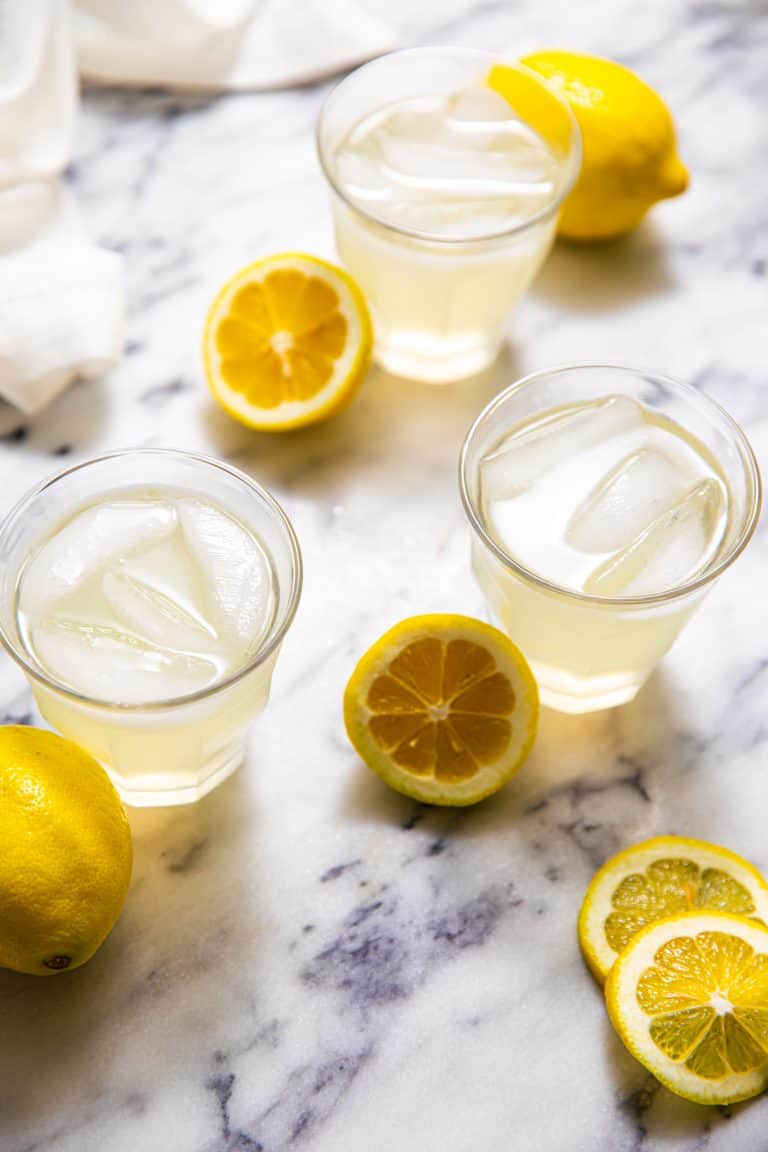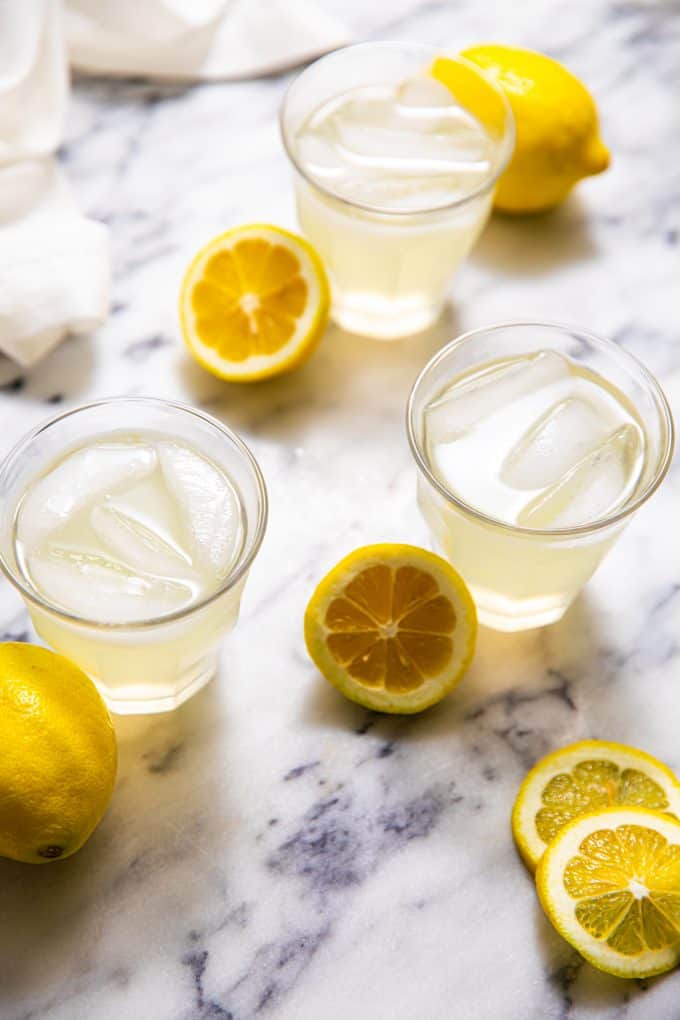 Enjoy this Homemade Sugar-Free Lemonade on a Warm Afternoon
Sugar-free lemonade is a healthy, summertime treat you can enjoy anytime. Mix up a pitcher when you're hosting your next backyard BBQ, or simply when you want to lay out on the back porch with a good book.
Made with just three simple ingredients and taking a total time of 10 minutes to prepare, this homemade lemonade could not be simpler. Feel free to serve over ice, topping with berries or other fresh fruits.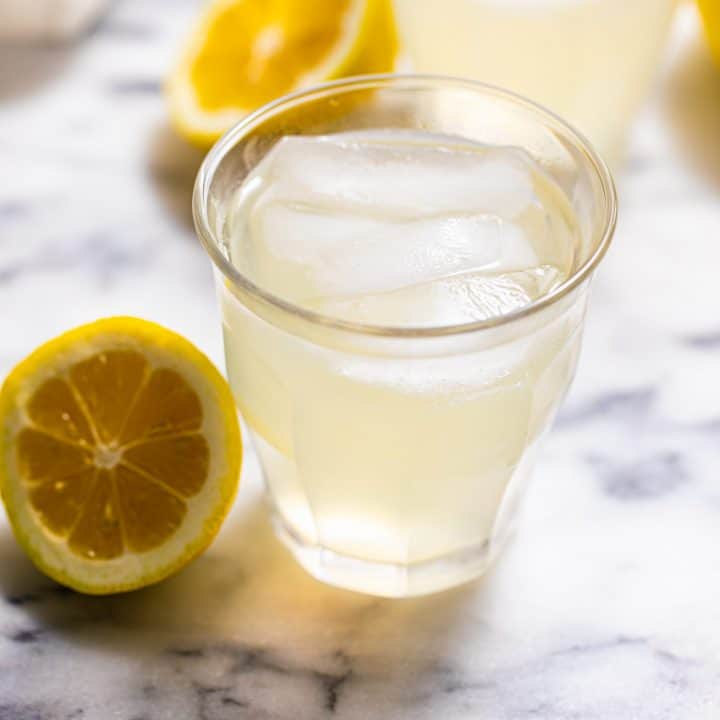 Sugar-Free Lemonade
This sugar-free lemonade recipe is low-carb and keto-friendly. Made with just three ingredients, it's the perfect summertime treat.
Ingredients
3/4 cup granulated stevia or monk fruit
3 cups water, divided
1/2 cup lemon juice
Ice
Instructions
Make the simple syrup: in a small saucepan with a lid, combine the granulated sweetener (stevia or monk fruit) with 3/4 cup of water.
Cook over low heat until sweetener dissolves completely, stirring occasionally. Once it is completely dissolved, turn off the flame.
Let the simple syrup cool for a few minutes in the pan.
Pour simple syrup into a heat-safe pitcher.
Add the lemon juice to the pitcher, followed by 2 1/4 cups water.
Taste and add ice and additional water, sweetener, or lemon juice as necessary.
Recommended Products
As an Amazon Associate and member of other affiliate programs, I earn from qualifying purchases.
Nutrition Information:
Yield:

4
Serving Size:

1 cup
Amount Per Serving:
Calories:

29
Total Fat:

0g
Saturated Fat:

0g
Trans Fat:

0g
Unsaturated Fat:

0g
Cholesterol:

0mg
Sodium:

15mg
Carbohydrates:

50g
Fiber:

1g
Sugar:

5g
Protein:

0g