Fresh, vibrant, and un-boring vegan and gluten free Buddha Bowls are the perfect way to enjoy a meatless meal without sacrificing taste of enjoyment! Top these beautiful bowls with homemade mint sauce, for a bright, refreshing finish.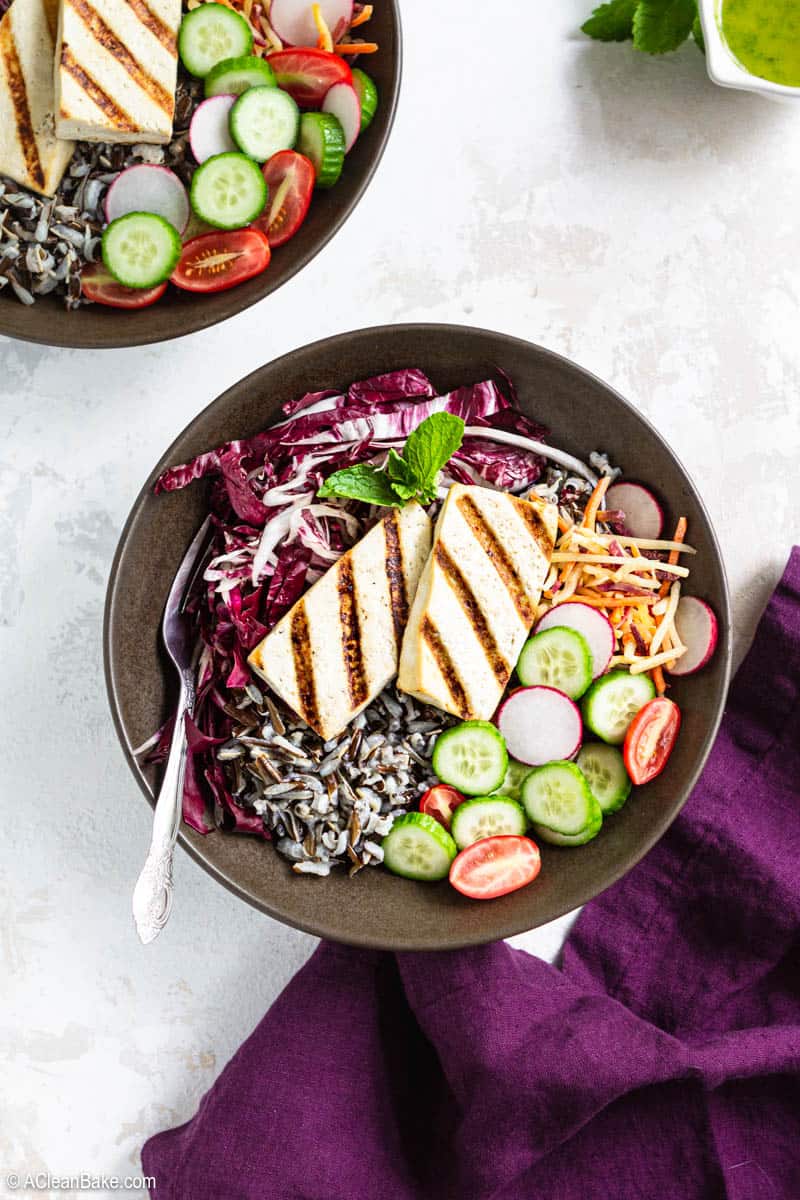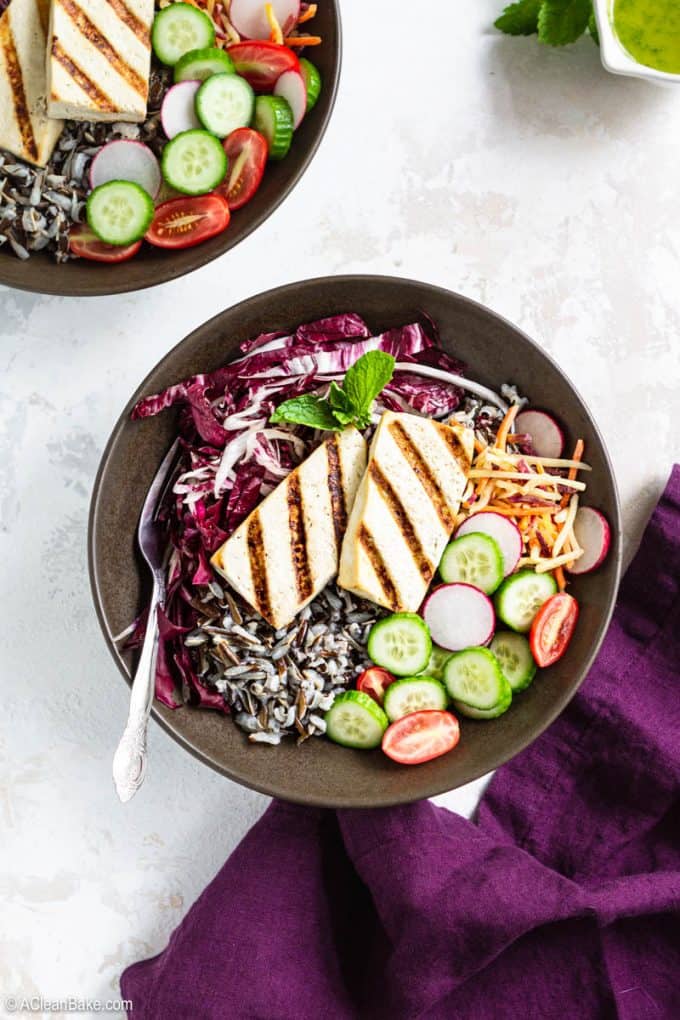 There's a shift that occurs in my taste buds every summer.
All of a sudden, I can't stand the heavy, hearty, starchy foods of winter and I crave crunchy, watery vegetables and fresh, vibrant flavors. Does that happen to you, too?
It certainly helps that crunchy vegetables are in season, and in abundance, at the grocery store and the farmer's market. So, I've stopped planning every one of our dinners, and instead, just (over) stock the fridge with as many refreshing vegetables as it will hold.
Then, I throw it all in a bowl with a starch on the bottom and a protein on top, and call it dinner. It works every time.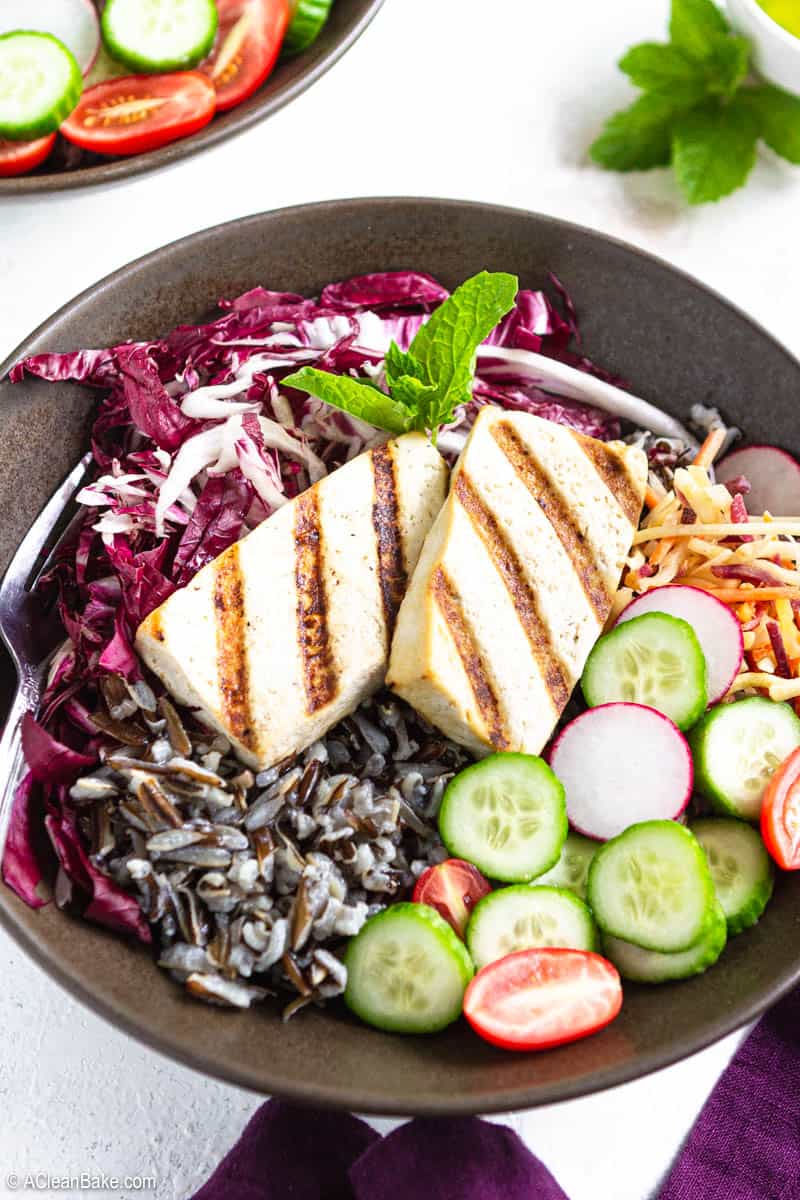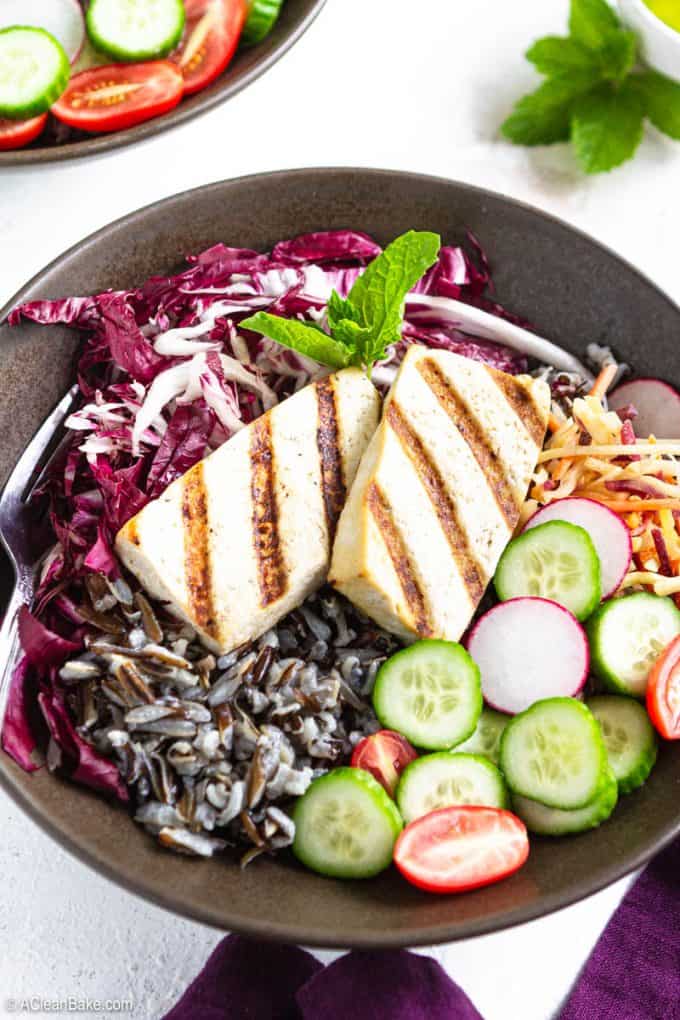 How to Grill Tofu
The lynchpin of this bowl – besides the mint sauce, which I'll get to in a minute – is the grilled tofu.
Grilling tofu is super easy. You just have to make sure to press the excess water out of the tofu before you slice the block of tofu into "steaks". Instructions for pressing tofu are in this post (near the end).
Pressing tofu takes an extra 15-20 minutes (so, nothing at all), and will make the difference between a firm, attractively-grill-marked tofu and a crumbling mess of what looks like wet styrofoam. Your call.
Once you've pressed and sliced your tofu, the final step is to pat them dry (yes, like they're real steaks!), brush them with oil, and sprinkle them on both sides with fine sea salt and ground black pepper.
Then you'll cook them on a preheated, super-hot grill (or grill pan, if you're a city-dweller with limited outdoor space, like I am!) until warmed through and charred on the outside, flipping once during the cooking process.
That's all there is to it! And, since you can serve the tofu cold or hot, you can prep it ahead of time!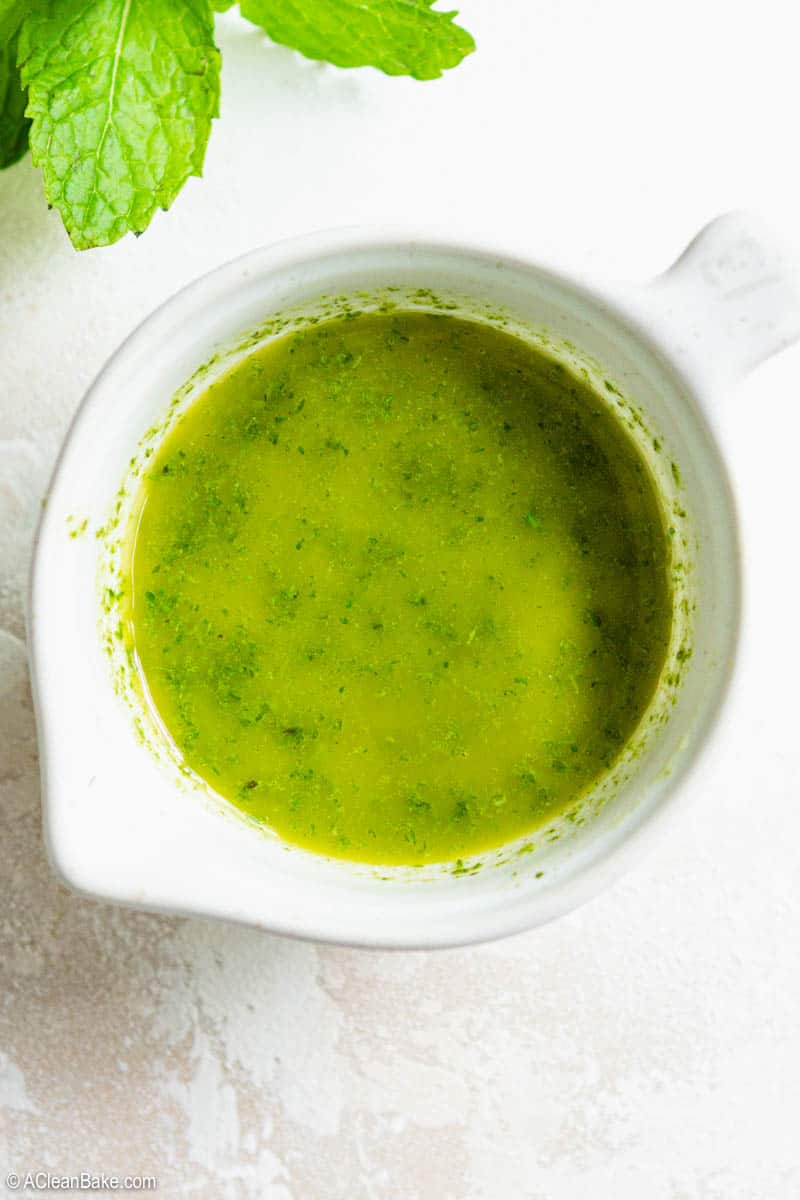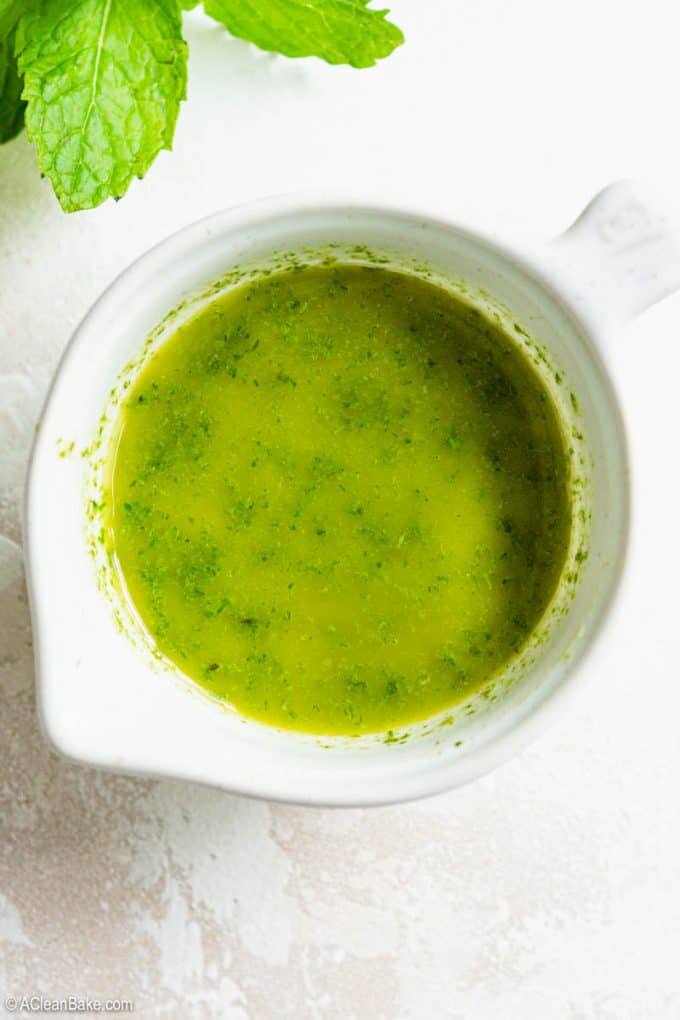 A Mint Sauce to Write Home About
I share most of our dinners – at least the interesting ones – on Instagram, but this one deserved a blog appearance for one reason, and one reason only: the mint sauce.
This stuff is heaven: fresh and light, flavorful but also kind of a palate-cleanser, bright and vibrant, and easy to make. Just throw everything in the blender and give it a whirl.
The only downside is that the sauce doesn't last too long so go ahead a use it liberally on your bowl. You won't be sorry.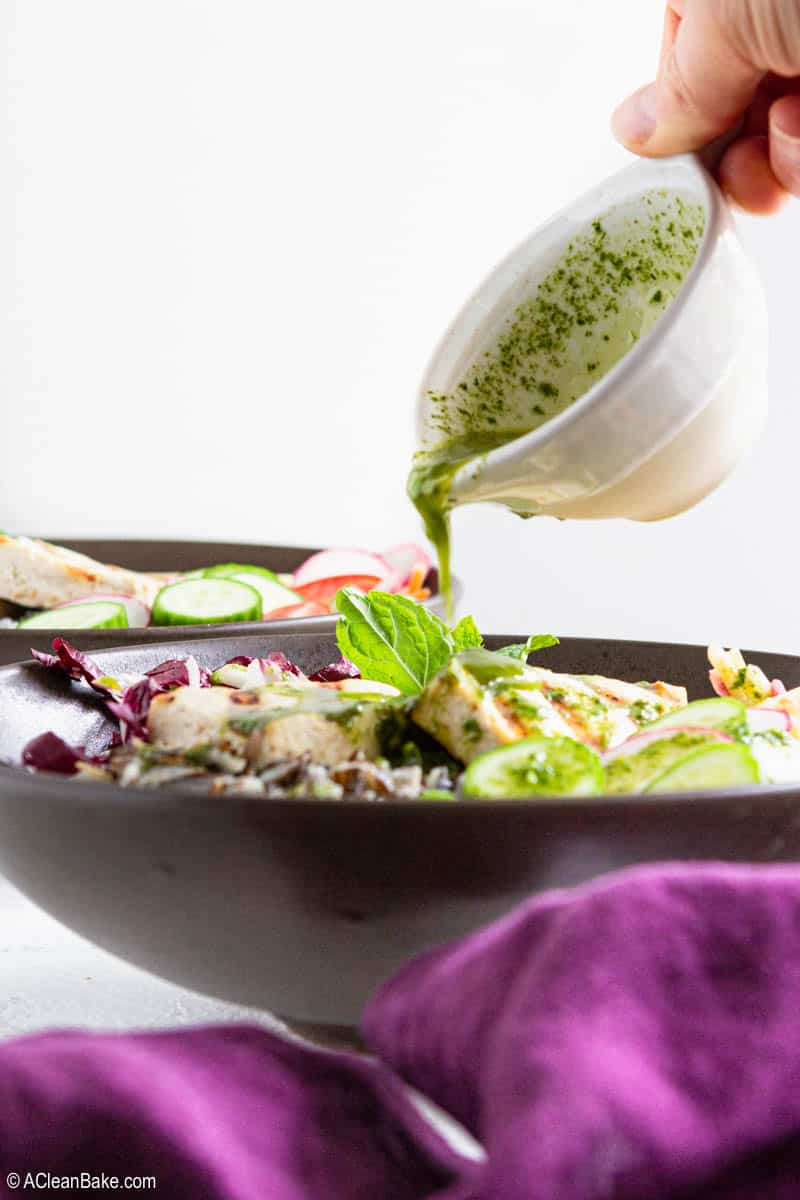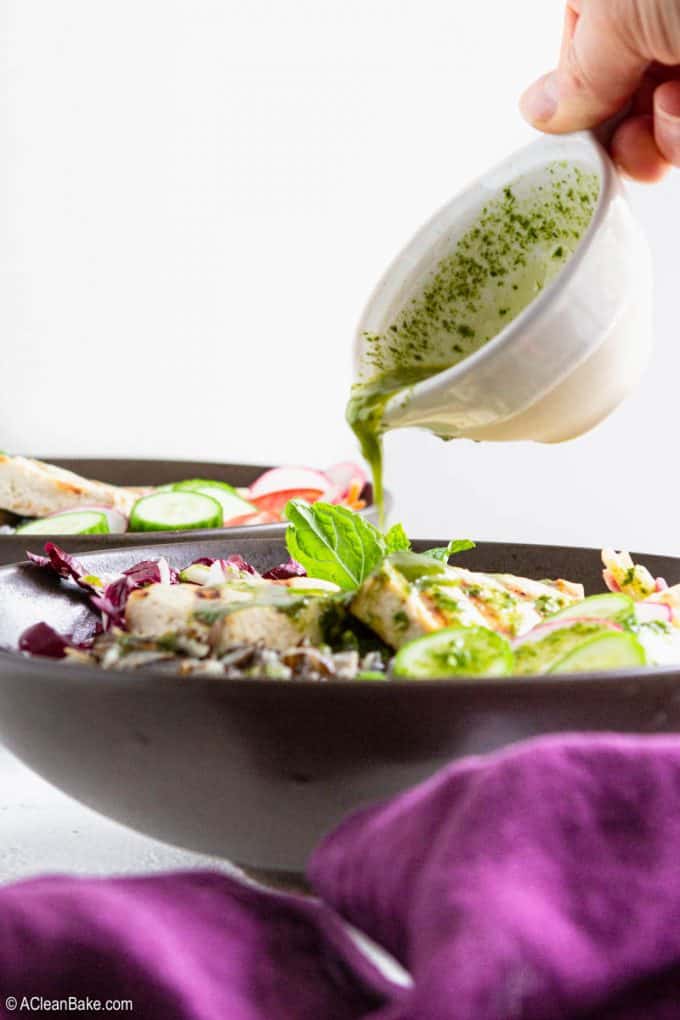 A Meatless Meal That You'll Look Forward To
Meatless Monday is easy to dismiss as a silly, Instagram-ready gimmick, but the truth is that, when you strip away the hashtags and Instastories, the simple act of swapping out your animal protein for a plant based protein source once or twice a week is an easy way to reduce your carbon footprint without really trying.
Although it's difficult to say exactly how impactful a meatless diet is (because there are lots of factors to consider, and you can pretty much use the variety of inputs to produce whatever outcome best supports your argument), there is no doubt that raising plans is less of a strain on the land, requires fewer resources, and produces less waste than raising animals. Period.
I'm not trying to be preachy, and you know I eat plenty of meat. This is not a sales pitch for veganism, just a reminder that your purchases and your meals matter.
So why not pick a meatless recipe that you'll actually enjoy, so plant-based dinners don't feel like a chore?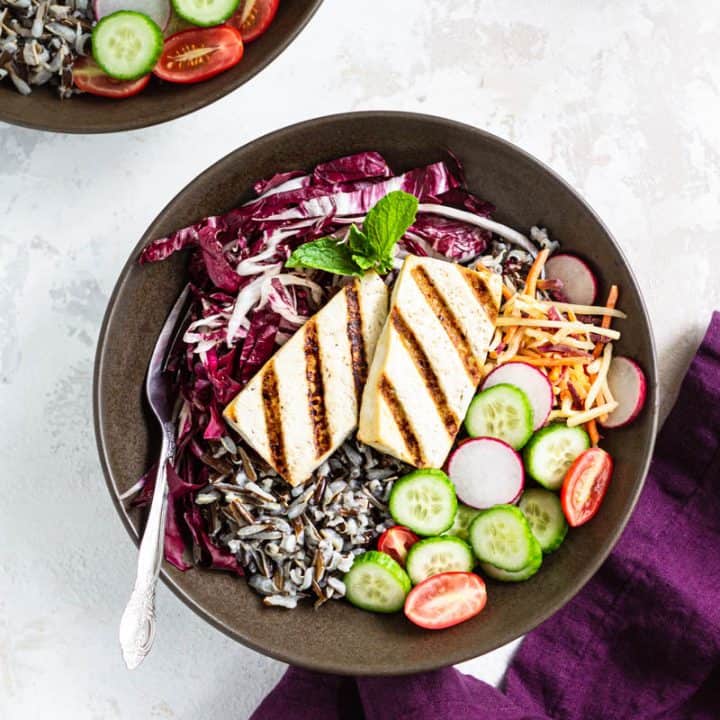 Grilled Tofu and Wild Rice Buddha Bowls with Mint Sauce
Additional Time:
15 minutes
Fresh, vibrant, and un-boring vegan and gluten free Buddha Bowls are the perfect way to enjoy a meatless meal without sacrificing taste of enjoyment! Top these beautiful bowls with homemade mint sauce, for a bright, refreshing finish. 
Ingredients
For the Bowl
8 cups cooked wild rice
1 block firm or extra-firm tofu
Avocado oil, for grilling
Salt and Pepper, for grilling
Shredded and sliced crunchy veggies, like cucumbers, tomatoes, radishes, carrots, and red cabbage or radicchio 
For the Mint Sauce
1/4 cup fresh mint leaves
2 tablespoons extra virgin olive oil
1 tablespoon fresh lemon juice
Generous pinch fine sea salt
Instructions
Drain the tofu, then press it for 10-15 minutes. Pressing instructions are near the bottom of this post.
Slice the tofu, widthwise, into 8 "steaks" and pat dry both sides of each steak.
Preheat a grill or grill pan.
Brush both sides of each tofu steak with oil, and sprinkle with salt and pepper. Drizzle a little oil on to your grill pan, if using.
Lay the tofu steaks on the grill or grill pan, about 2" apart. Do not move them until grill marks have formed and they release from the grill easily. If they stick, they're not ready.
Flip the steaks and cook until grill marks appear on the other side.
While the tofu is cooking, make the mint sauce by pureeing all of the ingredients in a small blender or food processor, until smooth.
Once the tofu is done cooking, assemble the bowls by making a bed of wild rice, then adding the vegetables and tofu on top. Drizzle generously with mint sauce before serving.
Notes
I make my wild rice in the slow cooker. Instructions are in the notes of this post.
To prep this ahead of time, make the rice and tofu, and slice the vegetables, and store everything, separately, in airtight containers in the fridge for up to three days.
The mint sauce does not keep well for more than about 24 hours, so I wouldn't recommend prepping it too far in advance. The fresher it is, the better.
This can be served with the rice and tofu warm or cold. It's good both ways.
Recommended Products
As an Amazon Associate and member of other affiliate programs, I earn from qualifying purchases.
Nutrition Information:
Yield:

4 servings
Serving Size:

1 bowl
Amount Per Serving:
Calories:

560
Total Fat:

18g
Saturated Fat:

3g
Trans Fat:

0g
Unsaturated Fat:

14g
Cholesterol:

0mg
Sodium:

155mg
Carbohydrates:

81g
Fiber:

10g
Sugar:

8g
Protein:

27g
Nutrition information is automatically generated and may be an over-estimate.