Lemon Tarragon Turkey Sausage is a quick, easy, and flavorful recipe that adds a burst of protein to your breakfast – or any meal! Make these ahead of time and store them in the fridge or freezer for quick, healthy breakfasts all week!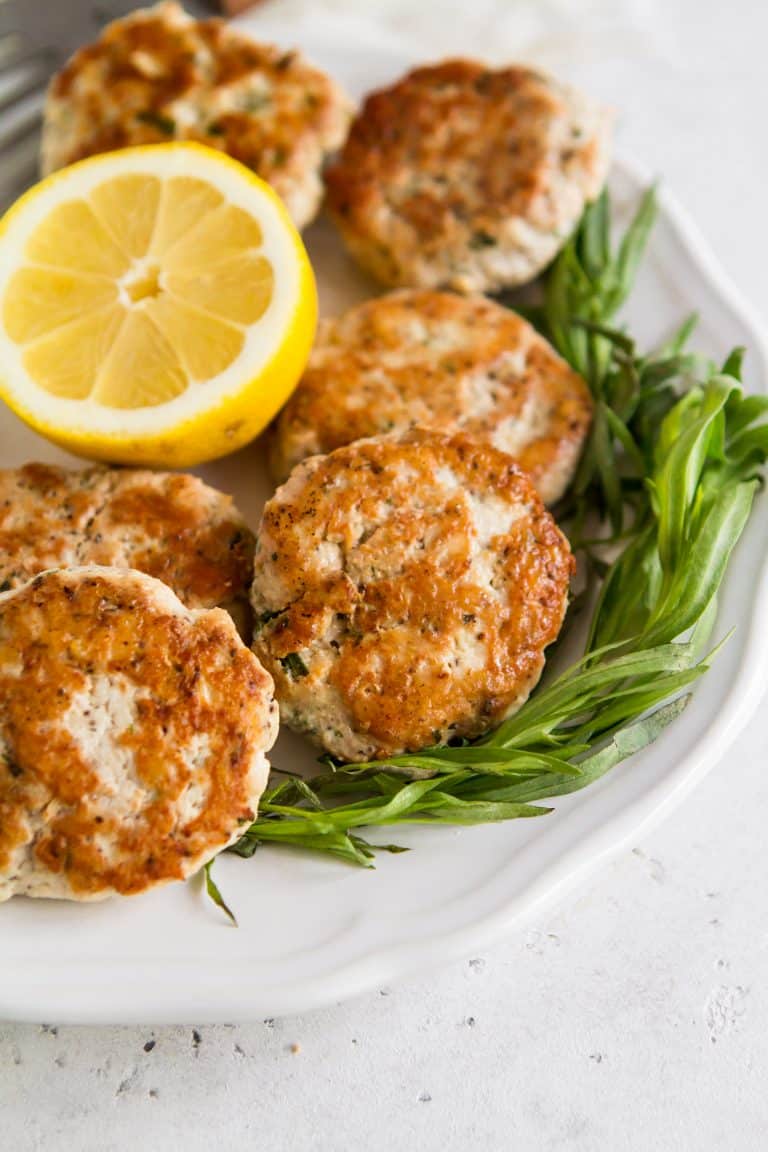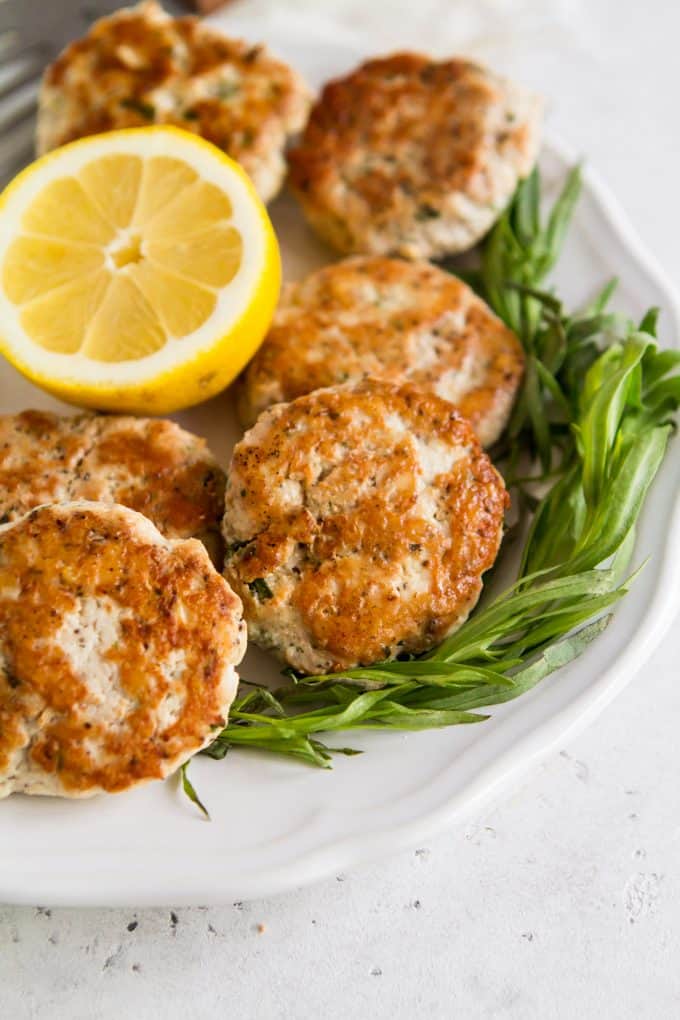 Although everyone loves dessert, the sad reality is that man cannot live on dessert alone. Trust me, I've tried.
If you follow me on Instagram, you know that planning healthy meals that my entire family will love, er, eat, is a constant challenge (and, sometimes, struggle). And, if you comment or DM me on Instagram, I know that you share that same challenge!
You may also know that I am working on a cookbook, sorta (it's a slow work in progress), and it's not about dessert. Because, when push comes to shove, we all love dessert, but we all need dinner.
Not to mention breakfast and lunch.
So, with that in mind, I have started photographing some of my favorite savory recipes and I'll be sharing them along with sweets, of course, from now on.
I'm starting with a simple, quick, flavorful and versatile favorite: homemade turkey sausage with lemon and tarragon.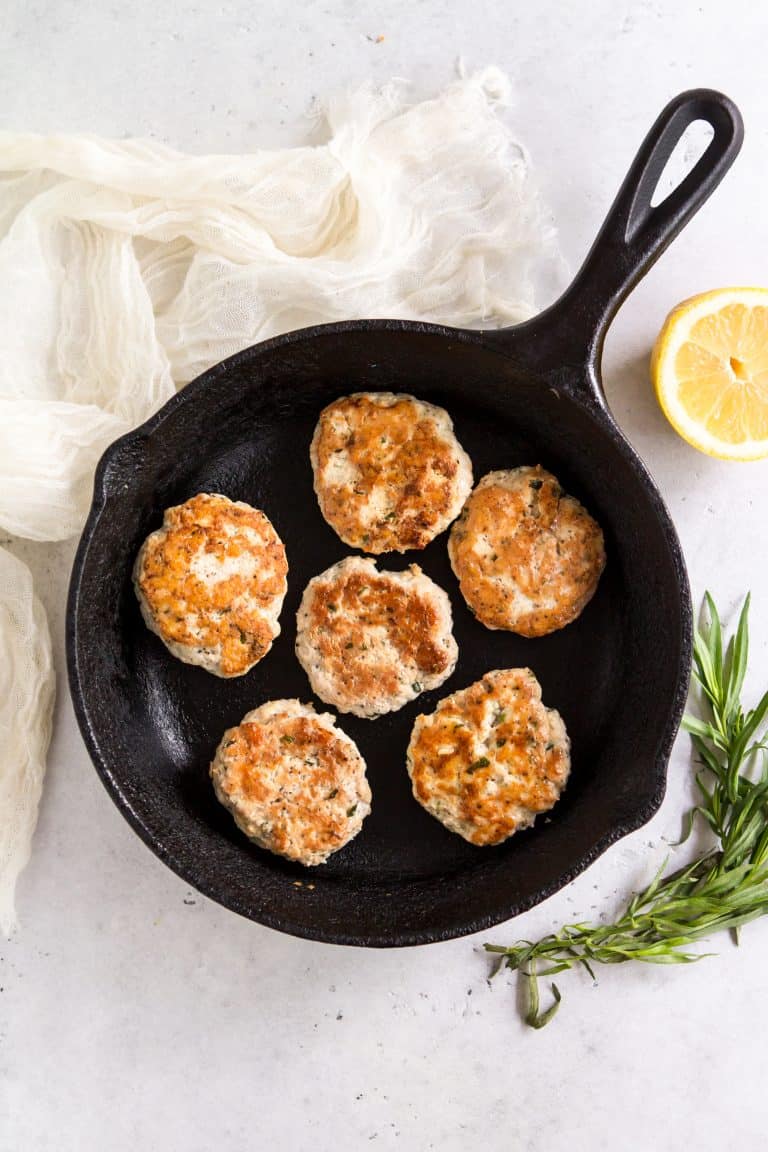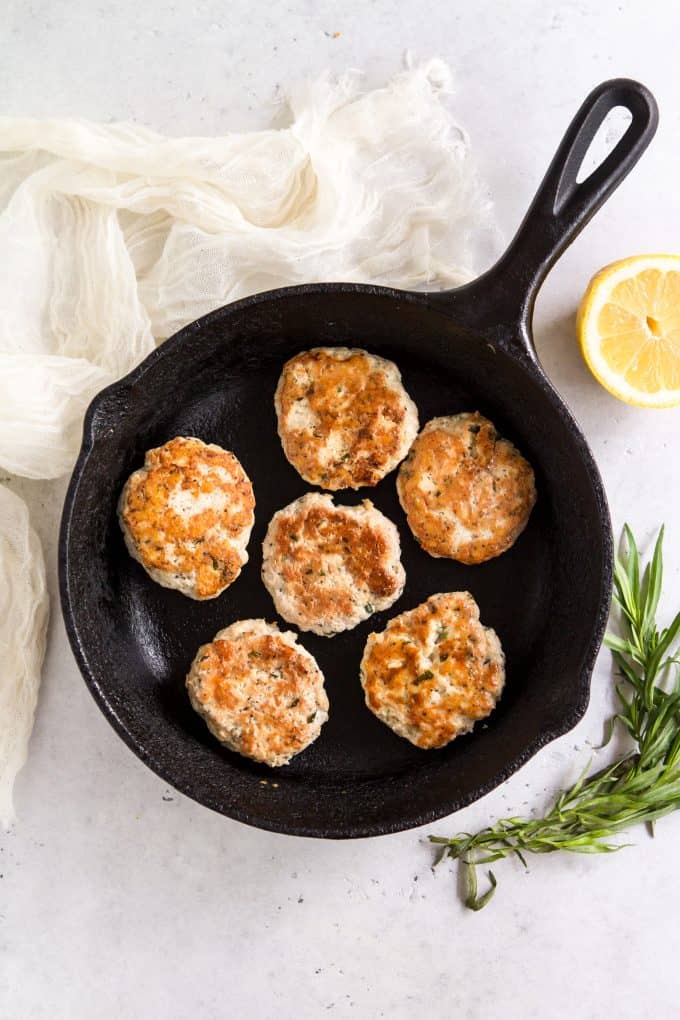 This is One of My Go-To Recipes
More than just a breakfast sausage, this lemon tarragon turkey sausage is made from just a few simple ingredients:
Ground turkey
Fresh tarragon
Fresh lemon juice and zest
Fine sea salt and freshly ground black pepper
Neutral oil or cooking spray, for frying
You'll mix the meat with rest of the ingredients (except the oil) and form the mixture into patties, then fry them until crisp on the outside and moist and flavorful on the inside.
The resulting sausage is flavorful, gluten free, paleo, keto, and Whole30 compliant. You can eat them alongside eggs and potatoes, or tuck these perfect little sausages into a breakfast sandwich.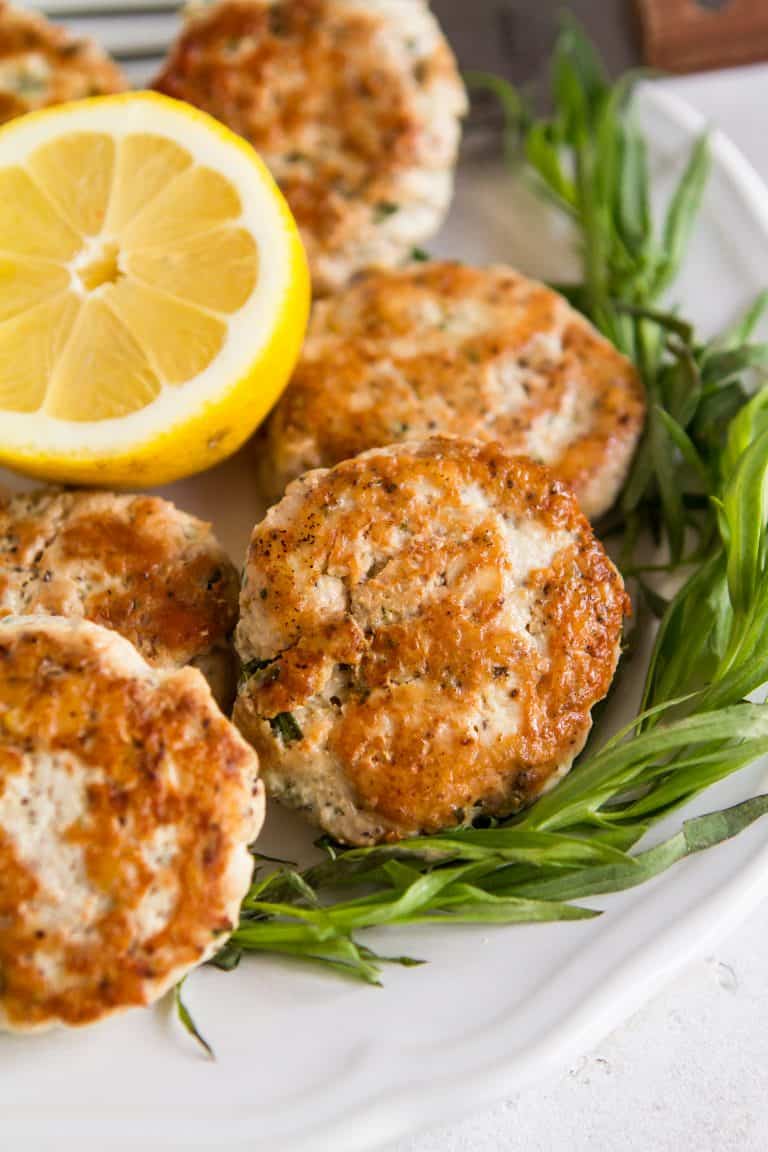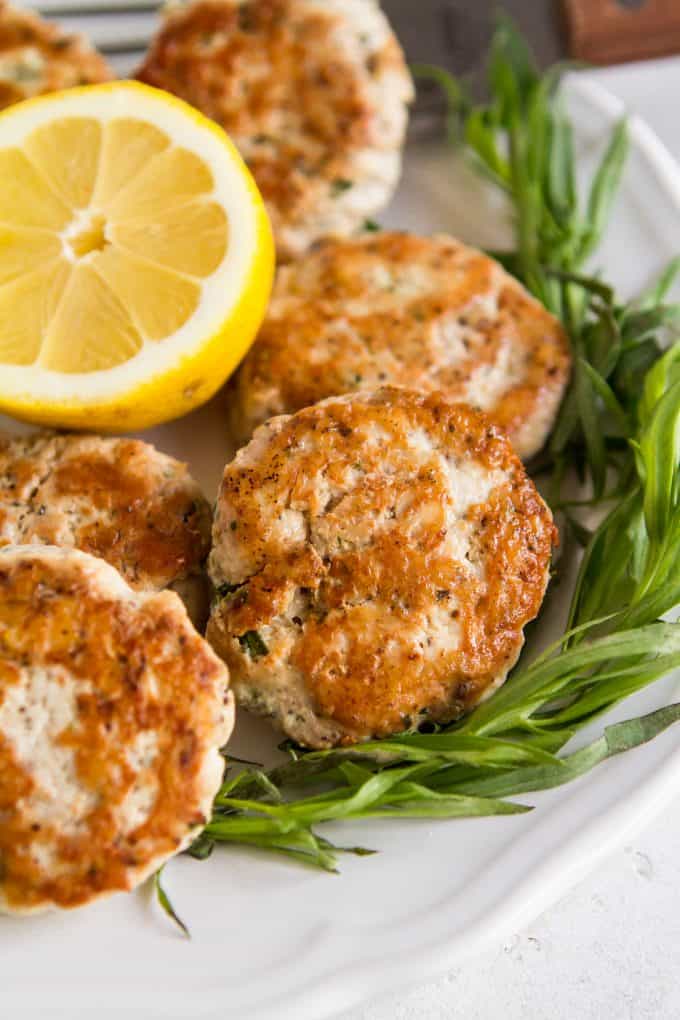 Perfect for Breakfast, Lunch and Dinner
The trick to making it worth your while to make homemade turkey sausage is to create a flavor profile that isn't too breakfast-y, or to dinner-y, you know what I mean? If they're appropriate for any meal, you can eat them any time of day.
Turkey sausage patties are often seasoned with sweet flavors like maple or savory Italian seasoning, but sweet doesn't work well for dinner, while too savory doesn't always go over well at breakfast time.
These are flavored with not-too-savory-but-also-not-sweet tarragon. Tarragon has a slightly spicy, slightly citrus-y flavor, so it pairs perfectly with lemon. Together, these flavors are bright and refreshing, and not too specific to any meal or time of day.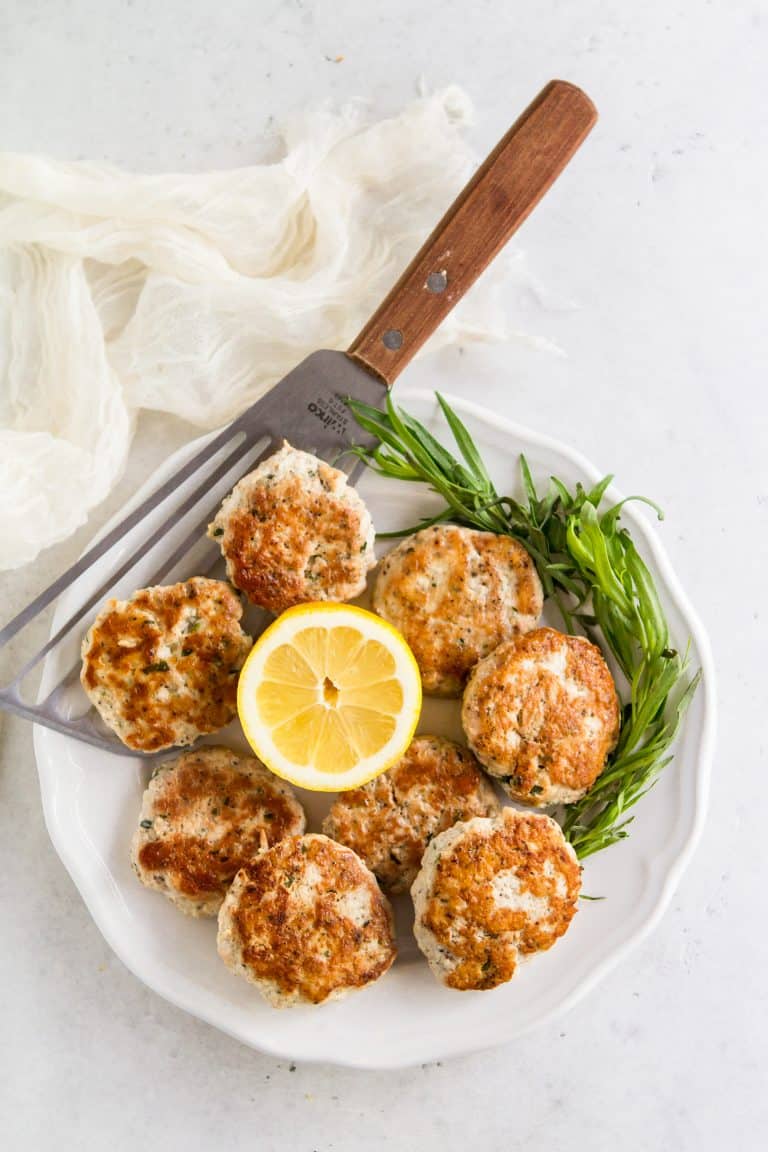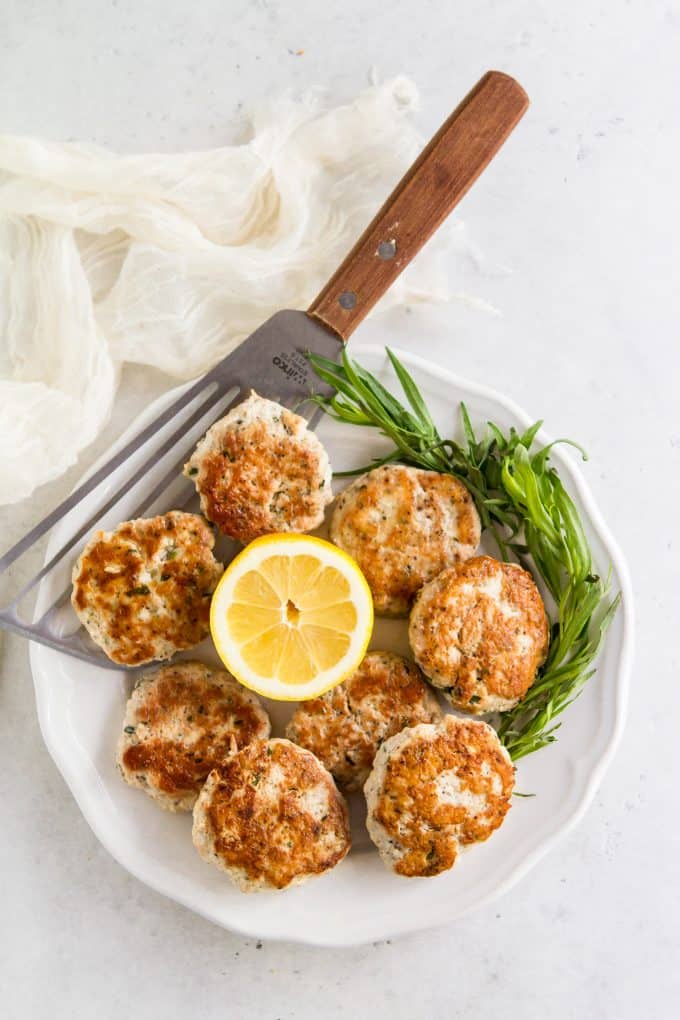 You can make a big batch of these turkey sausages, and enjoy them any time you need a quick protein-packed meal or snack!
Tips for Success
Cook the sausages over medium-high heat, which allows the sausage to cook through without drying out.
Once the sausage is done cooking, make sure to drain the excess oil from the sausage on a plate or baking sheet covered with paper towels, so that they don't turn out too greasy.
Don't use ground turkey breast (ultra-lean ground turkey). These are more flavorful if you use a slightly higher-fat ground turkey, like turkey thighs, or a mix of breast and thighs.
You can easily substitute ground chicken for the turkey, if you prefer.
If you prefer pork sausage, you can sub ground pork for the turkey, but turkey and tarragon taste great together, so I'd encourage you to try the turkey version first!
Check out more gluten free recipes for breakfast here!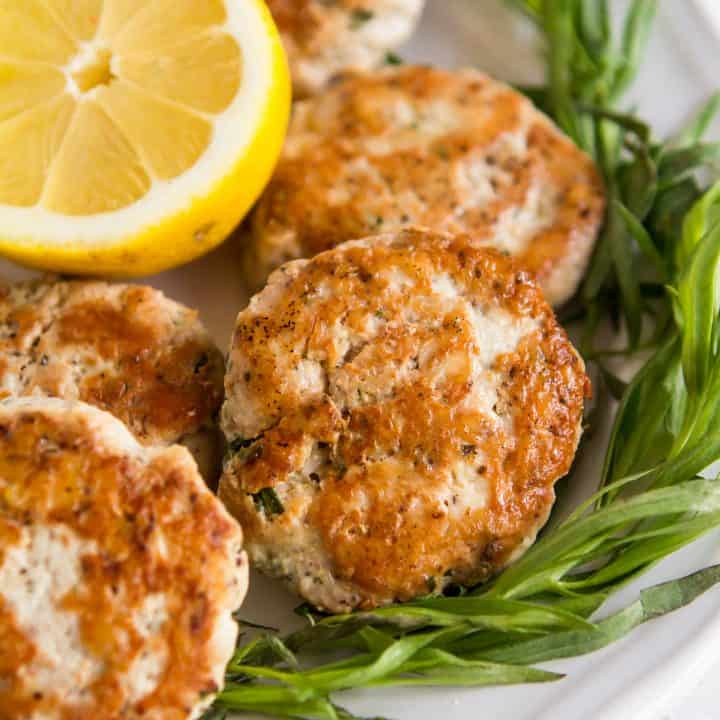 Lemon Tarragon Turkey Sausage 
Ingredients
1 pound ground turkey
1 tablespoon minced fresh tarragon leaves
2 teaspoons fresh lemon juice
1/2 teaspoon fresh lemon zest
Instructions
Combine all of the ingredients, except the oil, in a large mixing bowl and stir until everything is well combined.
Divide the mixture into nine 3-tablespoon portions.
Roll each portion into a ball, then flatten into a thick disc.
Preheat a heavy-bottom skillet, then add enough oil to create a thin layer across the bottom of the pan.
When the oil is hot enough, add the patties. You'll know it's hot enough because the sausage patty should sizzle the minute it touches the pan.
Cook until a golden brown crust forms, then flip and cook through.
Cover a large plate (or baking sheet) with a layer of paper towels.
When the sausages are cooked through, transfer them from the pan to the lined plate to drain excess oil for 3-5 minutes.
Enjoy immediately, or cool completely before storing in an airtight container in the refrigerator for up to a week.
Recommended Products
As an Amazon Associate and member of other affiliate programs, I earn from qualifying purchases.
Nutrition Information:
Yield:

9
Serving Size:

1 patty
Amount Per Serving:
Calories:

148
Total Fat:

11g
Saturated Fat:

3g
Trans Fat:

0g
Unsaturated Fat:

7g
Cholesterol:

53mg
Sodium:

161mg
Carbohydrates:

1g
Fiber:

0g
Sugar:

0g
Protein:

13g