This is the easiest egg salad recipe you will find on the internet. Made with just five ingredients and four simple steps, this recipe is made from items already stocked in your fridge. All you need is eggs, dijon mustard, mayo, scallions, and salt and pepper for an easy snack or lunch option.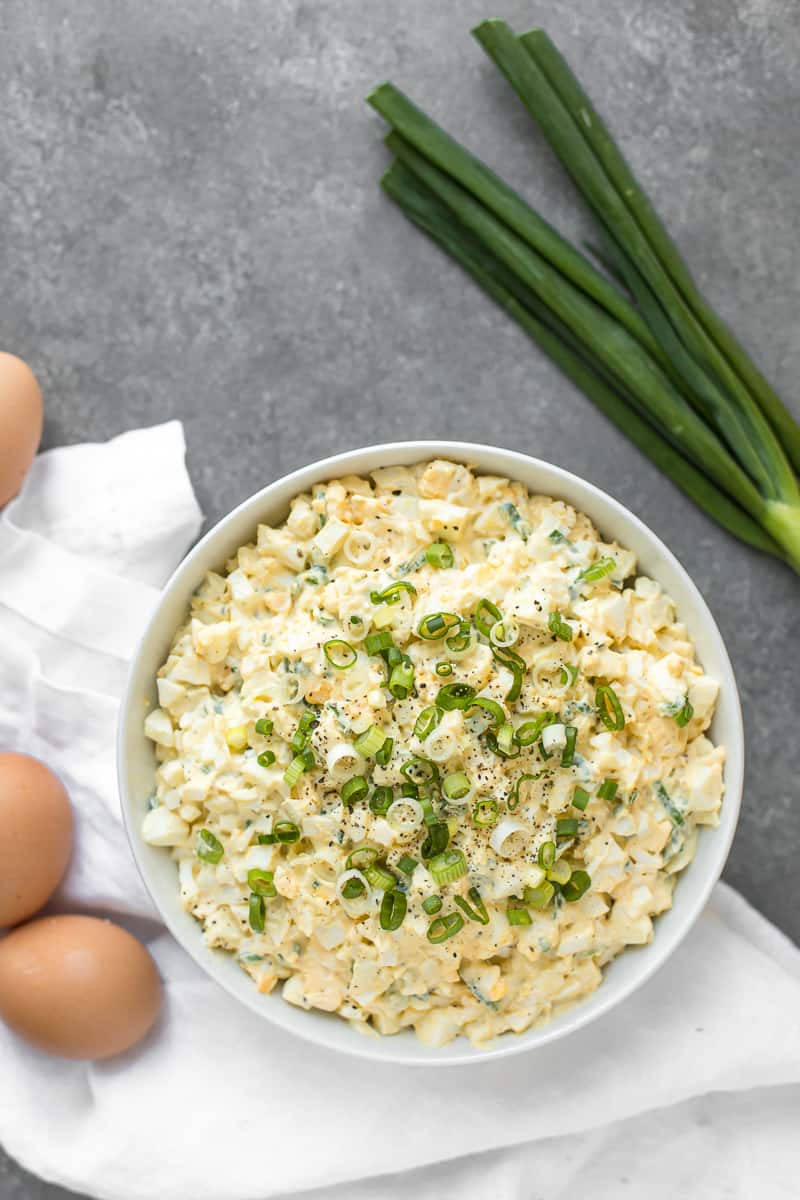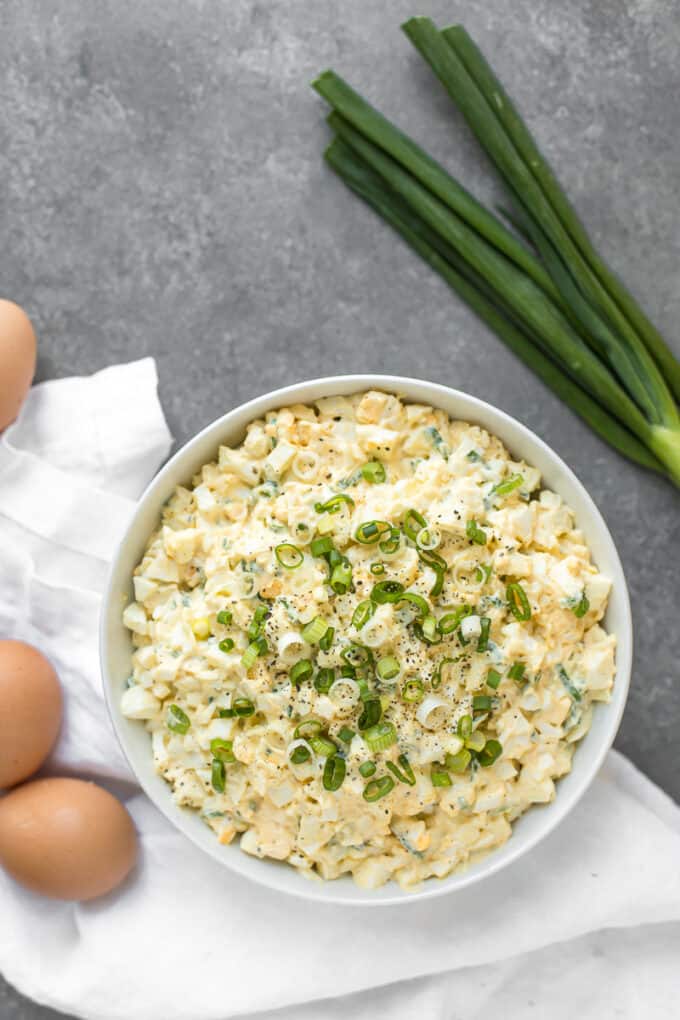 Does the internet need another egg salad recipe, let alone another fairly basic one? Am I contributing anything to the greater (food) good here? Probably not, but here we are.
Where food blogging was once about innovation, the COVID-19 quarantine has, in my world anyway, Illinois is still under a stay-at-home order for the COVID-19 pandemic, and even though the state has eased restrictions a little bit, we're still taking it very seriously and minimizing our exposure to shared spaces and other people. For example, to protect my family (and my general sanity), I try to keep grocery trips to a minimum. We created quite a few meals from ingredients found in our freezer or pantry, somehow always managing to get a somewhat-balanced meal on the table.
If your kitchen seems devoid of almost anything edible, I am 90% certain you can still whip up this egg salad. Made with hard boiled eggs and a few condiments, you can create a high-protein dish that works well as breakfast, lunch, or afternoon snack.
How to Make The Best Egg Salad Recipe
For this classic egg salad recipe, you'll need large eggs, dijon mustard, and high-quality mayo. For seasonings, you'll need chopped scallions and salt and pepper.
Start by hard boiling your eggs. I prefer to make perfect hard boiled eggs in the oven using this method, which requires you to bake a dozen eggs for 20 minutes at 325F. Alternatively, you can simply boil your eggs in hot water for roughly 9-12 minutes.
Set your eggs on a dry kitchen towel to cool. If you're in a rush, you can dunk them in a bowl of ice water or run them under cool water. Once the eggs have cooled, peel and slice your eggs lengthwise. Place the egg yolks into a large bowl, and chop the egg whites.
Combine your mayo and mustard with the egg yolks, and mash until well combined. If the consistency isn't creamy enough for you, you may need to add more mayo. Season with salt and black pepper.
Finally, fold in your chopped egg whites and scallions to your egg yolk mixture. Serve atop butter lettuce, gluten-free bread, or a salad.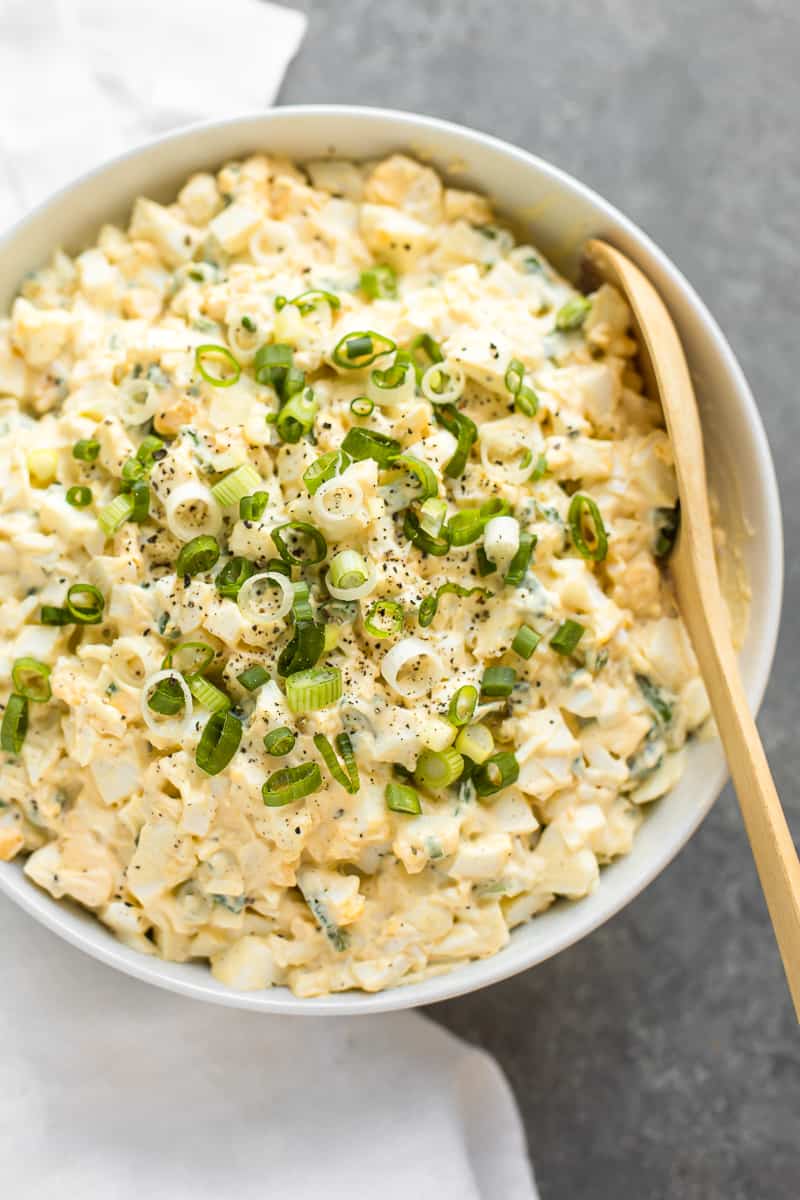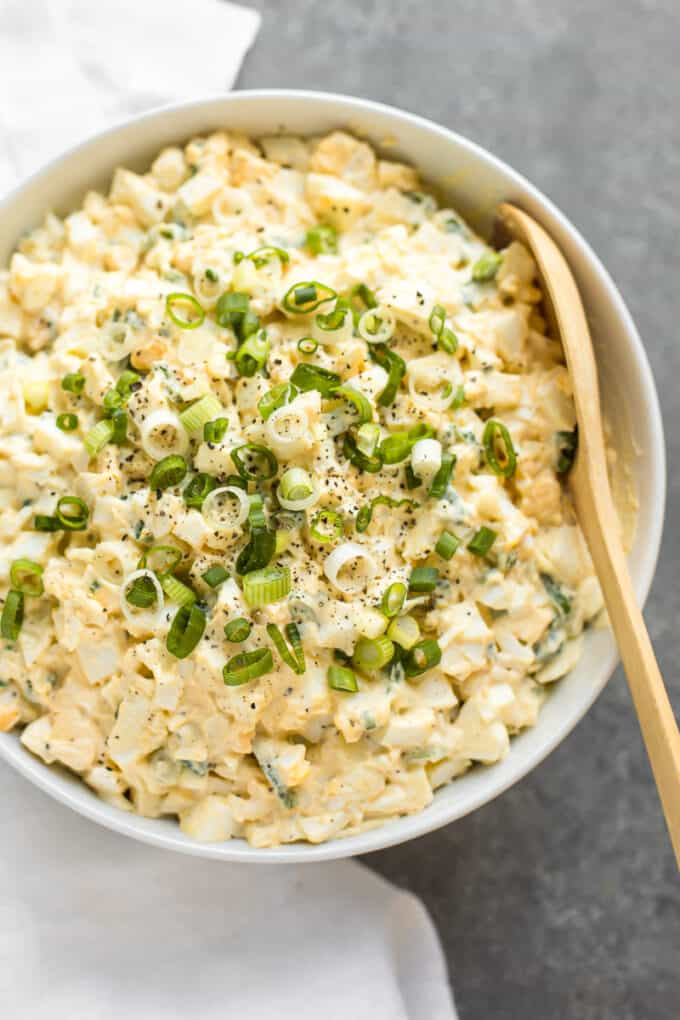 Recipe FAQs: Tips for the Best Egg Salad Success
This is an easy, go-to recipe in our household. Hopefully you find the instructions fairly straight forward, but if you're looking for substitutions or ways to jazz this up, here are a few tips and tricks to set you up for success:
How do you hard boil eggs?

I prefer to make

hard boiled eggs

in the oven using

this method

. Alternately, you can

boil eggs

over

high heat

for 9-12 minutes, or microwave them in a covered bowl of water for 4-6 minutes.

What kind of mayo do you recommend?

I recommend Sir Kensington's or Primal Kitchen Mayo, both of which are made with high-quality ingredients. When looking for a quality mayo, look for one that contains egg yolks, oil, vinegar,

fresh lemon juice

, mustard, and not much else. (Disclaimer: Sir Kensington's brand does contain a small amount of cane sugar.)

Do you have a homemade mayo recipe you recommend?

Yes! You can find recipes for homemade mayo

here

,

here

, and

here

, using macadamia nut oil,

avocado

oil, and olive oil, respectively.

Can I substitute the dijon mustard for yellow mustard?

Yes, although it will slightly alter the taste. I encourage you to use whatever mustard you already have on hand, including yellow, dijon, brown, or whole grain mustard.

Can I swap the mayonnaise for another ingredient?

Some recipes call for

Greek yogurt

instead of mayo, but I've never been too fond of the taste. If you prefer a mayo-free egg salad, I encourage you to follow

this recipe

, which uses

fresh dill

, olive oil, and

lemon juice

instead.

Can I swap the scallions for another ingredient?

If you don't have scallions on hand, you can use chopped

shallots

,

chives

,

green onions

, or

red onion

.

How can I jazz this up a little?

You can garnish your egg salad with

fresh herbs

,

paprika

,

pickle

juice or

pickle relish

,

horseradish

, or capers. I recommend folding in additional garnishes with your

egg whites

, in step three below.

How long will this egg salad keep?

This egg salad should keep up to three days in the fridge. Be sure to store in an airtight container.

Is this recipe keto?

If you look at the ingredients list and

nutrition facts

below, you'll find this egg salad is keto,

low-carb

, paleo-friendly, and gluten-free.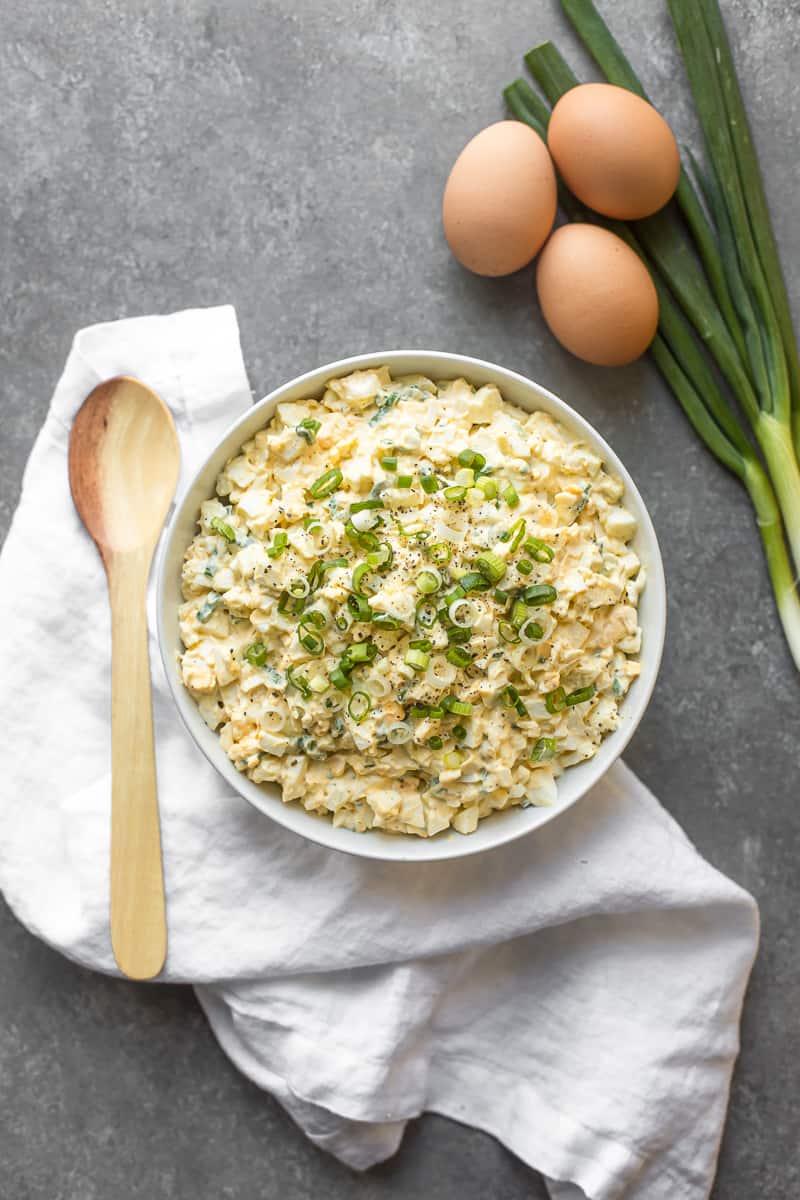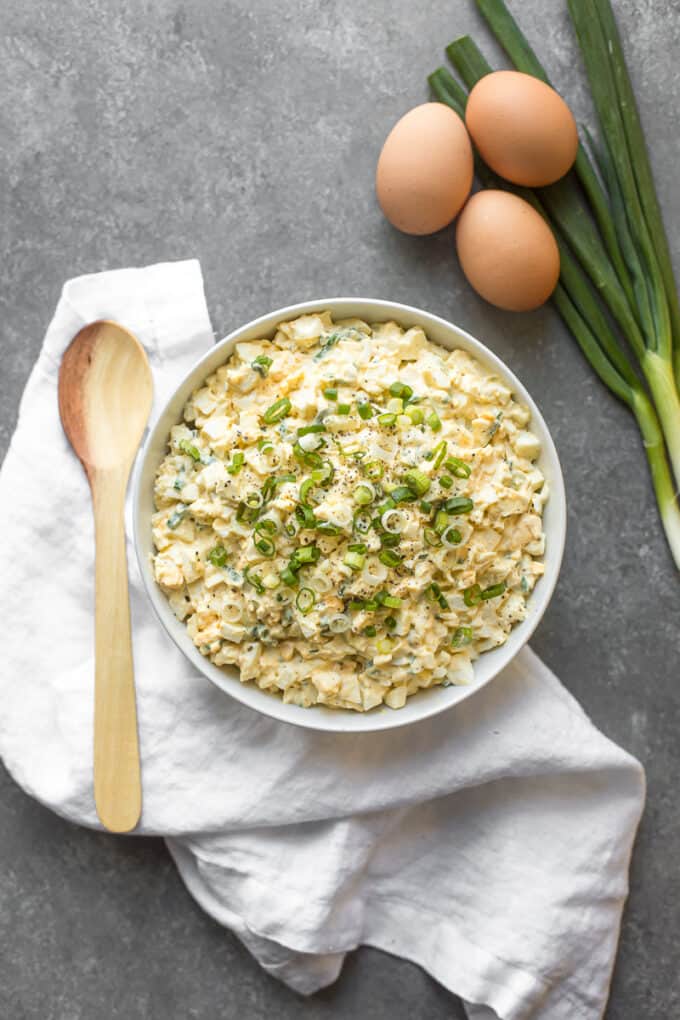 How to Serve Classic Egg Salad
Our family enjoys this easy recipe for lunch, dinner, or afternoon snack. Here are a few gluten-free recipes that pair well with your classic egg salad. In addition, I'm sharing a few egg recipes that use similar ingredients:
Make an egg salad sandwich:

For an easy lunch option, serve your egg salad atop this

grain-free bread

or this

low-carb

version

. Garnish with tomato slices,

dill pickles

,

red onion

, butter lettuce, or other veggies you have on hand.

Serve it with fresh veggie slices:

For an afternoon snack, serve your egg salad atop chopped celery sticks, red pepper slices, or rolled up in a lettuce wrap.

Deviled eggs:

If you enjoyed this recipe, you might also enjoy these

easy

deviled eggs

. (Plus, both recipes contain nearly identical ingredient lists.)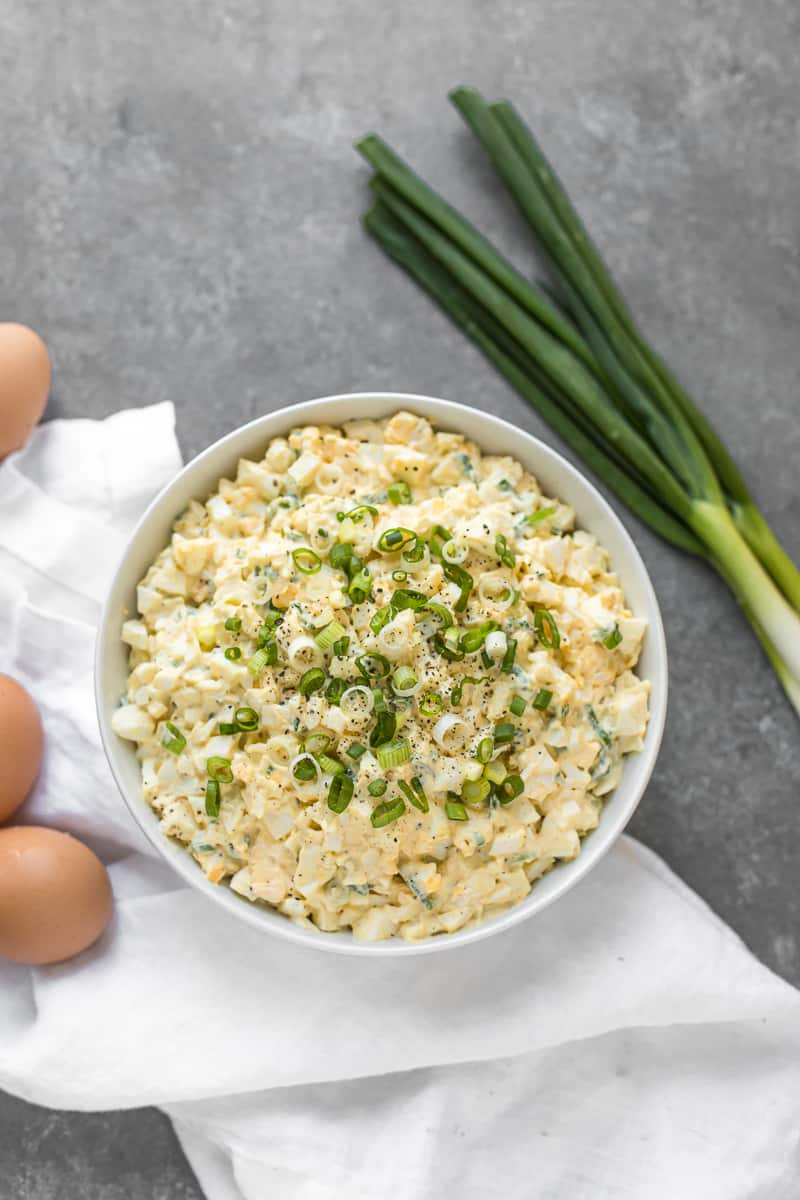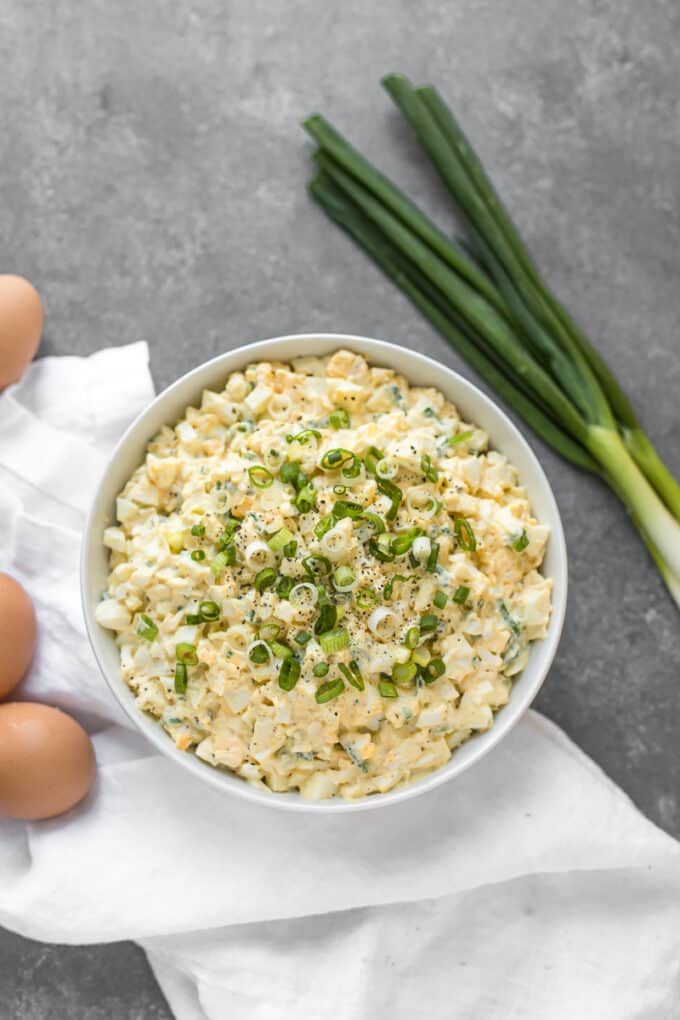 Enjoy this Easy Egg Salad for Breakfast, Lunch, or a Midday Snack
This simple egg salad is one of the easiest recipes you'll find on this website or served in my house. Made with just eggs, mustard, mayo, and seasonings, it takes very little time (or effort!) to whip up.
You can serve this egg salad over grain-free bread for an easy lunch option, over fresh veggie slices as a snack, or simply by the spoonful. At my house, it's one both my husband and toddler enjoy.
When your fridge is nearly bare and you find yourself avoiding a trip to the grocery store, you can still create this easy egg salad. All you need are eggs and a few condiments you already keep stocked. Enjoy!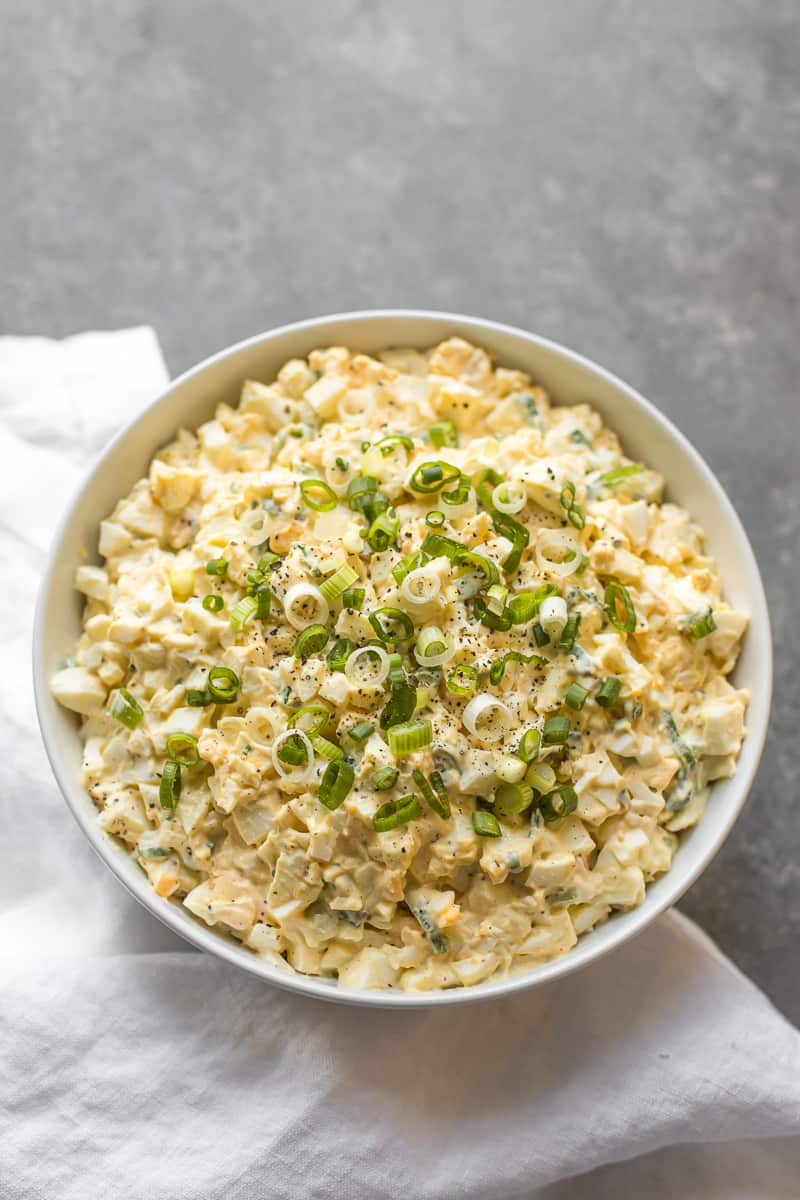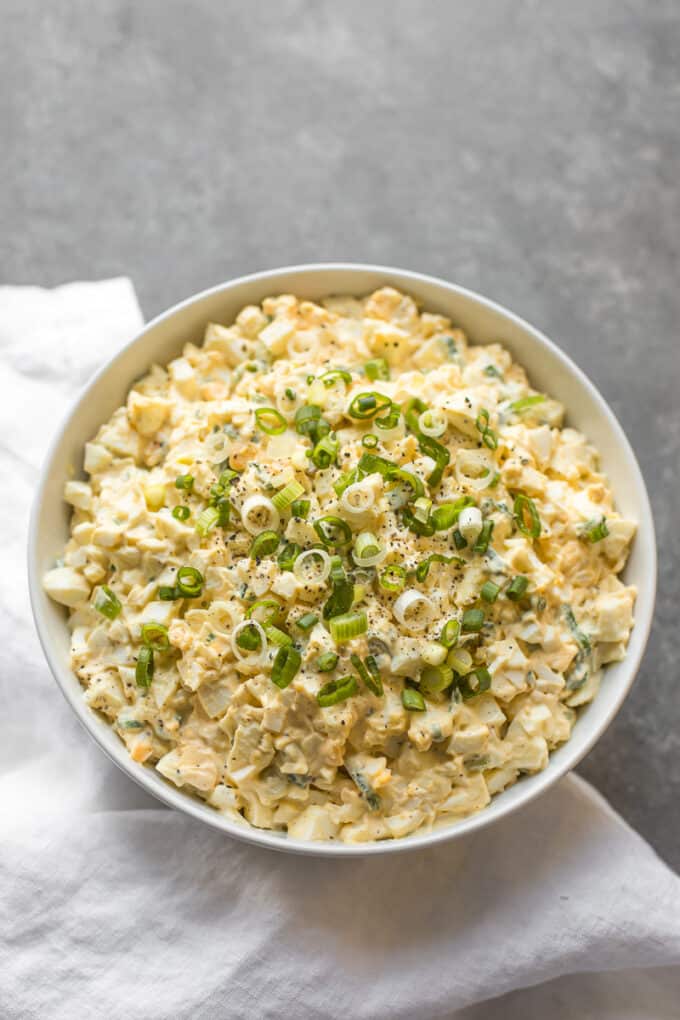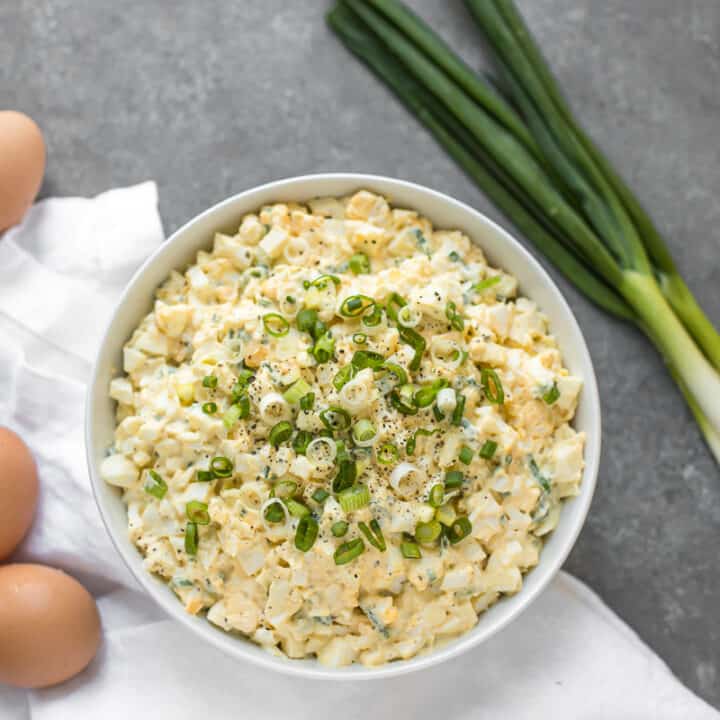 Easy Egg Salad
This easy egg salad uses just five simple ingredients and four easy steps to prepare. When your fridge seems bare, you can still create a simple lunch or snack using hard boiled eggs and condiments already found in your fridge.
Ingredients
12 large hard boiled eggs
3-4 medium scallions
3/4-1 1/2 cup good quality mayonnaise (to taste; see note)
2 tablespoons good quality dijon mustard
3/4 teaspoons freshly ground black pepper, or to taste
1/2 teaspoon fine sea salt, or to taste
Instructions
Peel and mince the hard boiled eggs, and put the minced eggs in a medium bowl.
Add scallions and gently toss to combine.
Fold in the mayonnaise and mustard.
Taste and add salt and pepper to taste.
Serve or refrigerate immediately, or store in an airtight container in the fridge for up to 3 days.
Notes
Mayonnaise: Start with 3/4 cup and add more, about 2 tbsp at a time, until it reaches the consistency you prefer. I like less mayonnaise in my egg salad, so I tend to stop at 3/4 cup. But 1 1/2 cups of mayo will create an egg salad closer to the "traditional" texture that you may be expecting.
Feel free to replace some or most of the may with plain Green yogurt. I don't recommend replacing the mayonnaise entirely with yogurt.
For best results, use a rubber spatula to gently stir this together. Gentle is key!
Some egg salad purists prefer to follow a method of separating the egg whites from the yolks, chopping the whites and masking the yolks, and mixing the yolks into the chopped egg whites with the mayonnaise and dijon mustard. I find that to be too fussy and not worth the extra effort, but if you prefer this method, go for it!
Recommended Products
As an Amazon Associate and member of other affiliate programs, I earn from qualifying purchases.
Nutrition Information:
Yield:

5
Serving Size:

1/5 of the recipe
Amount Per Serving:
Calories:

419
Total Fat:

38g
Saturated Fat:

8g
Trans Fat:

0g
Unsaturated Fat:

27g
Cholesterol:

461mg
Sodium:

839mg
Carbohydrates:

3g
Fiber:

1g
Sugar:

2g
Protein:

16g