This gluten-free zucchini cake is moist, dense, and smothered in cream cheese frosting. Sweetened with maple sugar, it's a delicious grain- and gluten-free cake you'll want to stick a fork into.
While, on the surface, I have no business continuing to post zucchini recipes when we are clearly entering pumpkin season, I am clinging to three important justifications for my maverick behavior:
I'm still getting zucchini in my Imperfect Produce box, and I've seen pretty decent-looking zucchini in grocery stores lately, so somewhere it is still zucchini season.
I like baking with zucchini more than I like baking with pumpkin, and besides, an excuse to get even an iota of green vegetables into my toddler's body? No contest.
It's too good to keep to myself for another 10 months.

This recipe has been baking in the ACB oven for…quite some time, and it's time for it to see the light of day.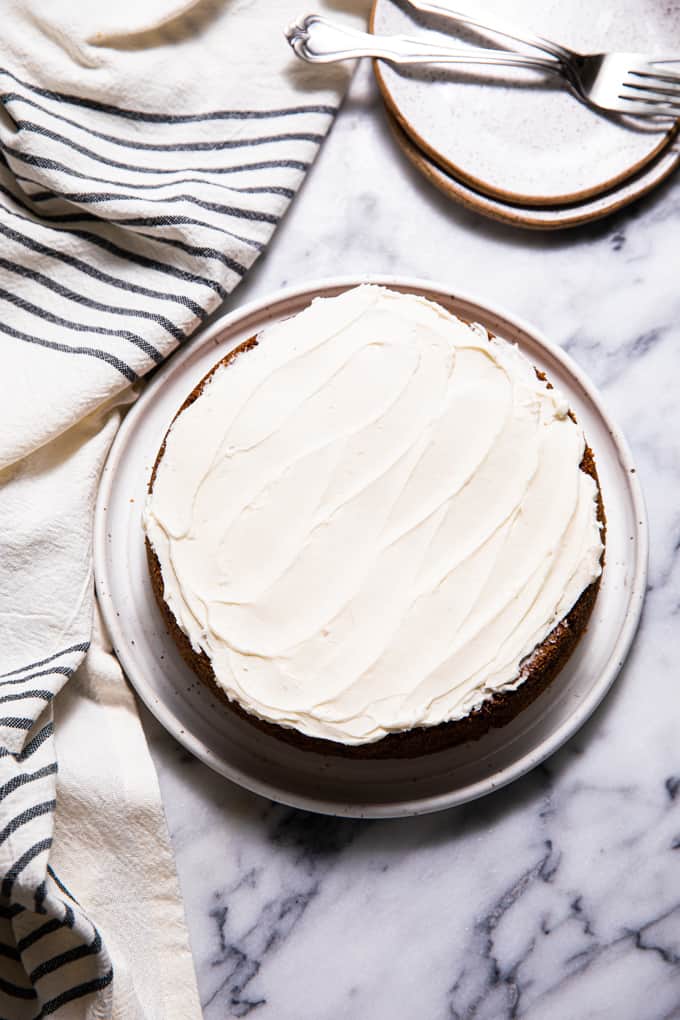 So, here we are. Preparing to make and LOVE totally out of season (but who's counting), light, warmly-spiced zucchini cake.
Vegetables in Cake?
Yep. So it's actually a side dish? No, that's going too far.
But the zucchini in the cake actually does serve an important purpose. The trick to making a perfect zucchini cake is to get the moisture balance right. Zucchini is an excellent moisture vehicle because it provides a lot of water without any additional fat or flavor, which might leave the cake with a strange taste of that too-rich texture that coats the inside of your mouth with fat.
Knowing all that isn't a wonder we don't use zucchini and all of our cakes?
The first zucchini bread I ever made was in 2014 — another home, neighborhood, and seemingly lifetime ago. Six years later, I'm still over here tweaking ingredients to make a delicious (and slightly sweeter) zucchini cake.
When I made that first chocolate zucchini bread, I was coming off eight months of a very — very — restrictive diet (you can read more about my story here). Over half a decade later, my stomach feels much better, but I've continued to bake gluten-free, dairy-free treats for those in a similar position.
Even when you have to give up gluten, dairy, and white sugar, you can still enjoy the delectable treats you once loved. (Which of course, is what this site is all about.) So grab a fork and a tub of your favorite frosting, because this is one treat both you and your stomach can enjoy.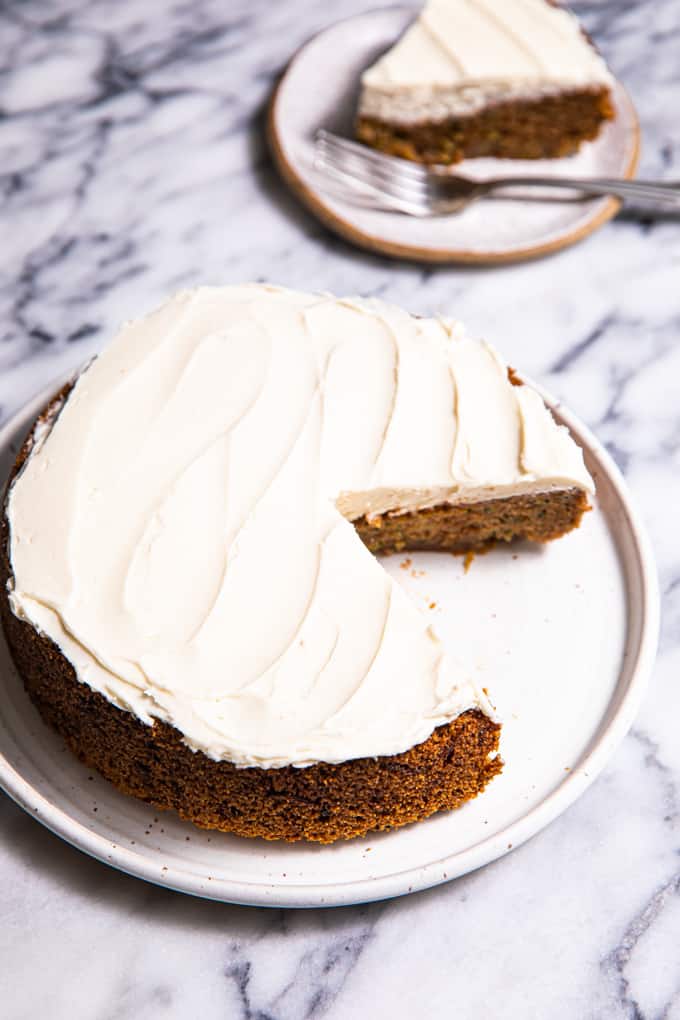 How to Choose Zucchini for Baking: Too much moisture is just as bad as not enough
When you're using an ingredient like zucchini, you need to know how to pick the right kind for your cake. Giant zucchini are hilarious but it is going to be mostly water, which could throw off that delicate, and oh-so-important moisture balance of your cake batter. Instead, opt for small to medium zucchini for baking. If you're not sure, taste a slice. A zucchini that is perfect for baking won't have a diluted, watery taste. It will taste more vegetal, like the aroma of a vegetable leaf, and slightly waxy.

Cutting to the Chase: How to Make Gluten-Free Zucchini Cake
To make a grain- and gluten-free zucchini cake, you'll ditch the all-purpose flour, canola or vegetable oil, and white sugar, opting for gluten-free and paleo-friendly ingredients instead.
To start, grease a round baking pan (or a bundt pan) with coconut oil spray, or line it with parchment paper. Next, grate three cups' worth of zucchini with a cheese grater or food processor. Sprinkle the grated zucchini with salt, and set aside to allow the salt to draw out the excess moisture in the zucchini.
Next, combine your wet ingredients, whisking together your room temperature eggs, avocado oil, pure vanilla extract, and apple cider vinegar in a medium bowl. Next, combine your dry ingredients into a large bowl, mixing together your almond flour, arrowroot flour, coconut flour, maple sugar, teaspoon baking soda, arrowroot flour, coconut flour, ground cinnamon, baking soda, nutmeg, half a teaspoon salt, and ground cloves.
Now it's time to extract that extra water from the zucchini. To do this, place the grated zucchini on a kitchen towel, and squeeze to drain all the water that the salt drew out, until you're left with roughly one cup of packed, shredded zucchini.
Add the zucchini to your egg mixture, and mix to combine. Next, add your egg-and-zucchini mixture to your flour mixture, then stir again. Keep stirring until you reach a cake batter consistency.
Pour batter into your greased pan and smooth into an even layer. Bake for 35–45 minutes at 350 degrees. You may want to check your cake at 30 minutes, doing the toothpick trick to see if it's done.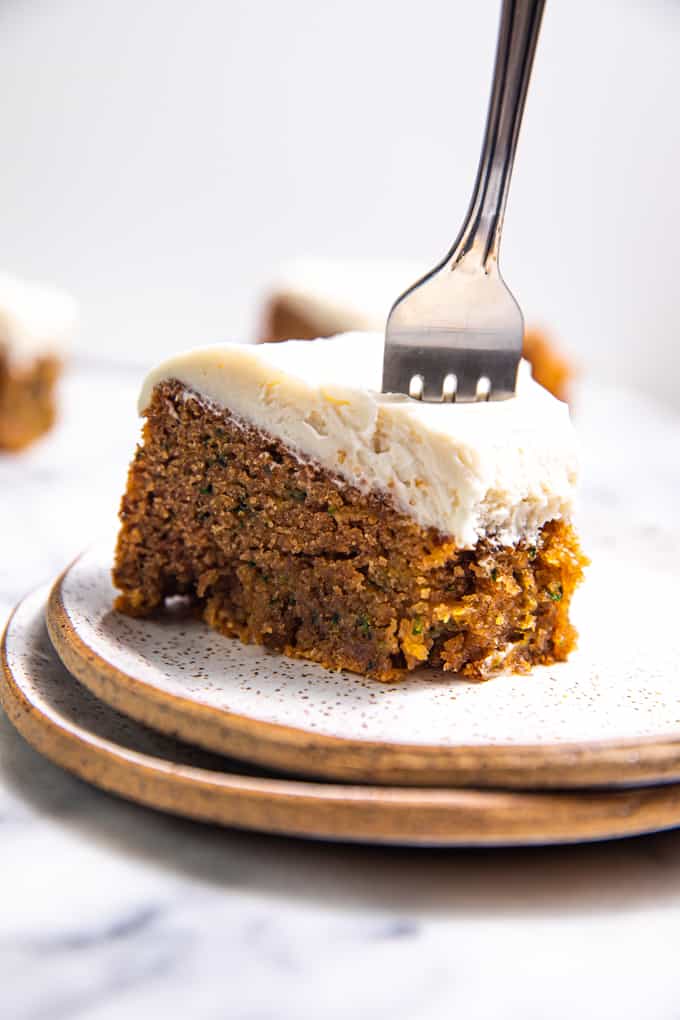 Tips for Gluten-Free Zucchini Cake Recipe Success
If this is your first time making zucchini cake, you may have a few questions. Hopefully, these tips and tricks set you up for success.
Please note: I have not tested any of the below substitutions, so substitute at your own risk. I am providing substitute recommendations based on reader questions from previous posts.
Can I substitute one gluten-free flour for another?

No, you can't. One gluten-free flour may not behave the same way as another, which could have disastrous consequences for your recipe. For that reason, I would not substitute any of the flour ingredients.

Can this recipe be made vegan?

Technically, you could use flax eggs instead of regular eggs to make it vegan, but I haven't tried it.

Can you substitute the maple sugar?

Yes, you can use another granulated sugar, like coconut sugar (or

brown sugar)

. Do not use a liquid sweetener, like honey,

applesauce

, or maple syrup.

Do you have a recommended store-bought frosting? Yes, I recommend Ms. Jones Bakes dairy-free

cream cheese frosting

, which can be purchased on

Amazon or at Whole Foods or similar stores

.

Do you have a recommended brand for gluten-free flours? I like Honeyville or Nature's Eats blanched almond flour, Otto's Cassava Flour, and Anthony's or Bob's Red Mill for everything else. All of these brands are available on Amazon, and

Bob's Red Mill can usually be found at most chain grocers. (None of this is sponsored, by the way.)

Can this recipe be made sugar-free?

I don't recommend it. However, I understand that you may be following a low-carb or keto diet and are avoiding sugar, you might try substituting monk fruit granulated sugar for the maple sugar (again, I haven't tried this), but you will have to add a bit more oil to make up for the lost moisture from subbing out the sugar (remember – sugar is hydroscopic, meaning it has the effect of distributing moisture well throughout the baked good. That's why low carb baked goods tend to either be dry or very high in fat, which replaces that moisture).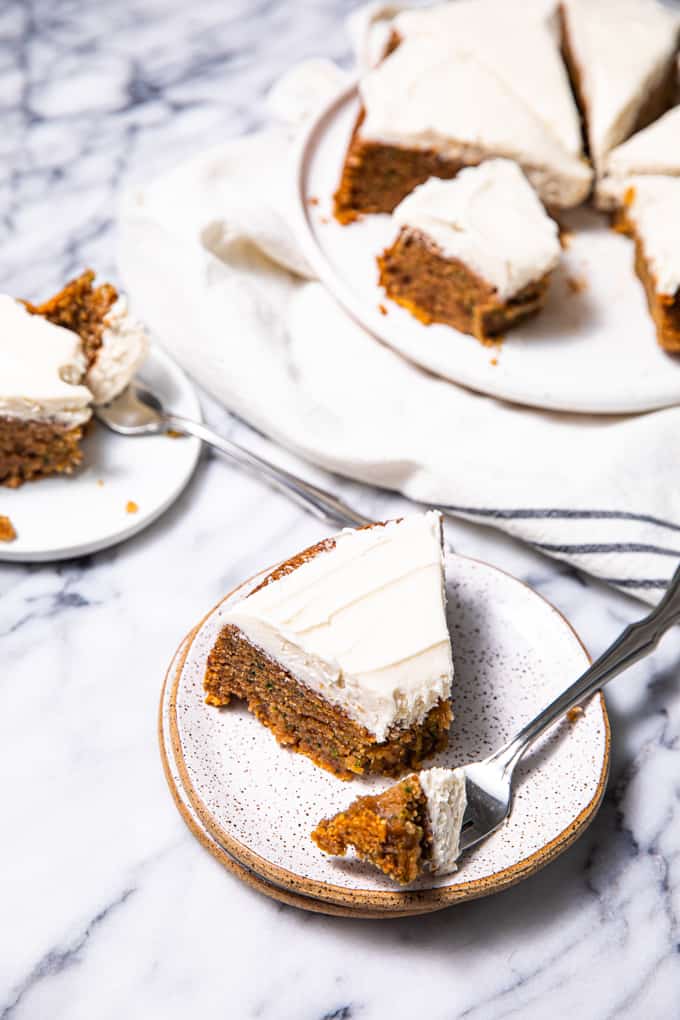 Other Zucchini Recipes You May Enjoy
If you enjoyed this zucchini cake, here are a few other A Clean Bake gluten-free recipes you may enjoy:
Try This Gluten-Free Zucchini Cake For a Sweet Treat
This is the best gluten-free zucchini cake you'll ever try (although I must admit — I'm a little biased). Made with a blend of almond, coconut, and arrowroot flours, it's a dairy-free, gluten-free treat that everyone at your table can enjoy.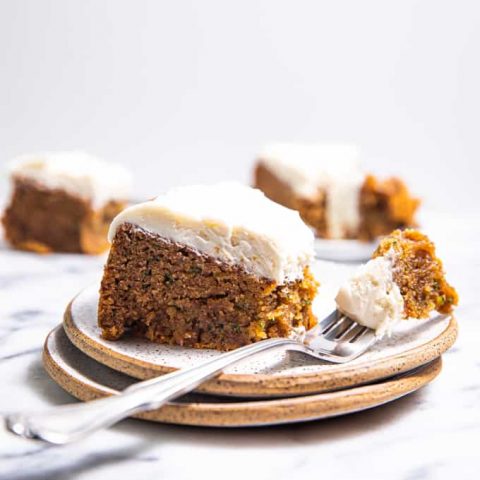 Gluten Free and Grain Free Zucchini Cake
Total Time:
1 hour
20 minutes
This moist and dense zucchini cake is flecked with bright green to remind you that you're eating your veggies. Go ahead: have another slice! 
Ingredients
3 cups shredded fresh zucchini
1/2 teaspoon fine sea salt
2 large eggs
1/4 cup avocado oil
2 teaspoons vanilla extract
1 teaspoon apple cider vinegar or white vinegar
1 1/2 cups blanched almond flour
1 cup maple sugar
1/2 cup arrowroot flour
1/4 cup coconut flour
2 1/2 teaspoons cinnamon
1 1/4 teaspoons baking soda
1/4 teaspoon nutmeg
1/8 teaspoon ground cloves
Instructions
Preheat the oven to 350F.
Lightly grease or spray a 9" round cake pan and set aside.
Place the shredded zucchini in a small mixing bowl. Sprinkle half of the salt evenly across the top, toss, and sprinkle the rest of the salt over the top. Set aside.
In a medium mixing bowl, whisk the eggs, then whisk in the oil, vanilla, and vinegar. Set aside.
In a large mixing bowl, stir together the almond flour, maple sugar, arrowroot flour, coconut flour, cinnamon, baking soda, nutmeg, and cloves. Set aside.
Turn the shredded zucchini out of the bowl onto a clean kitchen towel. Gather the ends of the towel and twist until you wring most of the moisture out of the zucchini. You'll know you got enough moisture left when the zucchini is packed and drained enough to measure about 1 heaping cup.
Add the drained zucchini to the wet (egg, etc.) mixture, and whisk to combine. Make sure to break up any clumps of zucchini and incorporate it well into the wet mixture.
Add the wet (eggs, zucchini, etc.) mixture to the dry (flours, etc.) mixture. Stir to combine. It may seem at first as though there is nowhere near enough moisture to balance out all the dry ingredients. Keep stirring; the batter will come together into a thick mixture. Keep stirring even more, and it will thin out into a typical cake batter consistency.
Pour the batter into the prepared pan and gently smooth into an even layer.
Bake for 35-45 minutes (see note), until smooth on top, and firm and springy to the touch.
Cool in the pan 20 minutes, then turn the cake out of the pan and onto a wire rack to cool completely.
Frost, serve, and enjoy!
Notes
You can substitute coconut sugar for the maple sugar, but the cake will be a darker color. It will still taste great.
I haven't tested any other ingredient substitutions, so sub at your own risk.
Baking note: my oven runs cool, and my cake was done around 41 minutes. If your oven is more accurate than mine, your baking time will be around 35 minutes. If your oven runs hot, start with 30 minutes baking time.
Recommended Products
As an Amazon Associate and member of other affiliate programs, I earn from qualifying purchases.
Nutrition Information:
Yield:

12
Serving Size:

1
Amount Per Serving:
Calories:

232
Total Fat:

14g
Saturated Fat:

2g
Trans Fat:

0g
Unsaturated Fat:

11g
Cholesterol:

31mg
Sodium:

241mg
Carbohydrates:

24g
Fiber:

3g
Sugar:

14g
Protein:

5g
Note: Nutrition information does not include frosting