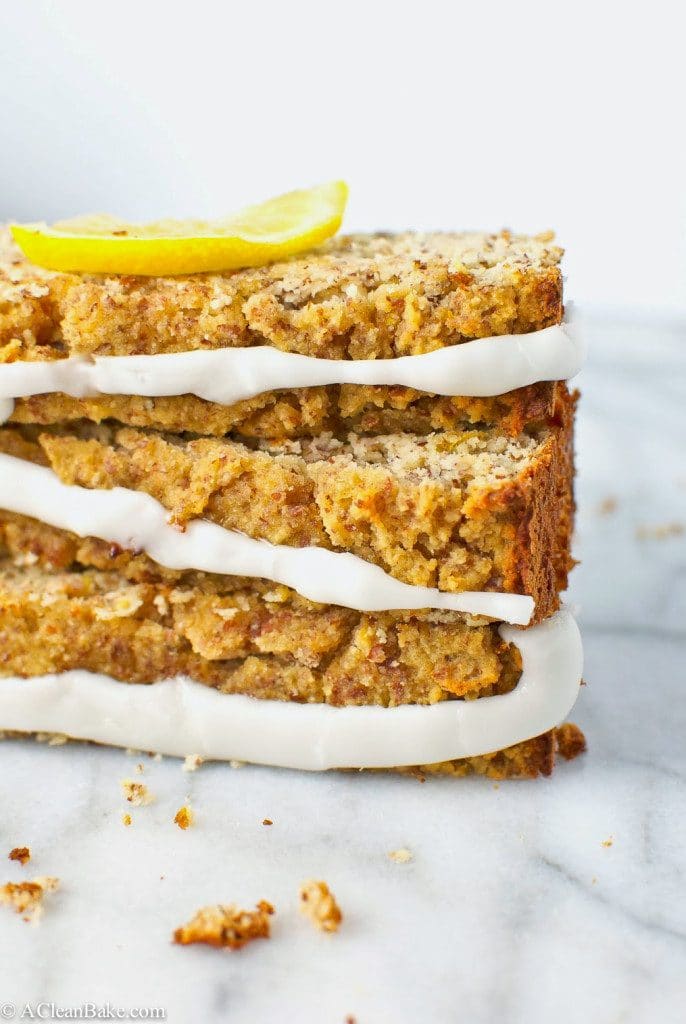 Oh, hey, spring. I didn't see you there.
This past weekend, temperature hit 70. 70!! Without a negative in front of it! This is news, big, big news, that requires a celebration of the highest, citrusiest order. Also, who doesn't love lemons this time of year? The bright cheery weather after a long, gloomy and sanity-challenging winter calls for the brightest, cheeriest flavors you can find, which in turn means packing the juice of two whole lemons into a single cake.
Simplicity is the name of the game here, to avoid distracting from the lemon flavor. That's why there is so little sweetener (some apple sauce and a little bit of honey) in this paleo lemon pound cake. But you can feel free to add a Tablespoon or two more of honey, if you prefer things on the sweeter side (you may also have to increase the baking time slightly), or just add the optional glaze which sweetens up every bite.
Making the cake could not be simpler: Whisk together the dry ingredients in one bowl and the wet in another. Pour the wet over the dry. Stir to combine, pour into a pan and bake. Cool, glaze, and serve – preferably outside!
PS: If you follow me on Instagram, you probably saw that this cake originally contained ginger. I left the ginger out of the final recipe, but if you'd like to put it back in, feel free to add 1 teaspoon dried powdered ginger and 1/4 diced dried ginger chunks (crystallized or uncrystallized – up to you) to the batter.