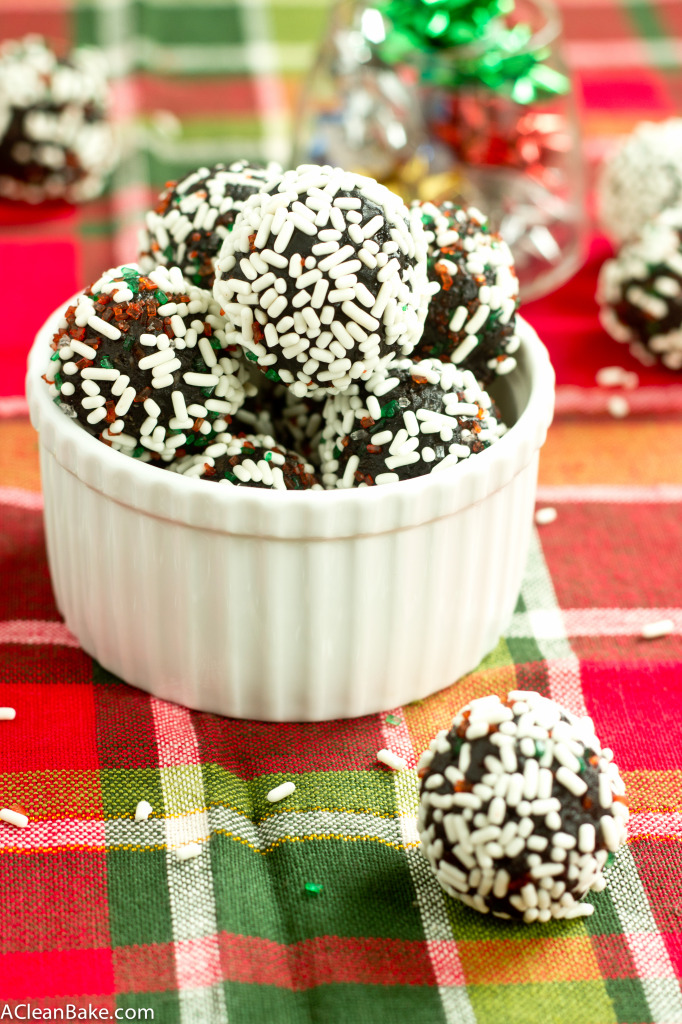 There are some who contend that a dairy-less truffle is not a truffle at all, and in my previous life – as in before I had to worry about everything I ate, not, like before I was reincarnated or anything – I certainly would have agreed.
This will be my first holiday season eating completely gluten/dairy/sugar free and I am determined to drag everyone else down with me. If I can't enjoy myself, neither can they!
I'm kidding, OF COURSE. Quite the opposite, in fact. It's a lot of fun to create recipes that everyone loves, and which love everyone('s stomachs). These peppermint truffles are one of them. Unless you're allergic to tree nuts in which case, don't eat these.
The base is soaked cashews, which are blended up into a thick, creamy paste before adding the new other ingredients. The recipe is incredibly simple: 5 ingredients, one bowl (blender/food processor), and no baking time. If you prefer, you can even make these with all raw ingredients, but either way they are naturally vegan and gluten-free and taste great!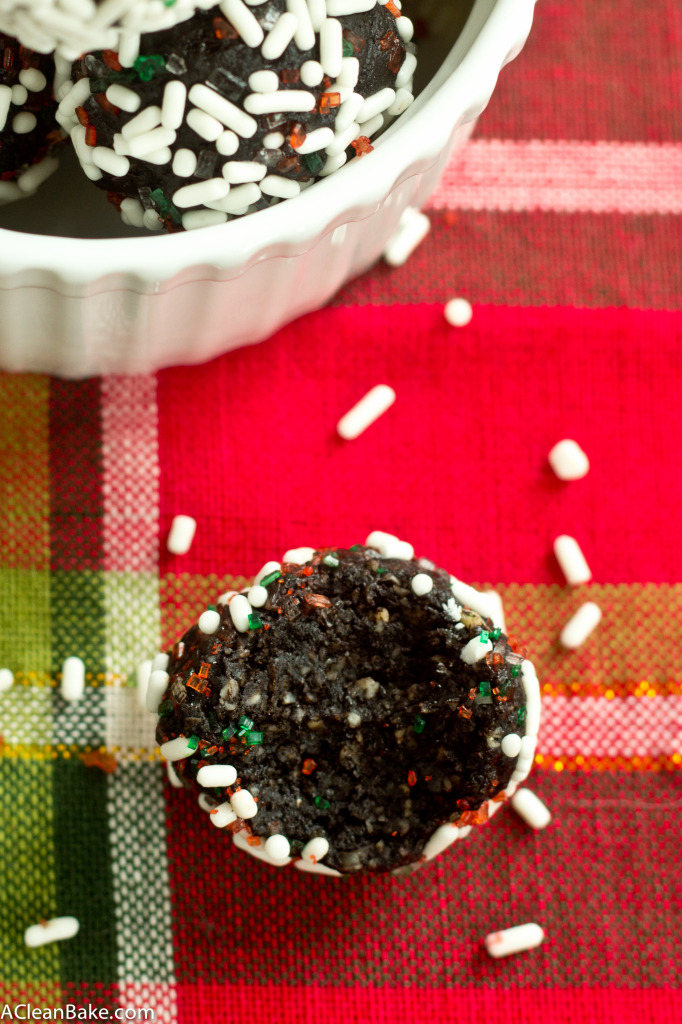 Peppermint Truffles
Ingredients
1

cup

raw cashews

1 1/2

Tablespoons

cocoa powder

2

Tablespoons

honey

Pinch salt

1/4

+ 1/8 teaspoon peppermint extract

see note

Jimmies

optional, melted chocolate or additional cocoa powder for garnish
Instructions
In a heatproof bowl, cover the cashews with boiling water and allow to stand and soak for 30-60 minutes. The longer they soak, the smoother they will get when you puree them.

Drain the cashews and put them into the bowl of a food processor. Pulse several times to chop them up, then process until mostly smooth.

Add remaining ingredients and process in 15-30 second increments, scraping down the bowl in between, until completely smooth.

Scoop the mixture into 1 Tablespoon portions and roll them into a ball. Either press into your jimmies or cocoa powder to coat, or dip in melted chocolate, shake off the excess and allow them to set on a tray covered in parchment paper at room temperature or in the fridge, until solid.
Recipe Notes
If you object to using artificial sweetener such as peppermint extract, you can feel free to use fresh mint leaves to taste. Simply add them with the cashews and puree them in the food processor until smooth. If strictly vegan, replace honey with other liquid sweetener.
Yield: 12 truffles