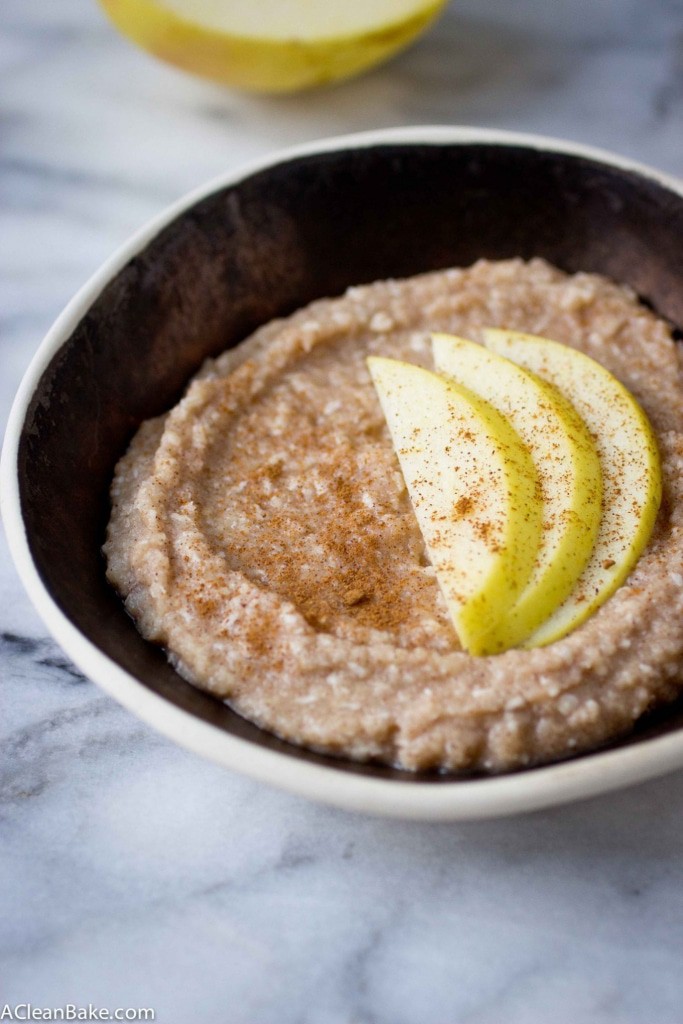 You may be wondering why this variation of grain free hot cereal merits an entire new post, instead of just a list of possible add-ins and variations on the original version.
Well, the short answer is that I thought about doing that but it turns out it's not that simple since the applesauce adds more moisture, that then has to be compensated for by adjusting the other ingredients, so – wait. That's the long answer. You get the point.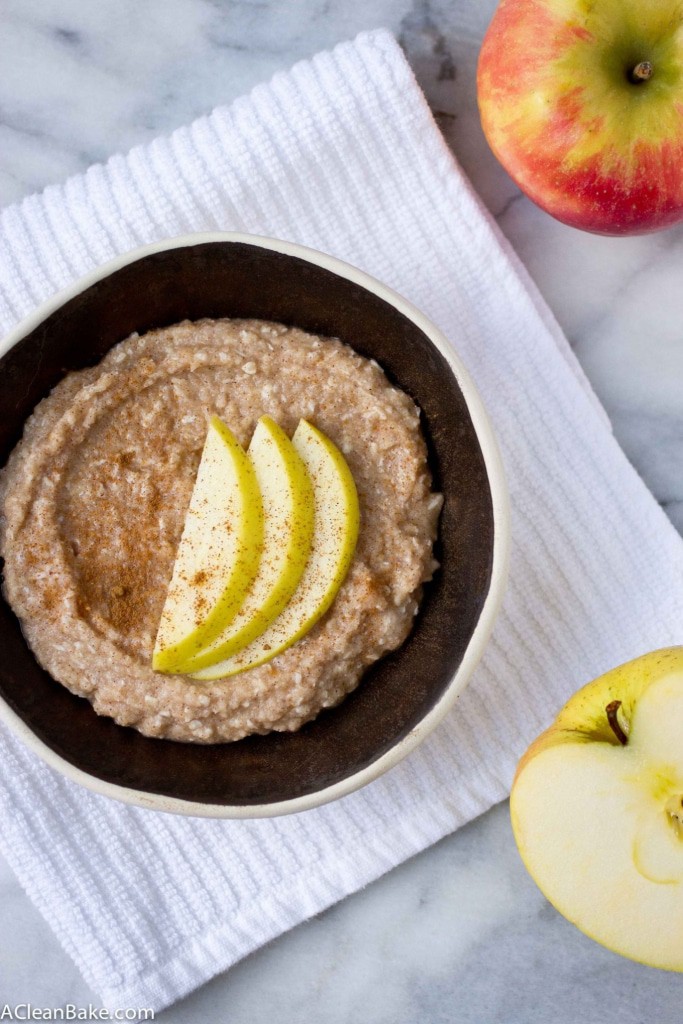 Ultimately, I just want you to know that, like most things in life, while the plain vanilla version of yesterday's grain free hot cereal is really good, there are lots of ways to spice it up and make it your own. I went with apple cinnamon because it befits the season, but you can really use any sort of sauce or puree in its place. Most appropriately right now, try replacing the applesauce with pumpkin puree and some or all of the cinnamon with pumpkin pie spice. Wait, did I just tell you how to make a variation on the variation? I think I have flavor ADD – I'm always thinking of how to make a dish bigger, better, and tastier. But the thing is that this apple cinnamon version is big enough, good enough, and more than tasty enough, so if it ain't broke…well, just try it and let me know what you think!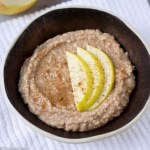 Apple Cinnamon Grain Free Hot Cereal
gluten free, grain free, vegan, paleo-friendly, low carb, nut free
Ingredients
2

Tablespoons

coconut flour

2

Tablespoons

shredded unsweetened coconut

Pinch salt

1

teaspoon

granulated monk fruit sweetener or granulated stevia - or adjust to taste

like

1/2

teaspoon

cinnamon

or to taste

1/4

teaspoon

vanilla extract

1/4

cup

milk of choice

4

ounces

unsweetened applesauce

about 1/2 cup
Instructions
In a microwave-safe bowl, mix together the coconut flour, shredded coconut, salt, sweetener and cinnamon.

Add the vanilla and the milk, stir briefly, and then add the applesauce and stir vigorously until combined. It may be a little thinner consistency than you'd like, but don't add more milk yet.

Microwave on high for 45-60 seconds. Stir and microwave another 30-60 seconds until it reaches your desired temperature. If it has thickened too much, stir in 1-2 Tablespoons additional milk until it thins out to your preferred consistency. Taste, and adjust sweetener and cinnamon if desired.

Consume immediately.
Recipe Notes
This recipe, as I'm sure you can tell from the ingredients, is very hearty. Feel free to make a half recipe, or share the full recipe, if this is too much for you.
This hot cereal is best consumed immediately after making it. It spoils quickly, and should not be made ahead if you can avoid it.
Omit the sweetener for Whole30 compliance.
Thank you to Natvia for providing the ingredients that inspired this delicious recipe. This post contains affiliate links, which means that if you click through and purchase a product, A Clean Bake receives a small commission, which goes toward continuing to bring you delicious, healthy recipes every week. This does not affect the price you pay. Thanks for supporting A Clean Bake!