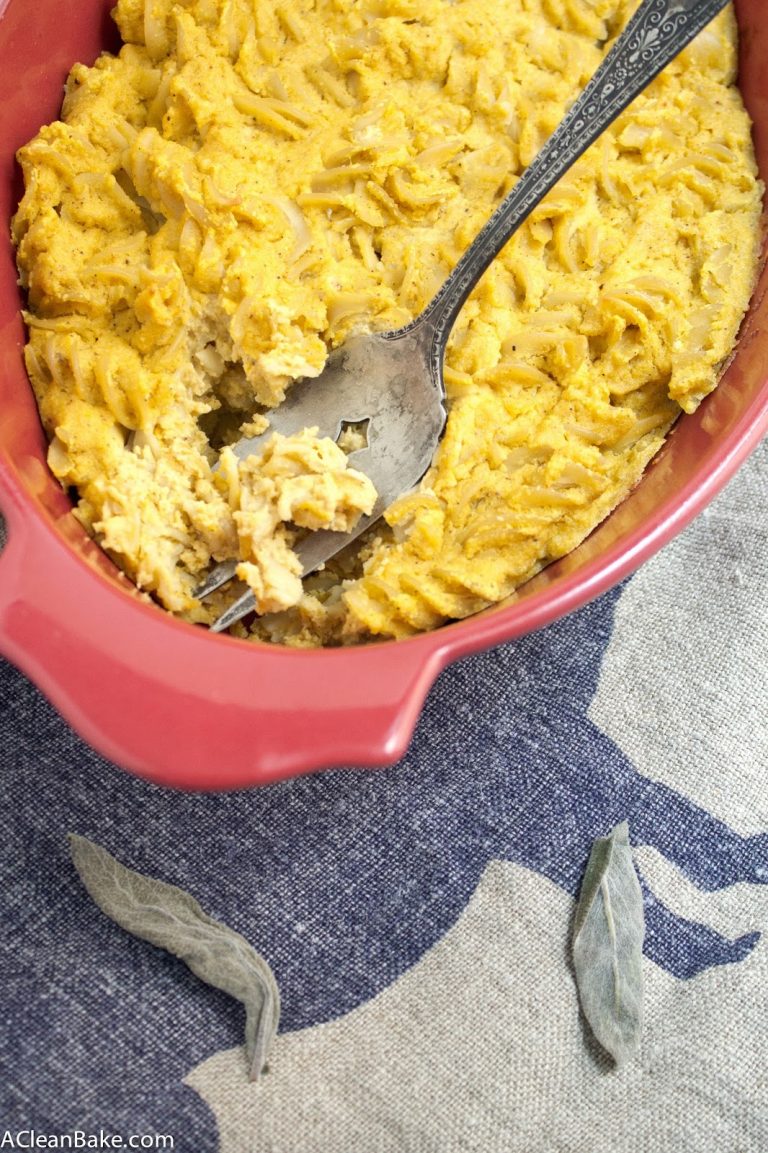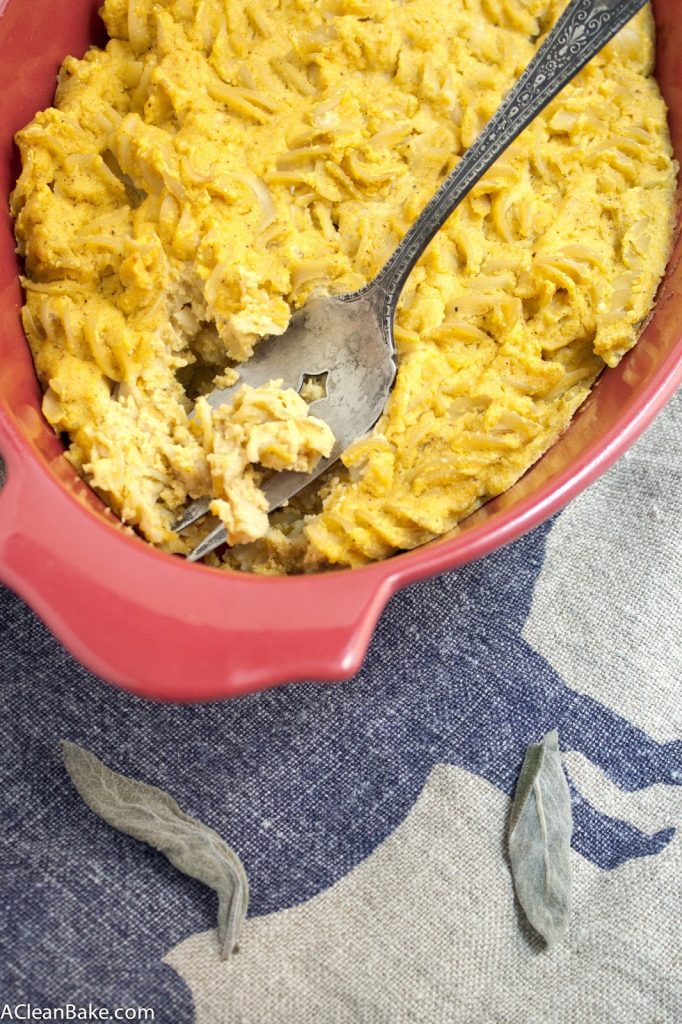 In the interest of not exhausting
the pumpkin thing
long before even Halloween gets here, let alone Thanksgiving, I am trying to restrain myself. But it's hard. Maybe there
is
something to this whole mantra about eating seasonally because that's what your body craves or whatever. At least that is my story and I'm sticking to it, because I really want to eat all of the pumpkin I can get my hands on.
So original. I know.
But it's fall and that means football and tailgating, and, though I have only tailgated once or twice (Go Blue!) and I think the only food that was served went disturbingly quickly from freezer to microwave to soaking up the watery beer in my stomach, I hear that more adept tailgaters than I seem to take this very seriously. To those who love football (or at least tailgating) and love food, and may not be able to eat all of it indiscriminately, this one is for you: gluten-free, dairy-free mac and cheese. Er, "cheese".
Though it is still creamy and comforting, as any good mac and cheese should be, the baking process shores it up a bit so as to be more capable of being transported to a stadium parking lot and eaten in between keg stands. Or whatever you crazy kids do. But, if you want a more traditional mac & cheese dish, eliminate the eggs from the sauce and skip the baking process. Just fold the pasta into the (eggless) "cheese" and serve.
You can use any pasta you want, but I tried it with both gluten-free brown rice pasta from Trader Joe's and regular whole wheat, and I found the whole wheat seems to soak up a ton more moisture than the gluten free version, so it didn't end up with my preferred sauce-to-pasta ratio. Just fair warning. It works great with the gluten-free pasta (at least the variety I used).
The "cheese" is a combination of cashew cheese (which stood in for cream cheese here), nutritional yeast, which is a vegan powerhouse food that has a decidedly cheesy flavor, and of course, pumpkin, which lends moisture and texture and, of course, well, it's pumpkin.

Whether you're heading to a tailgate or just looking to spice up your bagged lunch routine, this comforting dish is just the ticket.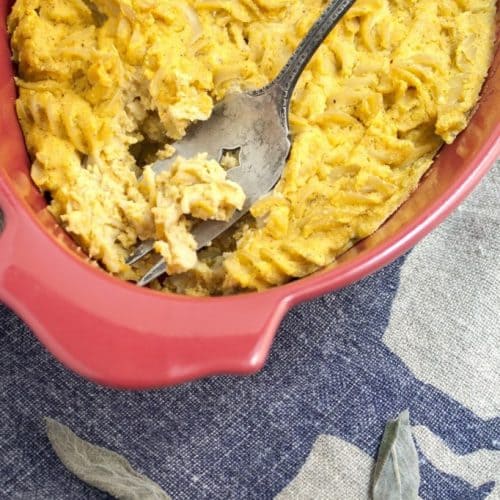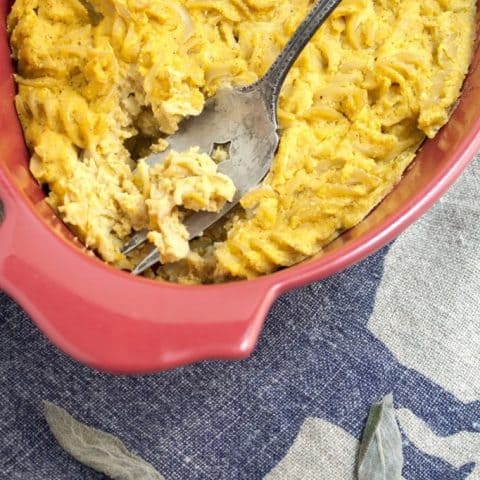 Baked Pumpkin Sage Macaroni and "Cheese"
Gluten free and dairy free mac and cheese! A classic comfort food made allergy friendly.
Ingredients
2 large eggs, beaten
5 large sage fresh sage leaves, minced
Instructions
Cook the pasta according to the directions on the box. Drain and set aside.
Preheat the oven to 350F. Grease an 8"x8" (or equivalent) baking dish and set aside.
In a small bowl, cover the cashews with boiling water to about 1" above the cashews. Set aside to soak for a minimum of 30 minutes. Once they are softened and have absorbed some of the water, drain them, reserving the soaking liquid and puree them in a food processor with 2-3 T of the soaking liquid, or as much as it takes to create a smooth and creamy consistency, like hummus. Discard the unused soaking liquid.
In a large mixing bowl, combine the cashew puree with the rest of the ingredients except the pasta and stir to thoroughly combine.
Gently fold in the cooked pasta and mix until it is thoroughly coated and incorporated with the sauce.
Pour the whole mixture into the prepared baking dish, smooth into an even layer, and bake for 30-35 minutes until the top is crisp.
Serve immediately, or store in an airtight container in the fridge for up to a week and reheat before serving.
Notes
You can use any brand, grain or shape of pasta you want, but cook it to al dente so that it doesn't get soggy in the oven.
You can substitute any other squash puree, such as butternut or acorn, for the pumpkin if you prefer.
If you want a more traditional mac & cheese dish, eliminate the eggs from the sauce and skip the baking process. Just fold the pasta into the (eggless) "cheese" and serve.
Recommended Products
As an Amazon Associate and member of other affiliate programs, I earn from qualifying purchases.
Nutrition Information:
Yield:

8
Serving Size:

1
Amount Per Serving:
Calories:

171
Total Fat:

10g
Saturated Fat:

2g
Trans Fat:

0g
Unsaturated Fat:

7g
Cholesterol:

47mg
Sodium:

26mg
Carbohydrates:

16g
Fiber:

4g
Sugar:

2g
Protein:

8g