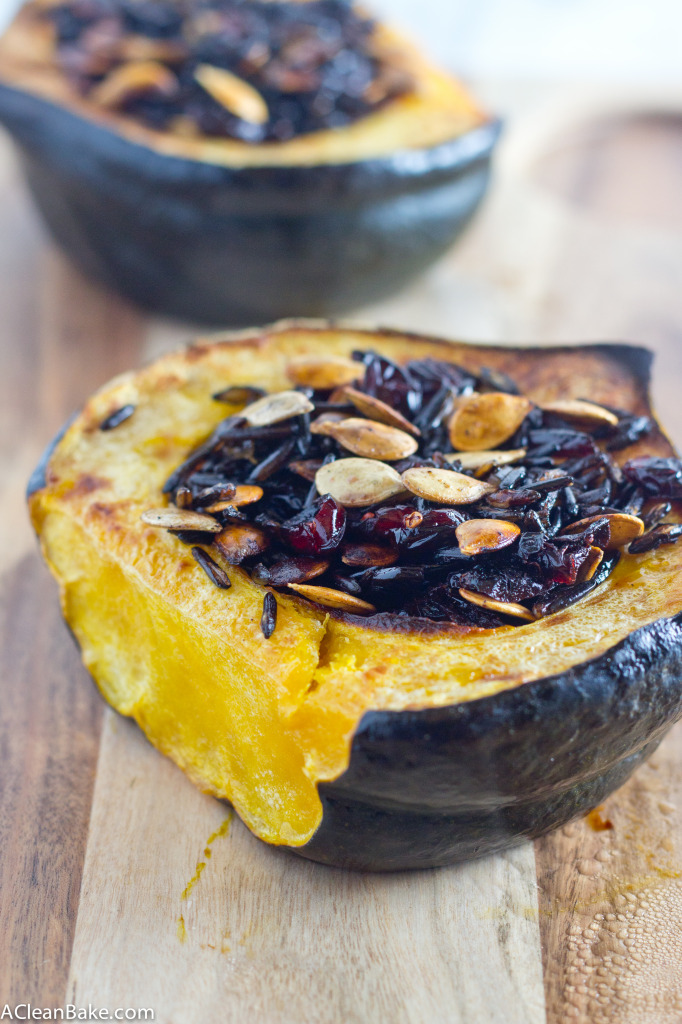 I promise to spare you another rant today. I'll get straight to the Thanksgiving-y recipe without the massive dose of judgmental and self-defensive prose that I subjected you to yesterday.
Here's the basic premise of this recipe: not everyone likes or can eat the standard Thanksgiving dishes. Turkey is no good for vegetarians, mashed potatoes give carb-sensitive stomachs a hard time, and don't get me started on the amount of sugar in sweet potato casserole. It's actually pie, so let's all just admit (but continue to embrace) that we get to eat pie for dinner.
Oops… I said I wouldn't get all judgy. I don't mean to, but the holidays are a frustrating time for me that I associate not with parties and joy, but with stomachaches and awkward conversations about how while I appreciate the hard work you put into making this beautiful dish, I simply can't eat it and it's nothing personal. Anyone with any food allergies or intolerances: am I right? Last year, I quickly got uncomfortable being so high maintenance and tried to just eat normally, and man did I pay. By January 1st, I was completely miserable, mentally and physically, and that's a terrible way to start a new year.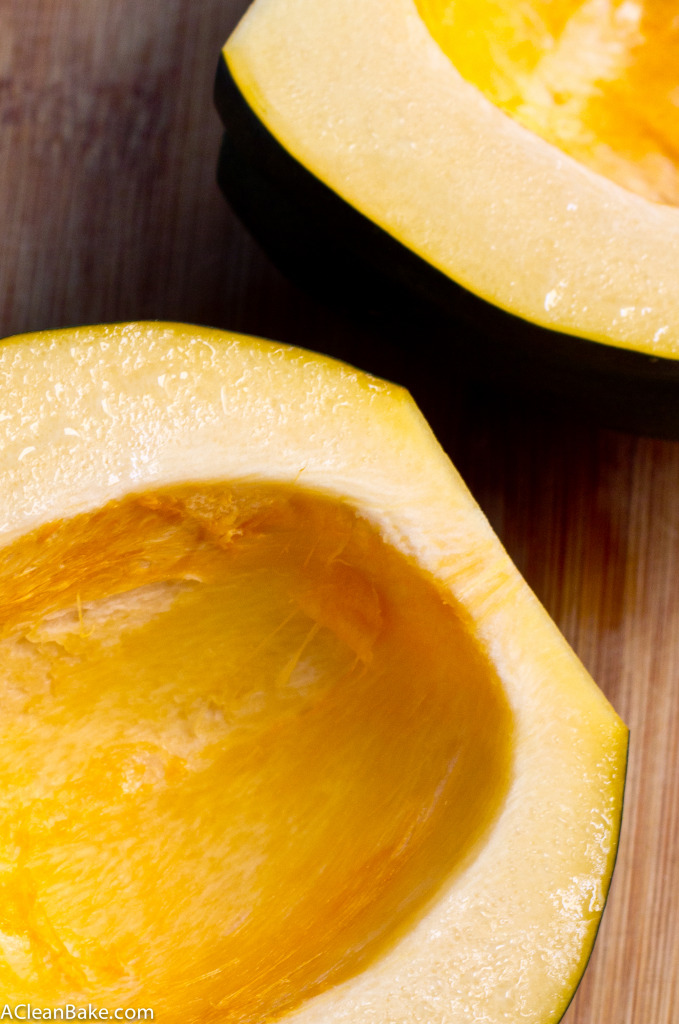 So, this year, I am thinking ahead and this is one of the hearty and tummy-friendly side that just about any one can eat. It's gluten-free, vegan, nut-free and egg free. You can remove the wild rice if you would like to make it paleo-friendly, though technically wild rice is not rice at all (though it is a grain).
Speaking of the rice, make sure you cook it really, really well so that it is very soft and the grains are split open. It will dry out a little during the baking process so it's better to start with soggy wild rice and end up with the right tender, chewy texture than start with the right texture and wind up crunching on nearly-raw grains.
Oh, and quite obviously, this is a great anytime winter dish, not just for a holiday meal. In fact, it works for breakfast, lunch or dinner, and with a runny egg on top, it is pretty close to perfection.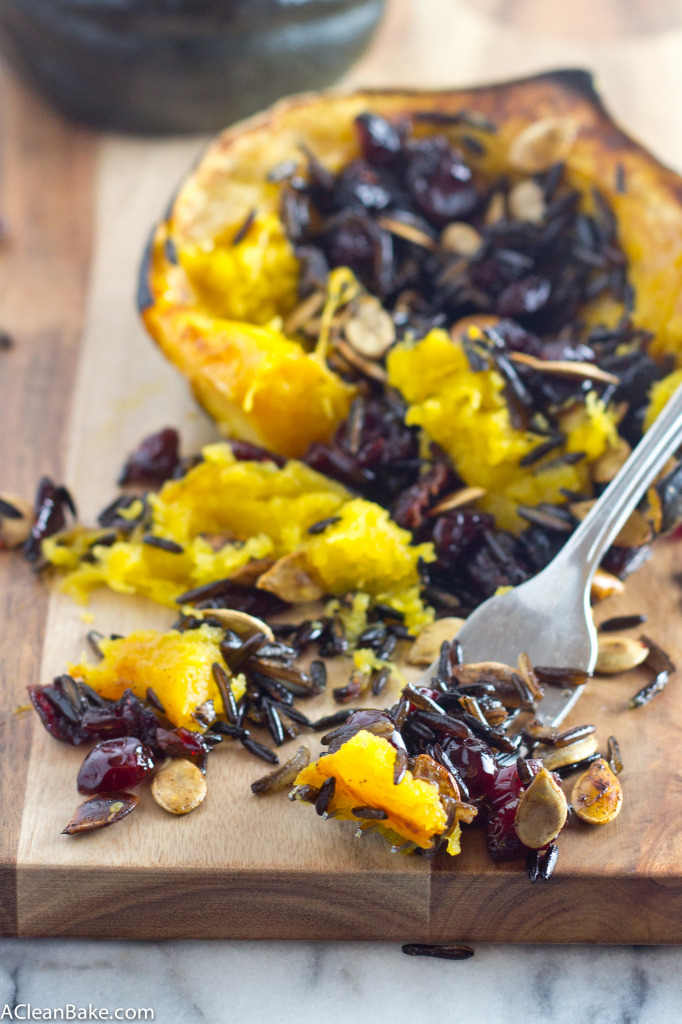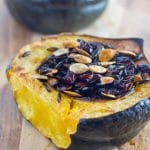 Cranberry and Wild Rice Stuffed Acorn Squash
Ingredients
1

large whole acorn squash

including seeds

1/4

cup

uncooked wild rice

1-2

Tablespoons

raw pumpkin or pine nuts

optional

2

teaspoons

olive

or other healthy oil

2

heaping Tablespoons dried cranberries

1/4

teaspoon

allspice

Generous pinch cinnamon

about 1/8 teaspoon, or to taste

Pinch salt
Instructions
Preheat the oven to 350F.

Cut the ends off the acorn squash and then cut in half lengthwise. Scoop out the seeds and set aside (do not discard!). Brush the squash with olive oil and roast, skin side up, for 30 minutes or until al dente. Remove from oven and set aside to cool slightly. Leave the oven on.

While the squash is baking, boil the rice over medium high heat until very soft (the grains will begin to burst). When ready, drain and set aside. It should yield about one 1/2 cup of rice.

Clean the seeds from the squash, discarding any of the vegetable flesh that may be left over. Pat dry.

In a dry pan, toast the seeds for about 5 minutes, stirring or shaking frequently. If your squash didn't produce many seeds, add raw pumpkin seeds or pine nuts for a total of about 3 Tablespoons of seeds/nuts.

Once the seeds start to smell nutty and turn golden, add oil and toss to coat.

Add the cooked/drained rice to the pan and stir to combine with the oil and seeds.

Turn off the heat and add the cranberries (stir to combine), and then the allspice, cinnamon and salt. Stir well to make sure the seasoning evenly covers all of the ingredients.

Divide the rice/cranberry filling evenly between the roasted squash halves.

Bake, stuffing side up, for 40-50 minutes or until squash is golden brown and fork tender.
Recipe Notes
This recipe can easily be multiplied
If the squash or filling begins to brown too much before the dish is cooked through, cover loosely with tinfoil for the remainder of the baking process.