Jerk seasoning spice blend is so easy to make at home, and much healthier than the store-bought variety! This version contains fragrant herbs and spices, a touch of lower-glycemic coconut sugar, and NO white sugar!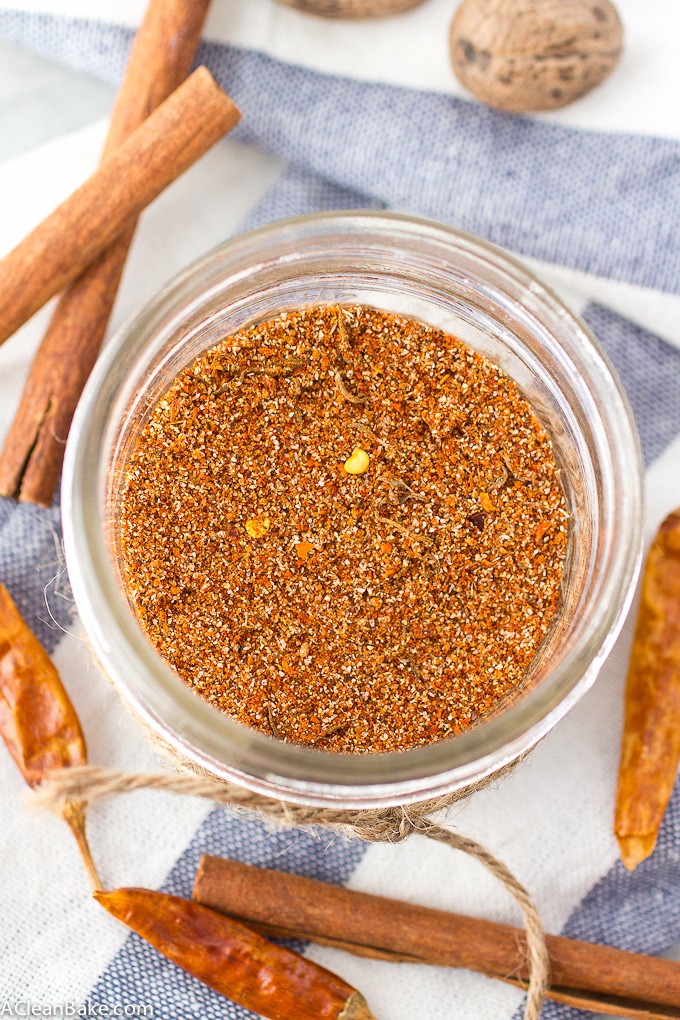 Quite a few of you have asked for homemade versions of things you typically buy, like salad dressings and BBQ sauce. It's these kinds of things that you never really stop to think about – what they're made of, that they can be made differently – until you start paying closer attention to what goes into your bodies (a boat I know many of you are in with me).
Seasoning mixes are another in that category. They're so nice to have on hand for quickly flavoring a dish or piece of meat, but the kinds you buy at the store are teeming with refined sugar, salt (and not the good kind), and maybe even preservatives, artificial colors, or textural additives.
Not only are all of those additional ingredients unhealthy, they are also completely unnecessary. Why pay for an overcomplicated, chemical-laden version of Caribbean jerk seasoning when you can just make it at home with a few simple spices that you probably already have in your pantry, or can grab next time you're at the grocery store, like:
chili powder
garlic powder or granulated garlic
black pepper
onion powder
thyme
paprika
allspice (use freshly ground allspice – i.e. grate a whole allspice berries – for an extra flavor kick)
cinnamon
salt
The mix also contains a little bit of coconut sugar. While a traditional Caribbean jerk seasoning recipe would contain a hefty dose of brown sugar, I've replaced the brown sugar with lower-glycemic coconut sugar, and reduced the amount substantially. Of course, you can feel free to leave the sugar out in order to make this spice mix Whole30 compliant or SCD/candida friendly, but if you can tolerate a bit of coconut sugar, I would highly recommend leaving it in for the spicy-sweet flavor balance.
Many Jamaican jerk seasoning blends are cayenne pepper-based, rather than chili powder-based, but I certainly don't claim that this is some kind of ultra-authentic family recipe, so you can certainly tweak it to your preference if you want! If you'd prefer to use cayenne pepper, just replace the chili powder with cayenne pepper to taste. You may need a bit less cayenne than the chili powder that the recipe calls for – just taste it and use as much or as little as your taste buds demand.
On its own, jerk seasoning may not be very impressive, but having it around means an instant infusion of flavor for any protein you might have on hand. Don't stop at jerk chicken; try it on pork or even tofu steaks!
In addition to using this jerk seasoning as a flavor crust on meat, try it sprinkled over grains or vegetables, or maybe you could even use it in salads and slaws. Though I have complete confidence in your ability to come up with 100 wonderful ways to use this, I'm sharing my new favorite way to use this wonderful spice mix here!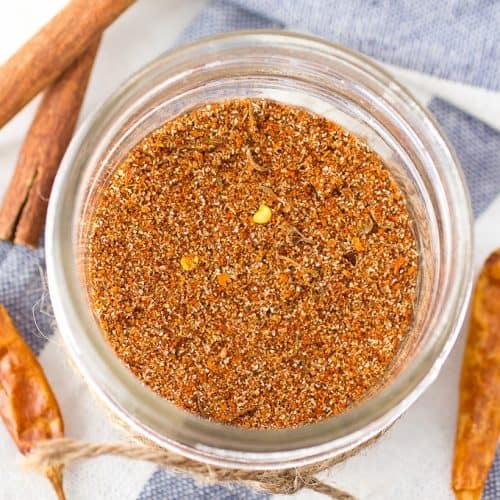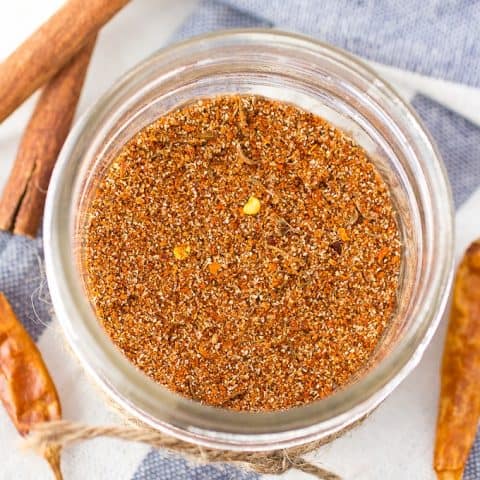 Jerk Seasoning
Fragrant homemade Jerk Seasoning mix - no white sugar, and no gluten or grains, either!
Ingredients
1 Tablespoon chili powder
1/2 Tablespoon granulated garlic
1 teaspoon onion powder
1 teaspoon dried thyme
1 teaspoon coconut sugar
1 teaspoon paprika
1/2 teaspoon allspice
1/2 teaspoon red pepper flakes, or to taste
1/4 teaspoon ground nutmeg
1/4 teaspoon black pepper
1/4 teaspoon fine sea salt
1/8 teaspoon ground cinnamon
Instructions
Whisk together all of the ingredients in a small bowl.
Use immediately or store in an airtight container at room temperature for up to a month.
Nutrition Information:
Amount Per Serving:
Calories:

296
Saturated Fat:

1g
Sodium:

2974mg
Carbohydrates:

62g
Fiber:

19g
Sugar:

15g
Protein:

10g
[wprm-nutrition-label align="center"]