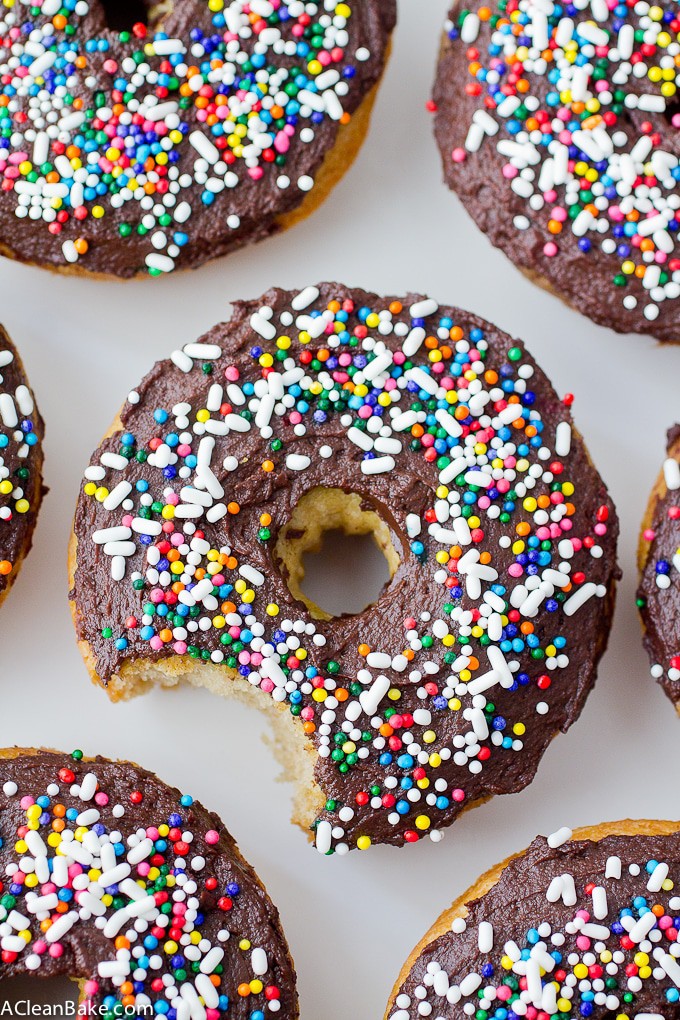 I think we have to have a talk.
We have  a real problem here.
A doughnut problem. More specifically, a lack-of-doughnut problem.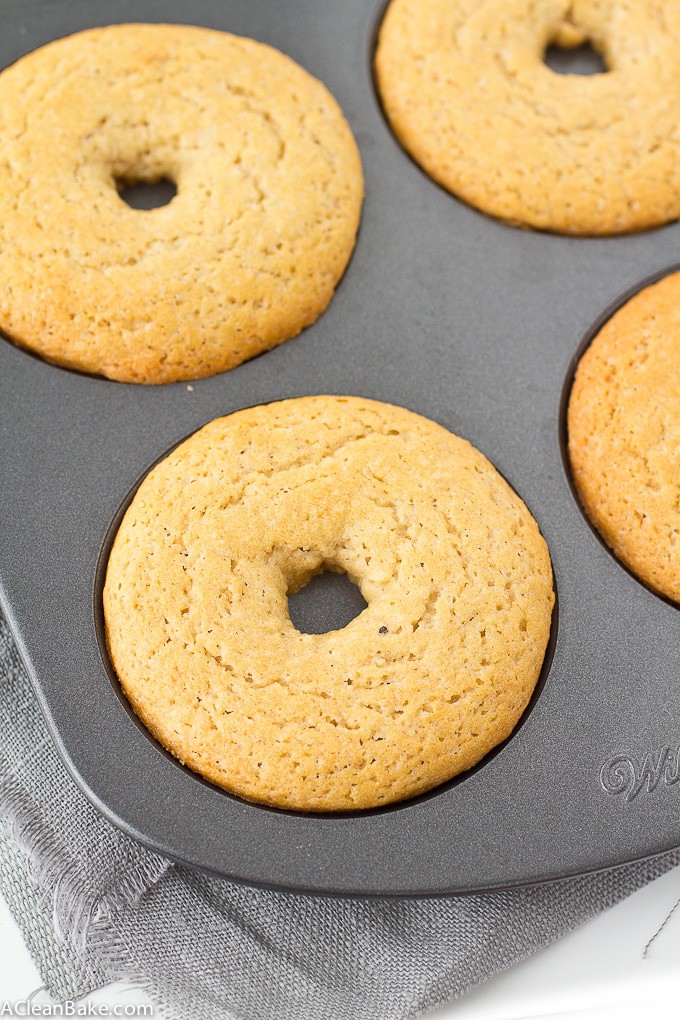 Did you know there are only 2 (!) doughnut recipes on this site?? How could I let this happen? How could you let me let this happen? I rely on you guys to tell me when I've messed up so colossally as to let an entire year pass without posting a doughnut recipe. I'm so ashaaaaaamed! Forgiiiiiiiive meeeee!
Or, in lieu of forgiveness, I hope you'll make doughnuts. These were totally worth the wait, I promise. They're soft, dense and cakey, and slathered with rich, silky chocolate frosting and, of course, topped with a very generous helping of sprinkles. Sprinkles are everything, you guys. I stood by that when I was four and I stand by that now. (So does the 2 year old whose eyes bulged out of her head when I showed up at her house with a plate of these. I may have slightly ruined her dinner, but who's counting?)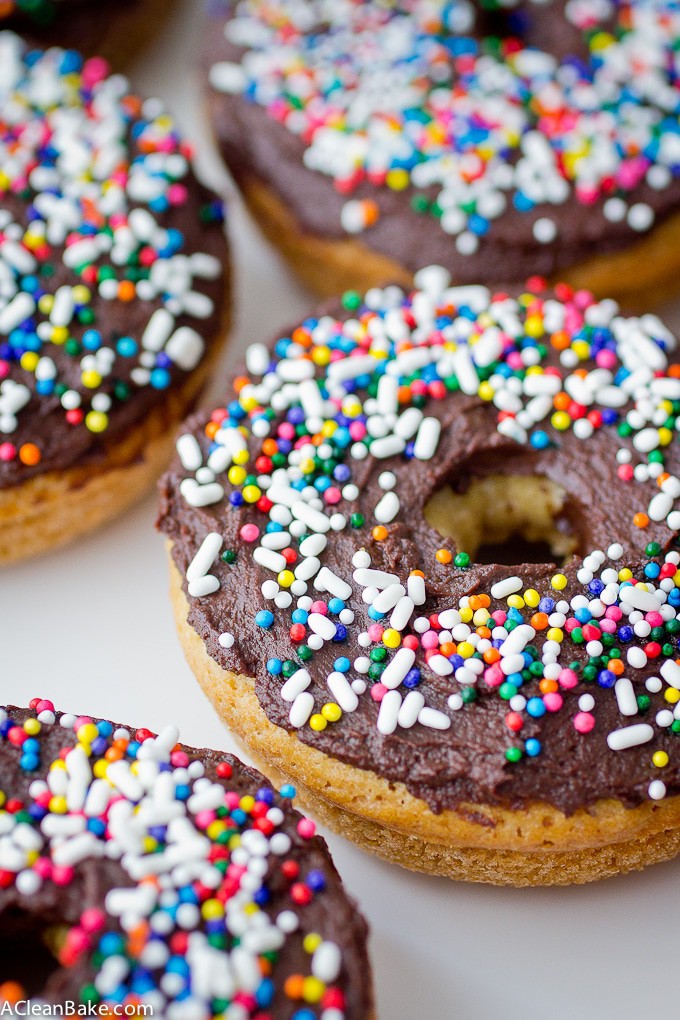 Now that I have figured out a great basic recipe, the sky is the limit. The recipe is so versatile and I already have a million ideas for more doughnut recipes to share with you guys, but before I get ahead of myself, I have to fill you in on the extra special reason for today's doughnuts – or, rather the guest of honor at today's doughnut party. Because, unbeknownst to you, you have stumbled into a doughnut party this morning. Happiest accident ever?
The reason for today's party is a very special lady named Cate – long time blog friend, current doughnut lover, imminent mother. We're celebrating the impending arrival of her baby girl with mom's favorite pastry and boy, is this a doughnut-craving pregnant woman's dream baby shower. Scroll down to see all of the creative doughnut recipes that the other ladies brought to the party.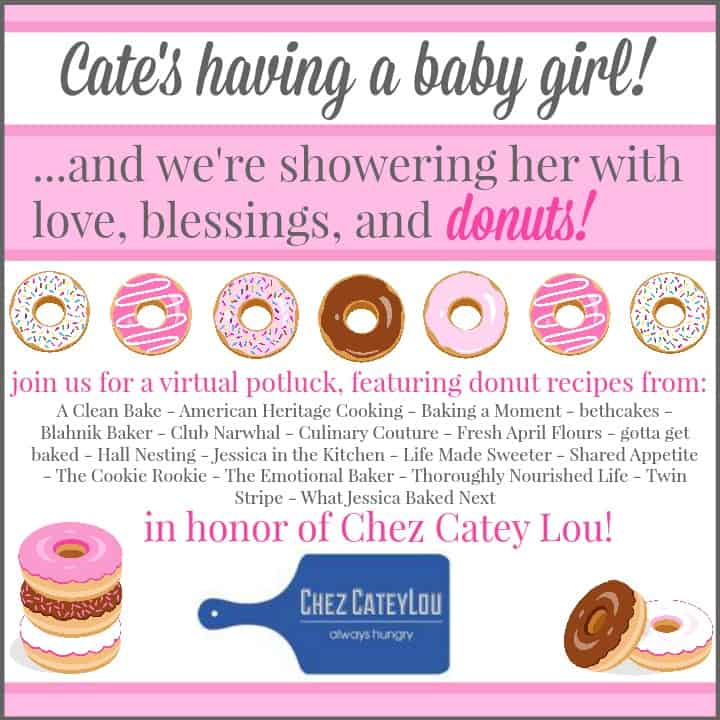 Baked Dark Chocolate Strawberry Donuts – Club Narwhal
Baked Lemon Donuts – What Jessica Baked Next
Biscoff Donuts – Baking a Moment
Chai Donuts – Fresh April FloursChocolate Cake S'mores Donuts – Jessica in the Kitchen
Chocolate Pretzel Donuts – The Emotional Baker
Coconut Matcha Donuts with White Chocolate Glaze – Blahnik Baker
Coffee and Donuts Breakfast Bake – The Cookie Rookie
Doughnut Tiramisu – bethcakes
GF Lemon Donuts with Raspberry Glaze – Thoroughly Nourished Life
Maple Glazed Donut Holes – Hall Nesting
Old Fashioned Sour Cream Cake Donuts – American Heritage Cooking
Paleo Chocolate Frosted Donuts – A Clean Bake
Raspberry Jam Filled Cupcakes – gotta get baked
Sausage, Egg, and Cheese Donut Breakfast Sandwich – Shared Appetite
Strawberry Margarita Oreo Donuts – Life Made Sweeter
Baked Mini Samoa Donuts – Culinary Couture
Donut Holes with Sweet Strawberry Dipping Sauce – Twin Stripee
Cate, I'm so excited for you and your husband and can't wait for you to meet your baby girl. In the meantime, I hope you are relaxing and enjoying a doughnut or two. I'm only sorry I can't delivery a dozen or so of these to you in person. Congratulations!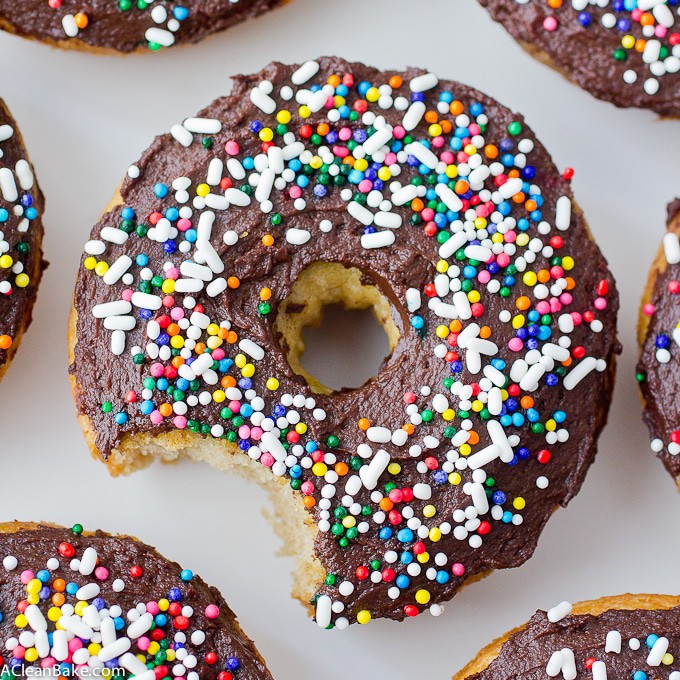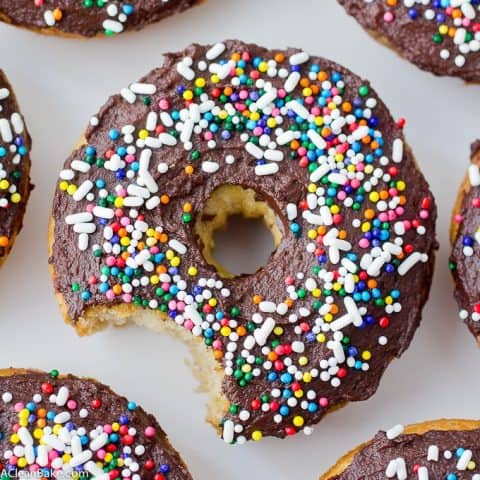 Chocolate Frosted Doughnuts
Chocolate Frosted Doughnuts are soft, dense and cakey, and slathered with rich, silky chocolate frosting and, of course, topped with a very generous helping of sprinkles!
Ingredients
1 cup blanched almond flour
1/4 cup granulated monk fruit sweetener, or granulated stevia
1 Tablespoon tapioca flour
3/4 teaspoon baking soda
1/8 teaspoon fine sea salt
2 large eggs
3 Tablespoons mild flavored oil
1 teaspoon vanilla extract
1/4 teaspoon white or apple cider vinegar
Instructions
Preheat the oven to 350F. Lightly grease a 6-compartment doughnut pan and set aside.
In a large mixing bowl, whisk together the almond flour, sweetener, tapioca flour, baking soda and salt. Set aside.
In a medium mixing bowl, whisk the eggs, then whisk in the oil, vanilla and vinegar.
Pour the wet mixture into the dry mixture and whisk until batter is smooth and evenly combined.
Divide the batter evenly between the 6 compartments of the prepared doughnut pan (each should be about 2/3 of the way full).
Bake for 14-18 minutes until the tops are domed and the edges are lightly golden.
Allow to cool in the pan for 10 minutes before transferring doughnuts to a wire rack to cool completely.
Frost with homemade dairy free chocolate frosting and finish with rainbow sprinkles.
Notes
Store leftovers in an airtight container at room temperature for up to 2 days.
Unfrosted doughnuts will keep nicely in the freezer, if wrapped tightly, for up to 3 months.
Yield: 6 doughnuts
Nutrition Information:
Yield:

6
Amount Per Serving:
Calories:

197
Saturated Fat:

1g
Cholesterol:

62mg
Sodium:

208mg
Carbohydrates:

5g
Fiber:

1g
Protein:

6g
[wprm-nutrition-label align="center"]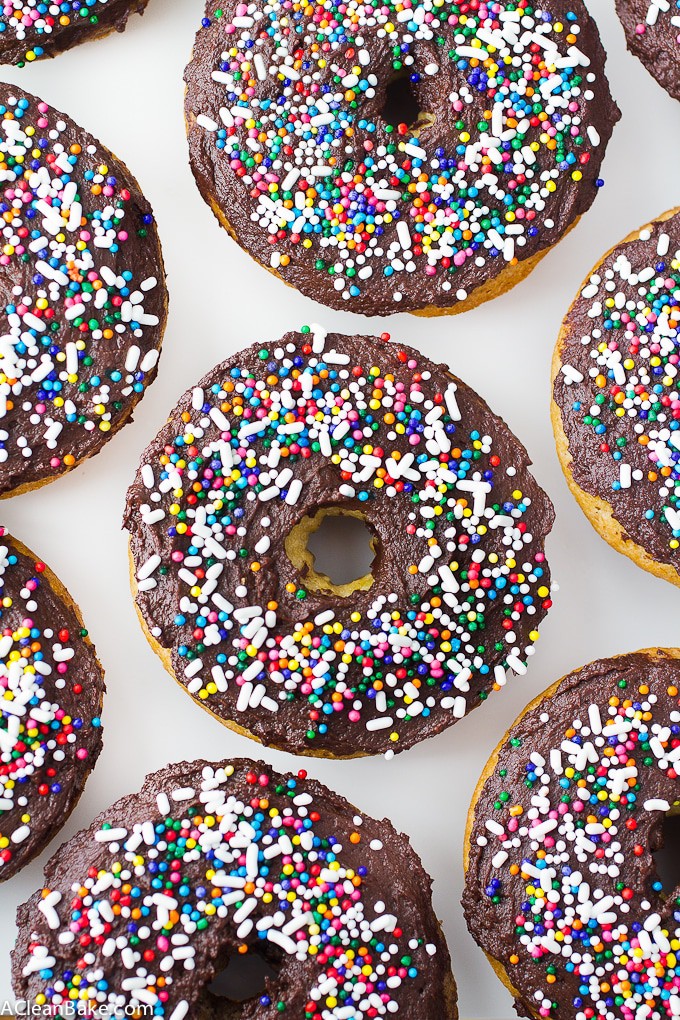 This post contains affiliate links, which means that if you click through and purchase a product, A Clean Bake receives a small commission, which goes toward continuing to bring you delicious, healthy recipes every week. This does not affect the price you pay. Thanks for supporting A Clean Bake!