These healthy spinach chips have an addictive salty-citrusy flavor that you'll love!
Wait, don't go. It's not as weird/gross/crunchy as it sounds. Actually, spinach chips are crunchy, but crispy-crunchy, not granola-birkenstock-commune crunchy. They're completely addictive.
Of all the healthy recipes I've posted here, it is always the ones that received the least planning, the least foresight, and were the most impulsive additions to the site that end up being the most popular (ahem.. looking at you, Ratatouille…). This is no exception.
Making Spinach Chips is a Simple Process
First of all: no frying! Spinach chips is basically a fancy way of saying baked spinach leaves. You will toss large fresh spinach leaves (don't use baby spinach; it's too fragile) in a large bowl with extra virgin olive oil, lime juice, and fine sea salt, and spread them in a single layer on a baking sheet. Pro tip: don't forget to cover your baking sheet with parchment paper so the delicate, crisp little chips don't stick to the baking sheet and break when you try to remove them.
For a little extra kick, add chili powder or paprika to your spinach chips, or swap the lime for garlic powder. But that's really all the heavy lifting you'll have to do. Prep time takes maybe 5 minutes, and the cook time is a little longer (around a half hour), but it's hands off time in which you can spend doing something else.
Consider these oven baked spinach chips to be the healthier, homemade version of those tortilla chips we all know, love, and have eaten our body weight in over the course of our lives. You know what I'm talking about. No more, though. Tostitos are out. Heck, potato chips are out! And, for that matter, consider baked kale chips out too. Kale may be on trend, but spinach is forever.
These spinach chips will not last forever, though.
Like any good chip, these are salty and flavorful and so satisfyingly crunchy that the whole batch will be inhaled before you know it. And who doesn't love to eat their veggies in chip form?
They are a healthy snack that is delicate and not at all filling, though, so you won't feel, you know, terrible when you do. Trust me. I've tested this theory just for you. Pro tip: it's probably best to double the recipe right out of the gate. You'll thank me later.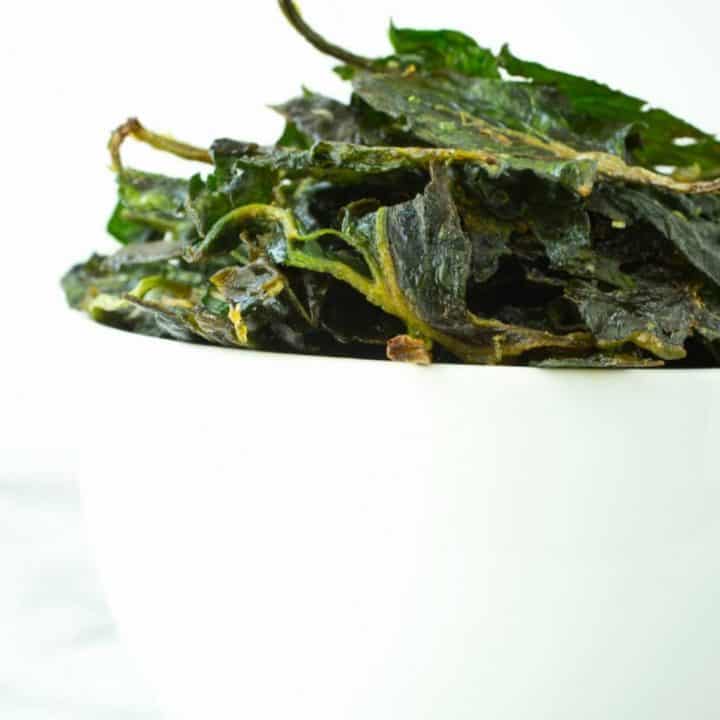 Sea Salt and Lime Spinach Chips
Sea Salt Lime Spinach Chips - gluten-free, vegan, grain-free, & paleo. These healthy homemade chips have an addictive salty-citrusy flavor that you'll love!
Ingredients
Zest and juice of one large lime, (about 1 1/2 Tablespoons zest + 2 tsp juice), divided
1/2 teaspoon fine sea salt
8 packed cups fresh whole spinach leaves, (do not use baby spinach), rinsed and dried
2 Tablespoons extra virgin olive oil
Instructions
Preheat the oven to 275F. Line 2 baking sheets with nonstick pads or parchment paper.
In a small bowl, use your fingers to rub together the zest and the salt.
In a large mixing bowl, toss the spinach with the olive oil to thoroughly coat.
Then add the lime salt and toss again to distribute a little bit of the salt on each leaf. Use your hands if necessary.
Distribute the spinach between the two prepared cookie sheets in an even layer (do not crowd the leaves).
Sprinkle each batch with a teaspoon of lime juice.
Bake for 30-35 minutes (you may need less time depending on how fresh your spinach is, so keep an eye on it) until the leaves are withered and very thin.
Remove from oven, and let the chips cool completely on the pan before serving.
Notes
It is best to eat these chips as soon as they've cooled. If you need to store them, the best way is in an open container in the fridge. If you cover them, they'll get soggy though. Even uncovered, they will lose some of their crispness overnight.
Nutrition Information:
Yield:

4
Amount Per Serving:
Calories:

62
Sodium:

292mg
[wprm-nutrition-label align="center"]
This post contains affiliate links, which means that if you click through and purchase a product, A Clean Bake receives a small commission. All proceeds go toward continuing to bring you delicious, healthy recipes every week, and this does not affect the price you pay. Thanks for supporting A Clean Bake!