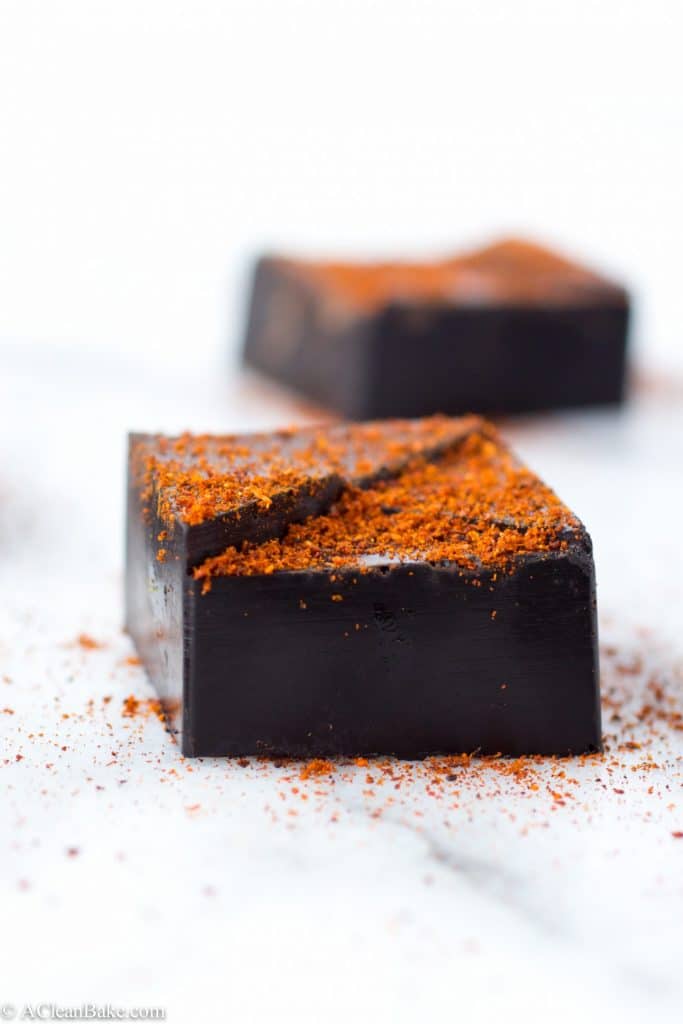 By this time, you've heard it all before: Hi my name is Nora and I'm exhausted, and I'm sick of winter (which is back, by the way), and my job can be super overwhelming sometimes. These are all the reasons I stress bake regular bake, but more so, these are the reasons I no-bake, because sometimes instant gratification is the name of the game, and the rules of the game are as follows: First rule: chocolate. Second Rule: See first rule.
Even though work exhausts me, I work with some pretty smart and creative (and cool) people, including my usual project partner, who deserves precisely all of the credit for these. After trying my sugar-free dark chocolate recipe, he nonchalantly mentioned that it might be good with some chili powder. See, I told you I work with some brilliant people.
One night last week, when my husband was working late, I did what every one does in such a situation: made chocolate. Wait, isn't that what you do?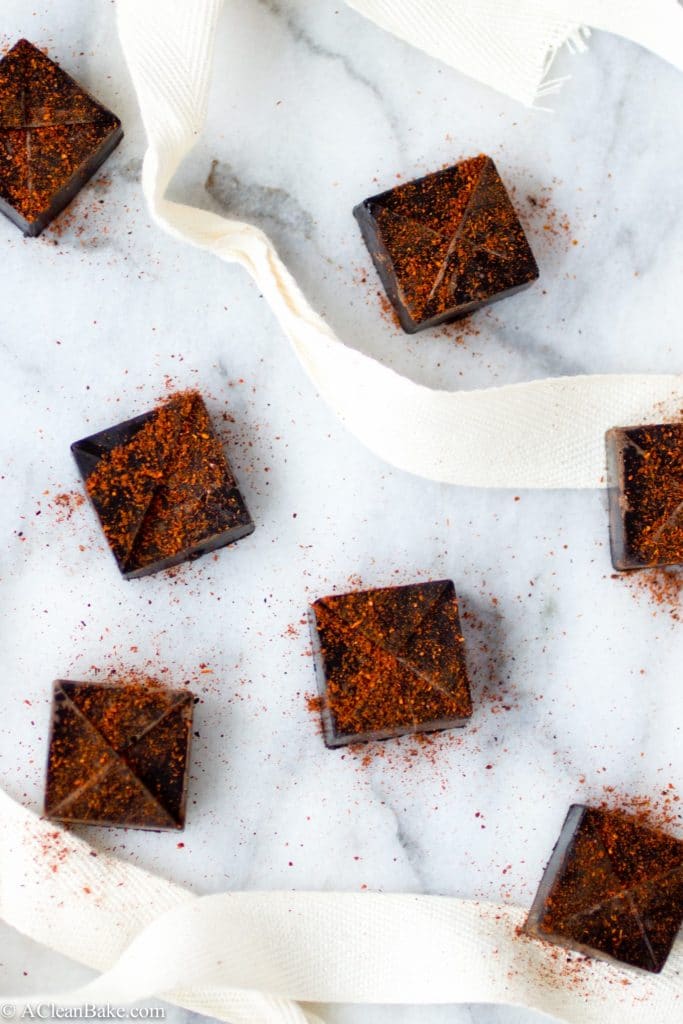 These tiny chocolates pack a punch of flavor that will bring you back to life. They are so dark-chocolatey that they taste almost coffee-ish, and they are sweetened just enough to take the bitter edge off the cocoa powder, but not a drop more. Start with that, and mix in some spicy magic: cinnamon, nutmeg and chili powder. Ohhhhh, the chili powder. You see, when you mix it all up, you might think "gosh I am disappointed that these flavors are so weak." Just wait.
Just as the liquid mixture transforms to a solid as it chills, so too do the drab, washed out spice flavors transform into an amalgam of flavor that evolves from sweet to pleasantly bitter and finishes with a just-bold-enough smoky spiciness from the cinnamon and, more so, the chili powder that will send a shiver down your spine in the best possible way.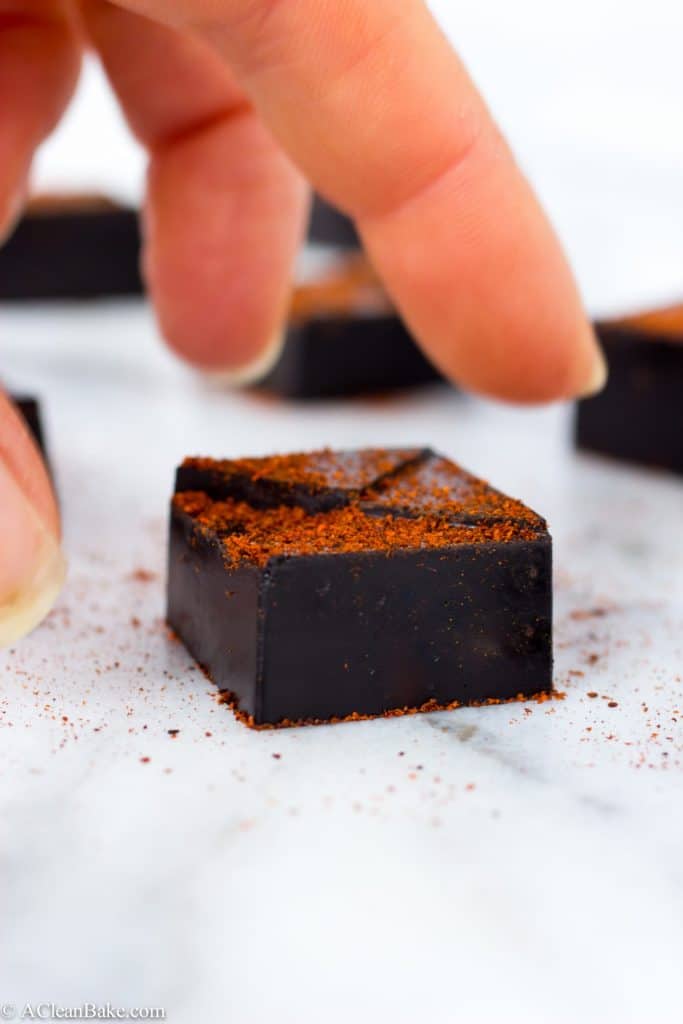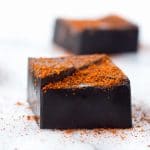 Mexican Spiced Dark Chocolate
Ingredients
1/2

cup

good quality cocoa powder

2 1/2

Tablespoons

granulated stevia or sweetener of choice

I have made these with both

Pinch salt

2

teaspoons

cinnamon

1/2

teaspoon

nutmeg

3/4

teaspoon

chili powder

1/4

cup

coconut oil

4 Tablespoons, divided, melted and still warm

1/4

teaspoon

vanilla extract
Instructions
In a small mixing bowl, whisk together the dry ingredients (cocoa powder through chili powder)

Mix the coconut oil into the cocoa powder mixture, 1 Tablespoon at a time. Scrape down the sides and bottom of the bowl periodically to make sure it all gets incorporated.

Stir in the vanilla.

Divide between two lightly greased

mini loaf pans

or a lightly greased chocolate mold (

here

is the mold I used for these chocolates, and I also have

this

heart mold).

Allow it to set at room temperature for 30 minutes, then transfer to the fridge to set completely.

Store in the fridge until you're ready to eat it. This gets a little mess if kept at room temperature.
Recipe Notes
- As far as what cocoa powder to use, make sure you're choosing something of reasonably good quality, since this is the primary source of flavor in these chocolates. I used Hershey's Special Dark, which I love, so you definitely don't have to get the most expensive artisanal chocolate out there. Just maybe spring for more than the store brand.
- Although it is not mandatory, it is helpful to have a silicone candy mold for this. They are quite inexpensive, and you can use them over and over again for chocolate or even gummies.
This
is the one I used for these.
- Yield: about 12 chocolates.