As a follow up to my post about strategies for eating a gluten free diet at restaurants, I thought I'd take it a step further and give you another cheat sheet to make it even easier to eat out. I think the title of this post pretty much speaks for itself, so scroll down, find your favorite, and read about all of the ways that I find plenty (and I do mean plenty) to eat on any menu without risking any reactions. As always, if I missed your favorite cuisine or trick, leave me a comment below!
**
Bar, Pub, Burgers, American, etc.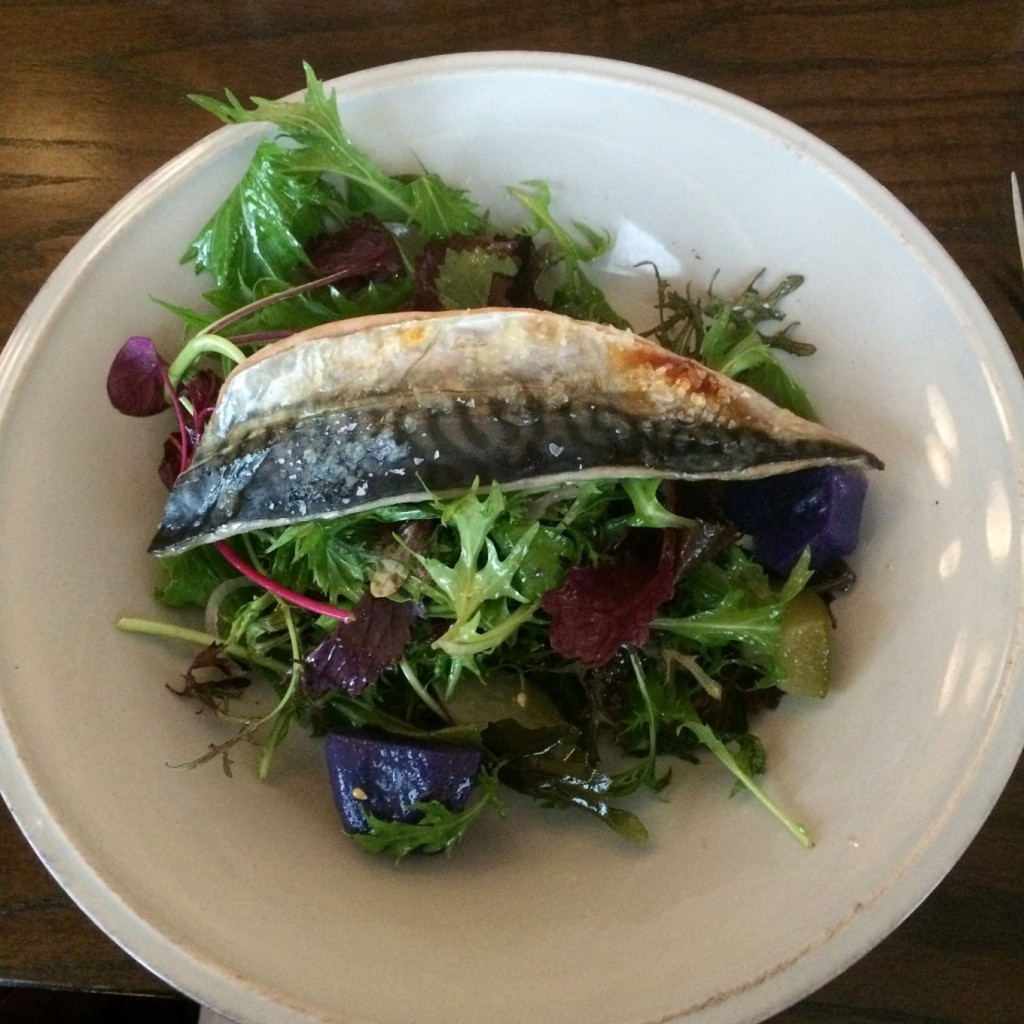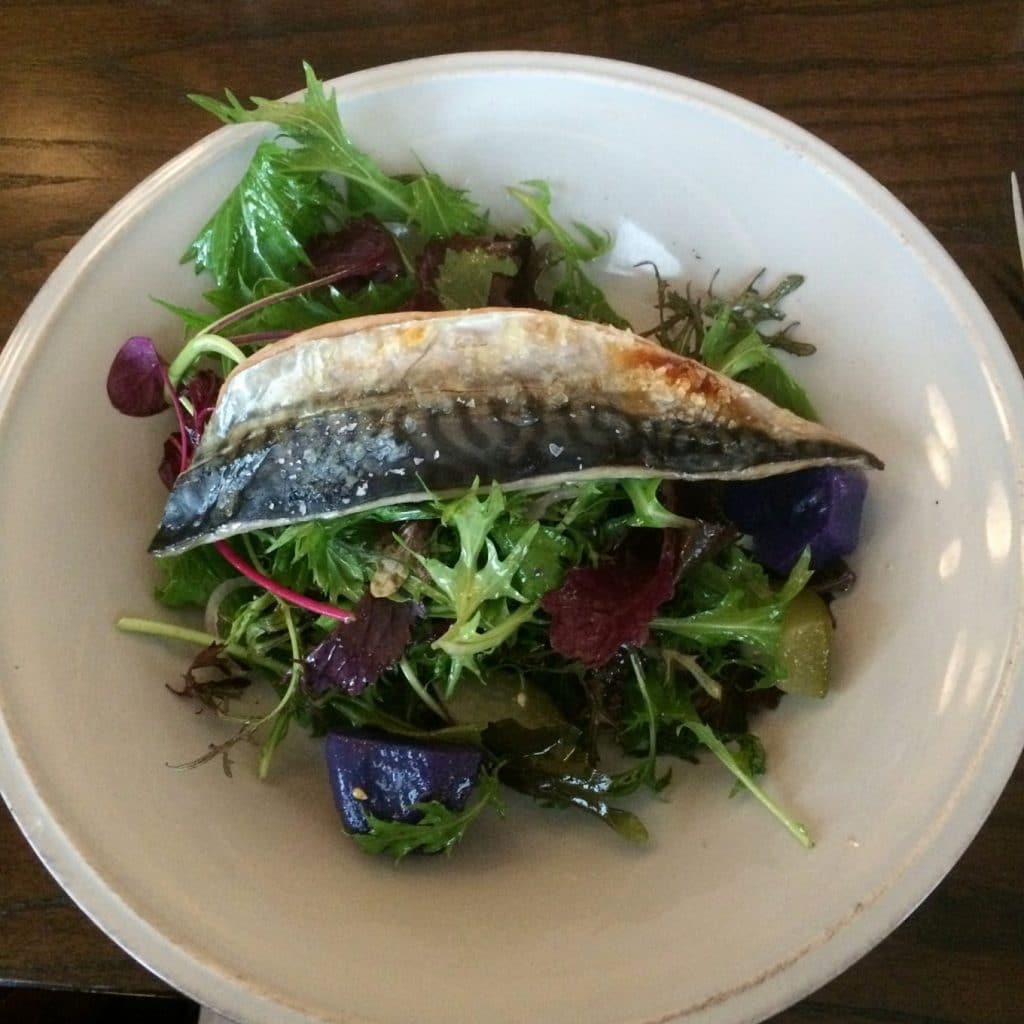 What to order: Salad with protein, burger or sandwich on gluten free bread (if they offer it), or simply breadless. Fries, potato skins, mashed potatoes, and steamed, raw, sautéed or roasted vegetables on the side.
Watch out for: Depending on how, ahem, rustic the dining establishment is, you may need to assume that all sauces, marinades, condiments and other sources of flavor come out of bottles and jars. That's fair game in a quick-turnover restaurant, but it is a huge red flag if you're sensitive to gluten because, as we all know, many bottled condiments contain gluten. Also watch out for: fritters, breaded stuff, beer battered anything, dipping sauces, glazed stuff, creamy/thick sauces, or stews, anything made with a roux (which a lot of comfort foods like pot pies, gravies, scalloped potatoes and soups are)
Make it paleo: Oh that's easy: hold the bun. Get a burger or a hot dog, or even a sandwich, and have them put it on a bed of fixin's or salad, instead of on a bun, or get any entrée that is just protein + veggies.
**
Barbecue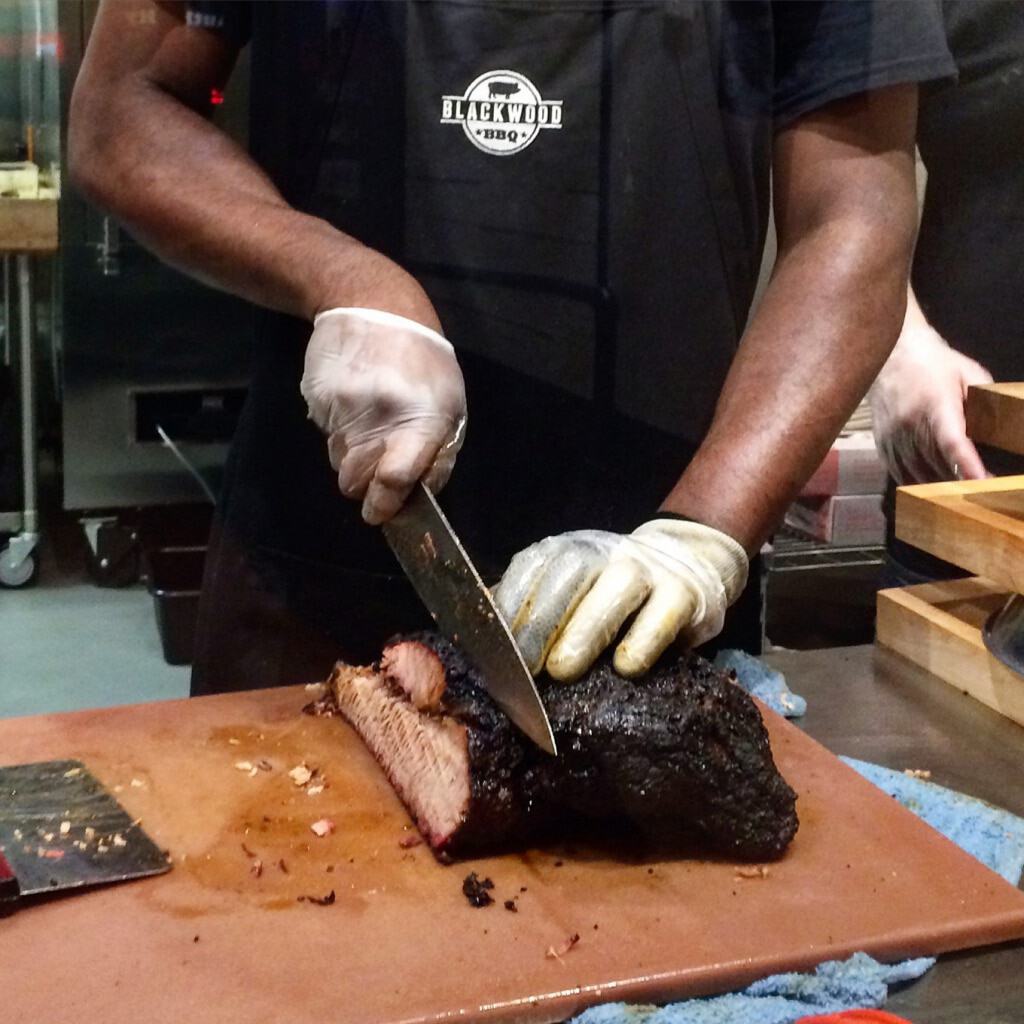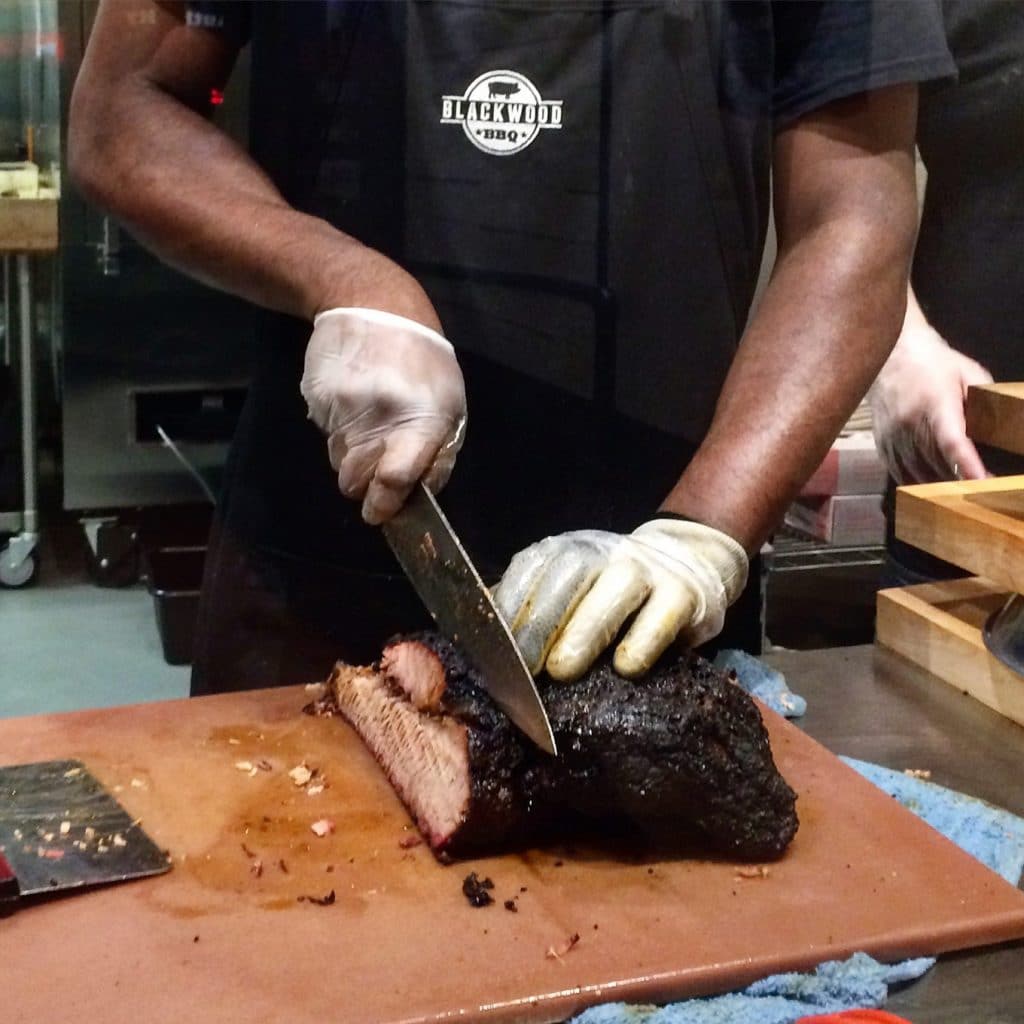 What do order: Chicken, pork or brisket (beef) platter with any of the vegetable-based sides, like cole slaw, pickles, chili, potato salad, mashed potatoes, fries, baked beans, sauteed greens, or salad.
Watch Out For: Most high quality BBQ joints make thier own sauces, so they are unlikely to contain gluten-y thickeners. Don't hesitate to ask, though, if you have any concerns. Same goes for anything in a thick sauces. The mac & cheese, biscuits and cornbread that may be included with many BBQ platters isn't gluten free, of course, nor is the bread that they tend to throw in, even if it's not listed on the menu. And if you are extremely sensitive, skip any vinegar-based sauces, since you don't know what kind of vinegar serves as the base.
Make it Paleo: Stick to the sides that don't contain beans (baked beans, chili). The rest should be fine.
**
Coffee Shop or Diner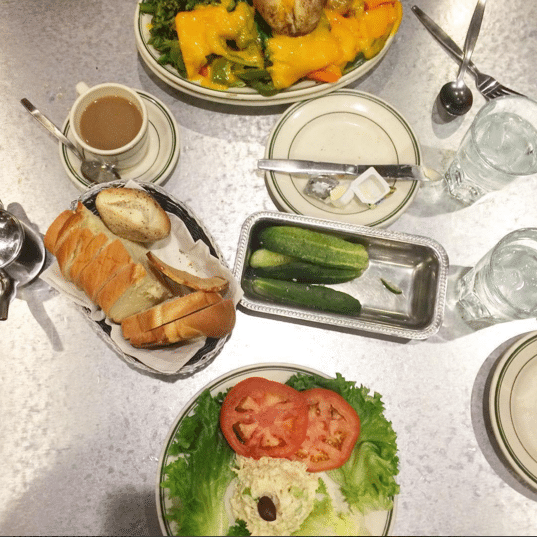 What to order: Because they serve breakfast all day, you have plenty of egg options. Many diners near me also have gluten free toast and French toast (it may cost a little extra) and/or pancakes and waffles upon request. If you're not in the mood for breakfast food, try most salads (ask them to leave off the croutons), or order a sandwich or burger hold the bun or on gluten free bread instead.
Watch out for: condiments (mayonnaise and mustard are not always gluten free), thick or creamy soups (almost always thickened with a flour-based roux), gravy and other thick sauces, hearty comfort foods like pot pie, bread crumbs (e.g. chicken or eggplant parm)
Make it Paleo: Get your omelette or scramble with fruit or a side salad instead of toast, your benedict on a tomato slice instead of English muffin, or your burger or sandwich without the bread or bun. Some restaurants will even wrap it in lettuce for you instead.
**
French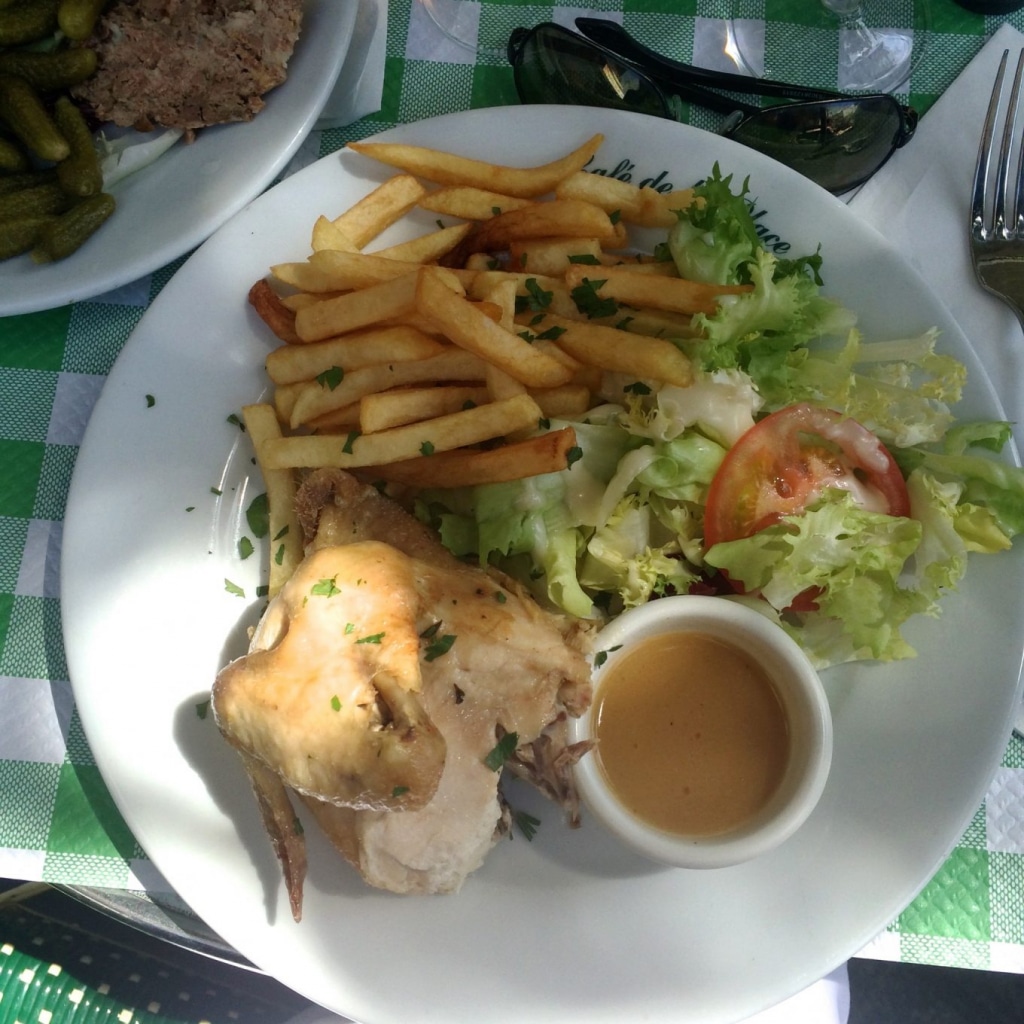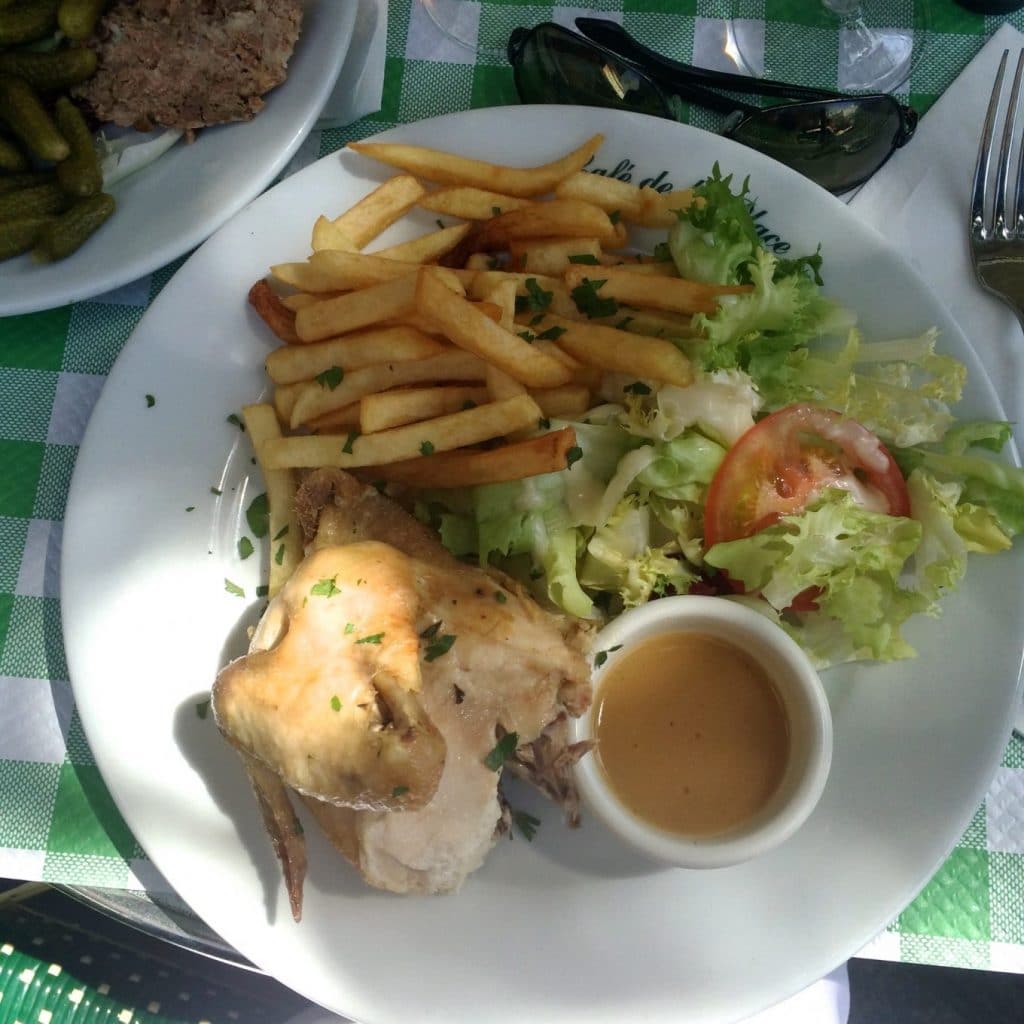 What to order: Though French food gets a bad reputation for being 90% bread, it is surprisingly easy to avoid gluten in French restaurants. Start with a salad or cruditee platter, and choose steak, mussels, or roast chicken for your entree (all three come with fries!). Finish the meal with chocolate mousse, fruit or a cheese plate.
Watch out for: French cuisine does use flour to thicken a lot of sauces and soups, so it is always best to confirm with your server that your dish will not be drenched in an offending sauce. French onion soup, for example, is nearly guaranteed to contain flour, and vichyssoise traditionally doesn't but you never know, so avoid all but broth-based soups like bouillabaisse.
Make it Paleo: Skip the cheese, and if you're really strict and don't eat white potatoes, ask for the restaurant to replace your fries (if they come with your entree) with a salad or streamed or sautéed vegetables.
**
Indian, Napalese, Indonesian, etc (different cultures, but similar styles of cuisine)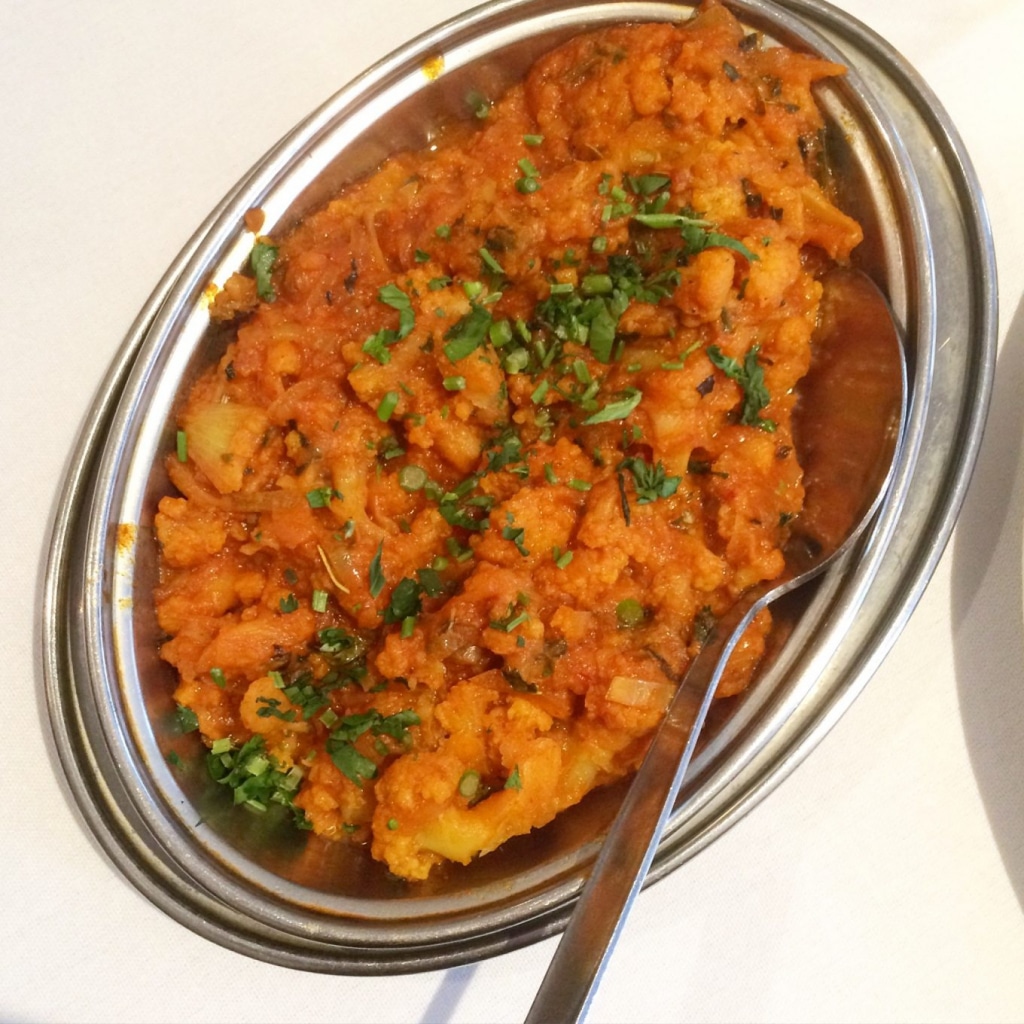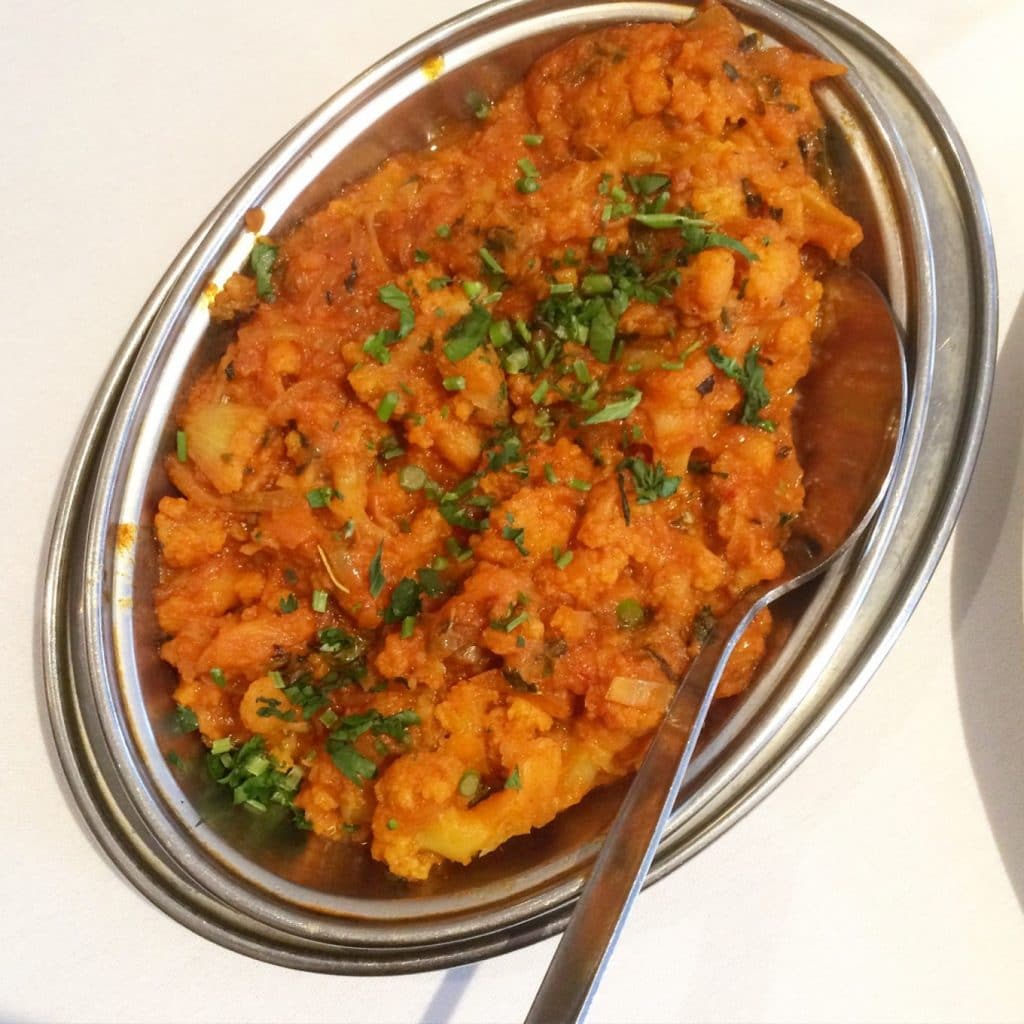 What to order: Salad, chutney, mixed pickled veggies, raita (a yogurt-based sauce-y soup), or salad. Mulligatawny soup is usually also safe, but it is best to confirm that it is thickened only with cream and not flour. Most of the grilled dishes should be safe (they may be referred to by the name of the grill/oven, the Tandoor or the dish may be called Tandoori something; note that many of these dishes are marinated in yogurt, so if you have dairy allergies, beware). Kebabs, rice platters with vegetables and protein, and many seafood dishes should be fine too, but there may be some exceptions.
Watch out for: You may want to skip the starters, since most of them are battered or wrapped in dough and fried. Ask your server, though, because sometimes the dough or batter is made of chickpea and/or rice flour, rather that wheat flour. However, assume the restaurant does not have a dedicated gluten free fryer, so you will need to make a decision based on how sensitive your body is. Try papadum, which are baked crisp breads made of lentil flour, with chutney, if you want something carby to start or accompany the meal. Vegetarian dishes are another potential problem, since many of them are battered (in wheat flour) and fried, and/or stewed in a thick sauce that may or may not contain flour. In general, remember that the hallmark of Indian food is its complex flavor and texture, which may not make the ingredients apparent to you until it's too late and you're sick. So if you have any doubts, ask.
Make it Paleo: Legumes (aka pulses) like lentils and chickpeas are a major part of the Indian diet, as is cream and cheese. The dish description will typically mention when legumes are in the dish, so they are relatively easy to avoid. On an Indian menu, anything with "masala" in the name indicates that there is a sauce involved, which are typically cream based. Sometimes, a dish may be served in a dairy-based sauce even if it doesn't say masala. Most Indian entrees come with fragrant rice too, and this is an important (and wonderful) part of the meal, so even if you don't consider yourself a card-carrying member of #teamwhiterice, I'd encourage you to make an exception.
**
Italian

What to order: Roasted, grilled, braised, seared or poached meat, fish or poultry; salads (ask for no croutons or breaded toppings); sides of vegetables or gluten-free starches like roasted potatoes. Increasingly, Italian restaurants offer one or more gluten free pizzas or pasta dishes too, so don't be afraid to ask!
Watch out for: The bread basket, obviously, plus any pasta dishes (unless expressly labeled gluten free; don't trust that something potato based or corn based is gluten free otherwise). In addition, be cafeful of breaded/fried appetizers, meats, and eggplant parm, baked appetizers and meats (they may be ok but ask to confirm they are not breaded), thickened soups and sauces, croutons in salads, unexpected bread crumbs
Make it Paleo: Order a salad or antipasti platter to start and a meat or fish entrée. Be aware that the starch in most entrees may not be paleo friendly, so either ask for extra vegetables instead or simply leave it on your plate.
**
Ethiopian

What to order: You're in luck – almost anything. Ethiopian food typically consists of a selection of stewed meat, legumes and vegetables served on a traditional flatbread that looks like a giant crepe. It's called injera and is made from a naturally gluten free grain called teff.
Watch out for: Many Ethiopian restaurants near me save money by making their injera from wheat flour unless you request the traditional teff recipe. Do yourself a favor and call ahead just to be safe.
Make it Paleo: You typically get to choose a variety of 5 or more stews that is shared by the group. If your whole group follows a grain free diet, just order all meat and vegetable options, but if you're the only one, make sure there is at least one meat and one vegetable option for you to nosh on. You might consider trying the (real) injera too. Teff is an ancient, largely unaltered grain that is nutritious and a huge part of Ethiopian cuisine. If you need to skip grains for medical reasons though, obviously stick to the stews.
**
Japanese

What to order: Sushi is going to be your best option, but stick to the basic rolls that just consist of fish, rice, seaweed and maybe some avocado, cucumber or other vegetable. Once you get into the section of rolls with names like King Kong, you're risking getting rolls with processed ingredients (which often include gluten-y thickeners; imitation crab is one of them) and breading.
Watch out for: Soy sauce, teriyaki sauce, ponzu sauce, miso (maybe, but better safe that sorry), dumplings/gyoza, anything marked "crispy", panko, tempura, imitation crab. Also be careful with the special rolls (you don't have to avoid them completely, but ask plenty of questions). If you're extremely sensitive, be careful with the spicy rolls and the wasabi. The spicy mayo may use a non-gf mayo base, and the wasabi is often produced with gluten-y flavoring agents or thickeners.
Make it Paleo: First of all, don't bother if you're not comfortable eating white rice. Rice is increasingly considered to be an acceptable grain on the paleo diet, and if you can tolerate it, it's worth having once in awhile (your body needs carbs, after all). That said, if you stick to the guidelines above, you're in good shape.
**
Middle Eastern, Greek or North African

What to order: falafel, kebab or shawarma platter or sandwich (if you're not super sensitive, you can just eat the filling and leave the pita). You'll also likely get rice or fries and salad with it. Typically entrees come with bread, so be sure to ask them not to bring any. As for appetizers, you have many safe options: salads, stuffed grape leaves, and dips like hummus or babaganoush. The restaurant may be able to provide you with some vegetables like tomatoes and cucumbers to eat with the dip instead of bread. But I've eaten babaganoush with a spoon, too.
Watch out for: Bread basket at the table. If you're very sensitive, you may want to skip the fries due to cross potential contamination in the fryer. Check the menu to see if there are any other fried items that might be breaded or contain gluten. Also, if you're eating North African food, many dishes are served on a base of couscous, which contains gluten. Typically, couscous dishes are also offered over rice, or you can ask for them to be served over rice instead.
Make it Paleo: Most entrees are composed of some variation of meat, vegetables and rice. I have never had a problem asking them to leave off the rice, and sometimes they will be nice enough to replace it with more vegetables or salad. You may also see yogurt based dressings on some dishes. To be honest, it's probably high quality plain yogurt and will do you more good than harm, so this might be a good opportunity to relax your rules, unless you cannot tolerate dairy.
**
Mexican & Tex Mex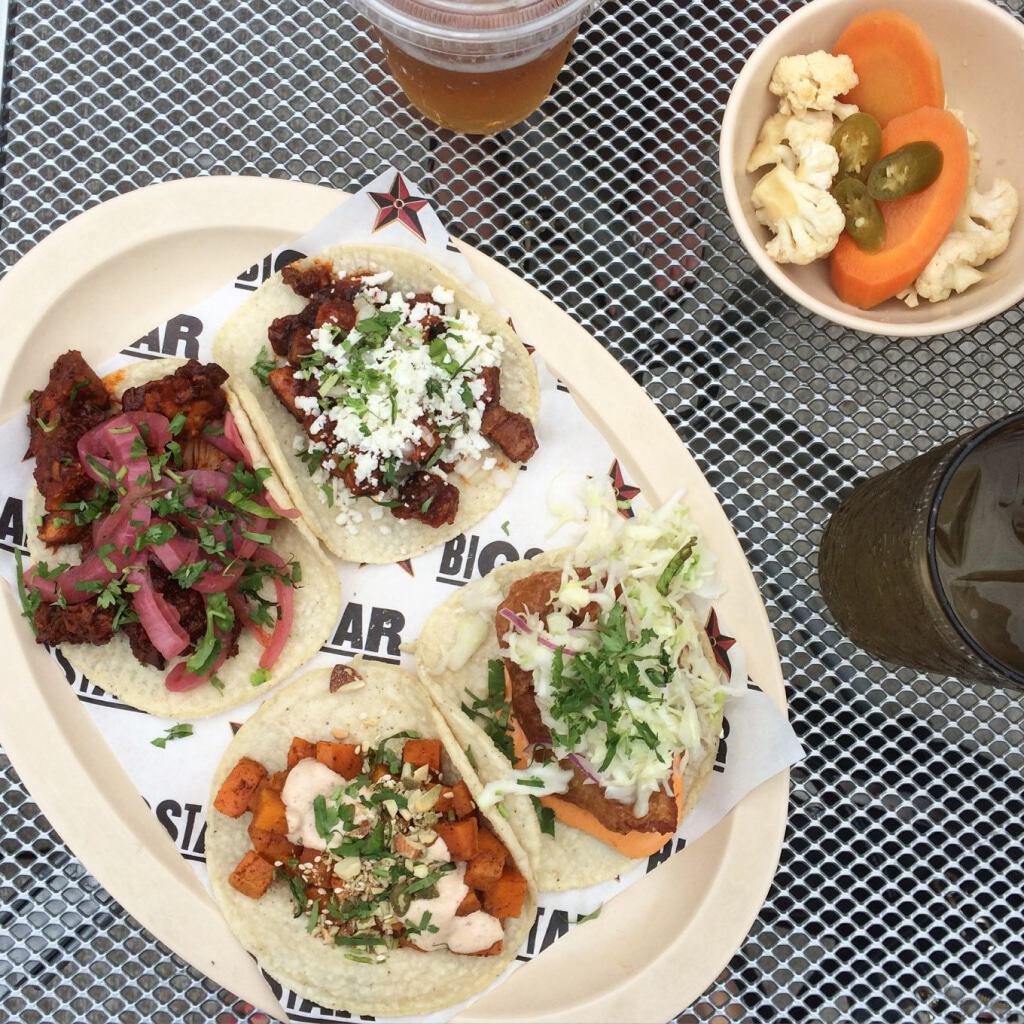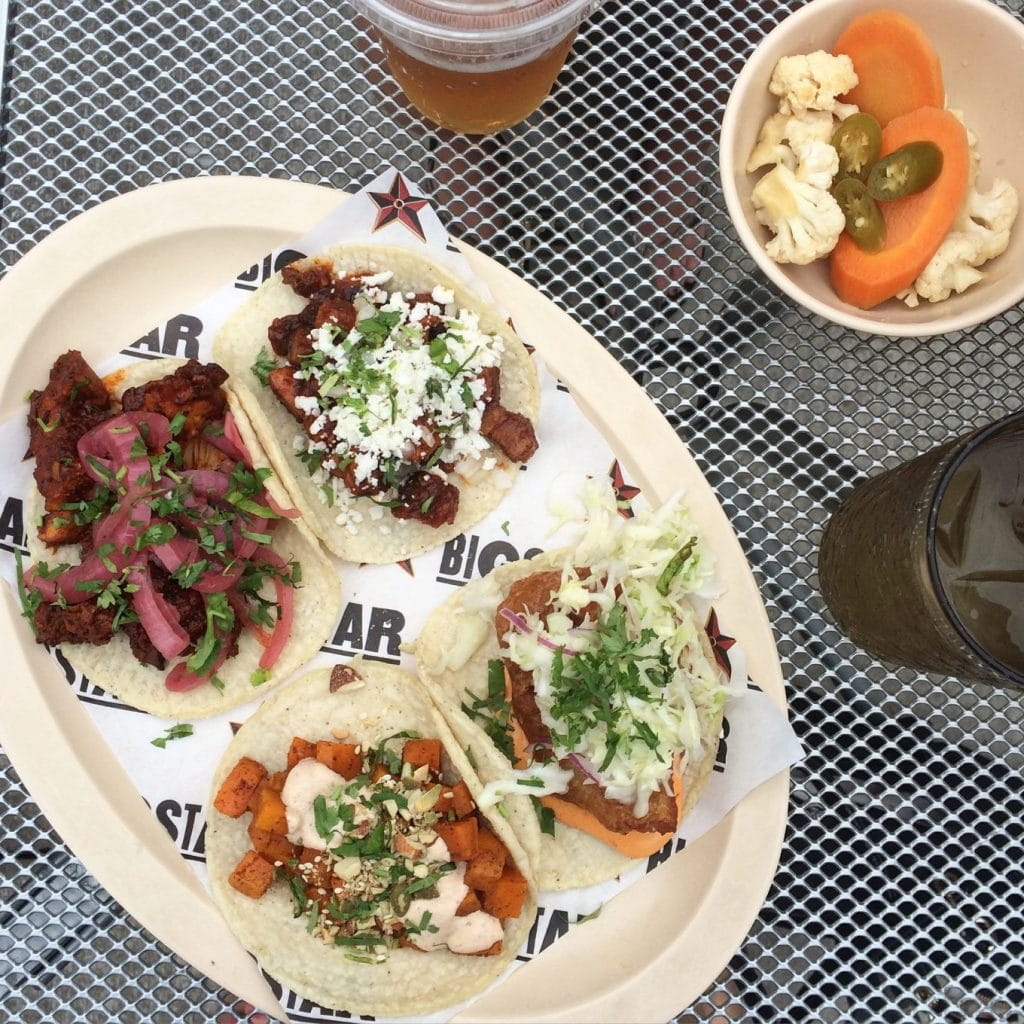 What to order: Your biggest issue with this cuisine is going to be flour tortillas, but as long as the restaurant sticks with corn tortillas, you're probably safe with most (not all – see below) options.
Watch out for: Flour tortillas, flour-thickened soups and sauces, breaded items
Make it Paleo: It's hard to ask for them to hold the cheese, beans, sour cream, tortillas, and maybe even rice, because there will literally be almost nothing left. Instead, be a good guest and order the fajitas with a side of guacamole, no tortillas (or ask to replace them with rice). You'll get a steaming platter of meat and veggies with a side of healthy fat – a perfectly paleo option.
**
Steakhouse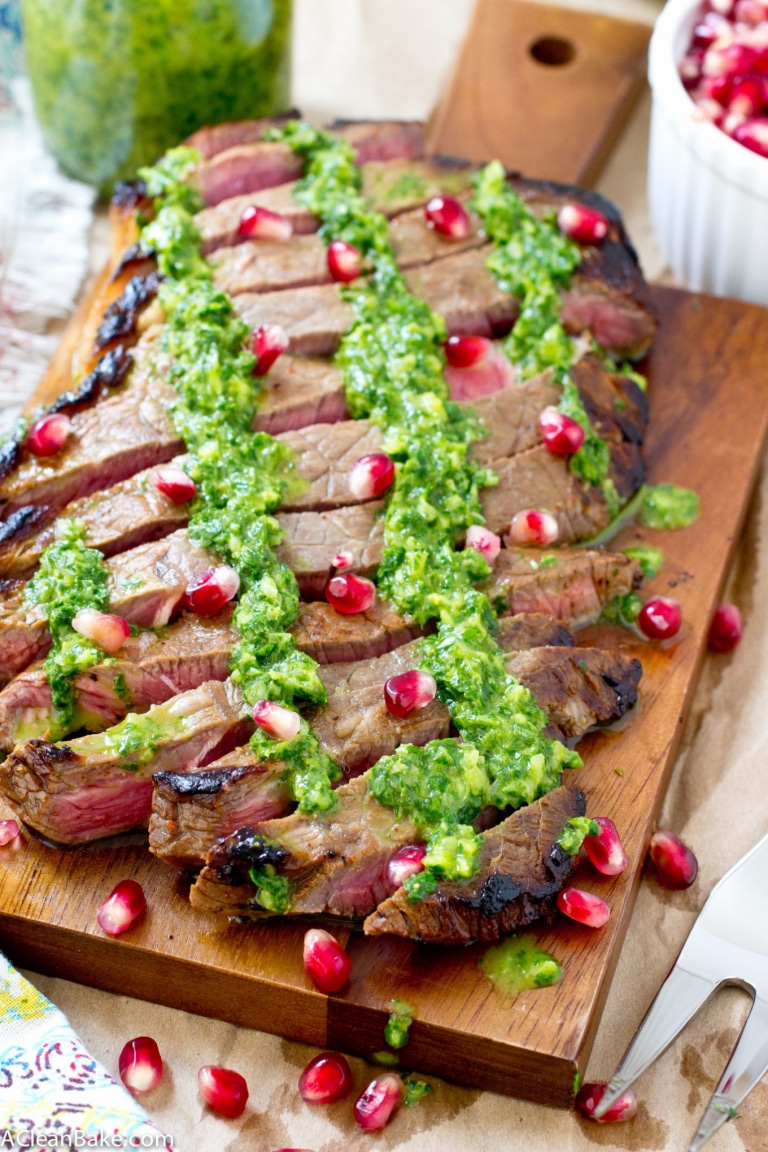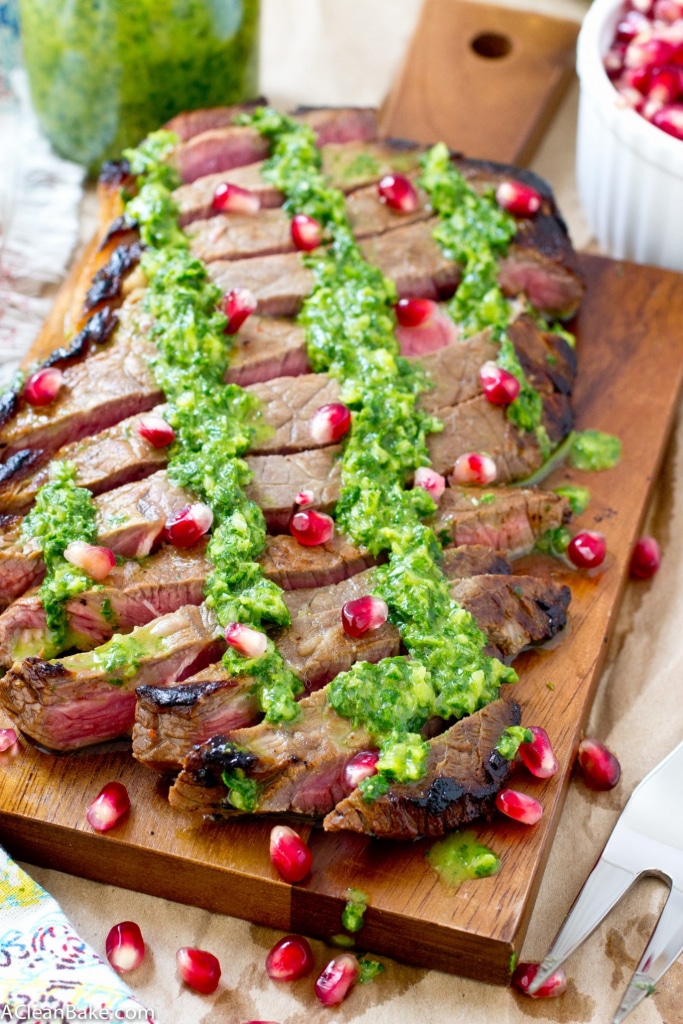 What to order: Aside from the bread basket, you'll probably have an easy time eating at a steakhouse, which focuses on meat, seafood, vegetables, and potato-based starchy sides like baked potatoes and steak frites.
Watch out for: The appetizers. For example, crab cakes typically use wheat flour as a binder, and the cocktail sauce that accompanies a shrimp cocktail will likely contain gluten. Also, it goes without saying that anything breaded and fried is a huge red flag and should be avoided. This means you, calamari. It may be best to avoid soups; the richer and creamier, the more likely to have been thickened with flour. There may be a few dangerous sides, too, but I imagine they will be pretty obvious, like mac & cheese.
Make it Paleo: A typical entree will include meat, sautéed vegetables (usually in butter, which you can either choose to overlook or ask them if they can use olive oil instead), and a starch. Baked potatoes or fries, as I said, are the typical starch options, and I know that potatoes are becoming increasingly accepted in the Paleo community, so it's up to you. Typically there is a "sides" section of the menu, so you can request that your potato be replaced with a salad or additional veggie from those options.
**
Thai, Vietnamese, Chinese, Korean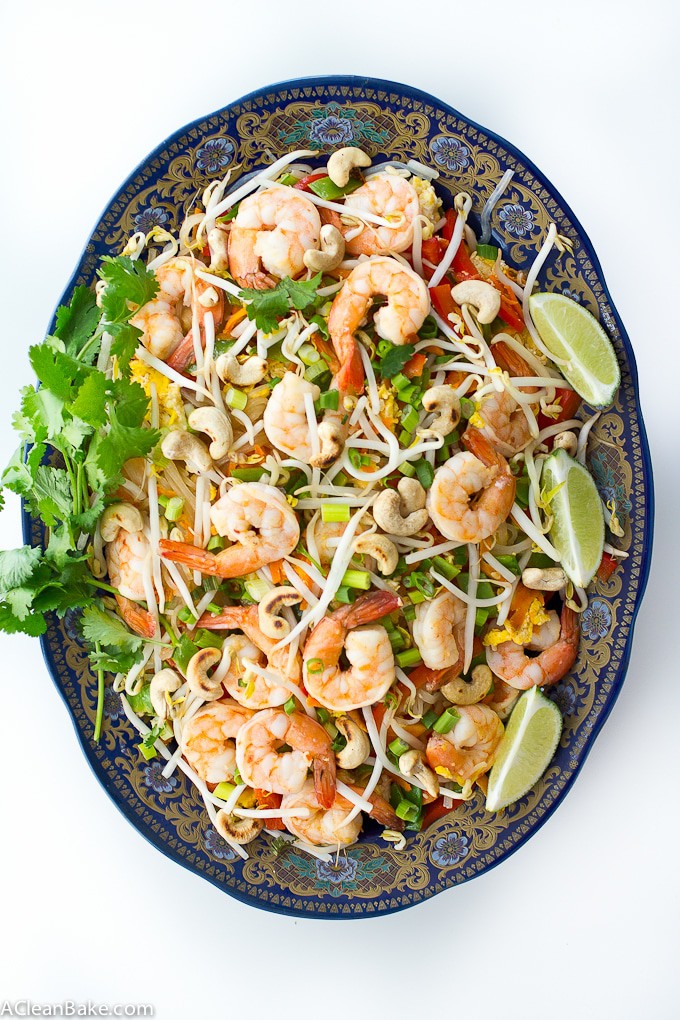 What to order: You'll be in good shape here, in these heavily rice-based cuisines, so you can probably order any of the soups, salads, or stir fry dishes without much concern. Depending on which cuisine you're eating, you can probably choose from some of the noodle dishes, which will be made with rice noodles, but make sure you confirm that you're getting rice, not wheat, noodles.
Watch out for: Wheat noodles, as I said above, as well as the usual suspects: breaded and fried things, or wonton/dumpling things (the wrapper is typically, though not always, wheat based). And, depending on how sensitive you are, you may need to be very careful to avoid soy sauce, which contains gluten, in the cuisines that use it heavily. Personally, I am not sensitive enough to worry about eating a little soy sauce once in awhile, but for those of you who are, this is going to be a huge concern.
Make it Paleo: Start with a soup or salad, and order a meat and vegetable stir fry entree. Wear your #teamwhiterice badge, or ask them to hold the rice – your choice!
**
So, what are your favorite cuisines, and gluten free dishes from them?
Please note: I am not a medical professional and this information should not be use instead of the advice of one. Please consult your doctor before trying a new cuisine if you are avoiding gluten to manage a health condition.