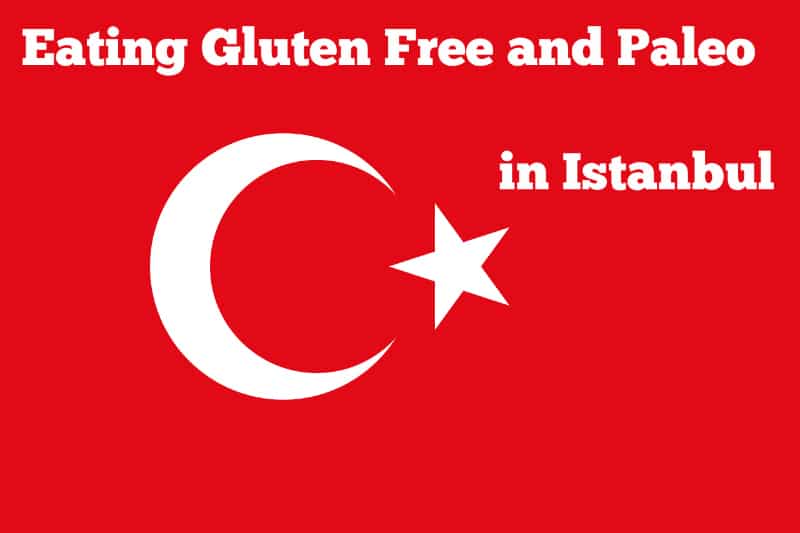 My husband and I are on our honeymoon in Europe. Over the past 2 weeks, we've hit up London and Paris, and now we're in Istanbul. Traveling abroad while following a restricted diet is always a challenge, especially in countries where bread and gluten are prominent, but with a few handy tips and a little bit of preparation, it is totally possible to have a successful trip full of great food. This week, I'm sharing some of my strategies for having a smooth travel experience while following an elimination diet. 
Before I left for this trip, I did a couple simple searches for gluten-free and low carb/paleo dining options in the three cities we will be visiting. This allowed me to get a general sense of how easy it will be to find food that I will be able to eat (I've been to each of these cities before, but that was in the days before I had food restrictions) and to start to plan my itinerary. Simple searches for "Gluten free [city]" and "Paleo [city]" or "Paleo restaurants [city]" yielded lots of results, including restaurant recommendations and firsthand accounts of successful gluten-free and paleo-friendly  itineraries in these cities.
Of all three cities, this is the one that I have the fewest concerns about. I've been there before, so I know what to expect. Have you ever eaten Turkish food? It's like a cross between Greek and Israeli food (granted, that's an incredibly oversimplified description, so I hope my Turkish friends will forgive me), with a great emphasis on vegetables, fruit and fresh meat and seafood. Though bread, flour-thickened soups, and gluten-y pastries are extremely common, it's easy enough to eat around them.
Take breakfast, for example, which consists of not just bread, coffee and tea, but also fruit, salty feta-like cheese, meat, cucumbers, olives, tomatoes, peppers, and hard boiled eggs. For lunch, you can have fish or shawarma alongside salad and rice. For dinner, lamb, beef, or (especially in Istanbul) fish is readily available, accompanied by lots of fresh and stewed vegetable dishes and rice or another grain, if you choose, instead of bread. Also, delicious dried fruits and nuts (as well as other gluten-free munchies) are available at open air markets and from street vendors, so you definitely won't starve between meals. Here is a great example of what a day of gluten-free eating in Istanbul looks like.
If you're trying to keep to a paleo diet in Istanbul, it might be a little tougher. On the one hand, huge stacks of meat turning on spits over an open flame are abundant, and it doesn't get any more fundamentally Paleo than that. On the other, though, good quality, full fat cheese and especially yogurt play crucial roles in Turkish cuisine, and, if you can tolerate it, it is worth making a few exceptions. Speaking broadly, it is fair to assume that the cheese and yogurt are made more simply than you would expect in the US. Perhaps you can't count on grass-fed everything, but they are much less likely to use sweetened, artificially enhanced dairy  (with the exception of hotel breakfast buffets, where you'll probably see sweetened flavored yogurt, but plain is typically easy to find, too). Depending on the restaurant, you may also come across house-made plain yogurt.
All of that said, the following resources have proven to be quite helpful in planning the Istanbul leg of our trip:
In our London and Paris itineraries, I compiled a restaurant wish list that I worked into our schedule, but I didn't end up doing that for Istanbul. Given that it is a little bit easier to avoid gluten and grains here, this is the city I have done the least (meal) planning for. Our Air B&B in Istanbul is also massive with a huge, sunny kitchen and a stunning view of the neighborhood and the Bosphorus (or so we are promised) from the dining room, so I have a feeling I will be more than happy to cook and eat at "home" while we are there.
As for restaurants, I have fond memories of eating fish caught just moments earlier and grilled up tableside at these little pop up restaurants near the water, so I definitely plan to seek those out again. In addition,  I am eager to try a famous Kebab house that came highly recommended by one of my coworkers (and about a million people on TripAdvisor) called Sehzade Erzurum Cag Kebabi. Other than that, I am more comfortable wandering, snacking and most of all cooking. Some of my favorite travel memories involve a sunny day in an open-air market just ogling all of the beautiful protein, spices, nuts, and produce that the country has to offer and I absolutely can't wait to experience the culinary bounty of this country again.
If you'd like more information about where I ended up eating in Istanbul, you can learn more here.
Our next stop is back to London for a couple days before flying home. If you want to follow this breakneck Eurotrip, I'm posting trip updates as often as I can (considering I don't have service here) on Instagram!