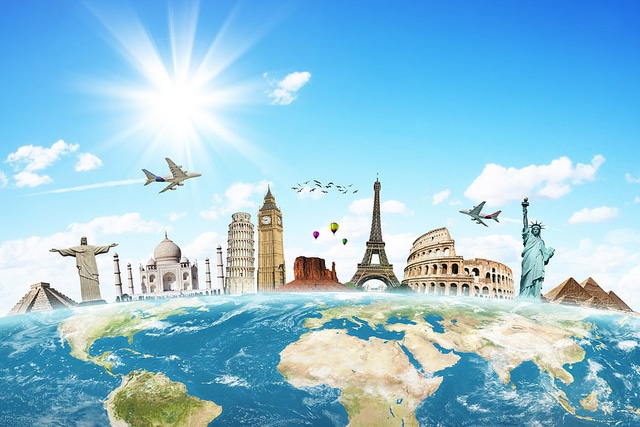 My husband and I are on our honeymoon in Europe. Over the next 2 weeks, we'll be hitting up London, Paris, and Istanbul. Traveling abroad while following a restricted diet is always a challenge, especially in countries where bread and gluten are prominent, but with a few handy tips and a little bit of preparation, it is totally possible to have a successful trip full of great food. This week, I'm sharing some of my strategies for having a smooth travel experience while following an elimination diet.
1. Plan Ahead (And Schedule Your Meals): Research your destination ahead of time, and create as firm a schedule as possible – with meals included, of course – so that you will always know where your next dietary-restriction-friendly meal will come from. That seems obvious, but if you're like me and you like to wing it a little bit with the schedule, you might find yourself stranded at a mealtime with nothing you can eat.
You don't need to meticulously plan your schedule, but at the very least, make a list of all of the sites and activities you plan to hit during the trip, and find 1-2 dining options nearby. It's always easier to have an idea of where you can go ahead of time, especially in a foreign country where you don't speak the language, rather than trying to do it on the fly. I can tell you from experience that there is no better way to end up eating something that will not agree with you than to find yourself stranded, starving, and desperate. In Chile, I didn't really give it much thought and ended up either sick or hungry for most of the trip. Lesson learned.
Additionally, if you have celiac disease and are worried about cross-contamination, you may want to look into Celiac Travel, where you can download Gluten Free Restaurant Cards in any of 54 different languages.
2. Stay in Vacation Rentals (Instead of Hotels): Home rental sites like Air B&B, VRBO, and Home Away are probably the best thing that have happened to travelers with a special diet in a long time. Assuming you don't require a dedicated gluten-free kitchen (I don't have celiac disease, so I don't), having your own kitchen makes things a lot easier. We are staying in Air B&B apartments throughout the entire trip, which means that I will be able to make breakfast for myself (in my experience, the hardest meal to eat out, especially in pastry-loving France), prepare snacks, and have a fridge handy, just in case. It's also a huge money-saver, as it turns out. Not only will we save by not eating every meal out, it turns out that the nightly rate for an entire apartment (in some cases, palatial ones) was significantly cheaper than a mid-priced hotel.
3. Shop at Grocery Stores and Neighborhood Markets (and Carry Snacks): Not only is a local supermarket, or food shop or market of any kind, a great window into a culture, it it also an indispensable resource for elimination diet-friendly food. We have had kitchens in two of our last three international destinations, and we will have kitchens at all of our stops on this trip. At the very least, supermarkets are convenient sources of healthy snacks to ward off the walking-around-all-day hangries and quick breakfast options like eggs, yogurt (if you can tolerate it), and fresh fruit. If you're on the go and can't find a good lunch place, you can also put together a great picnic with odds and ends from the grocery store or local open-air market. It also goes without saying that this is a huge money-saver as well!
4. Google it (Seriously): Before I left for this trip, I did a couple simple searches for gluten-free and low carb/paleo dining options in the three cities we will be visiting. This allowed me to get a general sense of how easy it will be to find food that I will be able to eat (I've been to each of these cities before, but that was in the days before I had food restrictions) and to start to plan my itinerary. Simple searches for "Gluten free [city]" and "Paleo [city]" or "Paleo restaurants [city]" yielded lots of results, including restaurant recommendations and firsthand accounts of successful gluten-free and paleo-friendly itineraries in these cities.
Over the next couple of posts, I'll be sharing the best resources and some restaurant suggestions for each of the cities on our itinerary (and you can also follow me on Instagram for more trip updates), so stay tuned!
Your turn: What are your best strategies for sticking to a special diet while traveling?
PS: If you click on any of the Air B&B links in this post, you'll receive $25 toward your first booking!
note: this post contains affiliate links
photo source: Google images