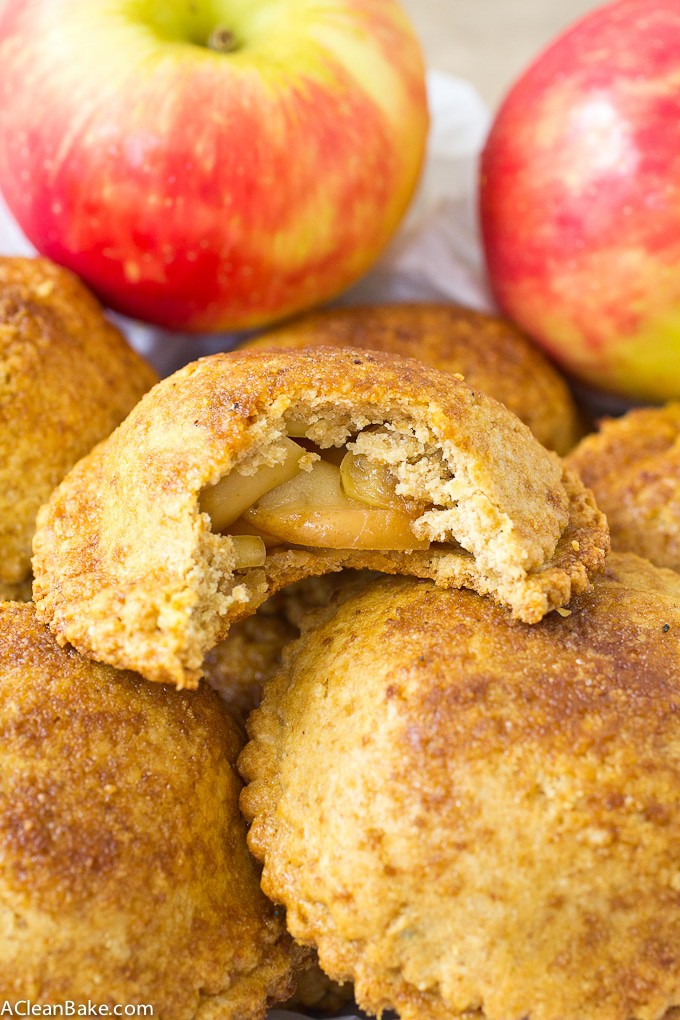 Will you forgive me if I potentially completely neglect the pumpkin recipes this year? There are plenty on the site to tide you over, and with every passing day I am finding my energy and waking hours at more and more of a premium and recipe testing being (temporarily!) forced further and further down the list of priorities (it. sucks.).
Plus – and let's be clear: this is the real reason – when it comes to fall produce, I'll take apples over pumpkin any day. Without hesitation. S0 much so that when, two years ago, my friends took me to the adorable town of Lake Geneva, WI for my bachelorette weekend, my one "must do" item was apple picking. I would make a terrible rock star.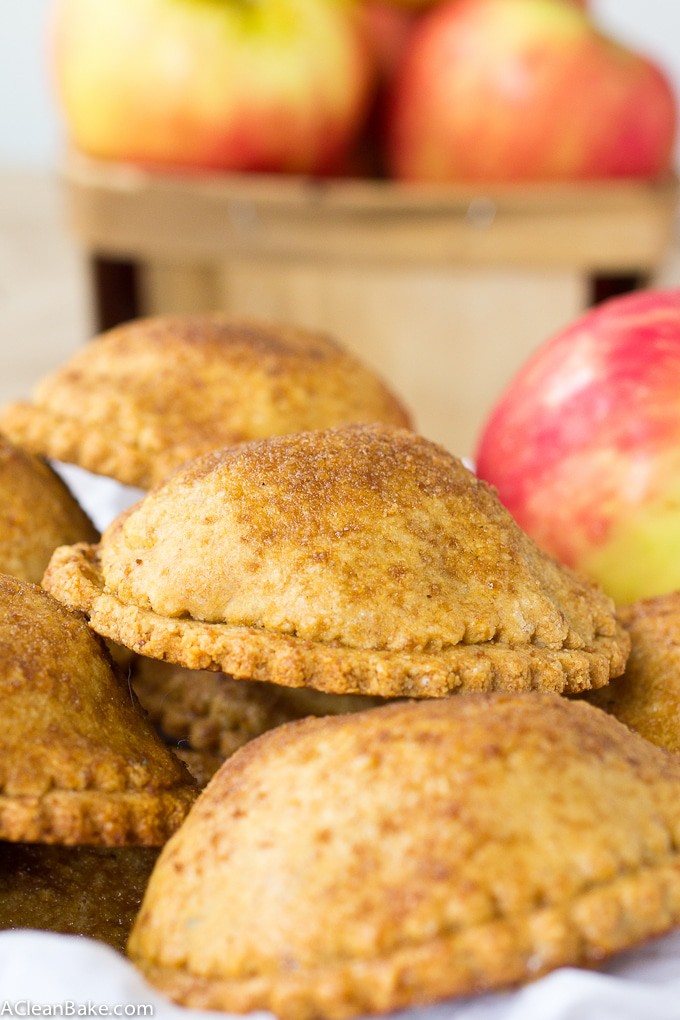 Which brings us back to today's recipe for apple hand pies. Yes, it's fall (even though we still have some residual summer weather in store) and yes, other food bloggers – perhaps most, if not all, other food bloggers – have been elbow-deep in pumpkin puree since retailers started their back-to-school marketing campaigns. So, June.
I, on the other hand, nonchalantly broke out one measly can of pumpkin, half of which is already languishing in the back of my fridge, on Saturday. Maybe inspiration will strike, but in the meantime, I've been hunting down apples like a half price Kate Spade bag (<— FYI: Not a link to a half price Kate Spade purse. Did you get the reference?) since, oh, maybe May? Suffice it to say I am welcoming apple season with open arms.
Though I'll happily eat apples straight from the trees, they certainly don't suck when richly spiced with butter (or coconut oil) and cinnamon and stuffed inside a soft and tender pocket of (grain free) dough. I'll bet you won't miss the pumpkin for a minute!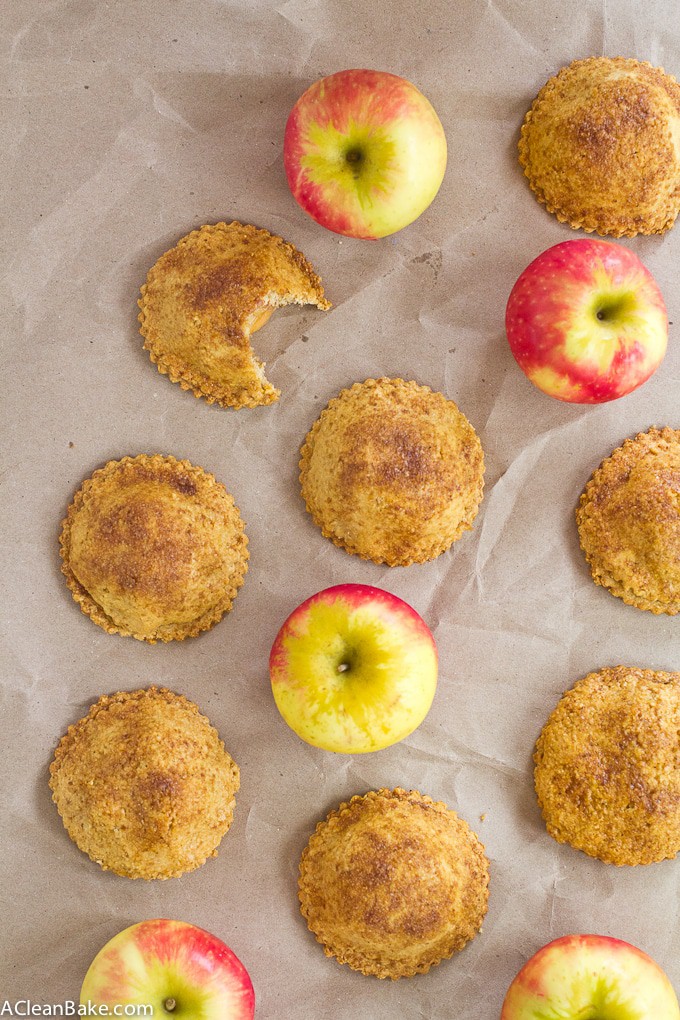 Typically, I shy away from pastries like these because of the sheer time and effort required to mix, shape and fill the dough; grain free dough requires extra time and patience because of its pesky habit of falling apart (thanks, lack of gluten). But this recipe is made a little quicker and easier for you by using a Simple Mills* mix (the bread mix, actually), so you know you'll get a reliable dough that will behave. All you have to do is roll it out between two pieces of parchment paper, cut it into rounds (use a biscuit cutter or, if you don't have one, trace around the mouth of an upside-down drinking glass with a paring knife), and use a spatula to carefully transfer half of the pieces from the parchment to a prepared baking sheet. Then add a dollop of filling, top with the remaining dough rounds, and pinch to seal. Easy!
*In case you're not familiar with Simple Mills (for those who have been around for awhile and heard me sing their praises: sorry to be a broken record!), please don't be turned off because I said "mix". Simple Mills is a company who I've worked with for a very long time because I really believe in the quality of their products, not to mention the overall awesomeness of the company itself, and the people that run it, many of whom I've come to call friends (i.e. they've been to my house). As you can see, there are only a handful of brands that I use and talk about on this blog, and I choose them very carefully, and only share them with you because I have relied heavily on them in my own kitchen for a very long time.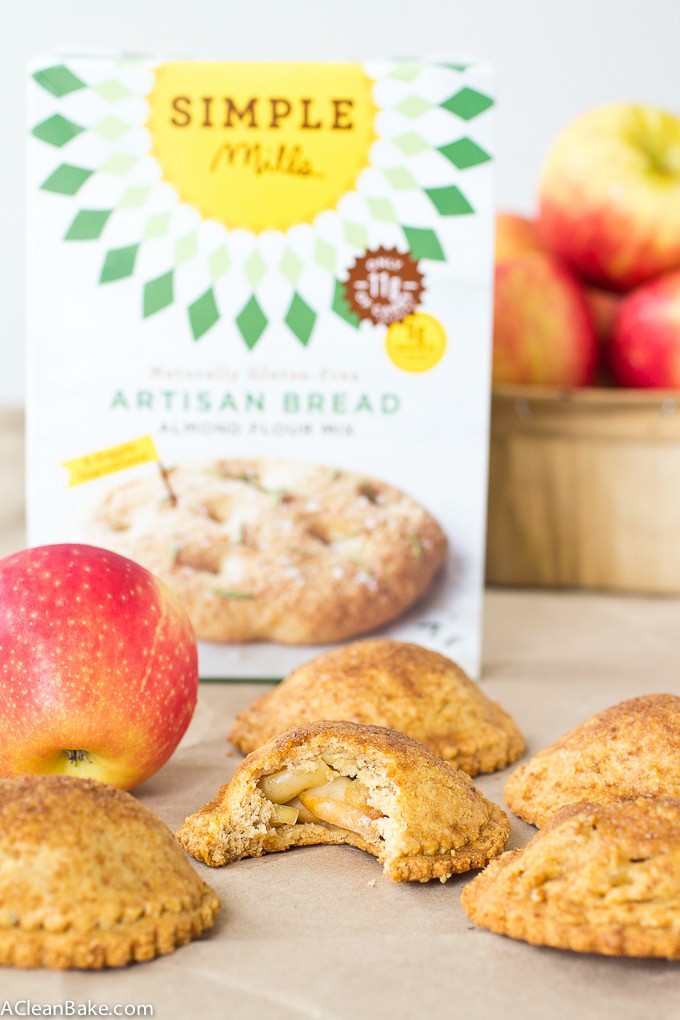 Don't get me wrong: it's not foolproof. It's still grain free and without the gluten or other starches to make the dough pliable, you do have to treat the dough gently when you're filling and sealing the hand pie pouches. But I promise, it's as easy as it can possibly be, and the end result is totally, absolutely, undeniably worth the effort.
Grain Free Apple Hand Pies
Ingredients
Ingredients for the filling
1 Tablespoon grass-fed butter, or sub coconut oil if dairy free
2 small apples, about 2/3 lb total, chopped small
1/4 teaspoon vanilla extract
2 Tablespoons honey
Ingredients for the crust
2 large egg whites
1/4 cup honey
1 Tablespoon coconut flour
1 box Simple Mills bread mix
Instructions
Preheat the oven to 350F and cover a baking sheet with a nonstick pad or parchment paper.
Make the filling: in a heavy-bottom pan (such as cast iron), melt the butter and toss the melted butter with the apples.
Add the vanilla and honey, and gently toss until all the apples are coated.
Remove the pan from the heat and set aside.
Make the crust: Whisk together the egg whites and honey, then stir in the coconut flour and bread mix.
Gather the dough into a ball and place on a piece of wax or parchment paper. Cover with another piece of wax paper and roll out into a disc about a 1/4" inch thick. Using a 3" wide biscuit cutter, cut into 14 discs (gather the scraps and reroll the dough if you can't get 14 discs out of the original roll-out).
Lay 7 discs, equally spaced, on the prepared baking sheet. Place about 2 Tablespoons of the apple filling mixture at the center of each dough disc, leaving a border of empty dough around the filling. Top each hand pie with one of the remaining discs of dough and gently press around the edges to seal.
If you'd like, you can brush each pie with an egg wash (1 large egg beaten, mixed with 1 Tablespoon of milk of choice) and a sprinkle of coconut sugar to encourage browning and crisping.
Bake for 15 minutes or until the tops are firm and golden brown.
Allow to cool for about 10 minutes on the baking sheet before transferring to a rack to cool completely.
Notes
Store cooled hand pies in an airtight container in the refrigerator for up to 5 days. But know that the pies start to soften and lose the crispness of the crust when stored in an airtight container. For best results, bake them the same day you plan to serve them. Yield: 7 hand pies
[wprm-nutrition-label align="center"]
Thank you to Simple Mills for providing the ingredients that inspired this delicious recipe. This post contains affiliate links, which means that if you click through and purchase a product, A Clean Bake receives a small commission, which goes toward continuing to bring you delicious, healthy recipes every week. This does not affect the price you pay. Thanks for supporting A Clean Bake!