~ This easy gluten free and paleo pumpkin pie is a delicious option for everyone at the holiday table. This perfect fall recipe is a must for Thanksgiving! ~
Well, it's the big day. The pumpkin pie day, that is. The Big Day isn't until this weekend. While I'm off getting married, several of my beloved blogging buddies are stepping in to share some recipes so that you, my wonderful readers, don't get too lonely (or hungry). And we are kicking it off with a classic: pumpkin pie! Meriem, my friend who writes Culinary Couture, whipped up a beautiful you'll-never-believe-it's-grain-sugar-and-dairy-free version. 
Doesn't this sound amazing? That's not surprising; amazing is basically Meriem's middle name. She is not just incredibly creative and skilled at creating new recipes, but makes quite literally some of the most beautiful and artistic finished cakes I have ever seen. It's so reassuring to see Meriem's cake business and blog booming lately. No one deserves her success more than this lovely, selfless and giving lady. She's been so excited and supportive to me throughout the entire wedding planning process, and she is the thoughtful mastermind behind my surprise virtual bridal shower. And, on top of it all, Meriem makes one heck of a pumpkin pie. I don't know about you, but I don't think I am going to be able to wait until Thanksgiving to try it.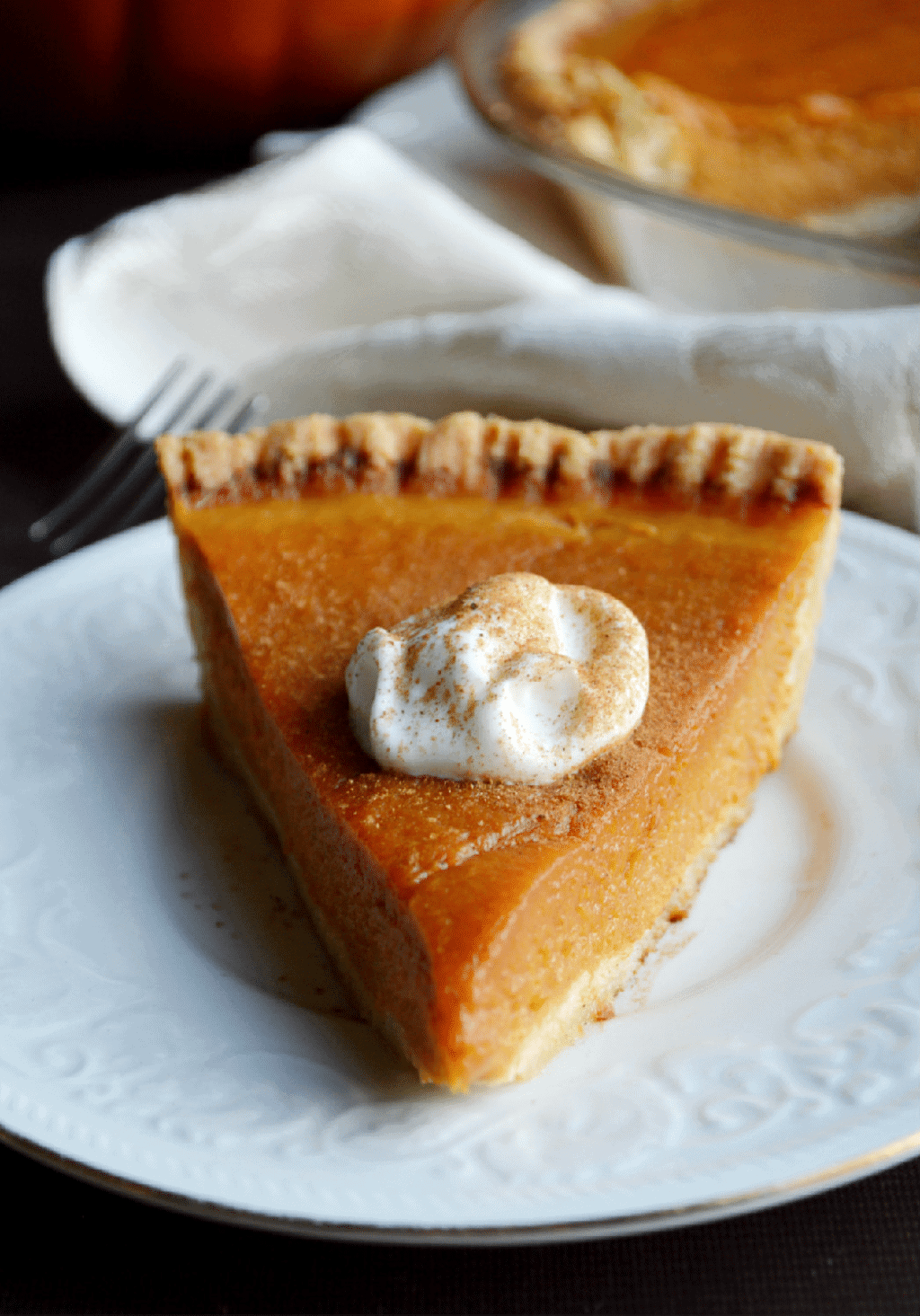 Hi everyone! I'm Meriem and I'm filling in for the bride to be today! I usually blog over at Culinary Couture but today, this fabulous place will be my abode. So, let's get right into it!
Thanksgiving is right around the corner, and we all know, Thanksgiving just isn't complete without pie! Lots and lots of pie! And since there's lots and lots of pie, you want to make sure yours is the one that stands out, correct? Well, you're in luck, because today, I'm sharing a recipe for a PALEO pumpkin pie.
Say whaaaat?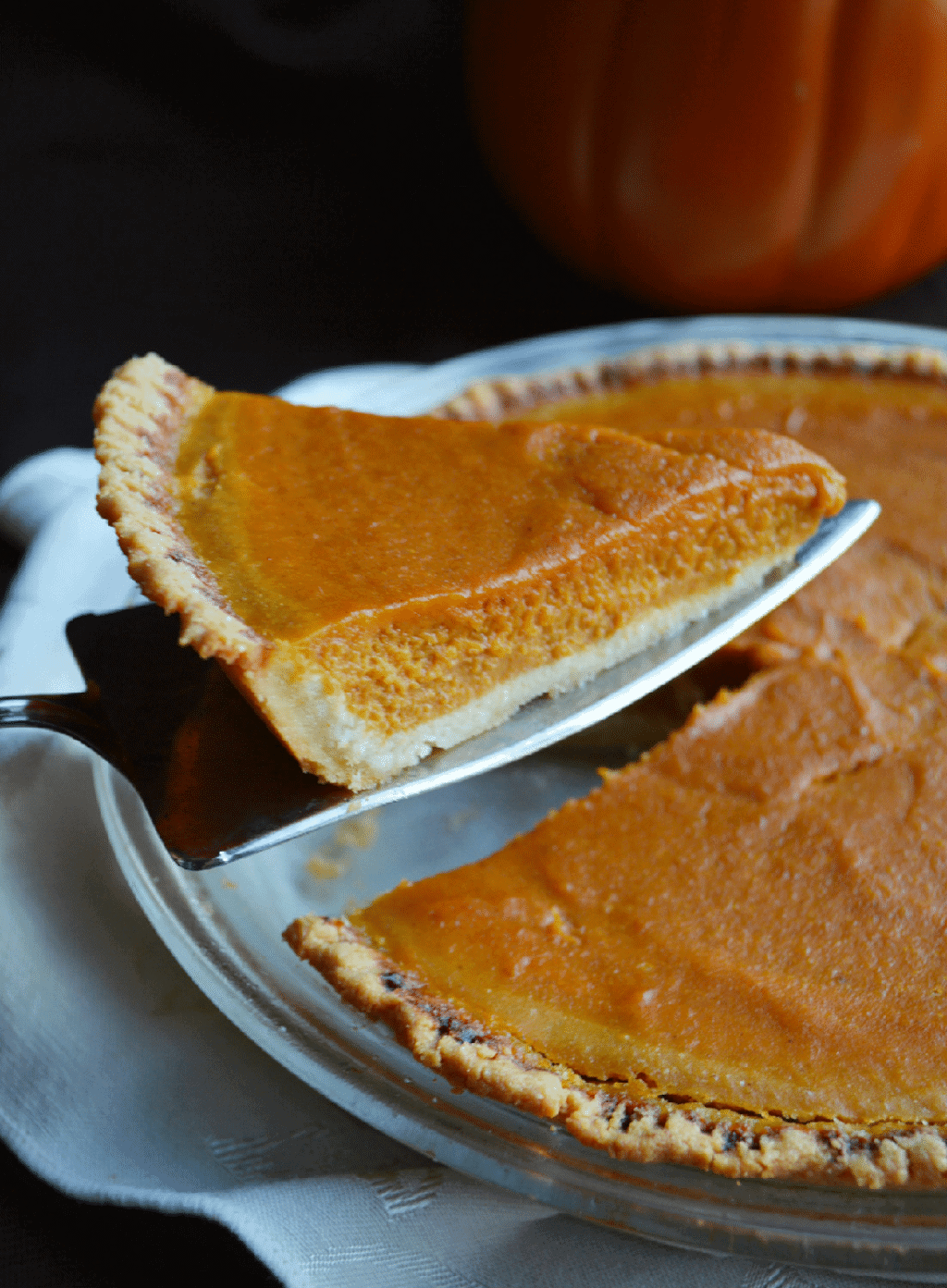 Yes, ladies and gents. This pie has no flour, no butter,  no dairy, and no refined sugar. And it's abso-freakin-lutely delicious!
The crust is almond based and comes together with a bit of coconut oil and an egg. And the filling is a luscious mixture of pumpkin puree, honey, coconut milk, and the essential pumpkin pie spices.
And there you have it! A Thanksgiving dessert that nobody could refuse because hello, it's basically health food.
Guilt-free desserts ← what I am thankful for.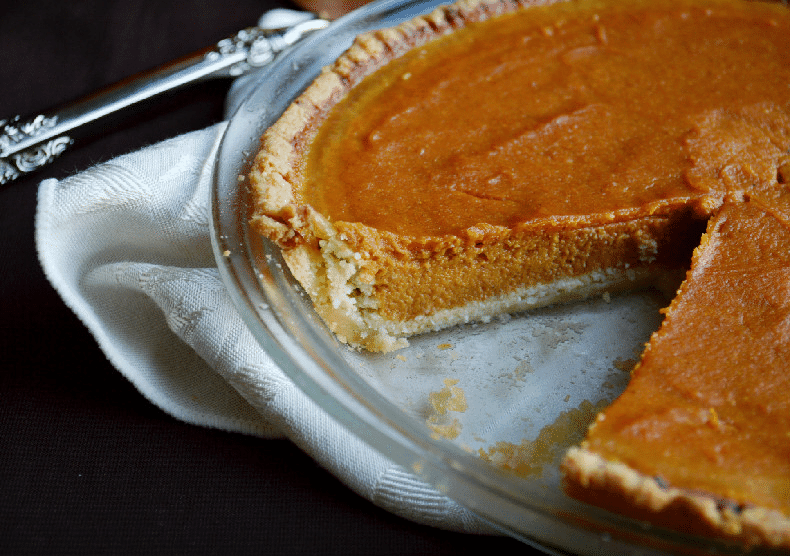 Paleo Pumpkin Pie
Ingredients:
For the crust
2 cups almond flour
1/4 teaspoon salt
1 egg
2 tablespoons coconut oil, solid at room temperature
For the filling
One 15oz. can pumpkin puree
3 large eggs, room temperature
1/2 cup canned coconut milk, room temperature
1/2 cup honey
2 teaspoons pumpkin pie spice
Cooking Instructions:
Preheat oven to 350 degrees F.
Add almond flour and salt to the bowl of a food processor. Pulse to combine. Add egg and coconut oil and pulse until a soft dough comes together. Press the dough onto the bottom and up the sides of a 9-inch pie dish. Transfer to freezer while you prepare the filling.
Wipe down the bowl of the food processor, then add in pumpkin puree and eggs. Pulse until well-combined. Add coconut milk, honey, and pumpkin pie spice and pulse until incorporated.
Pour filling into chilled pie crust, using an offset spatula to evenly spread it out.
Bake pie for 55-60 minutes, or until center looks set. Cover edges of pie crust with foil if needed, to prevent over-browning. Allow pie to cool down to room temperature, then refrigerate overnight before cutting and serving.
Yield: One 9-inch pie