Today marks the last post of my mini pre-wedding hiatus and although there will be another series of wonderful and talented ladies stepping in for me in a few weeks when I get married, this is the last guest post for awhile. Last, that is, but definitely not least. I don't want to say that I saved the best for last (…just busting out all of the "last" expressions here…), because I think all of my blogger friends are simply the best, but Kylie was the first blogger I became friends with when I started Buttercream Fanatic and she needed a guest poster. I have loved her blog, Imma Eat That, since the day I first found it, and the only thing that could have possibly made me enjoy it more was to find out the woman behind it was as sweet and friendly as you can imagine. Done and done.
In case you didn't know, Kylie's kind of a big blog deal (blig deal?), having just come out with a mouthwatering single-serve (healthy) cookie e-cookbook, and is basically a celebrity on Instagram. Her photography is outstanding, whether on the blog or on Instagram, and her recipes totally live up to her promise of making healthy pretty delicious*. So, to prove it, I will step aside and let Kylie take it from here!
*That's not technically her blog's tagline anymore, but I think it is still pretty spot on!
**
Hi guys! My name is Kylie and I write the blog Yeah…immaeatthat.
I could think of no place I'd rather be than guest posting for Nora while she's in wedding planning mode. Nora and I met a last year through blogging and we have since bonded over our love for Father of the Bride. And(!!!) she helped me look for a sparkly, sequined-covered rehearsal dinner dress when I got married last December. She's the best.
Today we're talking about fall because IT'S FINALLY HERE! It's time for my life to start looking like everything holiday. I want the pumpkin decor, the inviting wreaths, the cozy sweaters, the family time, the brunches, the dinners and, most importantly, the desserts.
All things pumpkin are in full swing now. #PSL. I've never actually had a pumpkin spice latte. I'm more of a chai tea latte fanatic. Maybe I should put pumpkin in the chai tea latte. That could me promising. I'll think about it. Until then, putting pumpkin in baked goods is something I can definitely get behind. Adding pumpkin puree to baked oatmeal does something dreamy to the texture. The same is true with muffins. Maybe next time we'll add a streusel to the muffins tops because streusel is one of the most fun words to say.
So this recipe only makes two mug muffins. Two perfect muffins. I love small-batch or single-serving recipes. They let you enjoy delicious food without overdoing it. I don't really want a dozen muffins sitting on my counter all week calling my name. My cravings usually sound something like this, "I just want one muffin and I want it now!" And nothing will do until I get that thing I'm craving. So handling my cravings with small-batch recipes just does it for me.
I baked these muffins in colorful mugs because it's kind of fun to eat a muffin with a spoon. If you need a fun weekend breakfast, this is it. Dooo it.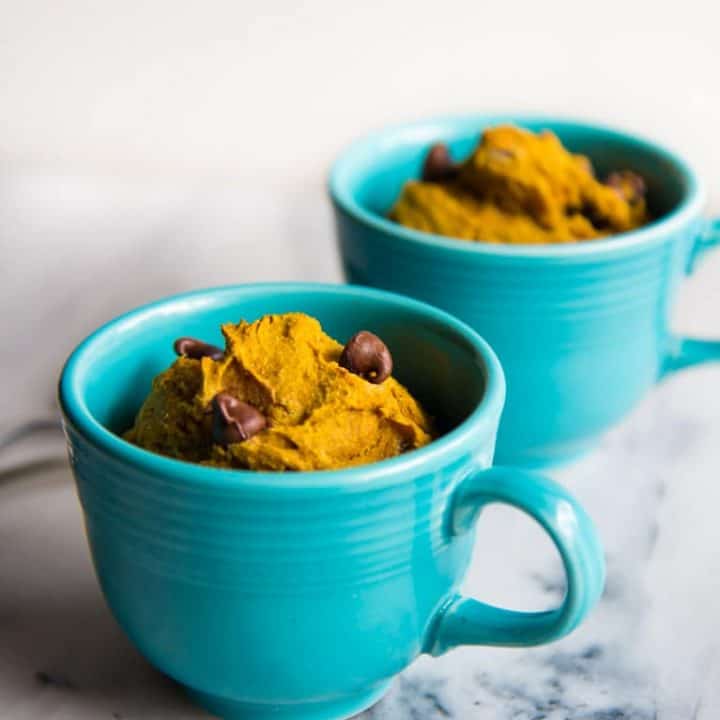 Small Batch Pumpkin Mug Muffins
Ingredients
½ cup gluten free oat flour, packed
½ teaspoon baking soda
¼ teaspoon baking powder
1/8 teaspoon salt
1-2 tablespoons dark chocolate chips
¼ cup canned pumpkin puree
¼ cup mashed ripe banana, ~1 small banana
1 tablespoon coconut oil, melted
1 tablespoon almond milk
½ teaspoon vanilla
½ teaspoon cinnamon
Instructions
Preheat oven to 350°F.
In a bowl, combine oat flour, baking soda, baking powder, salt and chocolate chips. In a separate bowl, combine remaining ingredients.
Pour wet ingredients into dry and stir until just combined.
Divide batter evenly between two greased, oven-safe mugs (or you can just use a muffin tin).
Bake for 20 minutes.