Paleo pumpkin muffins are a 2-bowl recipe that produces a tender, springy muffin spiced with aromatic pumpkin pie spice mix. Top them with a simple almond- and coconut flour-based streusel, and enjoy a delicious fall treat that pairs perfectly with a cup of tea or coffee!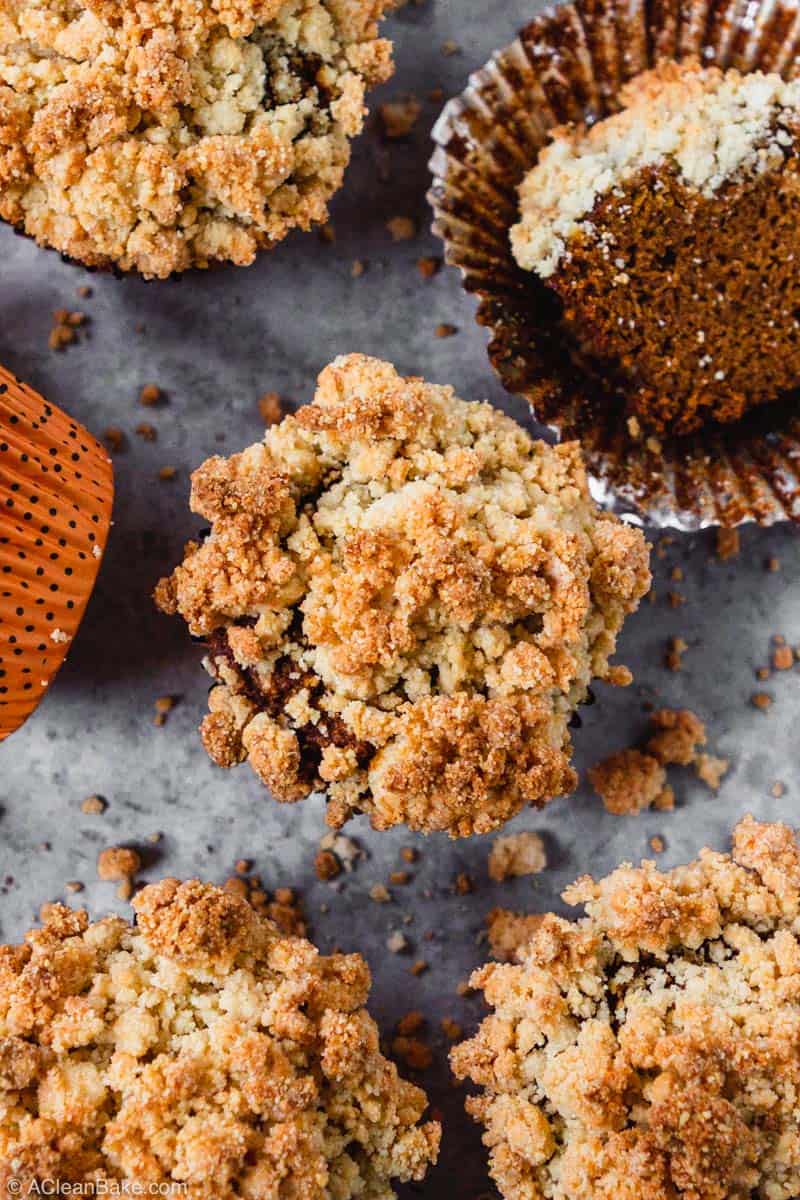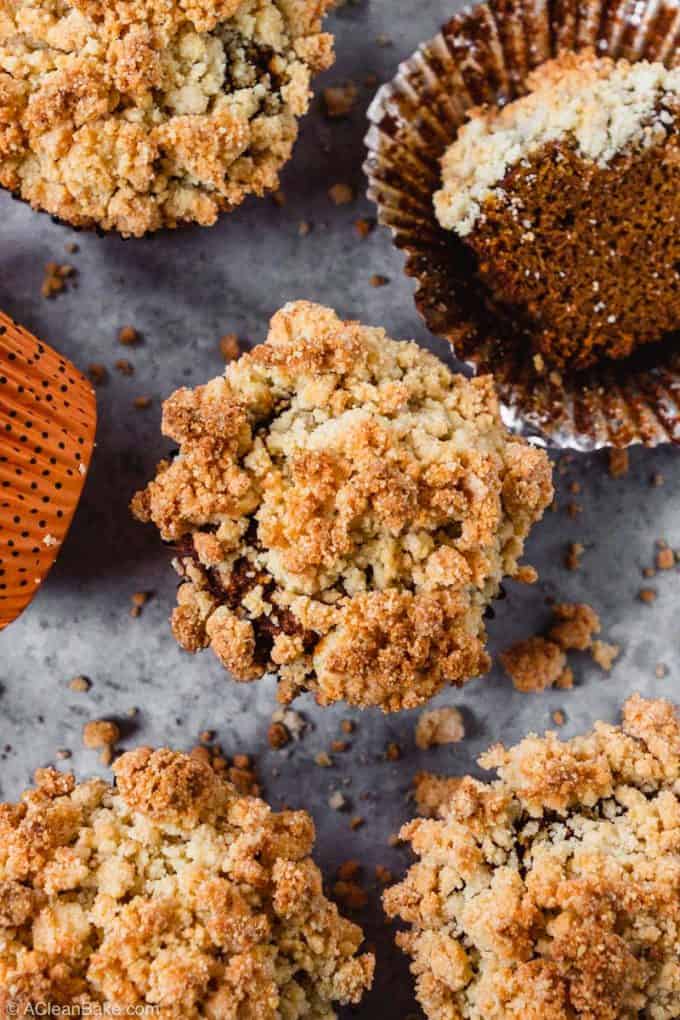 You'd be surprised if you knew how few paleo pumpkin muffin recipes there are out there that are actually good, let alone great.
It's not surprising really. To understand why, first consider the normal finicky ingredients that we use in paleo baking, like moisture-heavy almond flour; ultra-absorbent coconut flour; starchy arrowroot or tapioca flours; shape shifting coconut oil, which goes from liquid to solid as it cools; maple syrup, which darkens and caramelizes in the heat of the oven; and coconut sugar which melts from solid granules into a viscous liquid in the heat of the oven, adding even more moisture to the batter as the muffins cook.
When you think of it that way, it seems like we already have our hands full with the basic recipe for paleo muffins! But we've cooked with these ingredients more than enough to know how they work; we got this. ????Until, that is, you add pumpkin.
What's the big deal about pumpkin puree?
Pumpkin purée is a difficult ingredient to incorporate into even conventional baking recipes.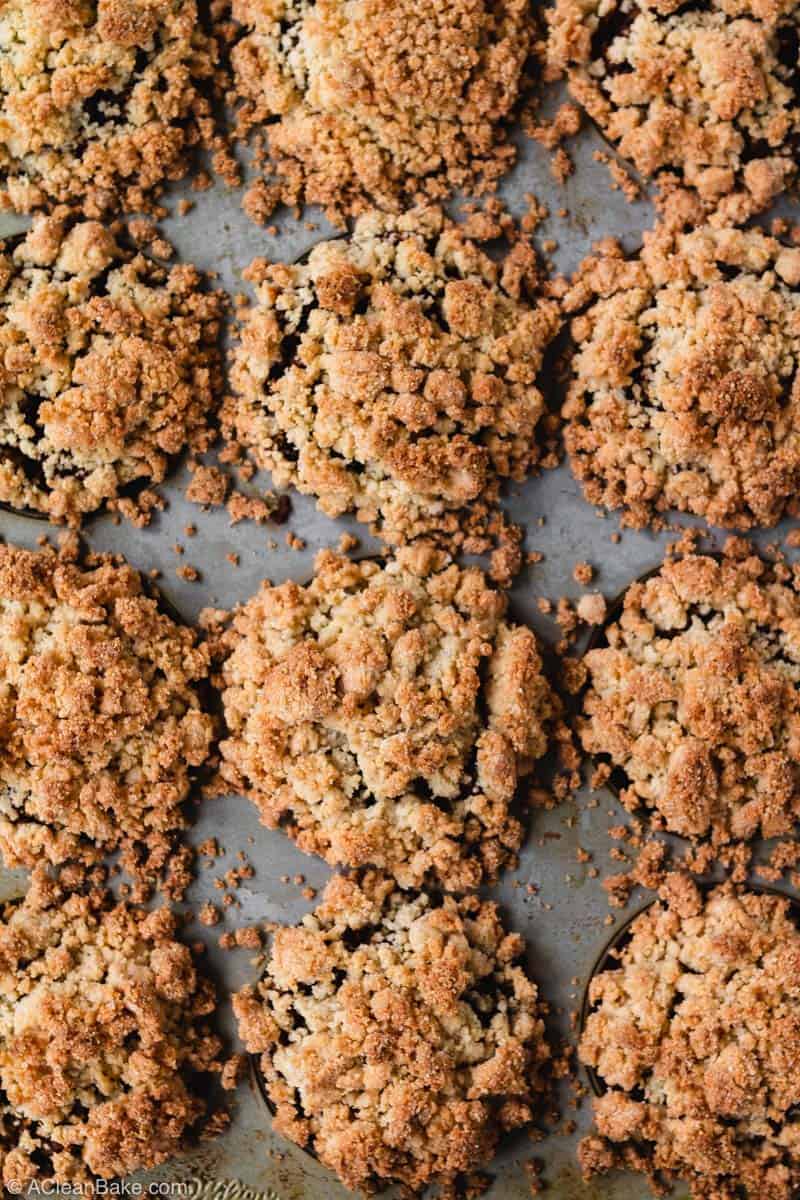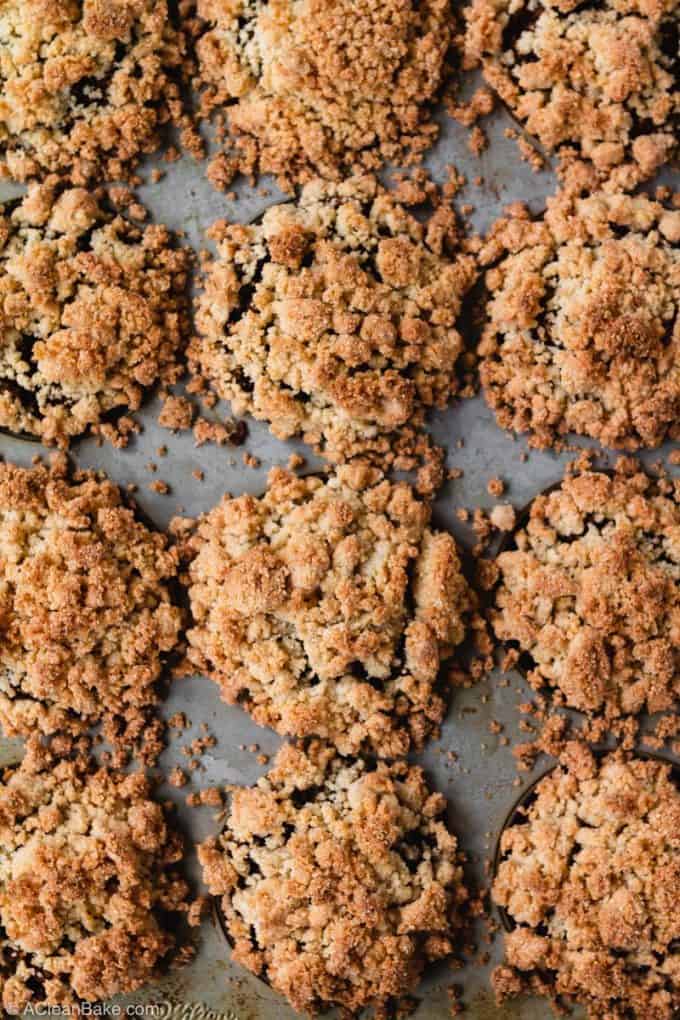 It's ultra-moist, meaning it adds a lot of liquid into the batter which, in turn, means you need to compensate for it with more of an absorbent ingredient (which, of course, throws off the balance of everything else! That's why baking is such a fun challenge!). Plus, it's acidic, meaning it reacts with basic* baking soda, producing much more rise than you expect.
(*Basic in the pH sense, not the Uggs and #PSL sense)
It's hard enough to work with pumpkin puree in conventional baking recipes, but when you add it to a batter of already-finicky paleo ingredients, it can be a recipe for disaster.
Of course, it doesn't have to be – but it takes awhile to understand how to work with pumpkin puree.
But that's why you don't see many pumpkin recipes on this site and even fewer sweet pumpkin recipes. I've tried every year to create a pumpkin cookie or pumpkin bread recipe to share with you, but it has always been a failure. Until this year!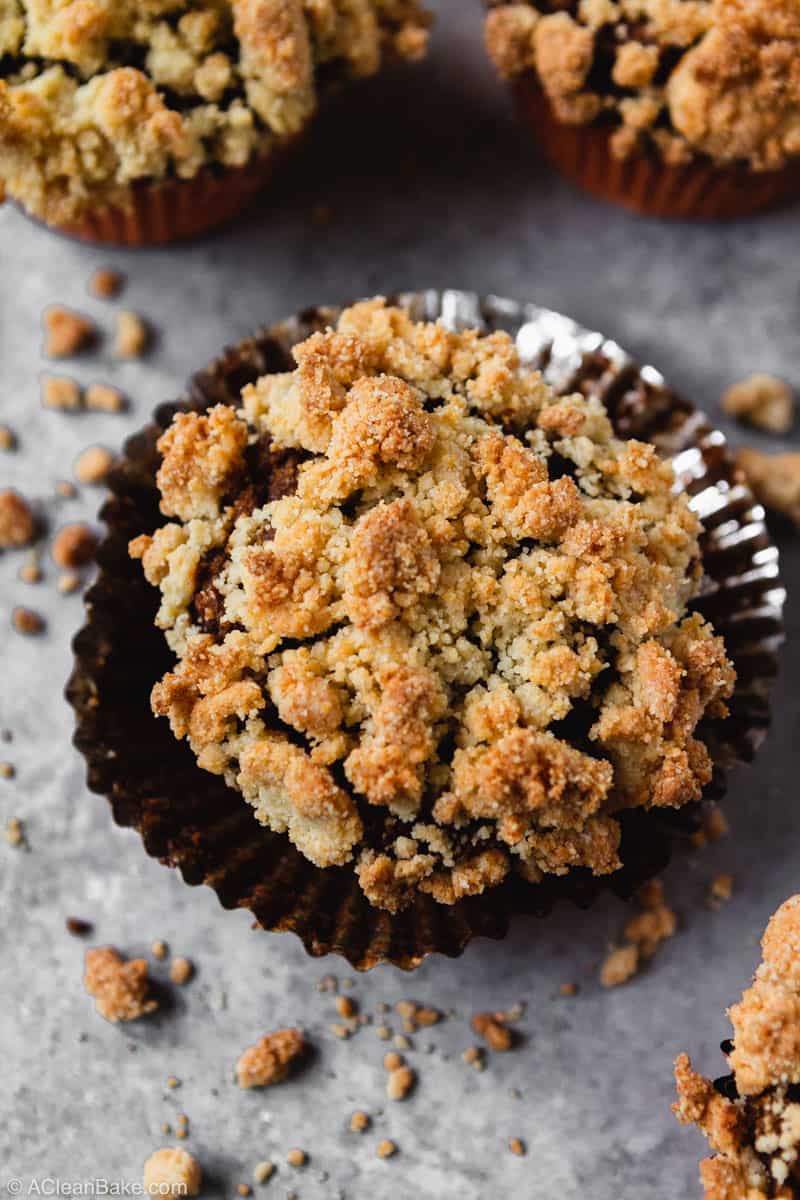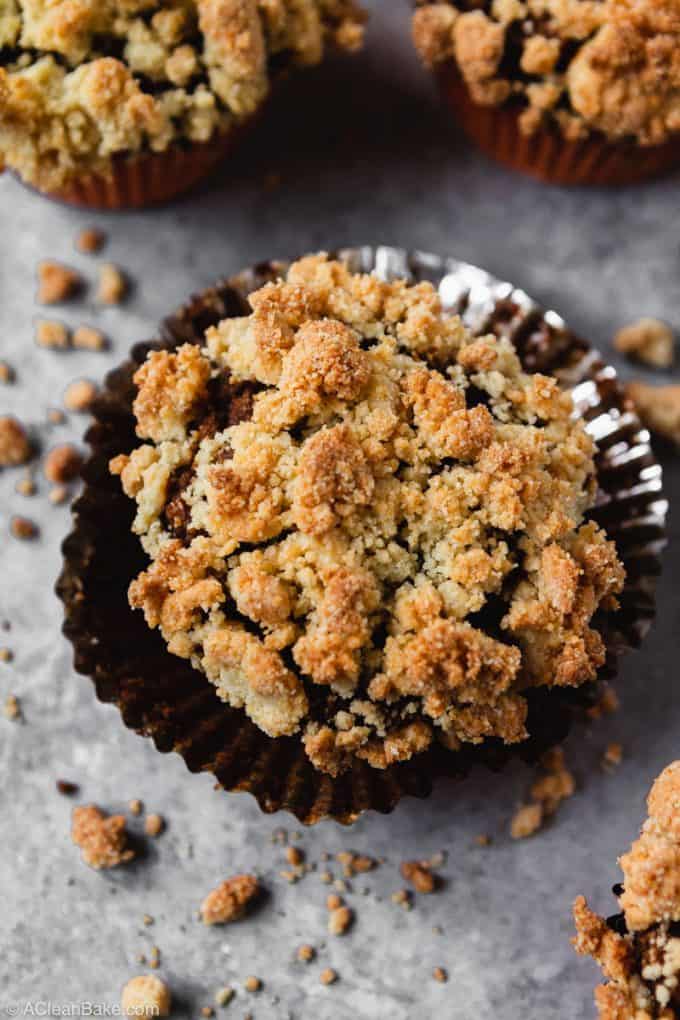 How to Make Paleo Pumpkin Muffins
After all this talk about how difficult it is to make paleo pumpkin muffins, let me tell you the most ironic part: it takes a lot of trial and error, but once you get the formula right, they're so easy to make.
The paleo muffin recipe starts, unsurprisingly, with the normal paleo baking ingredients:
A mixture of almond flour, coconut flour, and arrowroot flour to act as a base;
Coconut sugar and maple syrup for sweetness and moisture;
Baking soda for rise;
Sea salt, which actually brings out the sweetness of the coconut sugar and maple syrup;
Vanilla extract, to deepen and enhance the flavors; and
Oil, for a heavier source of moisture, without which, the muffin ends up gummy and spongy.
Plus pumpkin pie spice – of course – because a dessert that contains pumpkin purée without pumpkin pie spice just tastes like vegetable.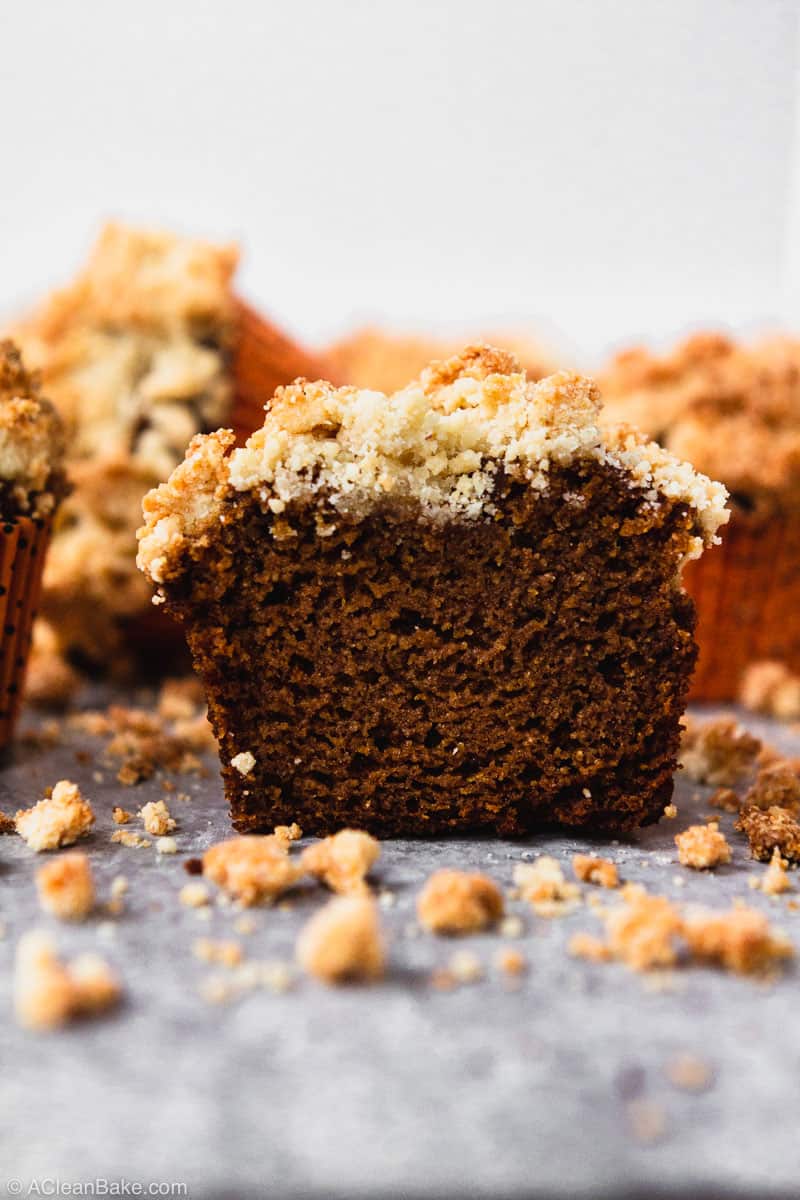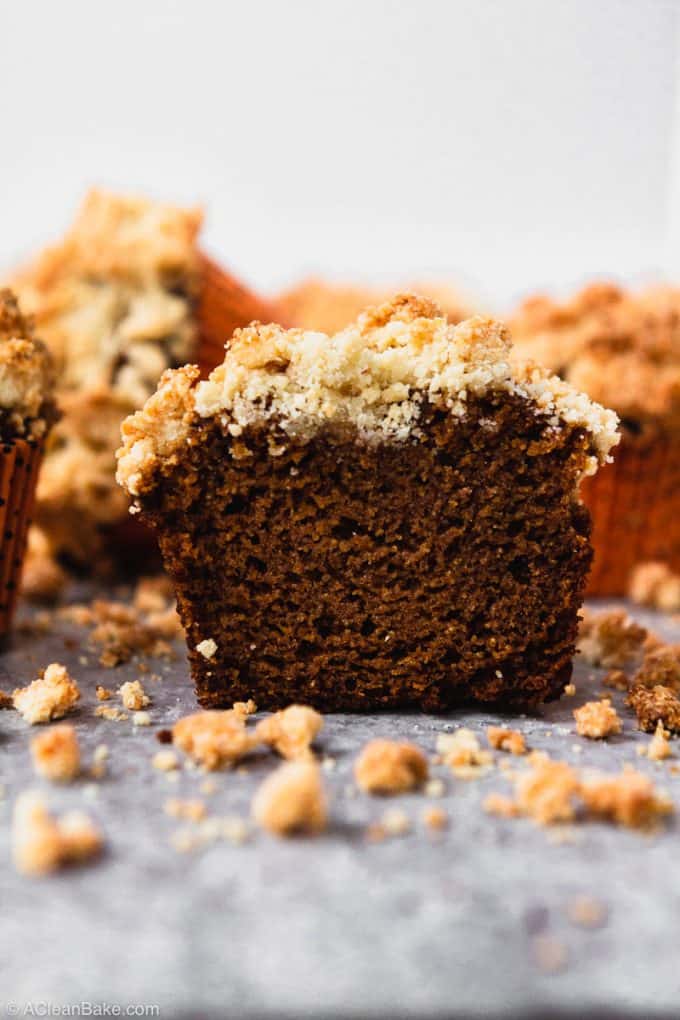 As for assembling the batter, the process couldn't be more straightforward. You'll need two mixing bowls. You'll mix the wet ingredients in one bowl and the dry in the other. Then you'll combine the wet mixture with the dry. That's all there is to it!
We all know the trick for foolproof mixing right?
You know, the one where we make sure that our ingredients are at room temperature?
This is especially important for the wet ingredients in this recipe, like the eggs and maple syrup, so that they don't cause the coconut oil to start to harden.
On the other hand, letting the coconut oil cool to room temperature (or as close as you can get it, without it starting to solidify) prevents too-hot-oil from cooking the eggs.
See? Everything's better at room temp.
While we're on the subject of wet ingredients, you'll notice that this recipe doesn't include almond milk (or another kind of milk), as most muffin or quick bread batters do. Remember what I said about how pumpkin adds a ton of moisture? Well, that means the batter will be well hydrated already, so no need for more liquid!
For the last step – the baking – you'll need a muffin pan, of course. Feel free to line it with papers if you choose. I prefer to use them for easier cleanup and serving, and it doesn't hurt that I found some orange festive muffin cups in my pantry.
Paleo Pumpkin Muffins = Paleo Pumpkin Bread
Since I know I'm going to get plenty of questions about this, you 100% can (and should!) convert these pumpkin muffins into a loaf of pumpkin bread.
Around here, we've become big fans of muffins lately. They're easier for parents to pull out of the fridge for a quick breakfast or snack, and easier for toddlers to pick up with their little hands.
But if you are serving these to people who can appreciate a thick, hopefully-warm slice of pumpkin bread slathered with some grass-fed butter, by all means, bake this in a loaf pan and save yourself the trouble of cleaning a muffin tin! The baking time will be around 60-75 minutes, depending on your oven.
Talk Streusel to Me
The streusel was a last minute addition to these muffins, if you want to know the truth.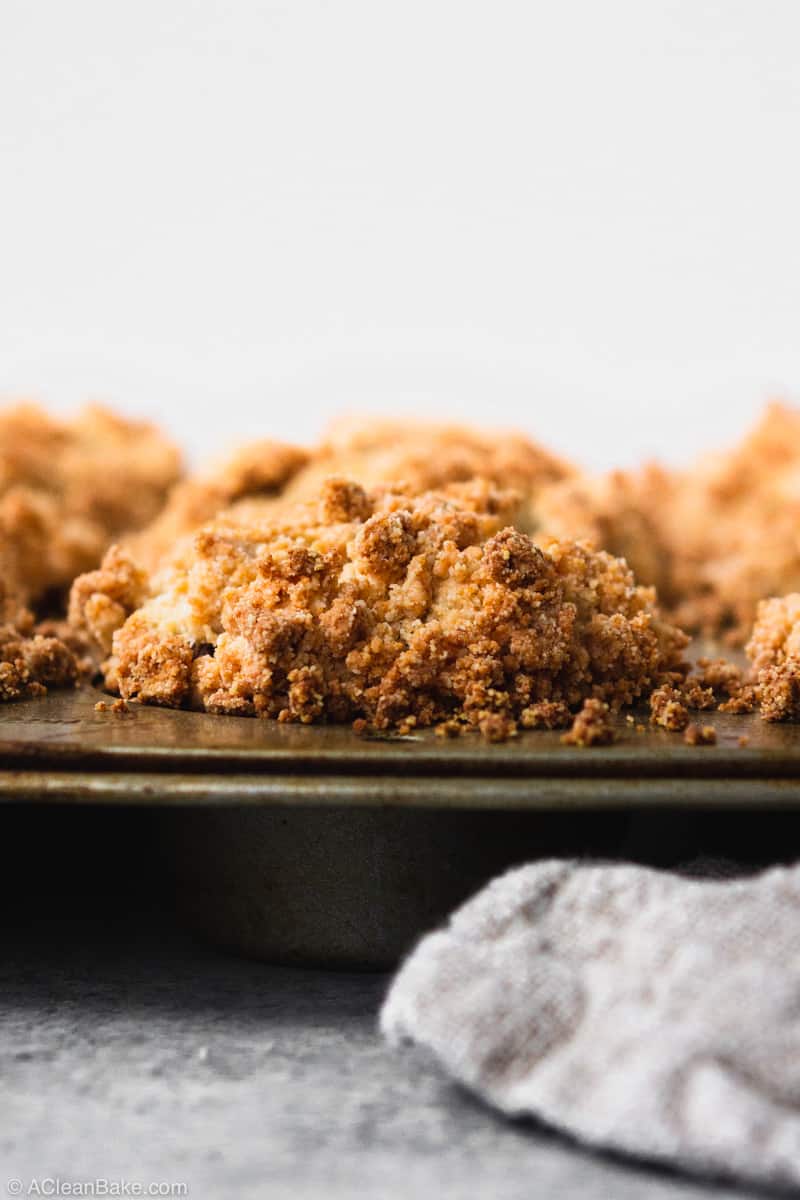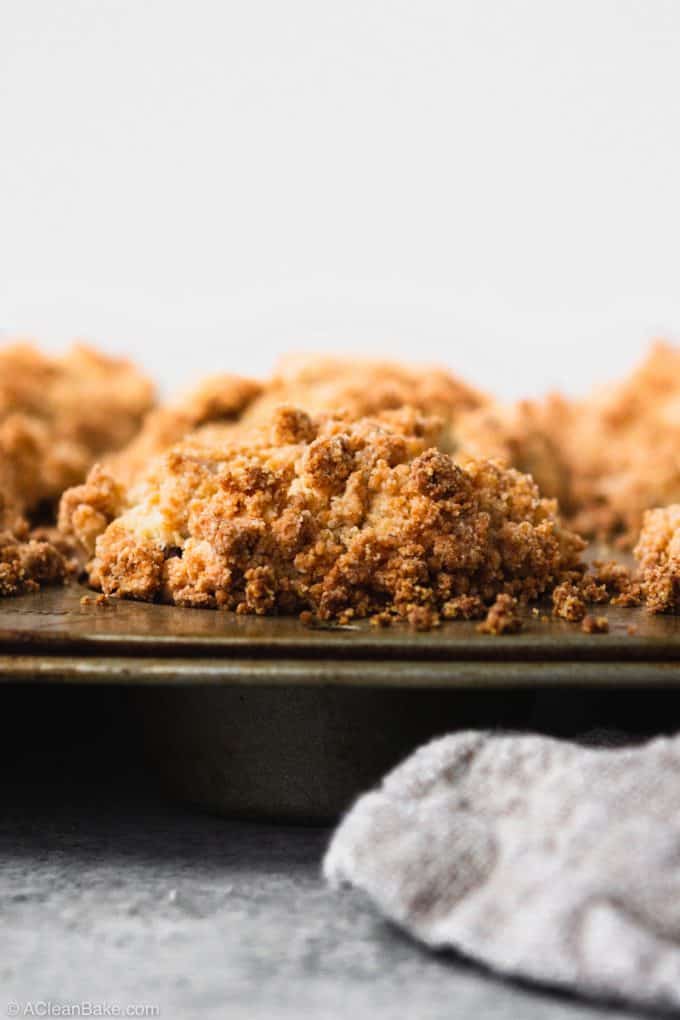 It's not that they need streusel (although what isn't improved by a sweet crumble topping?). The real reason I added it is because the naked muffins are slightly…. ugly. Not unappealing, just not ready for their close up.
What I'm getting at is that you can ABSOLUTELY leave out the streusel if you don't want it, don't have the time to make it, or just want a simpler pumpkin muffin (or bread). If you leave it off, though, you will need to reduce the baking time by 5-8 minutes.
If you do include the streusel, and want to bump up the warmly spiced flavor of the muffins, feel free to add 3/4 teaspoon (or more, to taste) of pumpkin pie spice or cinnamon to the streusel mixture. It is not included in the recipe, but it would be a welcome addition.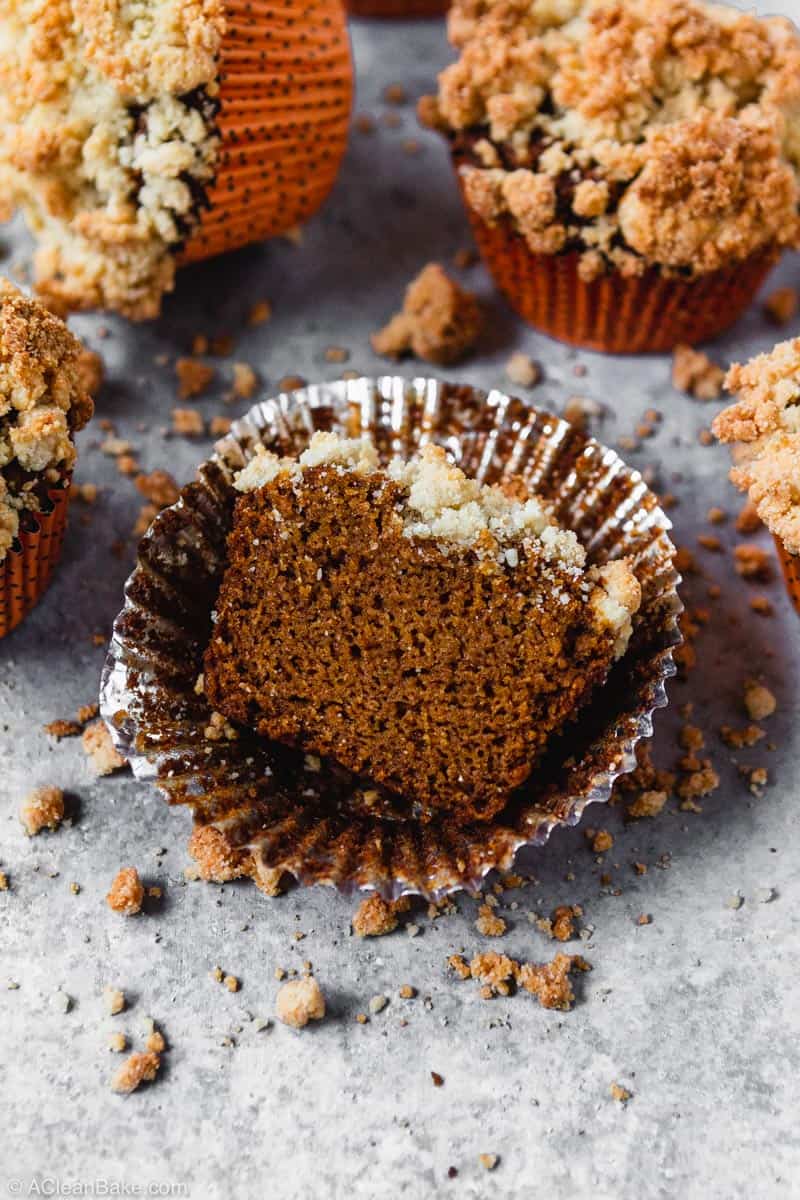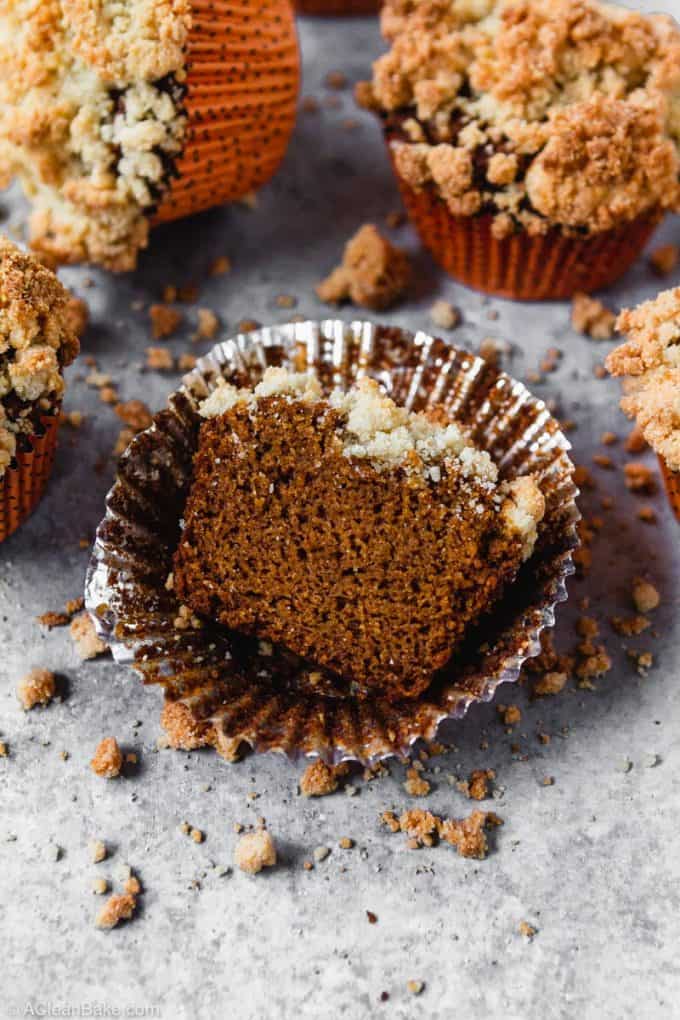 FAQs
What if I don't have a muffin tin in my house? That's fine! You can make this into a pumpkin bread instead by baking it in a loaf pan. The baking time will be around 60 – 75 minutes.
Can I make mini muffins instead? Yes absolutely! Use a mini muffin pan instead of a standard muffin pan (you will probably come out without twice as many muffins). As for baking time, start with about 12-15 minutes add time as necessary.
Can I replace the baking soda with baking powder? No, please don't. Baking soda and baking powder do play a similar role in baking (they make something rise), but they way they do it is different enough that one cannot be replaced for the other. It's all because of the chemistry that's involved. Baking soda is a base ingredient that reacts with acidic ingredients in the recipe, like pumpkin and egg whites, in order to produce rise. The amount a recipe will rise with baking soda depends not only on how much baking soda is in it, but also on how much acid the baking soda has to react with. Baking powder is the combination of an acid and a base. Since the base already has its acid, it does not need to react to any other ingredients in order to produce rise. What this means in practical terms is that the same amount of baking soda and baking powder will produce wildly different rising amounts in the same recipe. So you can't swap one for the other.
Where can I get pumpkin spice? If you don't have pumpkin pie spice in your pantry, you can do one of two things: you can buy it online (I got mine in a big bag on Amazon, and I keep it in the freezer year-round until fall baking season rolls around). Or, you can make your own using individuals spices that you do have like cinnamon, ginger, nutmeg, allspice, and cloves. There are plenty of recipes online. Your third option is to skip the pumpkin pie spice and use the same amount of cinnamon instead. Don't worry, there's a reason these aren't called pumpkin spice muffins 🙂 They taste just as good with cinnamon!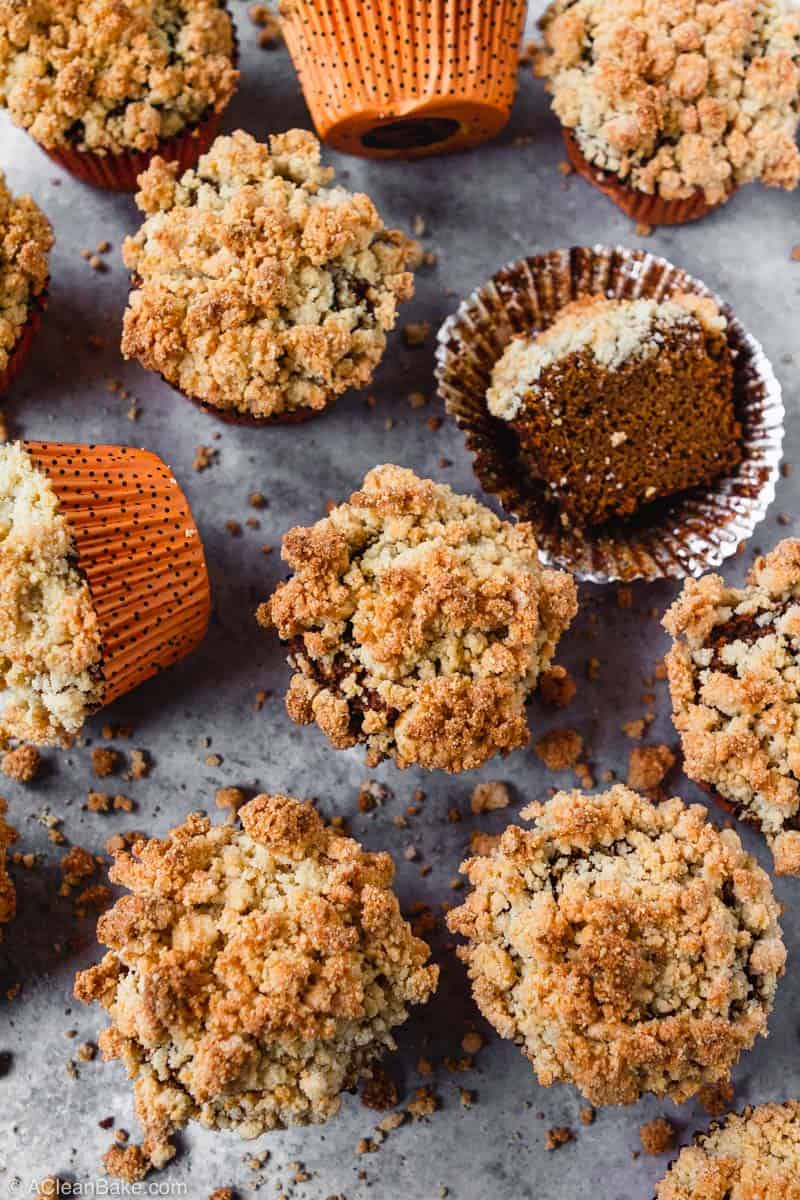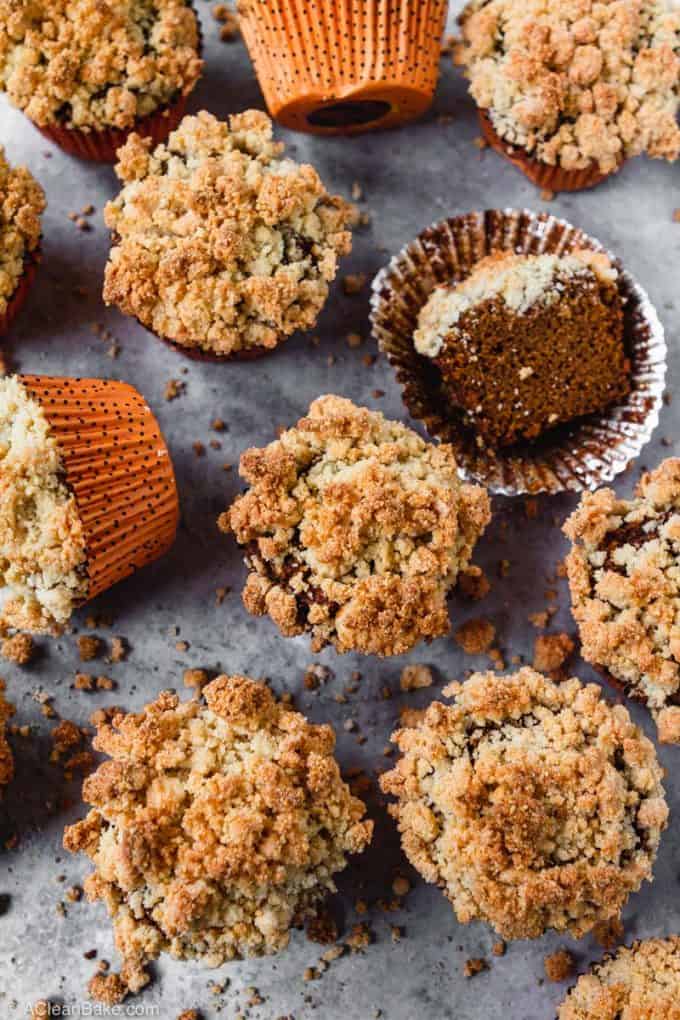 Can I make this a vegan? Maybe, but I haven't tried it. Unfortunately, it's impossible to try every iteration of every recipe. (I'm sorry – I wish I could but there is never enough time!) The good news is that this recipe is already dairy free, since that uses coconut oil as the primary fat, instead of butter. It does contain eggs, though. I always get questions about whether you can swap the chicken eggs called for in the recipe for flax eggs. The answer is: I don't know, so I wouldn't recommend it. I can tell you from my experience with other bread and muffin recipes that if you do choose to replace the chicken eggs with flax eggs, you'll have to increase the baking time substantially. But, again, I can't guarantee they will work.
Can I replace the almond flour? I know many of you are allergic to nuts but, unfortunately, there isn't really a great substitute for almond flour in my recipes. I'm sorry about that. However, if you're only allergic to almonds but can eat other tree nuts, people have said that cashew flour is a good replacement for almond flour. You can buy cashew flour online.
Can I use tapioca flour in place of arrowroot flour? Absolutely. These days I prefer arrowroot flour over tapioca flour because, in my experience, tapioca flour produces a slightly denser and slightly gummier cake or bread. That's not to say that it won't still be delicious. Sometimes tapioca flour is easier to find in stores, and it can be cheaper. So, if that's what you can find or have on hand, you could definitely use tapioca flour in place of arrowroot flour.
Can I replace the coconut sugar with brown sugar? I have started to get more and more questions about whether you can replace unrefined sweeteners in my recipes with either white or brown (refined) sugar. I guess you could — but that's not why were here. My recipes are all intended to be made with unrefined sugar and other sweeteners, and to taste so good that you don't miss the refined sugar. So, I'd encourage you to use the sweeteners called for in the recipe.
Can I convert these into pumpkin chocolate chip muffins? Of course!!! You know me – I'll never discourage you from adding chocolate chips. You can also use chopped dark chocolate in place of chips, or add pepitas (pumpkin seeds) in and/or on the muffins for a little crunch.
Happy Halloween!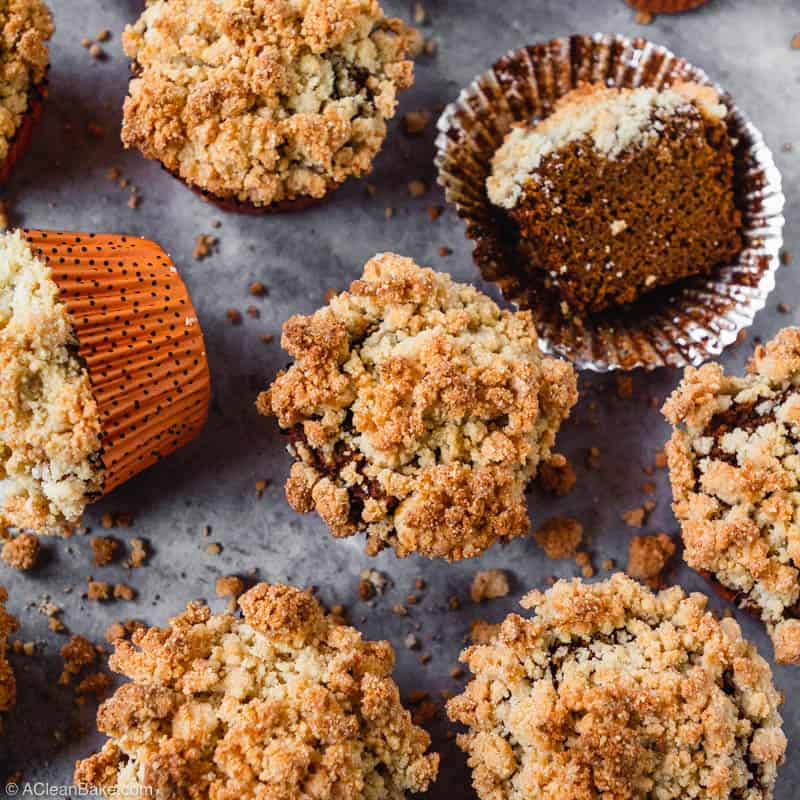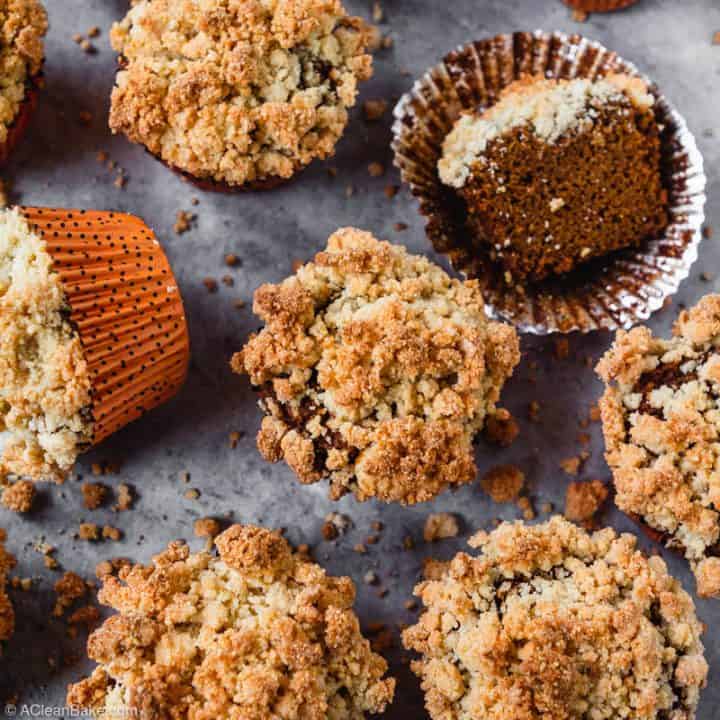 Paleo Pumpkin Muffins
Paleo pumpkin muffins are a 2-bowl recipe that produces a tender, springy muffin spiced with aromatic pumpkin pie spice mix. Top them with a simple almond- and coconut flour-based streusel, and enjoy a delicious fall treat that pairs perfectly with a cup of tea or coffee!
Ingredients
Ingredients for the muffins
1 1/2 cups blanched almond flour
1/2 cup arrowroot flour
1/2 cup coconut sugar
1/4 cup coconut flour
2 teaspoons pumpkin pie spice
2 teaspoons baking soda
1/2 teaspoon fine sea salt
2 large eggs, , beaten
6 tablespoons maple syrup
2 tablespoons avocado oil
2 teaspoons vanilla extract
2 teaspoons apple cider vinegar
1 cup pumpkin puree, (NOT pumpkin pie filling)
Ingredients for the streusel topping
1 1/2 cups blanched almond flour
4 1/2 tablespoons coconut flour
1 1/2 tablespoons arrowroot flour
1/4 teaspoon fine sea salt
4 1/2 tablespoons maple syrup
2 tablespoons + 1 teaspoon coconut oil, , melted and slightly cooled
Instructions
Preheat the oven to 350°F.
Line a 12-cup muffin tins with papers and set aside.
In a large bowl, whisk together the almond flour, arrowroot flour, coconut sugar, coconut flour, pumpkin pie spice, baking soda, and fine sea salt. Set aside.
In a medium mixing bowl, whisk the eggs. Then whisk in the maple syrup, avocado oil, vanilla extract, and apple cider vinegar until well combined.
Stir the pumpkin puree into the wet mixture until well combined.
Pour the wet (eggs, pumpkin, etc.) mixture into the dry (flours, etc.) mixture and stir until the batter is completely smooth and has no lumps left.
Divide the batter between the 12 compartments of the prepared baking pan. Set aside while you make the streusel.
To make the streusel, whisk together the almond flour, coconut flour, arrowroot powder, and salt in a medium mixing bowl.
In a small bowl, whisk together the maple syrup and oil.
Pour the maple syrup and oil mixture into the dry mixture, and stir until the streusel forms clumps.
Divide the streusel between the 12 muffins pressing it very gently into the top of each muffin.
Bake for 30-35 minutes, until the muffins are firm and the streusel is golden around the edges.
Cool partially or completely before serving.
Notes
You can add 3/4 teaspoon (or more, to taste) of pumpkin pie spice or cinnamon to the streusel mixture for more of that warm flavor.
If you skip the streusel, the baking time will be closer to 25 minutes.
Nutrition Information:
Yield:

12
Serving Size:

1 muffin
Amount Per Serving:
Calories:

339
Saturated Fat:

4g
Cholesterol:

31mg
Sodium:

366mg
Carbohydrates:

34g
Fiber:

5g
Sugar:

17g
Protein:

7g
[wprm-nutrition-label align="center"]