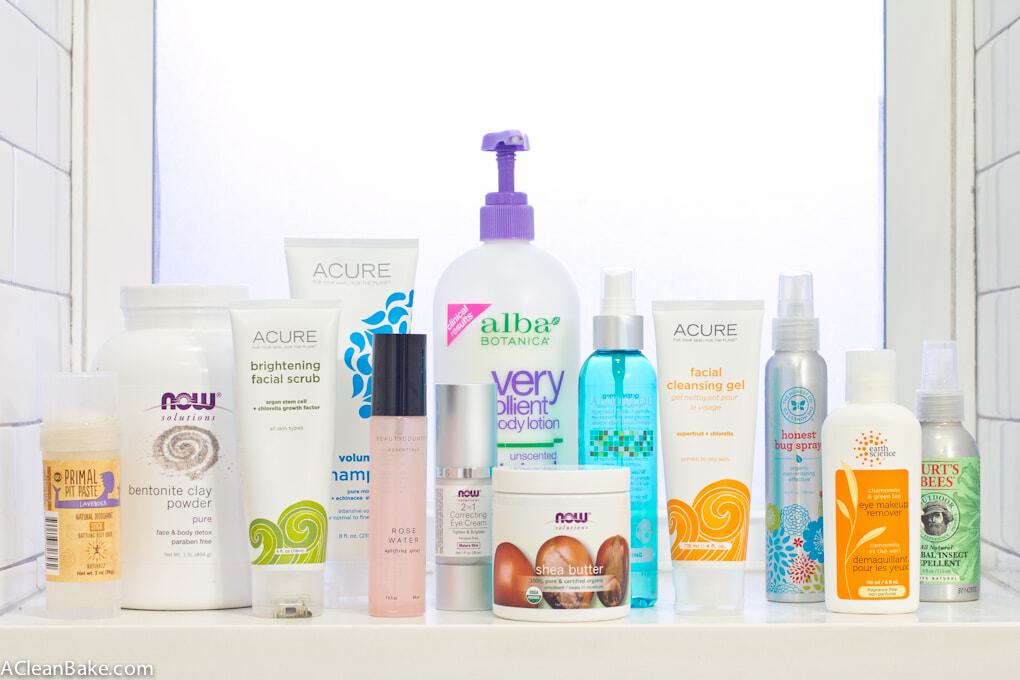 This post is a little different than usual, but I know that a lot of you are in the same boat when it comes to efforts to reduce chemical exposure throughout your home, not just your food. If you're not into it, no worries. Back to your normal routine and I'll see you on Thursday when we resume regularly scheduled recipe programming 😉
For those of you who are still here, let's get started!
When you think about keeping your body clean, I know you're thinking about avoiding artificial and processed foods, but are you giving equal consideration to the ways processed and artificial ingredients get into your body? Don't feel badly if you don't. I spent a really long time focusing on cleaning up the ingredients I was putting in my mouth without giving a second thought to what I was breathing in, putting on my skin, or otherwise coming into contact with.
But once I started to get my diet and digestion back on a track, I realized that my food is far from the only way that my body can absorb chemicals that might throw it out of wack. (Think: skin, lungs…) More and more evidence is emerging about the effects of the "toxic load" your body carries, and toxins mean more than breathing in fumes at the gas station or drinking 3 cans of Coke every day. Every bit of chemical residue from your food, hygiene and environment has to be processed in your body – mostly through your liver – and like everything else in your body, your liver can only handle so much.
You already know that I am not a doctor or a scientist, so if you'd like to read more about your body's detox process, and the role your liver plays, this article provides a quick crash course on the liver's job and how it detoxes your body (spoiler: it's not through juice fasting – sorry.)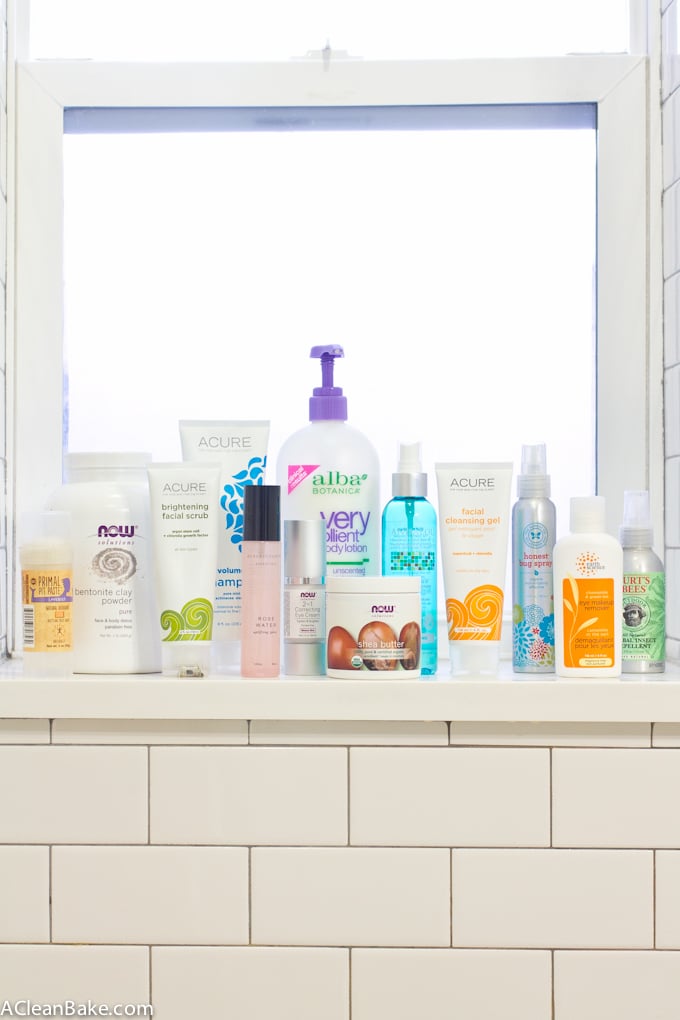 That's why your skincare routine this is not an all-or-nothing exercise. You don't have to live off the grid and only use coconut oil for every household function in order to reduce your toxin load. Here are some simple ways to swap in lower-toxin and non-toxic skincare products, without driving yourself crazing trying to DIY everything (for the record, I DIY nothing):
Give yourself time: Don't overwhelm yourself by trying to make a huge, household-wide change all at once. Focus on one thing at a time, find an alternative that works for you, give it time to make sure it really works for you, and then turn your attention to the next item. Trying to switch every product in your household is sure to be so daunting that you'll get overwhelmed and give up (and who could blame you?). Take it slow or go at whatever pace works for you so that the process doesn't feel overwhelming!
Switch one product at a time: Don't throw away all of your skincare and beauty products and start from scratch all at once. This is a process – it's taken me over a year to get to the point where maybe 60-75% of the chemical products in my home have been switched over to no/low-chemical versions.
Wait until you run out: One easy way to regulate your switching pace is to just let your existing products run out. I don't know about you, but it's always tough for me to throw away perfectly good products, even if I don't want to use them anymore. Instead, I found that the best solution for me was to wait until a product ran out and I was set to replace it anyway, and then just replace it with a lower-toxin alternative. This also makes the whole process of switching feel less like a money pit, since you're buying something you would have bought anyway – just a different version of it.
Try a few options until you find what works: I tried a particular brand of natural deodorant that not only didn't keep me smelling, er, fresh, but also made me break out in a severe, painful, burning rash. Uh, no. I threw that one away really quickly (side note: if you can buy travel versions of any of these products, do so the first time just in case they don't work out) and kept searching until I found a brand that worked for me AND my skin.
Don't feel like you have swap everything (now or ever): Since my goal has always been to reduce – again, not eliminate completely – my body's toxin load by focusing on reducing the chemicals I am most concerned about (while not requiring a second mortgage on the house to afford a whole bunch of new nontoxic skincare products), I have held on to a few "chemical-y" products that quite frankly, don't bother me. Maybe I'll get around to switching them at some point, maybe not. For example, I still use drugstore makeup. But I made a (mental) list of all of the skincare and beauty products that I use and focused on the high-priority stuff first (for me: anything known to be harmful during pregnancy, anything that sits on my skin and gets absorbed like moisturizers and creams, and anything that contains parabens, phthalates and SLS – which presents some cause for concern during pregnancy – were top priority), the medium priority products as I had time, and the low priority products (like makeup) may get addressed at some point. Just remember that every bit counts. You're making it easier on your body the more chemicals you eliminate, but you don't have to drive yourself crazy trying to achieve total purity if you don't have the time or stamina for it.
I'm not perfect and on a 90-degree day when I have to give a nerve-wracking work presentation to a client, you're going to have to pry my highly processed aluminum-loaded deodorant out of my cold dead hands. But if I can use an aluminum-free deodorant even 50% of the time, that's 50% less that my body has to worry about filtering out.
So believe me when I tell you this is not about judgement or perfection. Just… options. For me, watching someone close to me suffer from liver problems was the first reminder of how important our livers are (which jumpstarted this process), and finding out I was pregnant made me double down on my efforts. It's hard to definitively say that switching my face wash has led to "x" benefit, but I can tell you that the longer I have been in this routine of paying attention to what I'm putting in and on my body, the better I feel.
So, if you're interested in what I'm using, here goes:

Acure Organics Facial Cleansing Gel
Acure Organics Brightening Facial Scrub
Andalou Naturals Coconut Water Firming Toner
(This can be a little tough to find; I get it at Whole Foods)
BeautyCounter Nourishing Rose Water Mist
Now Foods Bentonite Clay Powder
(mix the powder with water to create a refreshing and pore-cleansing mask)
Earth Science Chamomile and Green Tea Eye Makeup Remover
Quick interlude: You'll notice that I use a lot of products from Now Foods which is a brand that you already know that I trust for food, but that I also don't think twice about the safety of their beauty and body care products because they apply the same rigorous standards of quality to ALL of their products that they do to their food and supplements.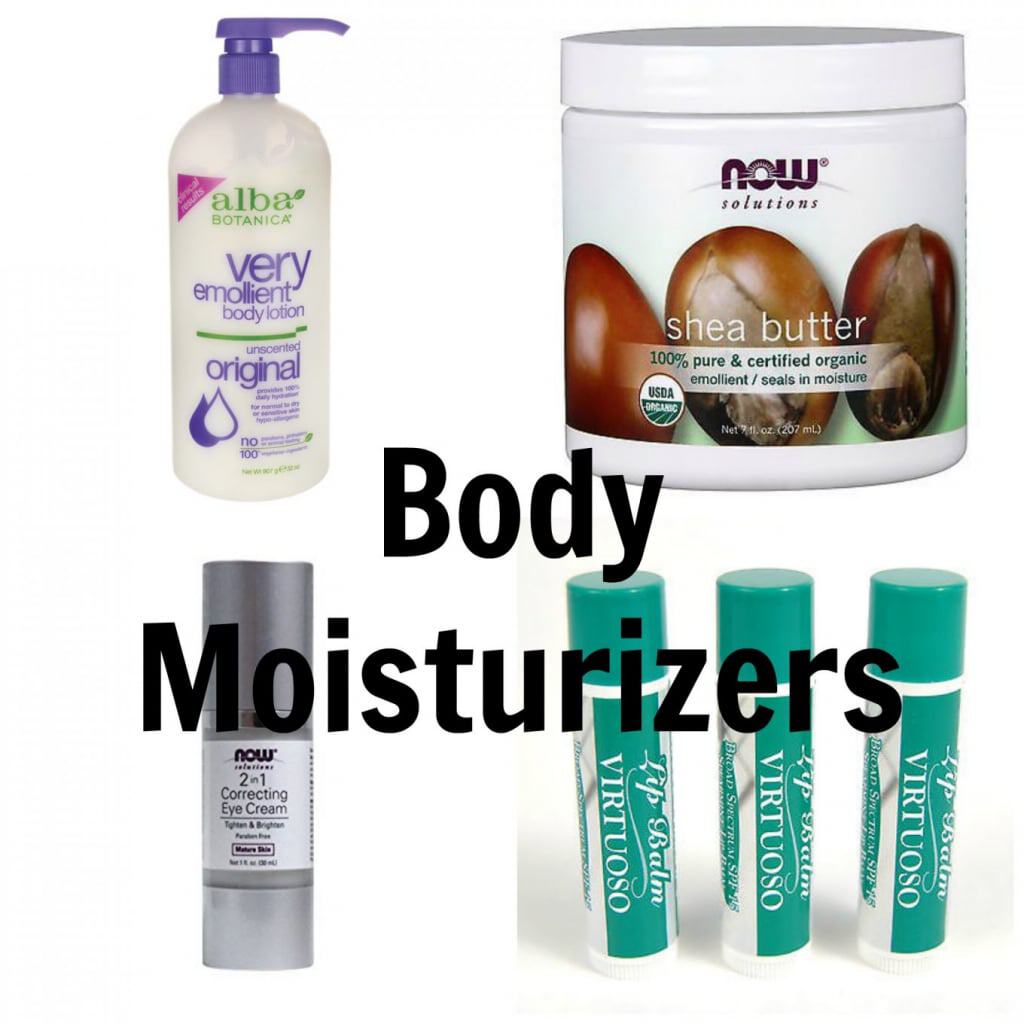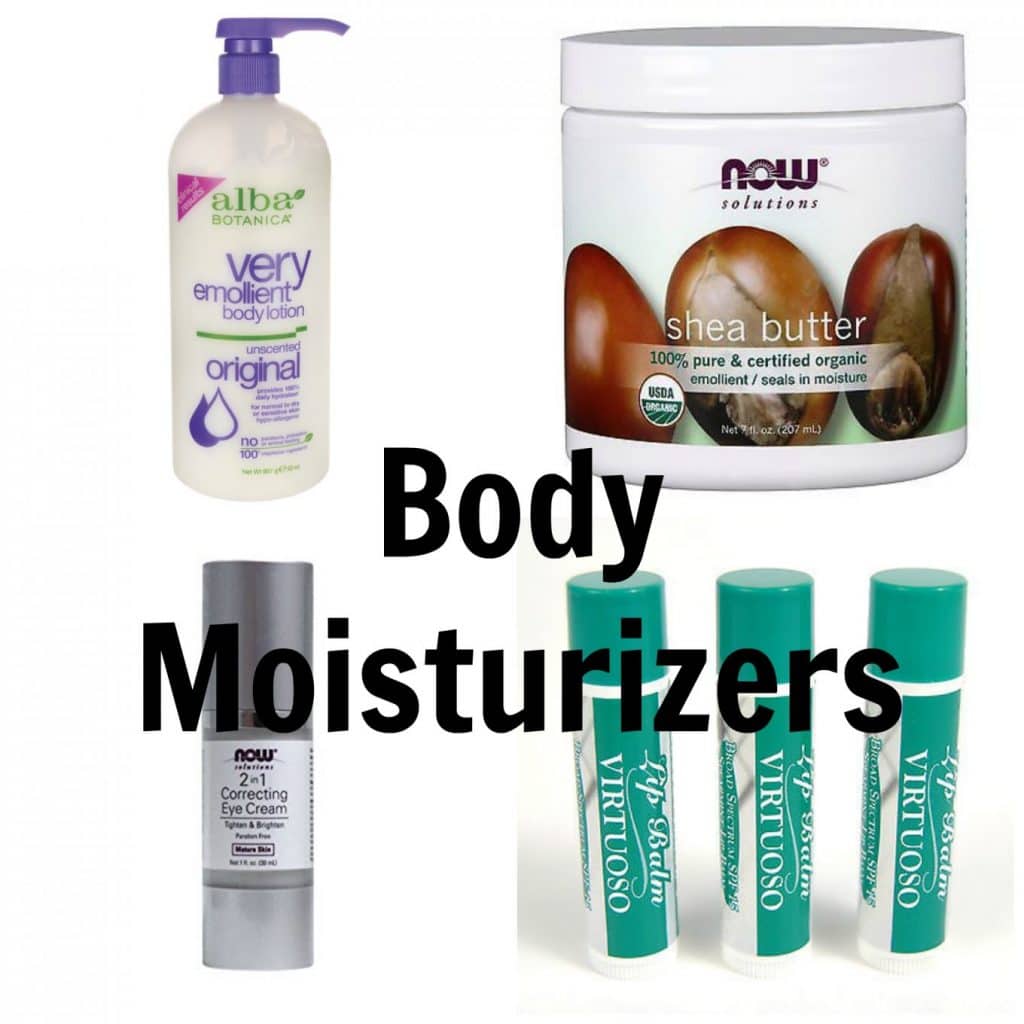 Alba Botanica Very Emollient Body Lotion (Unscented)
Now Foods Shea Butter
(For very dry skin; comes in handy for my hands when I have been washing lots of dishes! It's also great for lip care)
Now Foods 2-in-1 Correcting Eye Cream
Trader Joe's Virtuoso Lip Balm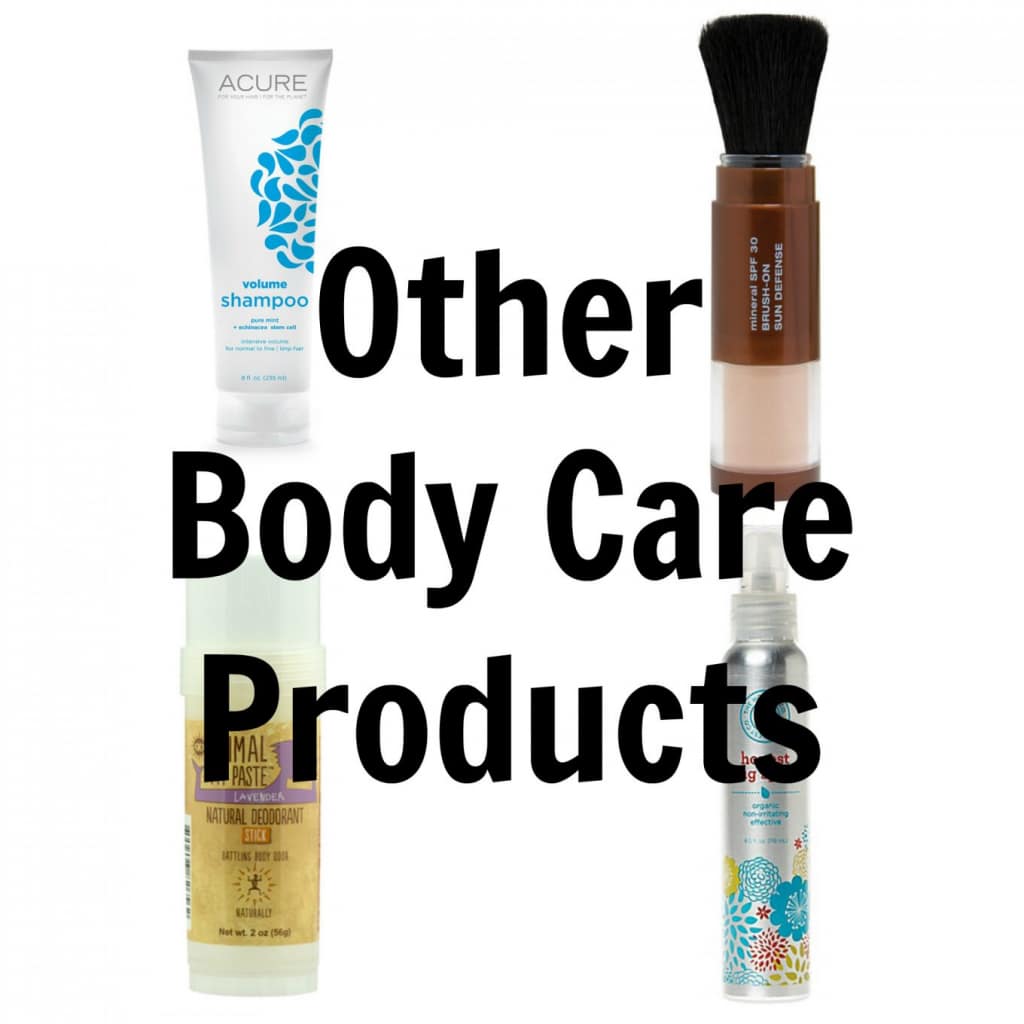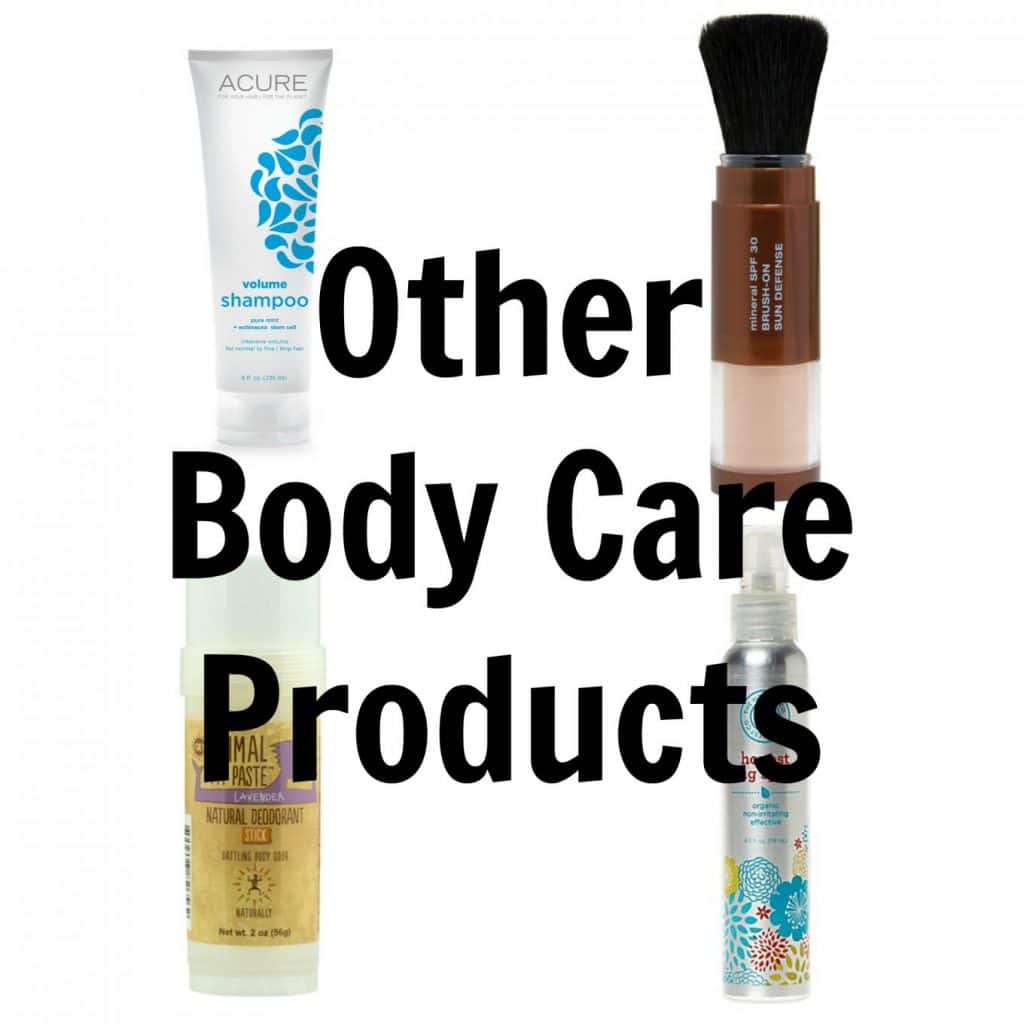 Acure Organics Volumizing Shampoo
Primal Pit Paste Lavender Deodorant
(though, as I said, in certain circumstances I still use an antiperspirant/deodorant)
The Honest Company Honest Bug Spray
or
Burt's Bees Herbal Insect Repellent
Mineral Fusion SPF 30 Brush-On Sun Defense (face only)
So that's my skincare routine, and as I said it has taken quite a bit of time, research and product trial-and-error to get to this point. I was most surprised that a well-known brand of natural deodorant gave me a rash and a facial toner from a brand I trust (and never had issues with its other products) made me break out. So, don't get discouraged if the first product(s) you try aren't right for you. That's why I recommend buying the trial sizes when possible!
That's also why it's important to take it slow and not try to switch all at once. It takes time to find the right products! I am still on the hunt for a lower-chemical (but effective) toothpaste, body wash, full-body sunscreen, and hair conditioner. (Leave your recommendations in the comments below!) But that's ok; like I said, think about this process in less of an all-or-nothing mindset, and more of a less*-is-more mindset.
*as in the lower your chemical/toxin load, the better, so every little bit counts!
So, tell me: what are your favorite non-/low-toxic skincare products?
Thank you to Now Foods for providing the ingredients that inspired this delicious recipe. This post contains affiliate links, which means that if you click through and purchase a product, A Clean Bake receives a small commission, which goes toward continuing to bring you delicious, healthy recipes every week. This does not affect the price you pay. Thanks for supporting A Clean Bake!