30 Minutes & one pan is all it takes to make paella for dinner tonight! You don't even need a special pan. It's gluten free, too!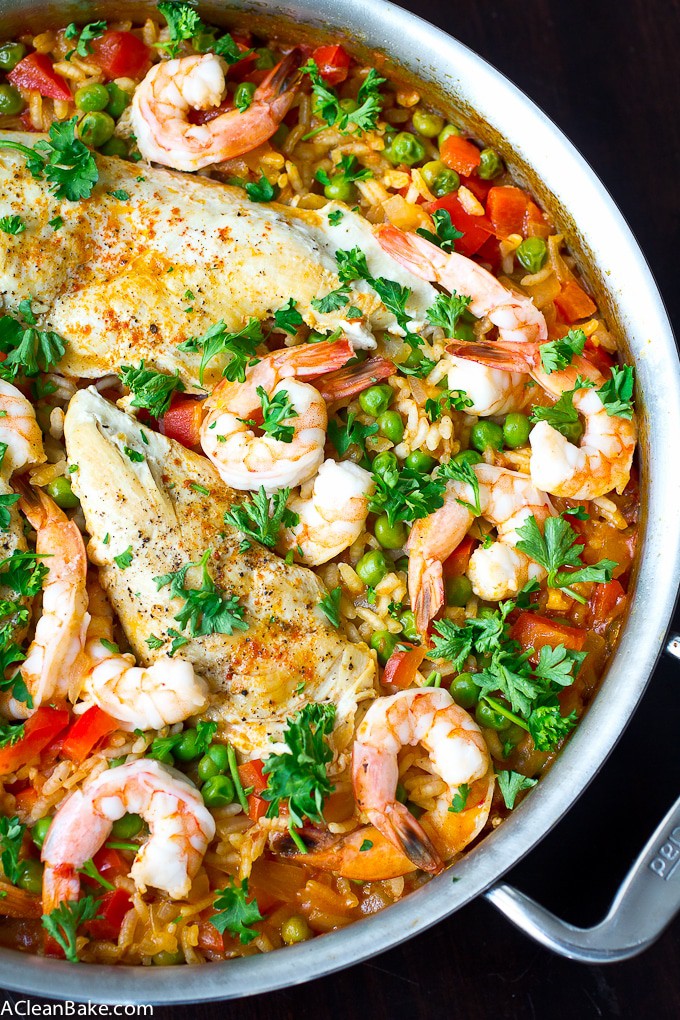 To whomever looked at rice, tomatoes, peas, shrimp and chicken and thought "Eureka! Throw it all in a pan, put the top on and cook it all at once! It'll be killer!", I tip my hat to you sir-or-ma'am. I mean, who would have thought that you could make such a perfect, nutritious, substantial, leftover-friendly meal by literally throwing stuff together in a pan* and letting it, essentially, cook itself into a comforting meal that can warm you up even on the most single-digit of days? The Spaniards, that's who.
But, in true UN-worthy cross-cultural cooperation, leave it to the Italians to improve it. Wait, let me back up. You see, I'm not entirely sure what kind of rice is traditionally used by Spanish grandmothers and other authentic-Paella-makers, but I am here to tell you that arborio rice – yes, that very starchy variety with the plump and tender little grains that create the delicious foundation of a perfectly cooked, warm and comforting Italian meal – makes the perfect base for this easy dinner.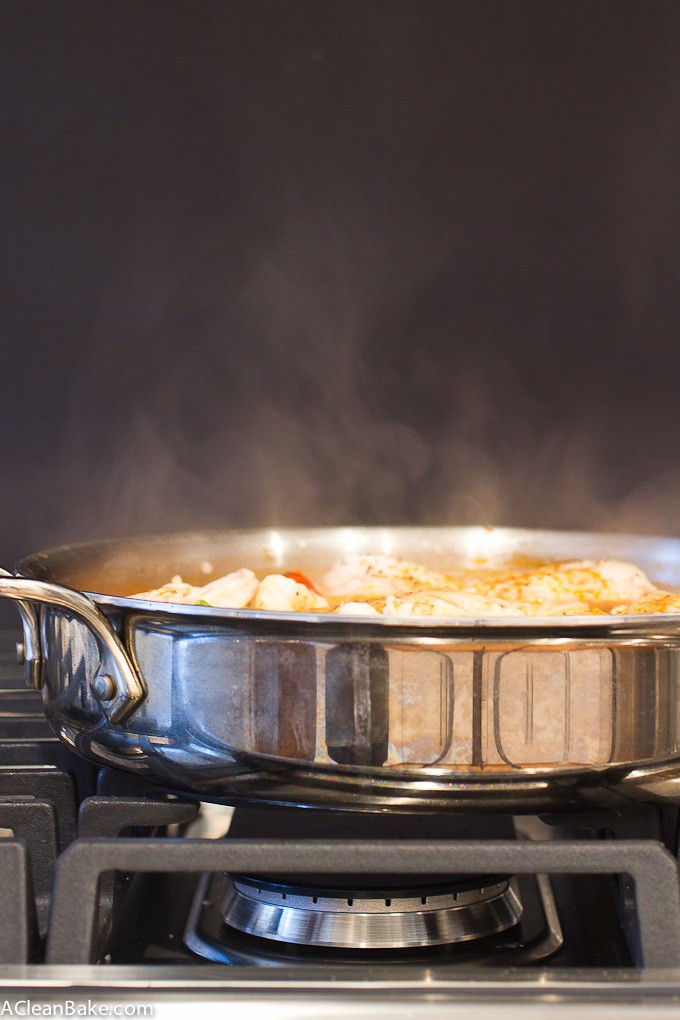 If you're sitting here side eyeing this post because where have you heard of arborio rice before?? it's because it is probably more commonly known as "risotto rice" (ooohhh yeeeeeaaaah…) but it's given name, if you will, is arborio. And Village Harvest's arborio rice is the perfect jumping off point to build this killer one pan meal.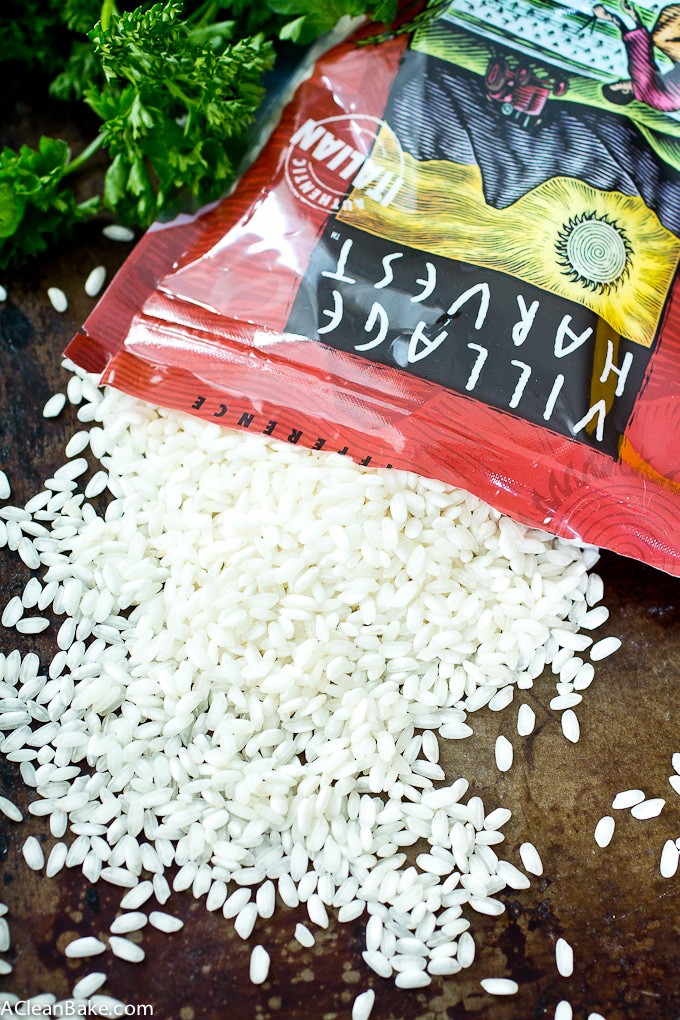 It's worth noting the brand of the rice because not all rice is created equally, and you already know I am really limited in the volume and variety of grains that I can eat, so when I do eat grains, I make sure to choose the best I can find. Village Harvest's arborio rice is the highest quality available; it is natural and unprocessed, "superfino" (superior) grade and sourced directly from the Po River Valley in Italy. All this means that, if you're eating grains as part of your healthy diet, Village Harvest products make it easy to stay on track with exciting, versatile recipes. With plentiful antioxidants, fiber and vitamins, Village Harvest offers varieties that satisfy your desire to explore new flavors and dishes in a healthy way.
Not only do they offer top quality products, but Village Harvest also does a lot to improve the communities that they operate in, from the farmers growing the rice to the schools that the farmers' children attend.
In their own words,"Village Harvest is dedicated to exploring innovative change, whether it's new ways to help the farmer, or discovering new possibilities in the kitchen: it's more than just rice, it's global goodness in every bag. Not only is Village Harvest invested in exciting changes in the kitchen, they support communities through social development and sustainability projects. Village Harvest sends funds that help build schools and education programs, provides clothing and food for children and pledge to donate 1% of profits to support these global programs."
So, supporting a company that makes the world a better place with every purchase, while enjoying a healthy, hearty winter meal? Talk about having your paella and eating it too.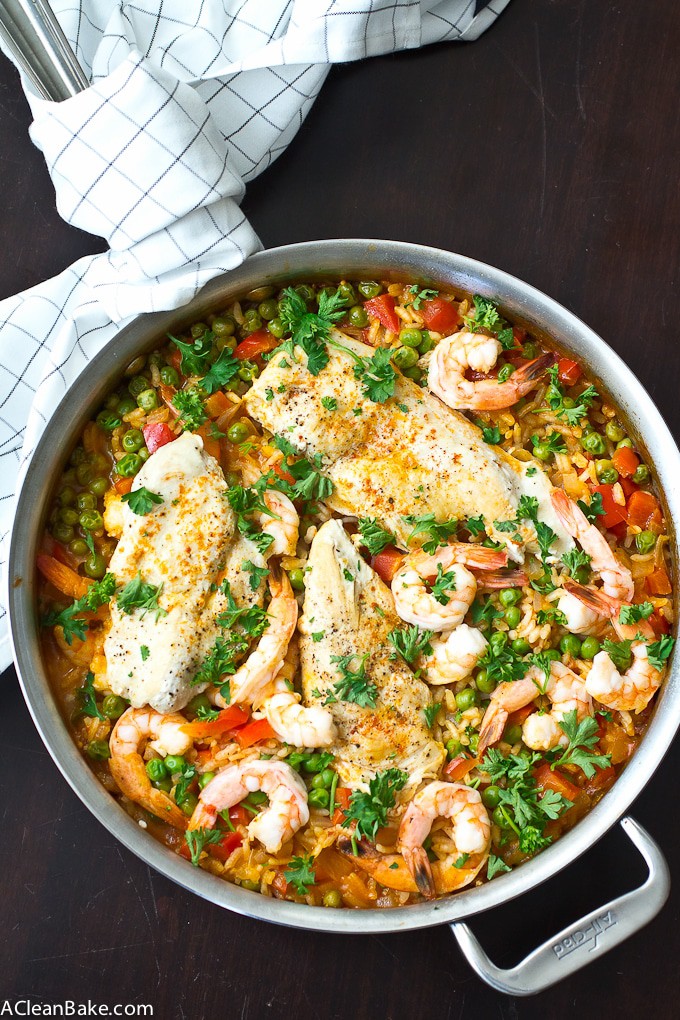 *A brief aside on the staggeringly compelling (but, here, relevant) subject of pans: Paella, the dish, is named for the Spanish word for pan, generally, not specifically a paella pan. If you have a paella pan, great! Here's a chance to put it to good use. I don't have a paella pan, but used this three quart stainless steel saute pan worked great for this recipe. Any heavy-bottomed pan with high-ish sides will work, as long as it has a top.
Also, while we're on the subject of expensive tools and ingredients, this recipe calls for saffron, which is one of the most expensive ingredients known to man short of, maybe, edible gold leaf. But it's up there. It only calls for a few threads, which will not break the bank, but if you don't have it on hand and don't want to spend the money, just skip it.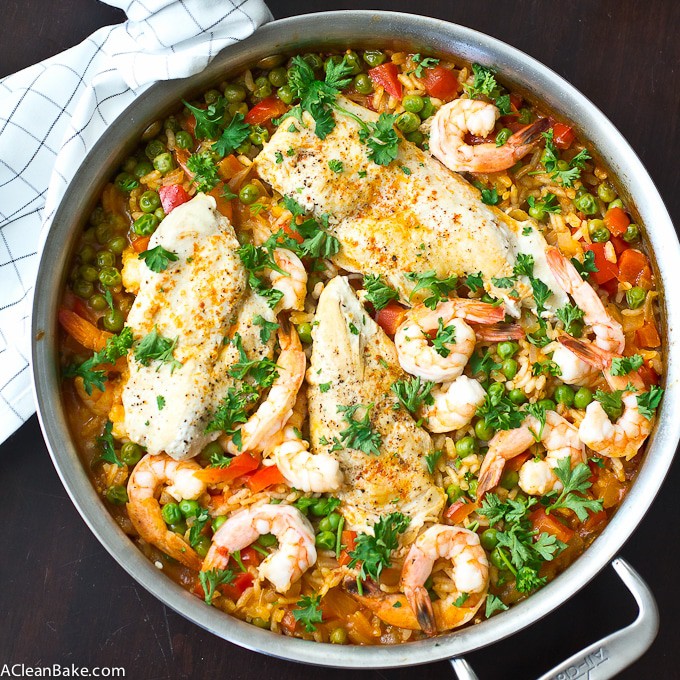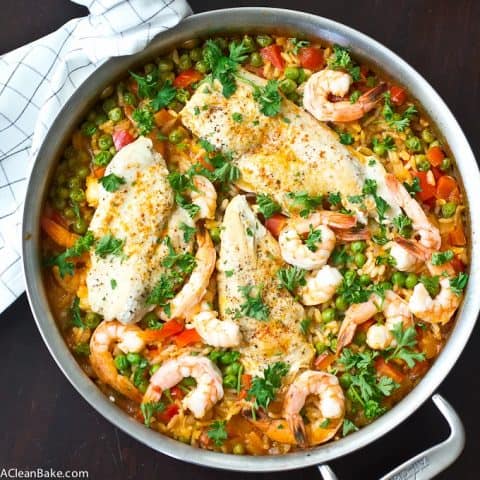 Paella
30 Minutes & one pan is all it takes to make paella for dinner tonight! You don't even need a special pan. It's gluten free, too!
Ingredients
1/4 teaspoon coarse salt,, plus more for garnish and to taste
1/2 teaspoon coarse black pepper,, divided, plus more for garnish and to taste
3/4 teaspoon paprika,, divided
5 Tablespoons extra virgin olive oil,, divided
3-4 small boneless chicken breasts or thighs, (.75-1 lb total, with or without skin)
3/4 cup finely chopped sweet onion, (Spanish)
1 1/2 teaspoons minced garlic
1 1/2 cups Village Harvest Arborio rice
1 cup crushed tomatoes
4 cups chicken or seafood stock
Juice of 1 whole Meyer lemon, (3-4 Tablespoons, plus more for finishing and garnish)
pinch of saffron, (about 7-10 strands)
1 1/2 cups frozen peas
1 large red pepper, (stem, seeds and membrane discarded), washed and chopped into bite-sized pieces
1/2 lb peeled and de-veined shrimp, (tails on or off)
chopped fresh parsley, for garnish
Instructions
In a small bowl, whisk together 1/4 teaspoon each of salt, pepper and paprika. Set aside.
In a large, heavy bottom skillet with high sides and a top, heat 3 Tablespoons olive oil.
Add chicken breasts (or thighs) and season with half of the salt/pepper/paprika mixture.
Once the chicken starts to get a little bit of color on the underside, flip and season with the remaining salt/pepper/paprika mixture and cook until it gets a little bit of color on the other side. It should not be cooked all the way through. Transfer the chicken from a pan to a plate and set aside.
Heat the remaining 2 Tablespoons of oil in the pan. Add the onions and saute until translucent, then add the garlic and fry for about a minute.
Add the Village Harvest Arborio rice and saute for about 30 seconds until the grains of rice become pearly (slightly shiny), then stir in crushed tomatoes, water or stock, lemon juice, remaining 1/4 teaspoon black pepper, saffron and remaining 1/2 teaspoon paprika.
Cover the pan and cook until the rice has absorbed about half of the liquid, about 15-20 minutes. Do not stir!
Once the liquid has been about half way absorbed, remove the top (don't stir the rice! The crispy crust that the rice forms on the bottom of the pan is considered a delicacy.)
Add the peas and red pepper and gently fold them into the top layer of rice. Try not to disturb the rice at the bottom of the pan.
Place shrimp and chicken across the top of the rice and vegetables, sprinkle with one more pinch each of salt and pepper, and replace the cover.
Cook about 10 minutes until the chicken has cooked through and the shrimp has turned pink and begun to curl up. Then, without removing the cover, turn off the flame and allow the remaining liquid and steam to finish cooking the dish.
Check it after 5-10 minutes. You'll know it is done when the rice is tender, but not mushy. It should still have a very slight bite to it.
Taste and adjust seasonings (I like to finish it with another splash of fresh lemon juice from 1-2 lemon wedges), garnish with fresh parsley and serve immediately.
Notes
I like Meyer lemons because they are not as sour, but if you are using a more sour type of lemon, decrease the lemon juice to about 2 Tablespoons, or to taste.
If you don't have chicken or seafood stock handy, you can use water instead.
However, you'll want to add another 1/4 teaspoon of salt to the pan along with the water.
Makes about 4 generous servings.
Nutrition Information:
Yield:

4
Amount Per Serving:
Calories:

656
Saturated Fat:

3g
Cholesterol:

150mg
Sodium:

1018mg
Carbohydrates:

85g
Fiber:

7g
Sugar:

12g
Protein:

27g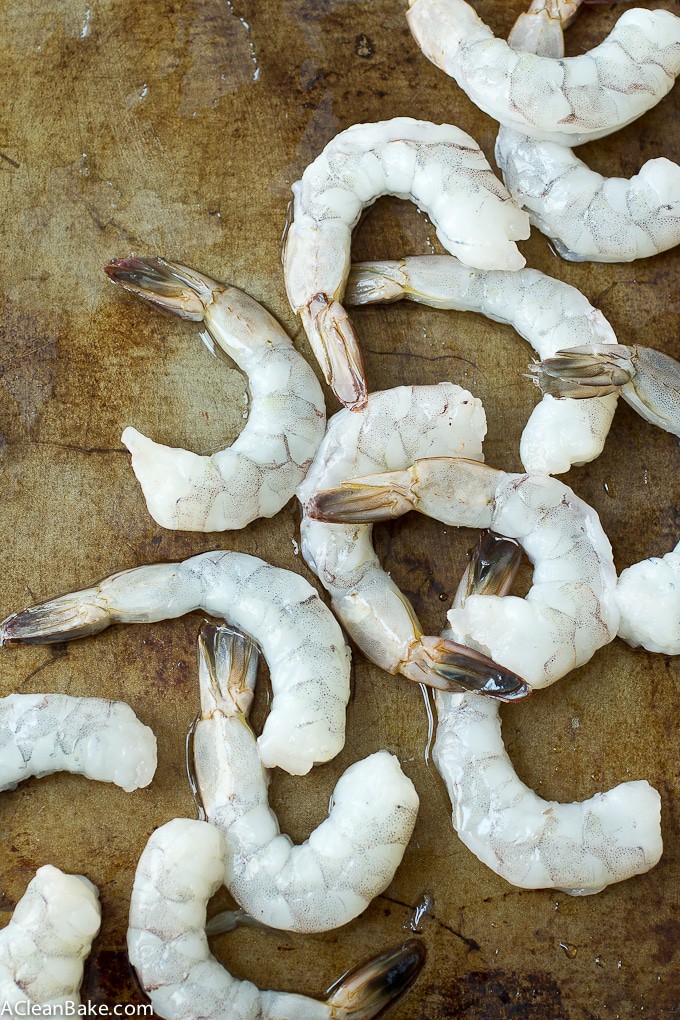 I was selected for this opportunity as a member of Clever Girls and the content and opinions expressed here are all my own.