If you're looking for a show-stopping brunch treat, try this paleo banana bread with pecans and dates! It's finished with a decadent caramel glaze that makes this loaf feel like much more than your basic banana bread.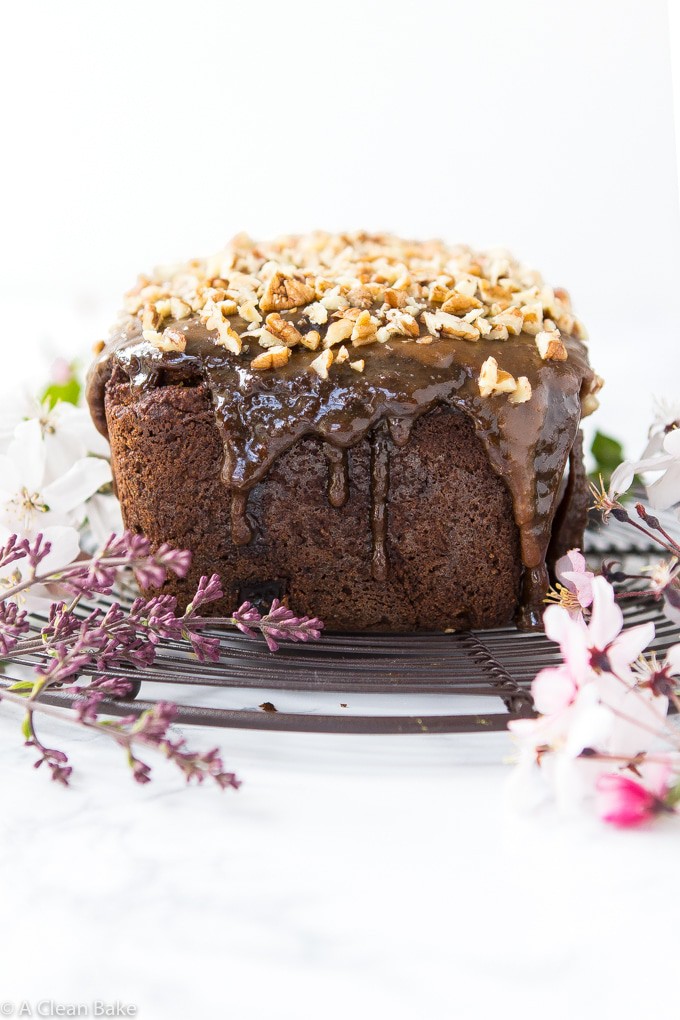 When I told you I had something special planned for that caramel sauce from last week, this is what I had in mind. I assume that I did not disappoint?
Now I've been told that there are people out there who actually enjoy caramel more than chocolate or, even more unbelievably to me, love caramel and don't like chocolate. GASP. This, for reasons that should be pretty self explanatory by now, seems fairly implausible to me, but in my never ending quest to achieve dessert empathy, I'll assume that perhaps there are those out there who love caramel as much as I love chocolate.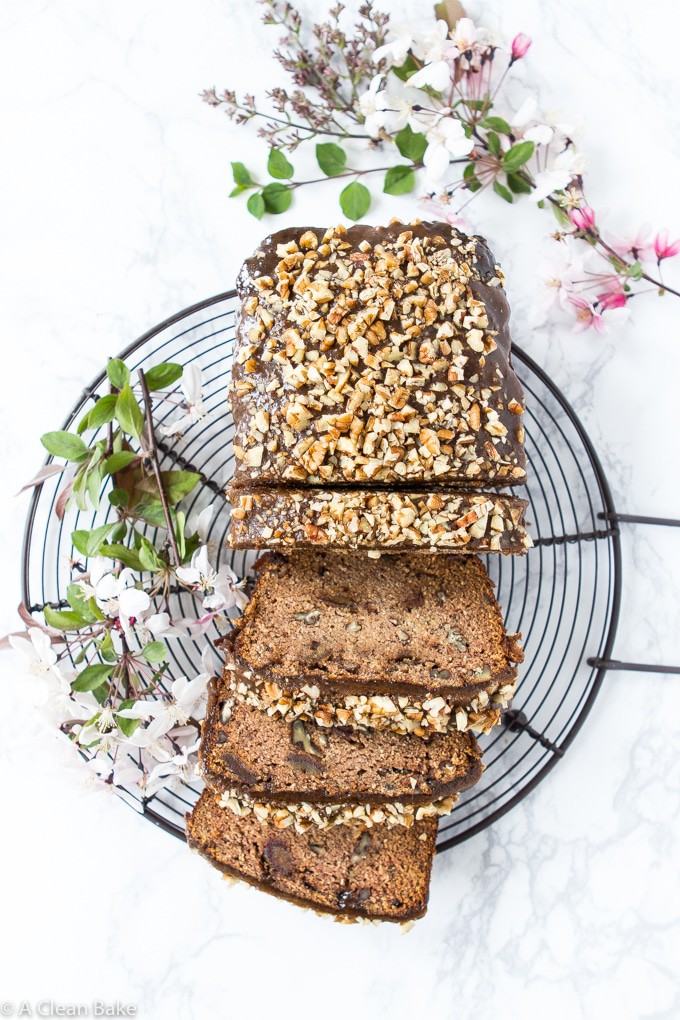 And for those of you with the I <3 Caramel t-shirts and bumper stickers, this one is for you.
I mean do you see the volume of caramel-y goodness dripping off of this pecan date banana bread? Even I will admit (somebody earmuff chocolate) that I couldn't stop at just one piece of this banana bread.
Have you made the original? This is an adaptation of the classic recipe, with a deeper and, well, caramel-ier flavor profile. Plus, the sauce. This is the exact same caramel sauce that I posted last week, so if you have already made it (and managed to not finish it already), you're in luck.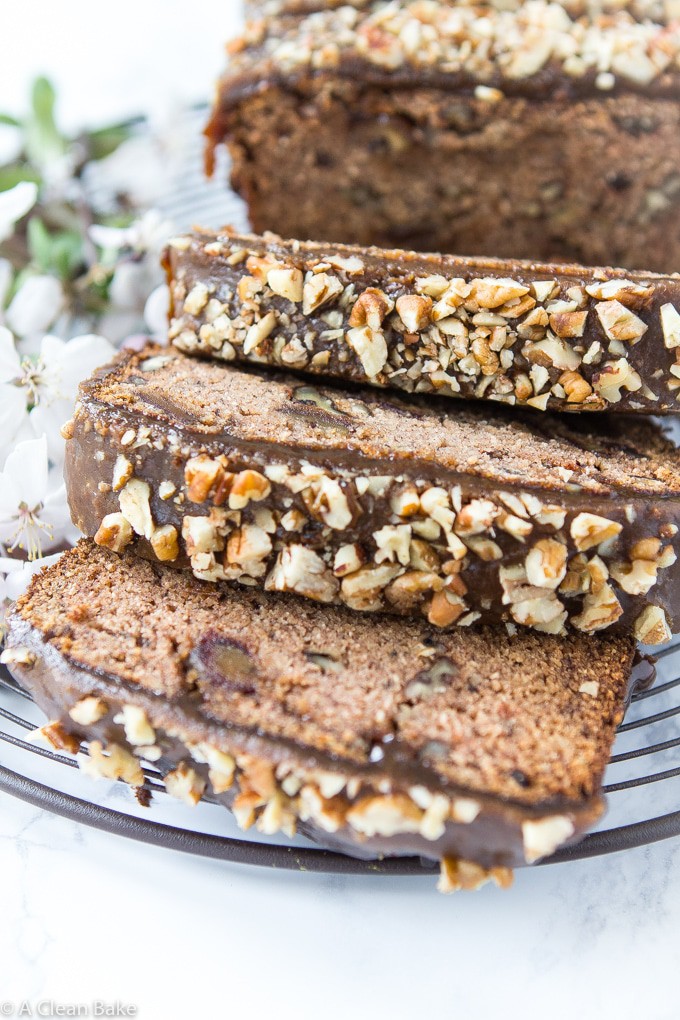 The trick to getting the drizzle just right is to pour it on to the bread when the bread is fully cooled and the sauce is just warm enough to be pourable, but still very thick. If it's hot off the stove, the consistency will be much too watery and the sauce will just cascade right off the bread. It's a great excuse to mop up the leftovers with your finger, but you'll miss out on the thick layer of caramel in every bite of banana bread.
And believe me: you definitely want that caramel glaze.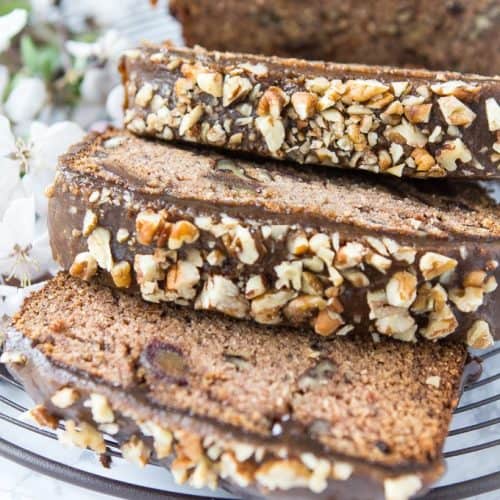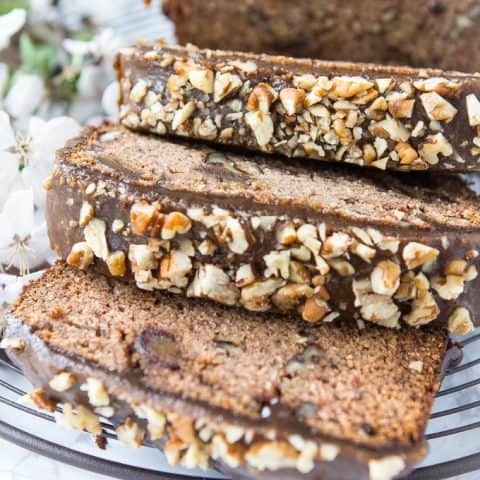 Banana Bread with Pecans, Dates and Caramel Glaze
Cook Time:
1 hour
10 minutes
Total Time:
1 hour
30 minutes
If you're looking for a show-stopping brunch treat, try this paleo banana bread with pecans and dates! It's finished with a decadent caramel glaze that makes this loaf feel like much more than your basic banana bread. 
Ingredients
3/4 cup blanched almond flour
3/4 cup coconut flour
6 Tablespoons tapioca flour
1/4 cup granulated monk fruit sweetener
1 Tablespoon + 1 teaspoon cinnamon, (or to taste)
1 1/2 teaspoons baking soda
1/4 teaspoon fine sea salt
3 large eggs
3 Tablespoons unsweetened almond milk,, or milk of choice
1/2 cup oil, (see note)
1 1/2 teaspoons vanilla extract
1 teaspoon apple cider vinegar
1 1/2 cups mashed overripe banana, (about 3-4 large bananas)
10-12 whole pitted medjool dates,, chopped
1/2 cup chopped pecans,, plus more for garnish (another approx. 1/3 cup)
1 batch paleo caramel sauce, (see note)
Instructions
Preheat the oven to 350°F. Lightly grease or spray an 8.5" loaf pan and set aside.
In a large mixing bowl, whisk together the dry ingredients (almond flour through salt). Set aside.
In another large mixing bowl, whisk the eggs, then stir in the milk, oil, vanilla and vinegar.
Once all of those ingredients are incorporated, stir in the mashed banana.
Pour the wet (egg, oil, banana) mixture into the dry and stir to combine.
Fold in the chopped dates and pecans.
Pour the batter into the prepared baking pan and bake for 60-70 minutes until a tester inserted into the center comes out clean.
Check around the 30-40 minute mark and if the loaf is browning too fast, cover it loosely with a piece of tinfoil for the remainder of cooking.
While the bread is baking, make your caramel according to these instructions. Cool it in the pot until it is safe to transfer to a heatproof container, then refrigerate it to cool it down for glazing.
Allow the loaf to cool in the pan for 20-30 minutes, then turn it out on to a rack to cool completely.
Once it has cooled to room temperature (or been chilled - see note), it's time to glaze it.
The caramel should be chilled so that it is just warm enough to stir, but not too liquid. If it's too runny, cool it for another 30-60 minutes; too solid, microwave it in 10 second increments just until it is liquid enough to stir. It should be very thick.
Pour the caramel in portions (about 2 Tablespoons each) over the bread, letting the last layer set slightly before applying the next one, until the bread is covered.
Sprinkle the chopped pecans over the caramel. Place the bread on the counter or in the refrigerator until the glaze is set, then serve.
Notes
Use an oil that is liquid at room temperature, such as grapeseed or avocado oil. You may also use light olive oil if you don't mind (or notice) a very slight olive oil taste.
If you prefer to make muffins, bake for about 20-25 minutes until a tester comes out clean. 
Click here to get the recipe for the caramel sauce.
If you have time, refrigerate the loaf (once it has cooled, packed in an airtight container) for a few hours or overnight before glazing. The cooler temperature of the loaf will set the glaze more quickly and prevent it from dripping off of the loaf. 
You'll probably want to chop the pecans more finely for the topping than you will for inside the bread.
Once completely cooled, store leftovers in an airtight container (or wrapped tightly) at room temperature for up to three days or in the freezer for up to three months. 
Nutrition Information:
Yield:

1
Amount Per Serving:
Calories:

2971
Saturated Fat:

32g
Cholesterol:

558mg
Sodium:

2692mg
Carbohydrates:

211g
Fiber:

59g
Sugar:

60g
Protein:

58g
[amazon_link asins='B00HS01I1A,B00PD2B68K,B00D8L3B5E,B00DJTO82U,B00XYV4ID2,B00A9WZXI8,B00004SZ7J' template='ProductCarousel' store='butterfanati' marketplace='US' link_id='9064a35e-2ea7-11e7-b660-6dce2cbdf948′]
[wprm-nutrition-label align="center"]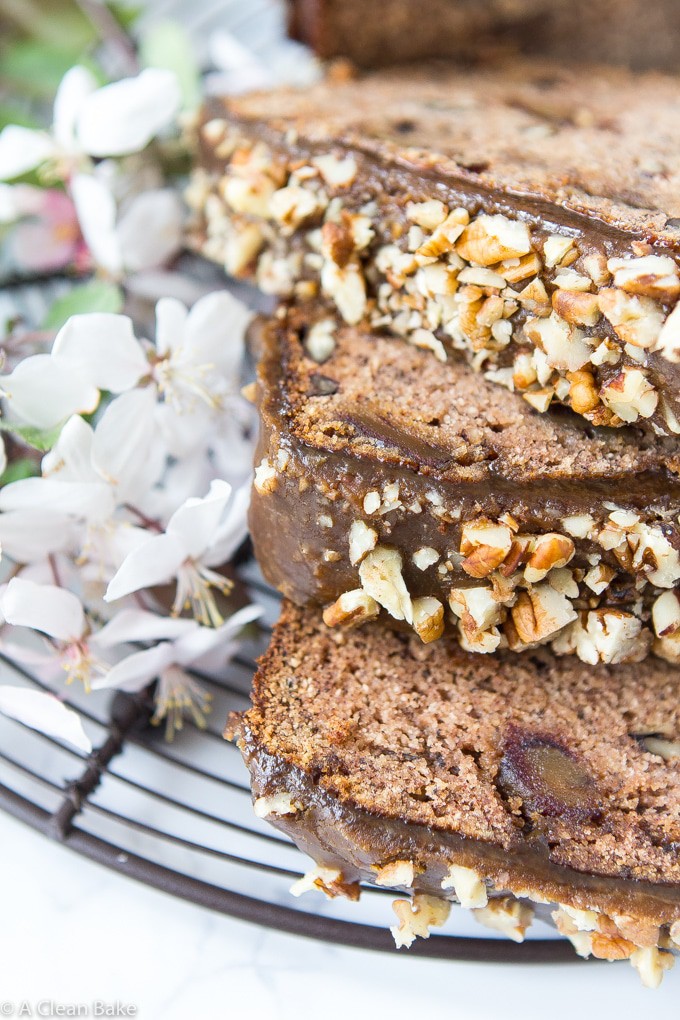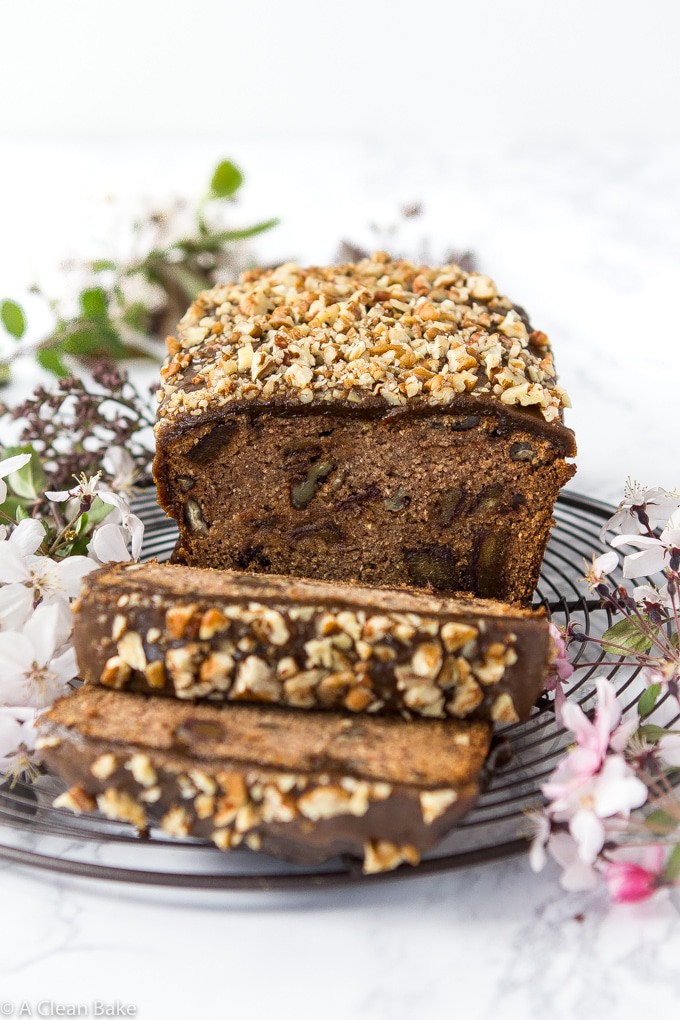 This post contains affiliate links, which means that if you click through and purchase a product, A Clean Bake receives a small commission. All proceeds go toward continuing to bring you delicious, healthy recipes every week, and this does not affect the price you pay. Thanks for supporting A Clean Bake!